Titos Tacos
I don't want to get in the habit of posting my jaunts dining out, since I don't dine out very often, but this week I find myself compelled to share yet another favorite Westside Los Angeles eatery: Tito's Tacos.
Tito's Tacos is nothing short of a historical landmark.
Anyone who grew up in Los Angeles or has spent a significant amount of time here, know's EXACTLY what I'm talking about. When we locals move away from L.A., and we're back in town, despite the multitude of first-class restaurants within our reach, we're still compelled to make a special trip to Tito's for some good ol' fried tacos, a burrito or tamale. Their chips with fresh salsa or guacamole are also quite tasty and very addicting.
When I was a kid, there were countless times that my family picked-up tacos for a quick and delicious weekend lunch or dinner. Whenever we saw that cardboard take-out box, we knew it was taco night. I remember as far back as elementary school and middle school, having dinner at my BFF's house or at my friend's house down the street, and seeing that same box on their dinner table – taco night.
As we grew up, Tito's Tacos became a great way to celebrate Lakers games with friends and family, huddled around the TV, especially during the playoffs. Tito's is simply good ol' L.A. comfort food.
These days, when I take Bebe E to visit my parents in L.A., occasionally I'll take her to Tito's Tacos. It's still around, after ALL these years, and it's a great feeling to be able to take her to a taco joint that I grew-up with. On our way to Tito's, she'll tell us she wants a taco, but when we get to the order window, she always says "burrito". She likes their no-meat, bean, cheese, and rice burrito. Recently, she's been eating this with guacamole. (Don't worry folks, she only eats about a quarter of the burrito. I usually eat her leftovers.)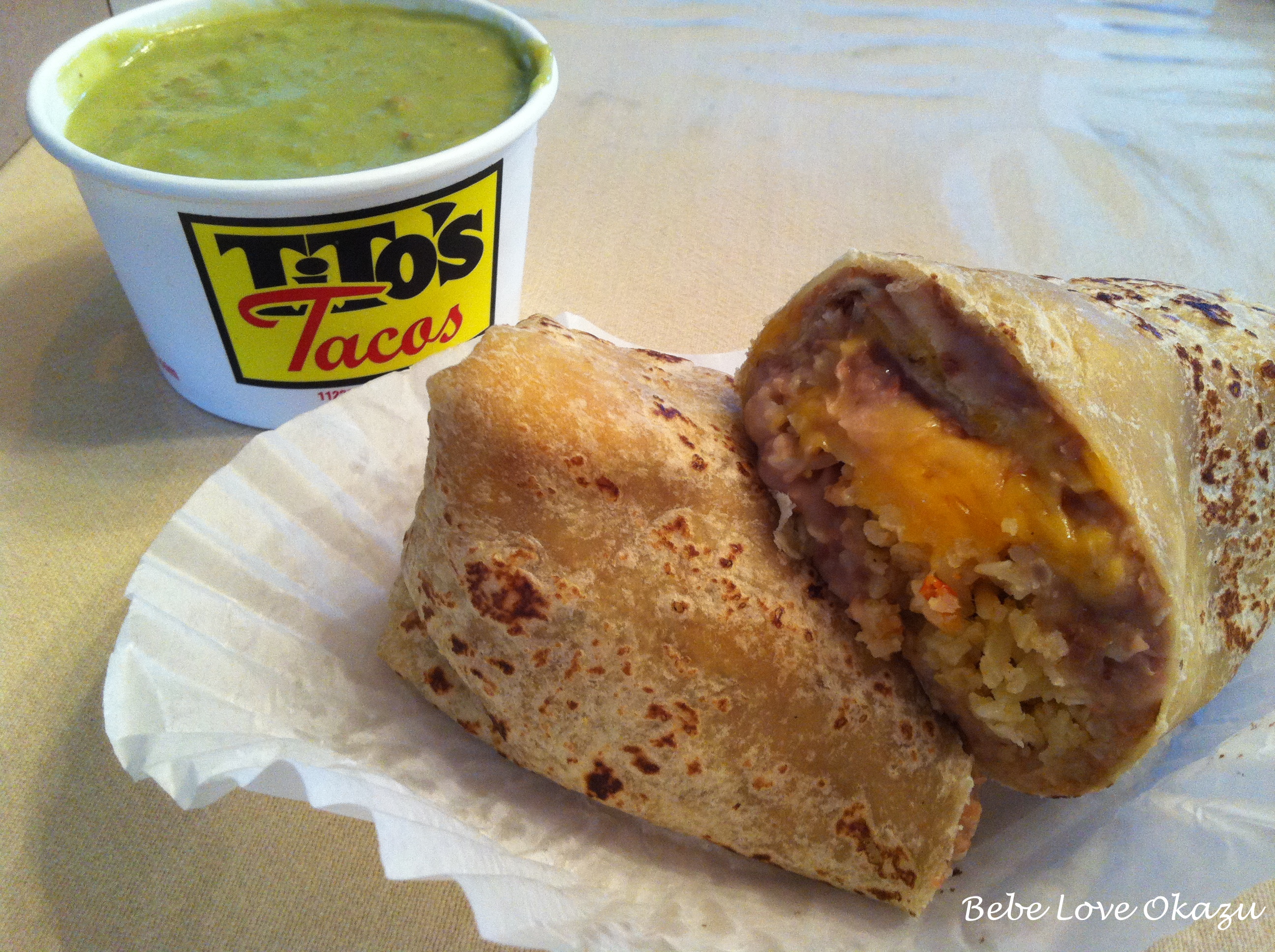 The other day we drove up to L.A. to order sushi for a party we're having on Saturday, May 5th which is widely known as Cinco de Mayo, but perhaps lesser known as Kodomo No Hi (Japanese Boy's Day | Children's Day). After a quick stop at the WLA Nijiya Supermarket (located in what is known as "Little Osaka") to place our order, instead of hanging out in that neighborhood for good Japanese cuisine, we headed down to Culver City to Tito's Tacos. As expected, when we arrived, there were lines outside the order windows, but thankfully, we arrived just shy of noon so we didn't have to wait too long.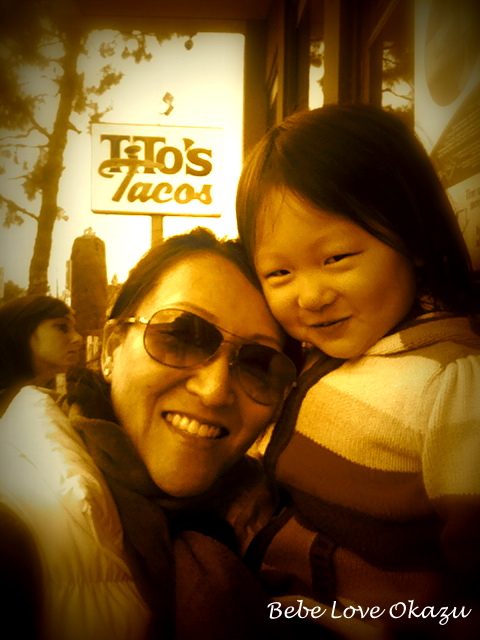 It had been a few months since we enjoyed Tito's so it was a treat to eat some crunchy shredded beef tacos topped with lettuce and cheese.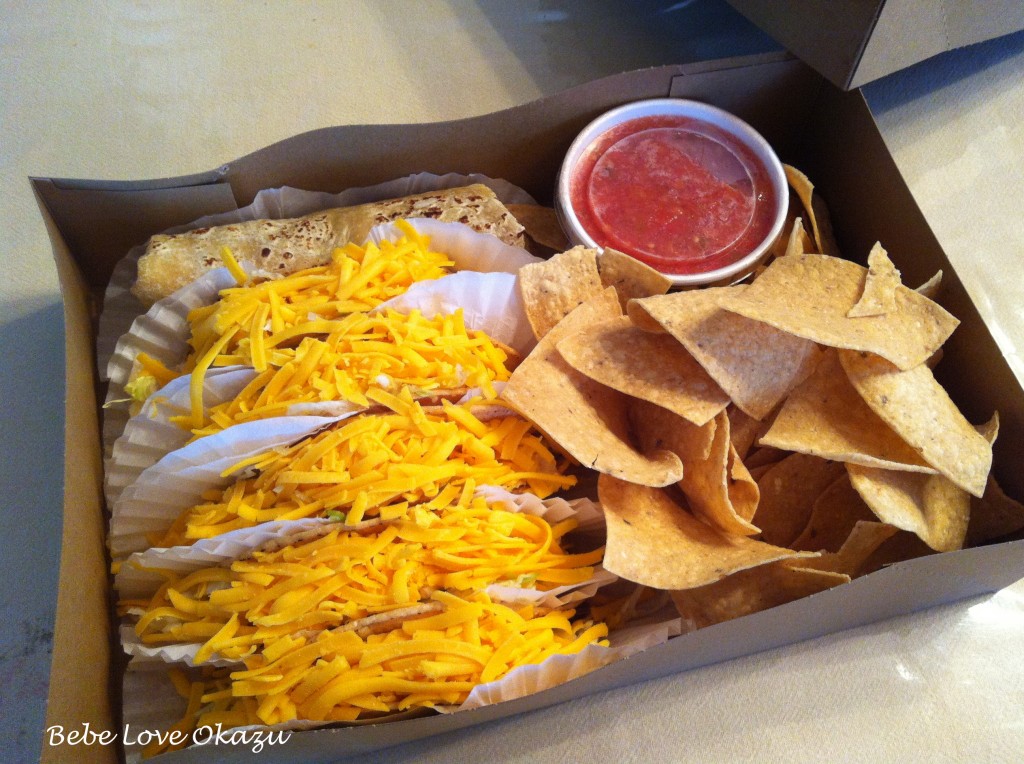 Tito's Tacos menu is pretty simple.
They offer shredded beef tacos or shredded beef tacos with cheese (our favorite). After a change in ownership a couple of years ago, they started offering chicken tamales, in addition to their original beef tamales, but they don't compare. The beef tamale is far superior. This is my Dad's favorite.
Then there's the burrito. They offer an all beef burrito, to which you can add rice, beans or cheese in any combination. You can also order a no-meat burrito with any combination of rice, beans and cheese.
Finally, there's the cheese enchilada (no variation of this), tostada, and the sides: rice, chili con carne, refried beans, and guacamole. Each order comes with a handful of complimentary tortilla chips and fresh salsa. It's a great old school taco joint that I'm proud to say that I grew-up with.
After lunch Bebe E asked if we were napping at Obaachan and Ojiichan's (my parents) house and if we were eating dinner, and sleeping over too. It seems we've been having more sleepovers there while Dada is traveling (as recently as last week), but I tried to explain to her that today's trip was a day visit, and that she could nap there, but Dada was waiting for us so we were going home that night.
Of course, after dinner she convinced Obaachan to bathe her before we went home because, as she says, "it's fun taking bath at Obaachan Jiichan's house". And all the while she kept asking me if we're sleeping over and that she really wanted to eat breakfast there. I think my Mom was pretty happy to hear her granddaughter didn't want to go home. Perhaps she's just like her Mama and is an L.A. girl at heart. :)
Have a great weekend!
Judy
Tito's Tacos
11222 Washington Pl.
Culver City, CA 90230