Chicken Soup & CBS Gig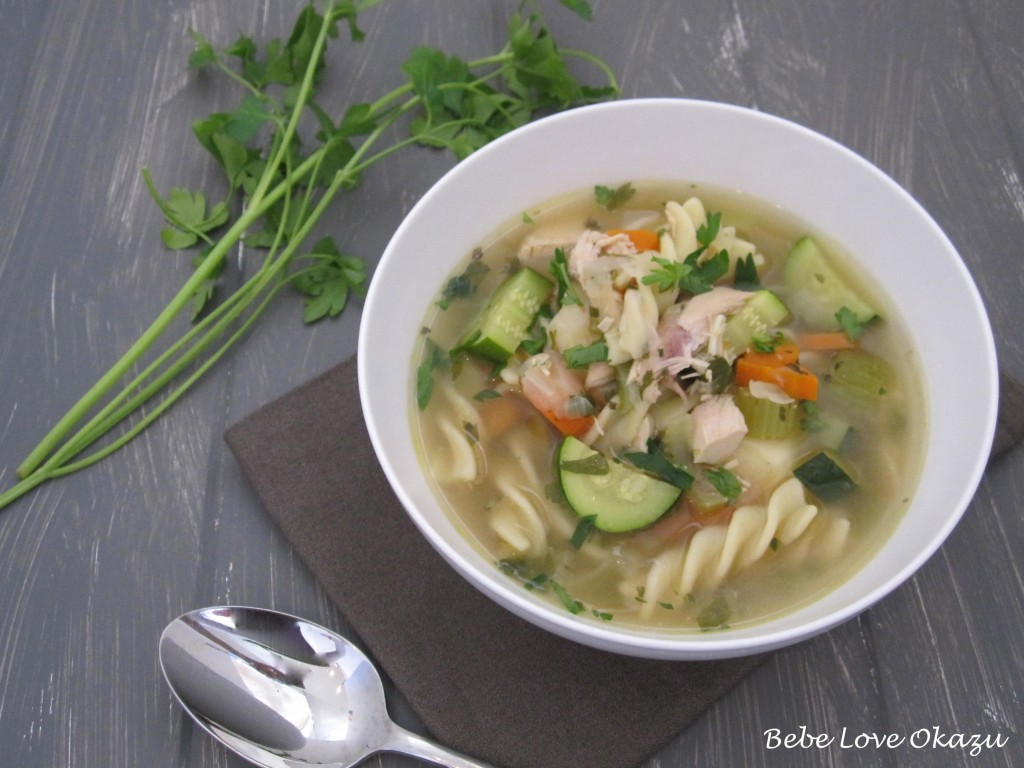 We're sick again. At the beginning of last week I felt as though I was coming down with a cold. My throat was feeling slightly uncomfortable and my body felt heavy. After three days of eating chicken soup and taking it easy, I felt that I succeeded in fending off a full-blown cold.
Yesterday morning I was nuzzling Bebe E when I noticed her neck was just a little warmer than normal. A quick check of her temperature indicated only a slight fever at 99.2. I decided to wait to give her a fever-reducer but by lunch her fever was up to 102. After a little soup for lunch, ibuprofen, and a good nap, her fever was temporarily contained and she was back to her chatty self. Unfortunately, by 9 PM her fever returned at 103. I'm hoping she will be OK and that we won't need to take a trip to the pediatrician today.
Last Monday, I made chicken soup for myself. This Monday, I made the same chicken soup for Bebe E.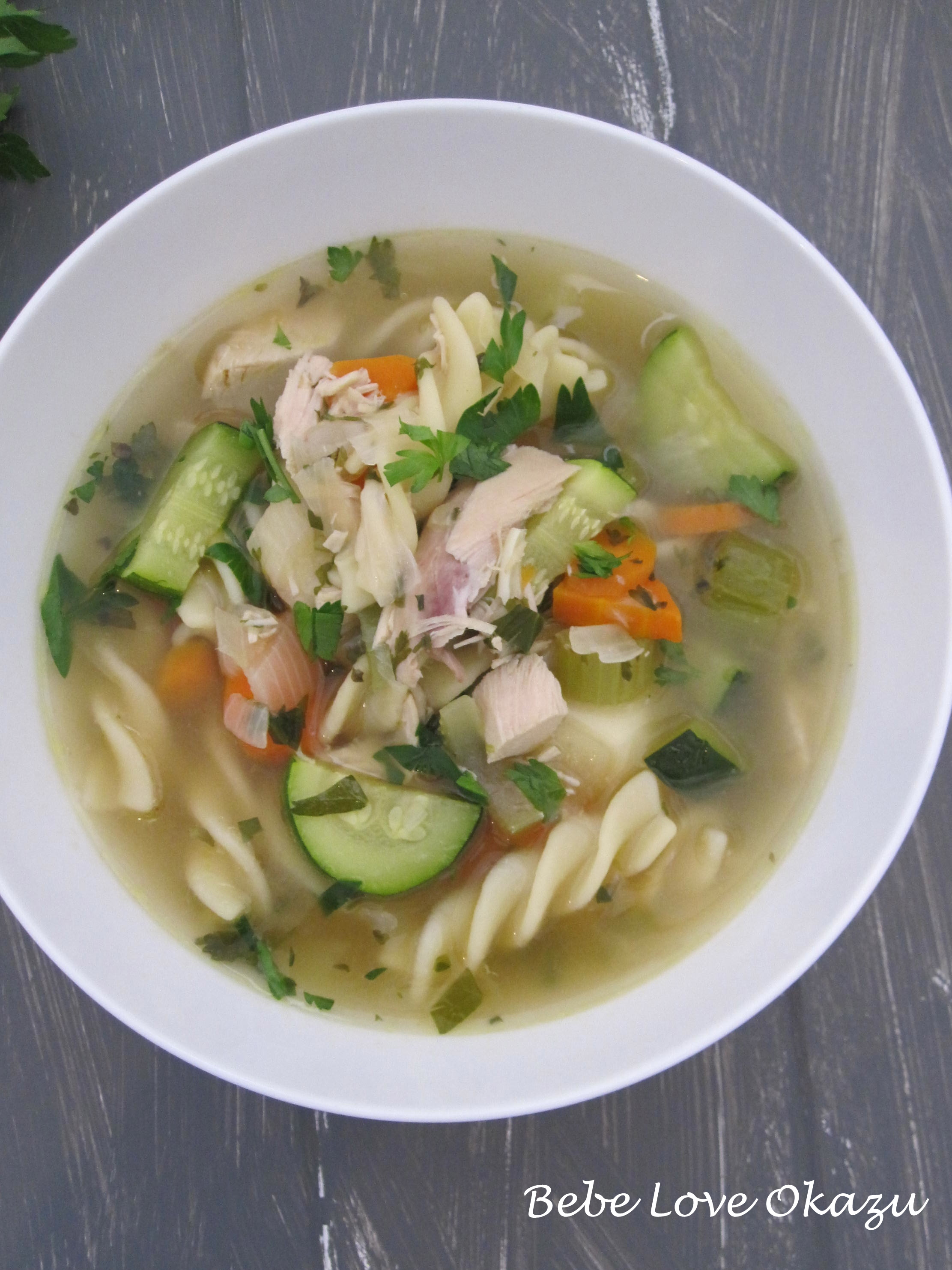 It's inspired by a special book, "Soup Day," that Bebe E received from our friend, author, and illustrator Melissa Iwai, a.k.a. the
Hungry Artist.
The recipe below is very easy and quick to prepare. It's much quicker than the
chicken macaroni soup
that I posted much earlier in my blogging "career", which required simmering the carcass of the chicken. While this method results in a flavorful broth, it's time consuming, the bones (if one is overlooked) become somewhat of a hazard for toddlers, and I found that the recipe below is equally as tasty and best of all, it's quick.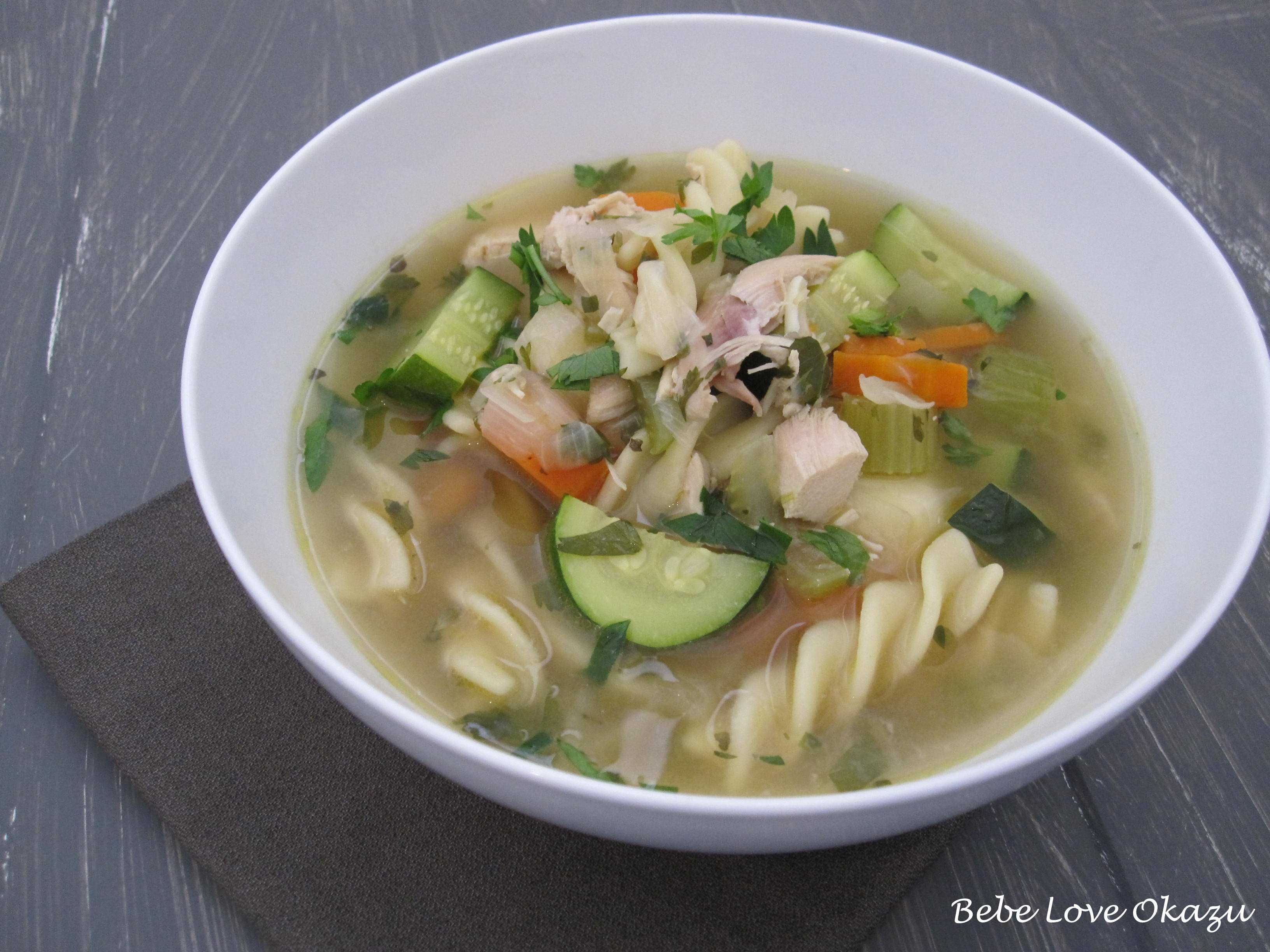 My Gig at CBS
In my last post, some of you may have read that I was off to visit the CBS studios last Friday.  One of my besties (1 of my 10 WLA girls that I grew up with) works for one of the "show runners" at CBS. I learned that in TV lingo, the show runner is the final decision-maker of a TV show, usually with the title of Executive Producer (although there are usually a small handful of EP's per show). However, the show runner basically has the last say in almost every aspect of the show. In a nutshell, my bestie's boss is the top dog.
So last Wednesday I get a call from my bestie, M, and the conversation goes something like this:
M: "Do you want to be a hand double for Lucy Liu? You won't get paid, but you could come and hang-out with me at the studio and we can eat hot dogs together. You have pretty hands so I think they'll like you."
Me: "What?"
M: She proceeds to repeat everything she already said, but she adds, "take a photo of your hand and iMessage it over to me right now."
Me: "What? Lucy Liu?"
M: "Yea, she just filmed a new pilot. Send me a picture of your hand."
Me: "Lucy Liu? My hands aren't what they used to be. They're old. I have serious 'dish-pan-hands'. I have a baby – so I wash my hands A LOT, almost compulsively – and I do dishes, several times a day. On top of this, now that I don't work, I clean my own house now. You know, with cleansers – and I don't always wear gloves. So… my hands are lookin' pretty rough these days. And I'm busy, so I don't use hand lotion very often – more like, hardly ever. I don't think they'll like my hands."
M: "No. You have pretty hands. Just send me a picture. I think they'll like you."
Me: "Ok. But I don't think they'll like my hands."
I text the picture over. 10 minutes later, M calls me back.
M: Laughing, "I told you they'd like your hands. They want you to come down on Friday to shoot their inserts." (Inserts = shots that are either forgotten, or too important for the actor to do/be in, but a necessary two second clip for the storyline to run smoothly.) Therein lies the root of hand-double (or other body-double) careers.
Me: "Uhhhh, Ok. I better start putting hand lotion on…"
M: "Don't worry, it will be fine! We'll have fun and eat hot dogs."
Me: "What's with the hot dogs?"
M: "Oh, there's a hot dog scene where they need your hands."
Me: "Oh. Well… Ok. I've been craving hot dogs. (Note: I never eat hot dogs, but yes, strangely, over the past two weeks I've been craving a $1.50 hot dog and soda combo from Costco. Isn't that horrible?!?) It sounds like fun, and the best part is that we get to hang out together. How often do we get to do that, huh?"
So Friday rolls around and it's pouring rain in Los Angeles – rare, but it happens. M and I get to the studio early, so she drives me around for a tour. We pass the executive offices so I snap a shot through her windshield.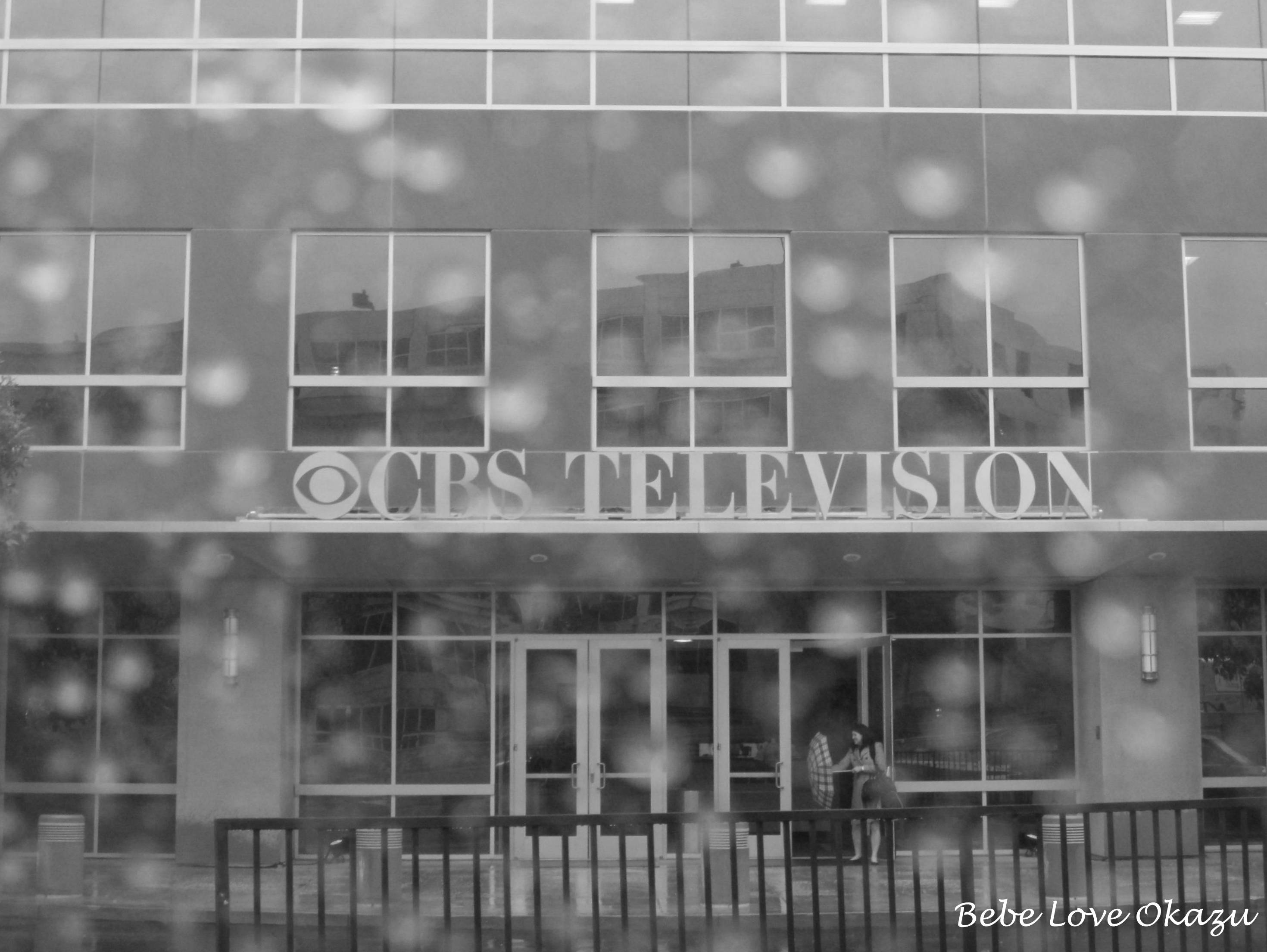 After this, it started to hail so this is the last picture I took during my road tour. We drove by "New York" street (a street that resembles the city), and then we drove by the house that was used in a Christina Applegate show, but was also the house for another show (the name of which I can't recall at the moment). We drove by bungalows and several studios for a number of CBS TV shows.
I was very impressed because my bestie even had a plaque with her name on it to indicate her parking space. My reaction: laughing –  "You have your own PLAQUE on your parking space? WTH?" This might explain why EVERY ONE I met that day was dripping with kindness and made the effort to pop-in to see M, and her "hand-double model". I even met Rob Doherty, writer | producer | creator of the pilot (and a few other shows I watch(ed). Super nice guy.
I was required to wear Lucy Liu's wardrobe for the insert which was overnighted from New York, where they filmed the pilot. She had great clothes – Helmut Lange, Citizens of Humanity, a nice trench coat, beautiful rings and necklace. The purse – not so great – not my style, but even though I didn't get paid, I would have happily accepted clothing in lieu of monetary compensation.  Oh, but the shoes! Yes, I had to wear her boots too (brand name to be withheld). While we seemed to wear the same size clothing, her feet were bigger than mine so I had a hard time walking in her shoes (get it – haha – can't walk in Lucy Liu's shoes – anyways…). After 16 + takes of standing in front of the hot dog cart, my feet hurt. The boots were bad.
So what was my role exactly?
That's my famous left hand!!! Watch-OUT Asian hand-doubles of Hollywood, here I come! LOL! :)
I had to squirt two hot dogs with yellow mustard, pick them up with my hand-double beauties and turn those puppies towards the camera, pretending to hand one off to Lucy Liu's co-star. Sounds easy enough, right? Well, it's not always as easy as you think. You wonder why movies cost so much? Now I know.
Let me tell ya, squirting two hot dogs with mustard, is not an easy task. And I was required to do this in New York fashion: pressed for time and in a hurry.
I'm not a good mustard squeezer.
We had a couple of mustard farts. We had a couple where my fingers got in the mustard as I was trying to hurriedly scoop up two dogs. We couldn't find paper towels to clean-off my fingers. There was talk of washing off the dogs because we thought the hot dog vendor was running out.
We went through a number of takes, trying different ways of scooping up the dogs, one at a time, two at a time. Shaking the mustard bottle, on and on.
Seriously, who knew that so much time and re-takes were required to get a TWO-SECOND insert, just right. It will be interesting to see if this insert makes it to the final cut.
So after each take, our lead "director" would announce, "anyone want a hot dog?" Let's just say after about the 8th take, none of the guys were volunteering anymore.  Hahaha.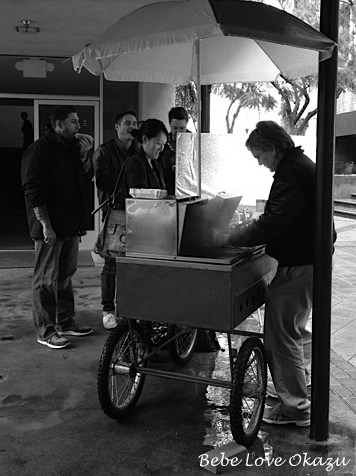 I had to pull my hair back so it wouldn't interfere with the scene. Notice one of the guys standing behind me is eating a dog? Hahaha. The hot dog vendor is not a hot dog vendor, but rather, someone who rents hot dog carts to studios for filming, or to companies for parties.
The day of my "shoot", I explained to Bebe E that Mommy was going to "work" and that she would need to stay with Bachan and Jichan (my parents). She cried, as expected, when I left her with my parents to screams of, "noooo, Mommy please don't leave me", but she was fine after her 10-minute melt down (thanks for the voicemail update, Mom).
When I returned from "work", I showed Bebe E the picture of me in front of the hot dog cart, and she said, "Mommy, how come your laptop not there (on the hot dog cart)". Kids are so funny.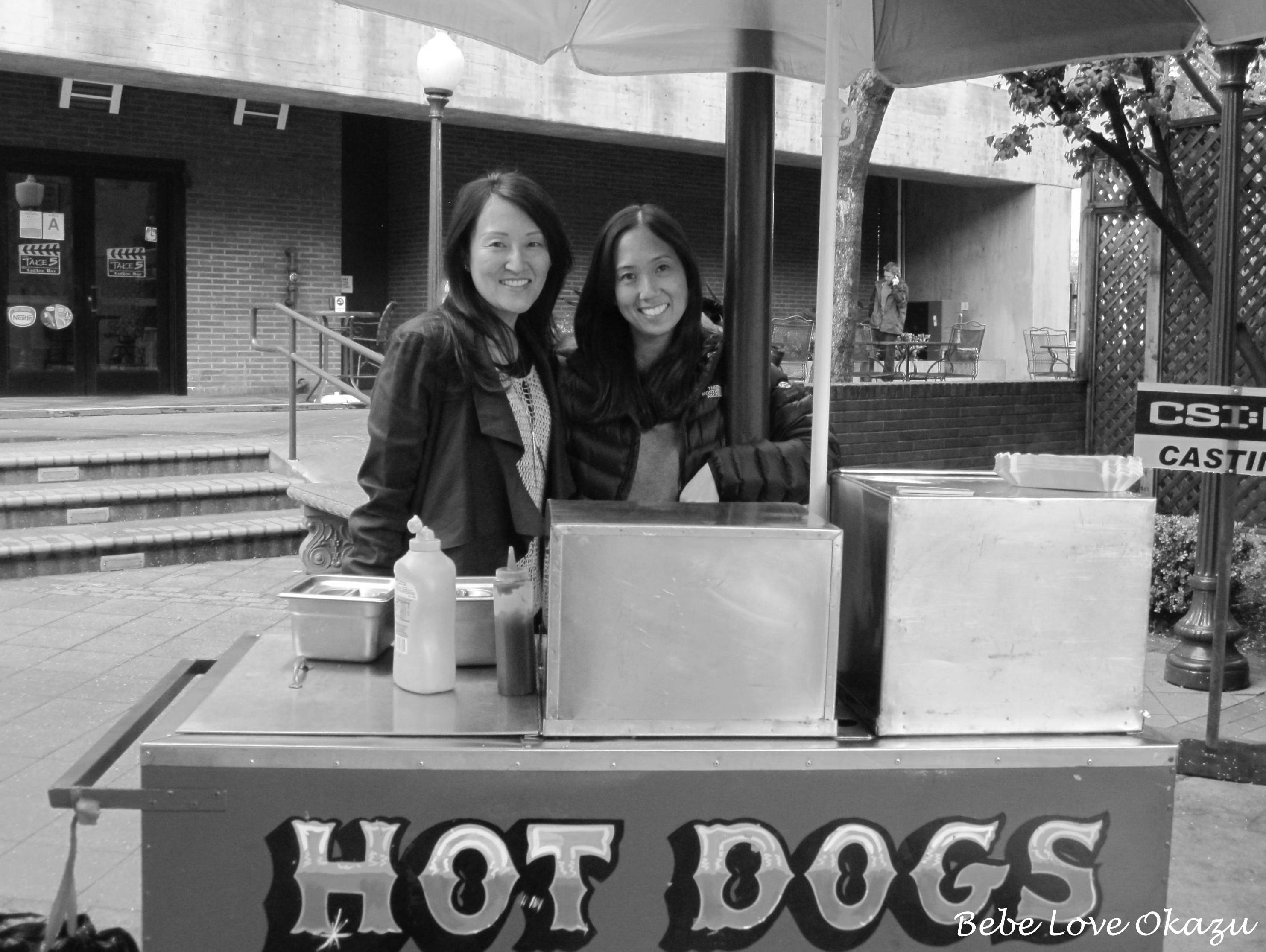 After about an hour of working on my hot dog scene, I had a second scene. We shall call it, "decline-call-from-parents-on-iPhone-while-walking-in-subway" scene. There were many challenges to shooting this scene, in addition to the fact there was no budget and limited resources. First, they needed a ground that looked like a subway. Then they needed something that rolled to shoot the scene. Neither were available. The crew was trying to figure this out while I rested my feet and tried to warm-up from the cold rainy weather. During this time, my manager (aka "M") was babying me – warming up my tea latte for me, keeping me indoors, asking if I was ok. :) I ♥ M.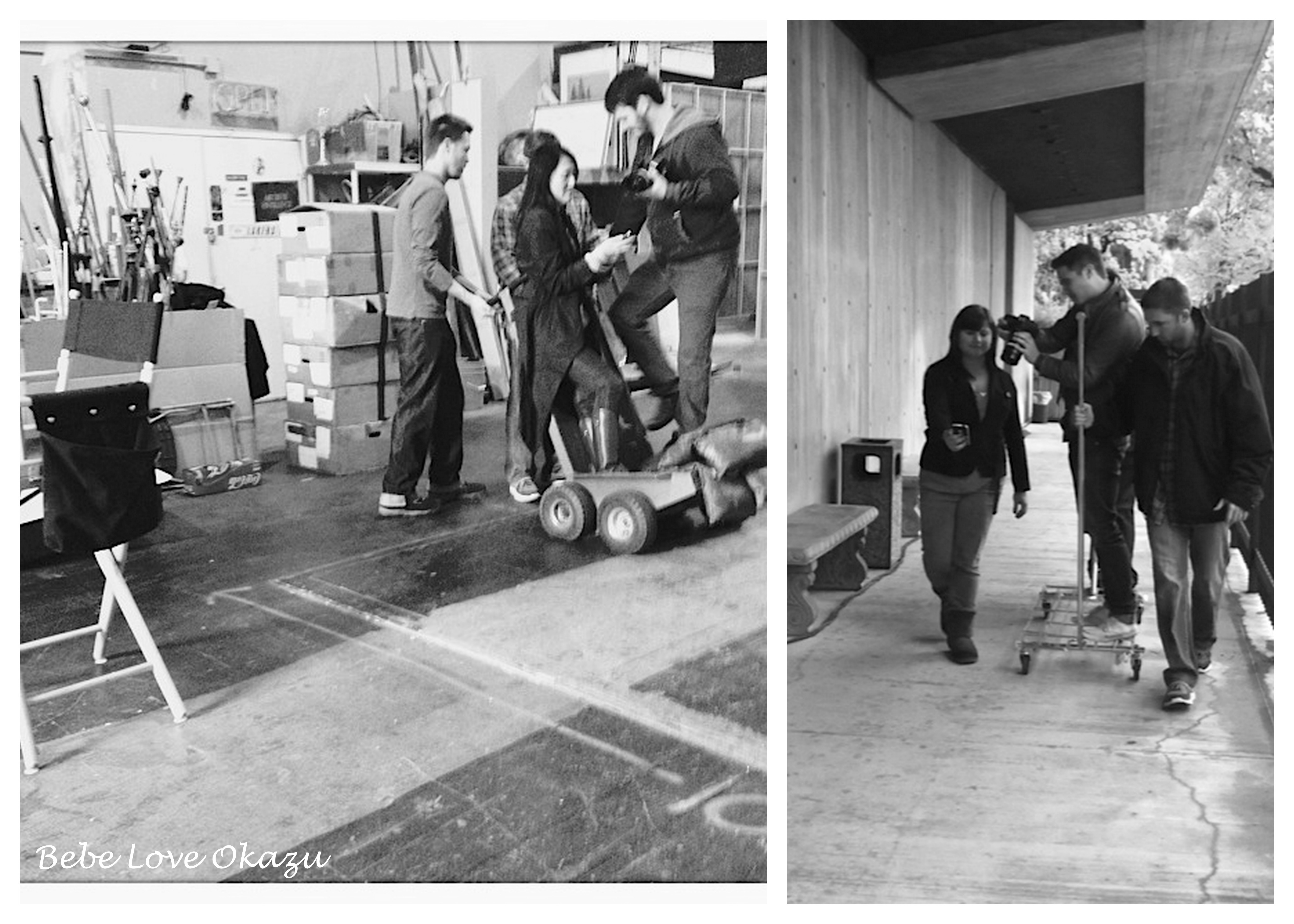 My brother laughed when I told him that I had a "stand-in". Photo on the right you see a sweet production assistant that I met who was helping out the crew, acting as my stand-in for the, "declining-a-call-from-Lucy's-parents-scene". Photo on the left is our ghetto-make-shift moving camera for capturing the ground moving while the camera gets a close-up of my thumb declining the call.
My que was, "thumb". LOL.
We shot this scene at least 15 to 20 times – thumb hovering over the decline button, thumb quickly hitting the decline button. Extras walking across the "subway" so we could capture their shoes in the iPhone's background.
So much work goes into one little insert. This shot will likely be another TWO-SECOND insert.
Keep an eye out for my hands in the pilot, "Elementary" on CBS in the Fall! If the show gets picked-up, will I have a new career as  Lucy Liu's hand-double?!? Will I have a profile on IMDb? Oh my goodness, this could be my big break into Hollywood!!! I'm joking. :)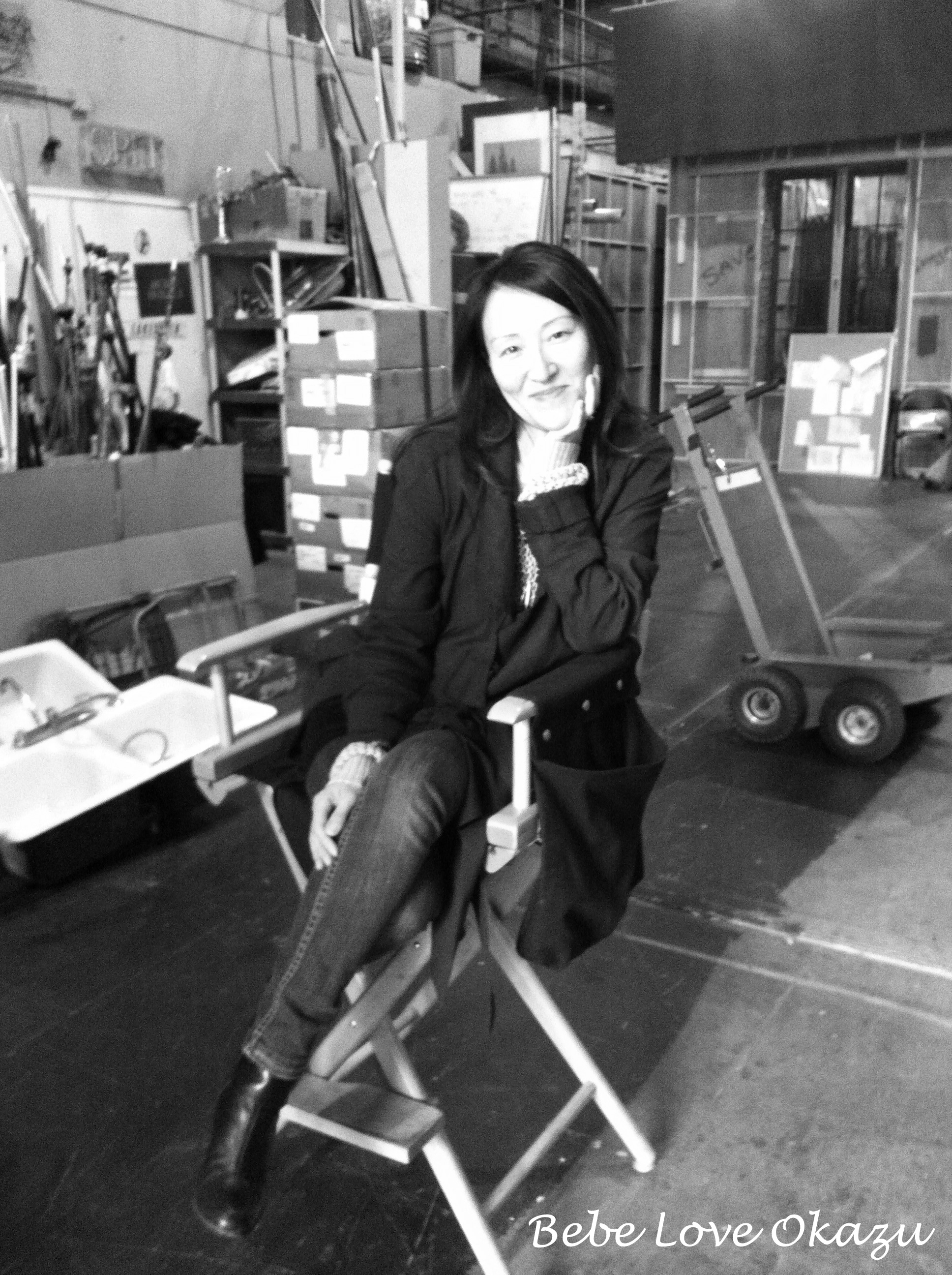 I might not have Lucy Liu's looks, but when Bebe E saw this photo of me, and she said, "Mommy, you look pretty at work", it only reinforced to me that all that matters is that beauty is in the eye of the beholder. Then she added, "Sweetie, where's your keyboard?" So adorable – love her.
Hope my Bebe's fever goes away and that she is feeling better soon. ♥
Bebe Mama | Almost Famous Asian Hand-Double | Judy
Simple and quick homemade soup.
Ingredients
6 cups water
1 -2 packs of Trader Joe's chicken base, to taste
1 can 16 oz chicken broth
½ yellow onion, diced
2 celery stalks, diced
3 carrots, diced
1 zucchini, sliced
3 cups rotisserie chicken, shredded
1 teaspoon oregano
1 clove garlic, split in half
Olive oil
Salt, to taste
Pepper, to taste
2 tablespoons chopped Italian parsley
1½ cups dried fusili pasta
Instructions
) In a large stock pot, heat olive oil on medium high heat. Saute garlic, onions, celery, and carrots for about 5 minutes. Season with salt, pepper, and oregano.
) Add water, shredded chicken and zucchini. Add Trader Joe's chicken base packet. Reduce heat to medium and simmer for 15 minutes.
NOTE: Most any vegetable can be added to your soup. I usually use whatever is left-over in our fridge: zucchini, kale, spinach, cabbage, broccoli, cauliflower. Occasionally, if I am in the mood for extra protein I will add a can of white beans too.
) Add 1 can of chicken broth and chopped parsley.
) In a small pot, bring water to boil. Add a pinch of salt, the dried fusili pasta and cook 8 minutes, or until tender. Drain water and gently spray with canola cooking spray to prevent pasta from sticking. Set aside.
) In a serving bowl, add a handful of pasta, then add hot soup. Serve with additional parsley for garnish.
NOTE: I don't cook the soup with the pasta because the pasta just absorbs all the broth. I typically store the cooked pasta in tupperware and add this to the soup bowl, just before serving the chicken soup.