Curried Chicken and Grape Salad with Walnuts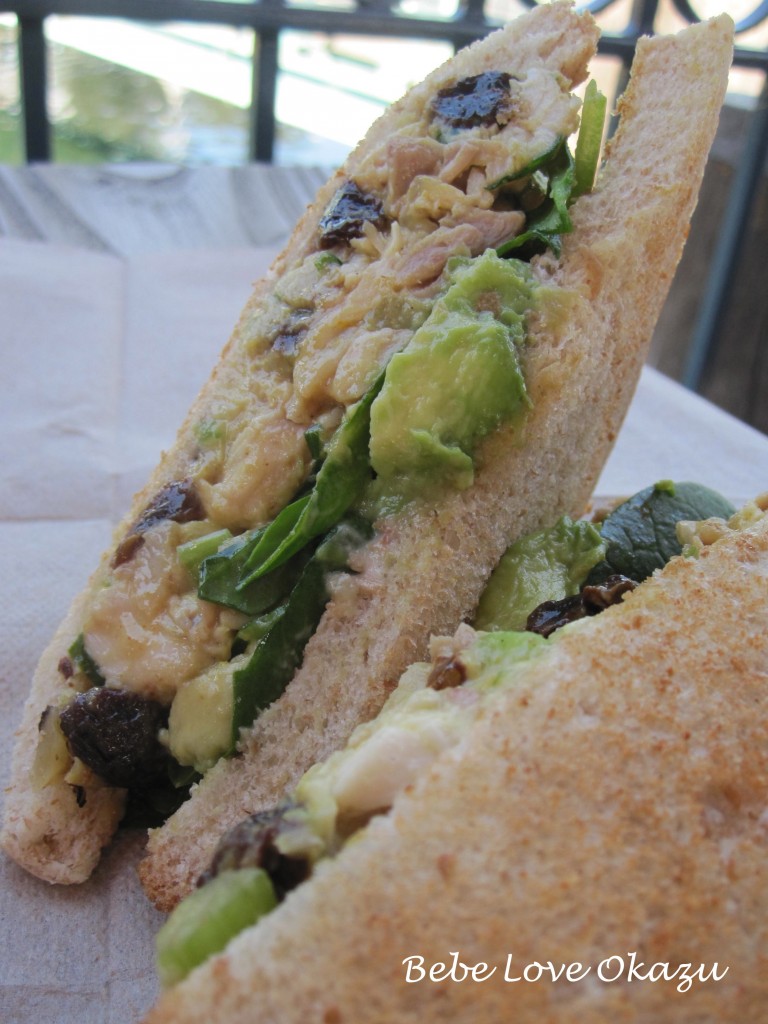 One of my favorite restaurants on the Westside of Los Angeles is the Urth Caffe. They serve a delicious chicken curry salad sandwich that I absolutely love. It's fresh, flavorful, light and hearty, all in one delicious bite. I should also mention they have the BEST organic tea lattes EVER. Matcha tea latte and English Breakfast tea latte are my favorites!
Because of geographical challenges, I don't always have the opportunity to dine on the Westside, but these days, one of my favorite ways to use leftover chicken is to make curry chicken salad sandwiches. In the past, I've never enjoyed fruit mixed with proteins or salads, but my taste buds are changing with age. I made a curried chicken and grape salad with walnuts on wheat toast and it satisfied my craving for Urth Caffe's yummy sandwich.
While it doest have the same ambiance as Urth Caffe, not too long ago I packed a lunch for Aya-chan, Bebe E and I to enjoy at the "Happiest Place on Earth".
We enjoyed a nice picnic in California Adventure near a "lake" where we could watch the ducks swim. This is one of Bebe E's favorite places to picnic in the park. The sandwiches were delicious, but I forgot that poor Aya-chan doesn't like fruit or nuts mixed with protein. Perhaps her tastes will mature as mine have?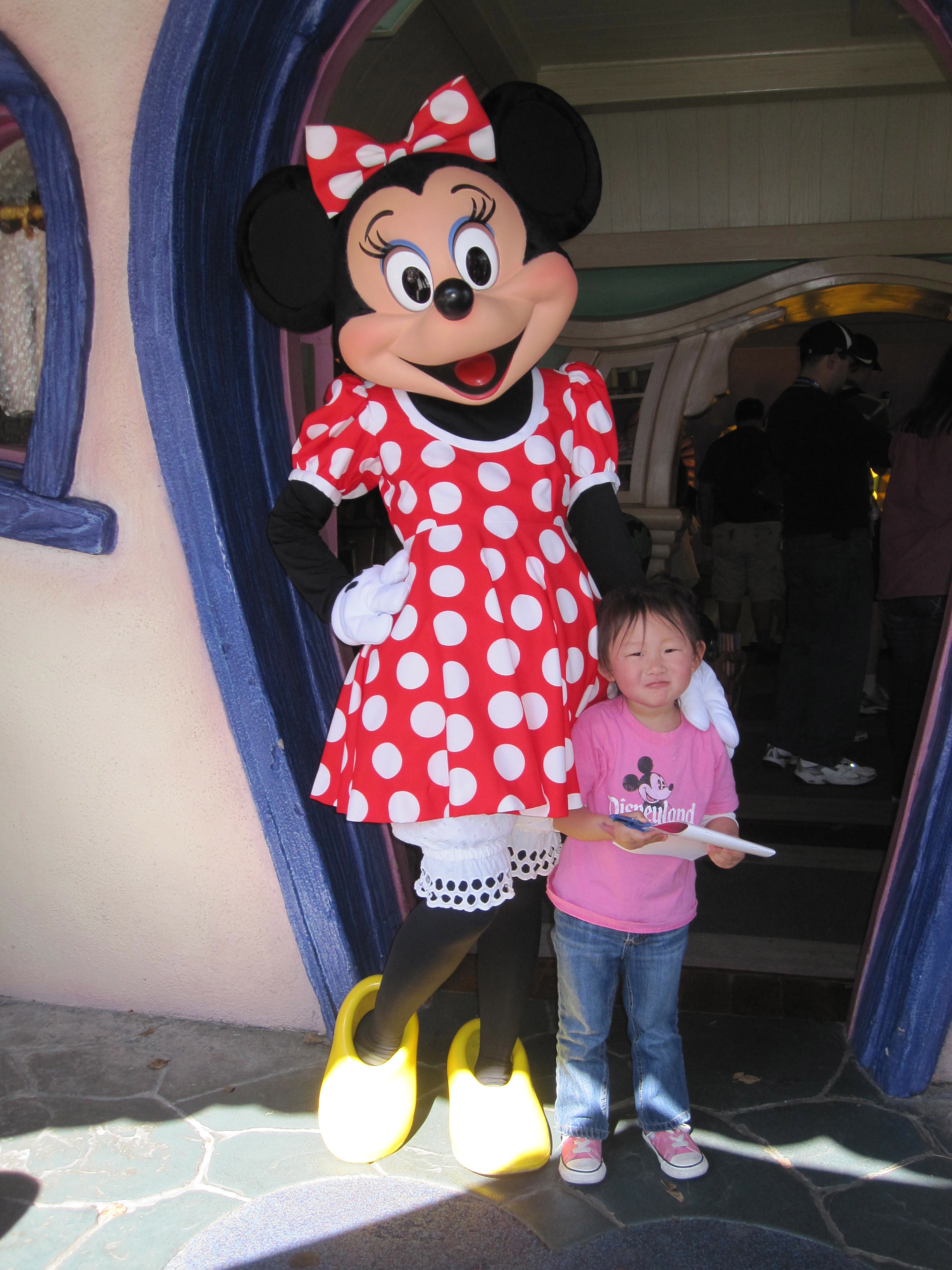 The photo above was taken on one of our last trips to the Happiest Place on Earth, just before our pass expired. I was very shocked when Bebe E excitedly stood by herself with Minnie Mouse for a photo. All year, as we posed to take photos with Disney characters, she was adamant that Aya or I hold her. I was happy that, after a year, Bebe E was confident enough to pose all by herself. She even gave Minnie Mouse a hug! Awww…. she's growing up!?! However, if you look closely at the photo, you'll see that she has a bit of a worried look on her face.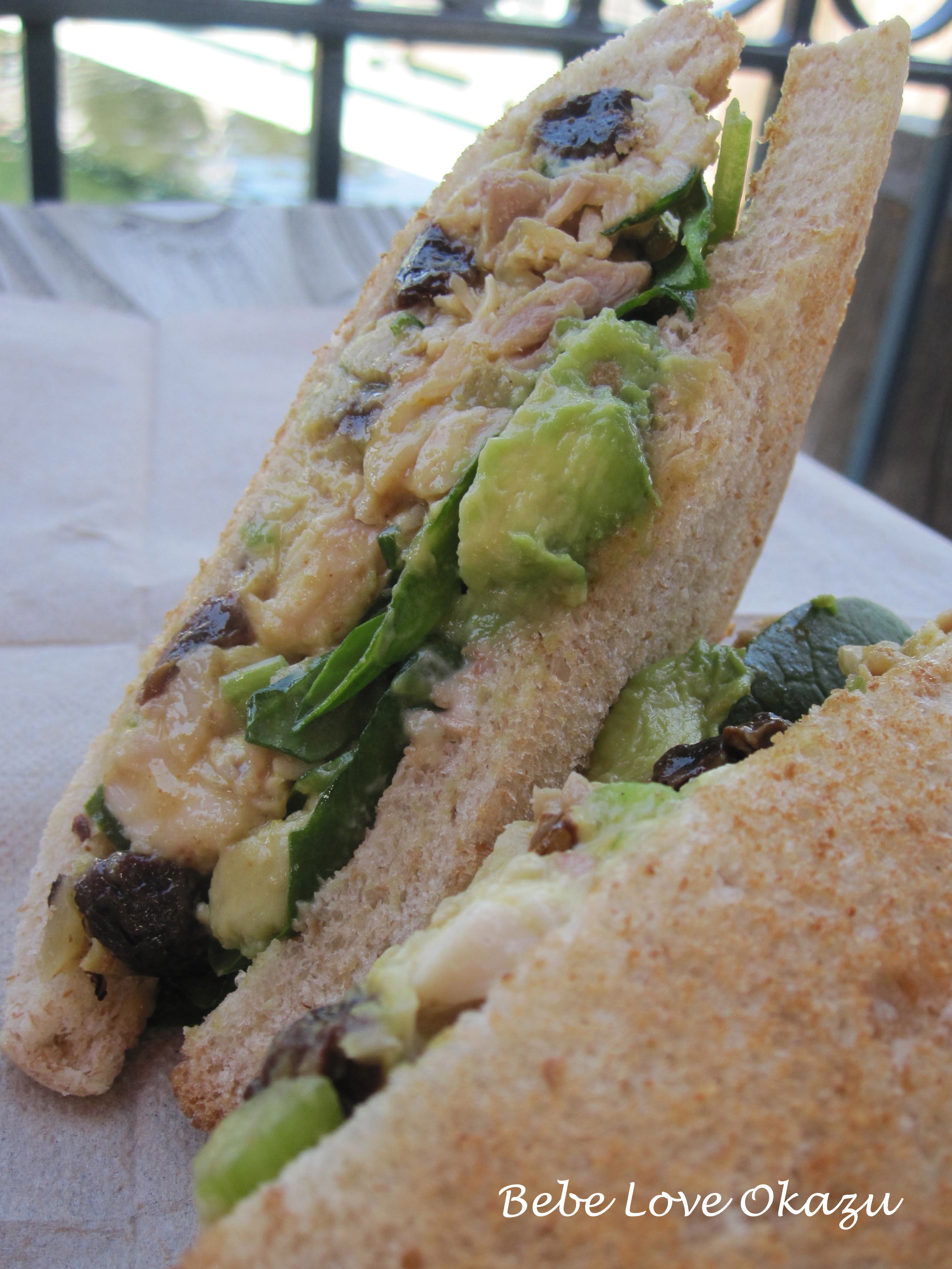 While the curried chicken and grape salad sandwich was great for our little outdoor picnic, I can also envision tiny finger sandwiches of this flavorful chicken salad at a lovely tea party. Regardless of how or where you decide to enjoy this chicken salad, it will not disappoint.
Cheers,
Judy
Curried Chicken and Grape Salad with Walnuts
Ingredients
chicken salad mix:
4 cups roast chicken, cubed
½ cup red seedless grapes, halved
¼ cup raisins
¼ cup toasted walnuts (or try pine nuts)
¼ cup diced celery
1 tablespoon thinly sliced green onions
dressing:
½ cup light mayonnaise
1 to 2 teaspoons curry powder, to taste
2 teaspoons honey
A squeeze of fresh lemon juice
for sandwich:
whole wheat toast
baby spinach leaves, optional
avocado, optional
for salad:
bibb lettuce
Instructions
Cube roast chicken. Add to large bowl with grapes, raisins, walnuts, celery and green onions. Toss gently.
Prepare the dressing and then pour over the chicken salad and toss until well coated. I recommend adding the curry powder a little bit at a time.
Assemble sandwiches with toast, curry chicken salad, baby spinach leaves and avocado. While the chicken salad holds its own in the sandwich, spinach and avocado slices added and extra layer of deliciousness.
Optional: If you prefer to enjoy your curry chicken salad sans toast, try serving these in lettuce cups for a nice salad.