Chicken Corn Chowder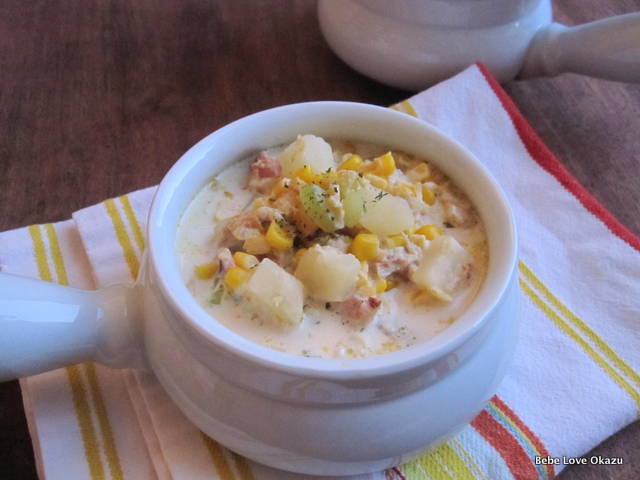 Not too long ago we had rainy weather in Southern California which is unusual, yet very much welcomed.
Bebe E has really blossomed over the past three to six months and over the rainy weekend she and I were hanging out at home alone while nursing her little cold, when she came over to me, grabbed my hand and said, "come with me mommy" as she tried to pull me off the sofa, she repeated, "come mommy".
She walked with me hand-in-hand and took me to our bathroom vanity where we have a skylight. She urged me to sit on the floor with her, face to face, now holding both of my hands in her tiny hands. Then she said, "listen, what's dat?"
It was the sound of very large raindrops falling on our skylight. When we looked up together, we couldn't see the rain falling and all we saw was white, as the rain clouds were a very light grey and camouflaged the raindrops. I told Bebe E it was raining.
I said, "ame-ame kon-kon" (which is part of a Japanese children's song about rain) and she said, "it's raining?" I told her that we were listening to the rain falling.
She asked, "where is it", and I explained that we couldn't see the rain because the raindrops were "camouflaged" by the rain clouds. She said, "oh~".
"Camouflage" is something we learned on Sesame Street, and we've seen that episode more than a few times together. We sat there for a while, then she said, "dakko" me, which means to "hold" her in Japanese, and we listened to the raindrops while hugging and looking up at the skylight.
It's the little moments like these where I'm reminded that so many of Bebe E's experiences are still firsts, and the world through her eyes are so fresh and innocent. It reminds me that there's much to appreciate and be thankful for in my life.
* * * * * * * *
When it rains, or when it's cold, I'm inclined to make soup. I've been trying to post more of my favorite soup recipes since posting about tortilla soup, and I share with you now a favorite from my college days. I only make this chowder, maybe once a year, but it's perfect for cold and dreary weather.
One year, I lived with a roommate from Hawaii while one of my besties (and roomie at the time), Pepe, studied a year abroad in Japan. I learned a few great recipes from my Hawaiian roommate. One of my favorites is her corn chowder. I adapted it by adding chicken to make it a heartier meal-in-a-bowl. It's an easy recipe, rich, and full of comfort.
Easy-peasy! Family loves it. I'm certain it's because of all the corn-y-ness. Ok, that was a bad joke… Seriously, they love the corn though.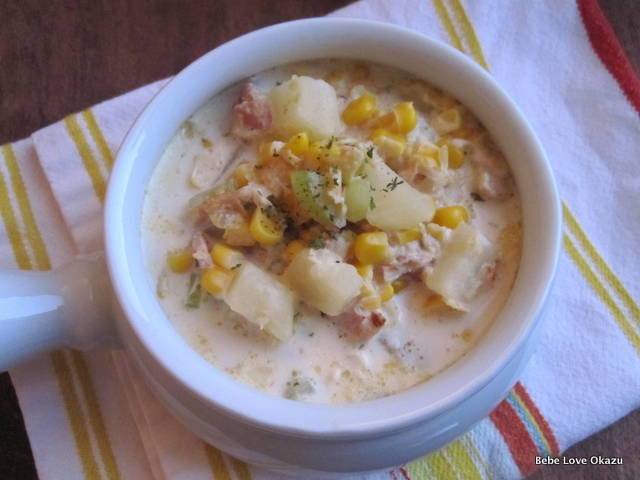 As is the pattern with our family, after Bebe E catches a cold, I'm next. I've been fighting a sore throat the past few days and I'm trying hard to fend off any progressive symptoms. So far, I've been fortunate.
On Thursday morning I was feeling ill (Bebe Dada was in New York and couldn't help), but I left the house determined to stand in line for Bebe E's nursery school registration at 7:00 AM. It was very cold outside, but thankfully I bid most of my time in my car and I had fabulous friends to help babysit Bebe E so that I didn't have to drag her with me.
I was hoping that arriving two-hours prior to registration opening would be sufficient to reserve a spot for Bebe E in the Fall, but I heard rumors that in years past parents were lining up hours in advance in order to secure one of the very limited spaces available. Open registration was only available because a few spots hadn't been filled and it would be on a first come first served basis.
When I arrived, I was second in line. The father in front of me arrived at 4:00 AM. Talk about dedication and what a parent will do for their child.  Needless to say, I am happy to report that I successfully enrolled Bebe E in nursery school for Fall 2012.
I'm excited about nursery school and Bebe E is too. When we went on our school tour Bebe E was very interested in participating in the activities with the other children. When it was time for us to leave, she didn't want to leave and insistently asked, "how come we have to go home." All great signs, I hope.
So that's the latest in our family: rainy day firsts, colds, soup, and nursery school.
Have a wonderful weekend! 'Til next time!
Judy
Ingredients
4 C low-fat milk
1½ C heavy cream
1 to 2 cans creamed corn (I prefer a heartier soup and use 2 cans)
1 can corn, optional (good to add if you prefer texture, I add 1 can if available)
28-ounce chicken broth (2 small cans)
4 small stalks celery, chopped
1 medium onion, chopped
1 to 2 potatoes, cubed
2 large carrots cubed
½ lb Hillshire Farms smoked sausage, chopped
4 chicken tenderloins, cubed (I also use leftover rotisserie chicken if available)
Salt, to taste
Pepper, to taste
Instructions
In large stock pot, fry sausage and drain oil. Set aside sausage on plate lined with paper towel to absorb excess oil.
Sautee onions, carrots and celery until soft. Add sausage back into pot, and add potato.
Combine milk, heavy cream, and chicken stock. Add canned cream corn and corn. Bring to a boil then simmer on medium until potatoes are soft. Add salt and pepper to taste.