Kansai Style Okonomiyaki (Japanese Savory Pancake)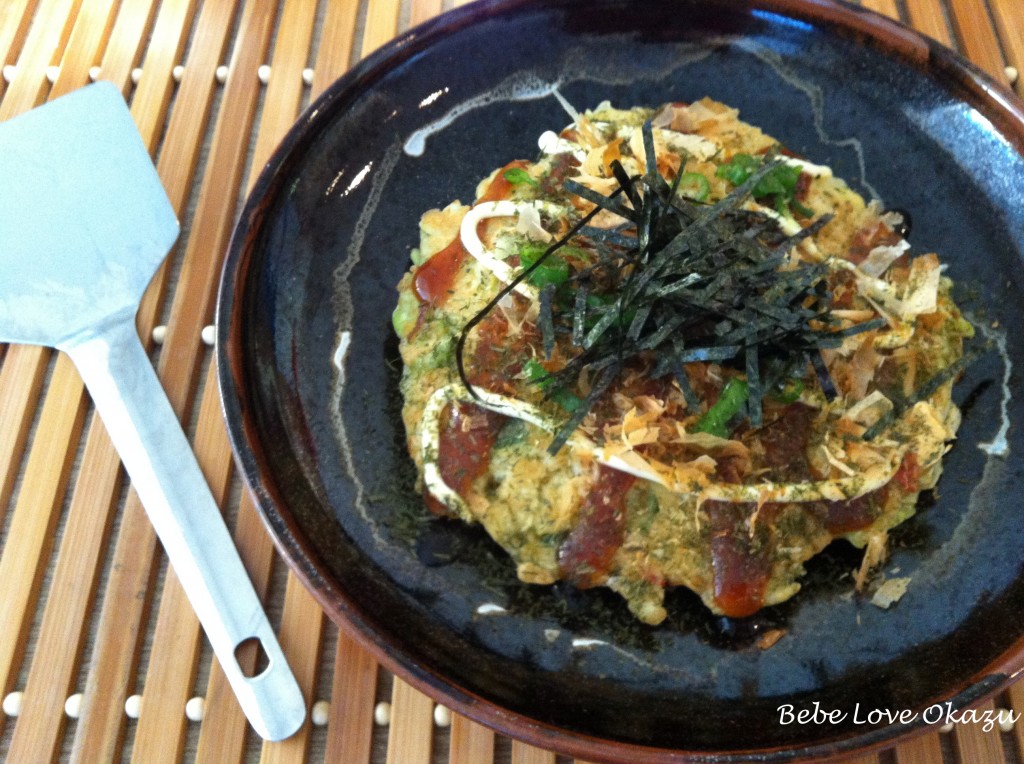 The other night I had leftovers from an okonomiyaki dinner we had with my brother (who was a bachelor for the weekend) and my "sista-from-another-mother" (a.k.a – Aya-chan) and her boyfriend, N.
That night, I made my family's Hiroshima – style okonomiyaki, but with the leftovers I made Kansai – style okonomiyaki. Several key ingredients had already been consumed, namely the soba noodles, moyashi (bean sprouts) and satsuma-age (fried fish cake), but the leftover cabbage and meat were perfect for my Kansai – style okonomiyaki.
The Kansai region represents six prefectures including Osaka, Kyoto and Hyogo which make-up Western Kansai, and Nara, Shiga and Wakayama which make-up Eastern Kansai. Kansai – style okonomiyaki is where the okonomiyaki batter is mixed together with ingredients, and then cooked.  On the other hand, Hiroshima – style okonimiyaki is where the batter is first cooked into a thin omelette, then it is topped with layers of vegetables, meat, noodles and egg. (See my post on Hiroshima – style okonomiyaki found here.)
Having grown up eating Hiroshima – style okonomiyaki, both my brother and I prefer this style over Kansai – style okoomiyaki, however, I was quite pleased with the results and it was a wonderful and very easy way to use up our leftover ingredients – despite the fact that my yakisoba noodles were missing! If you like noodles, I'm certain yakisoba or udon noodles (which is a thicker wheat noodle also commonly used in Hiroshima – style okonomiyaki) could be added to Kansai – style okonomiyaki too.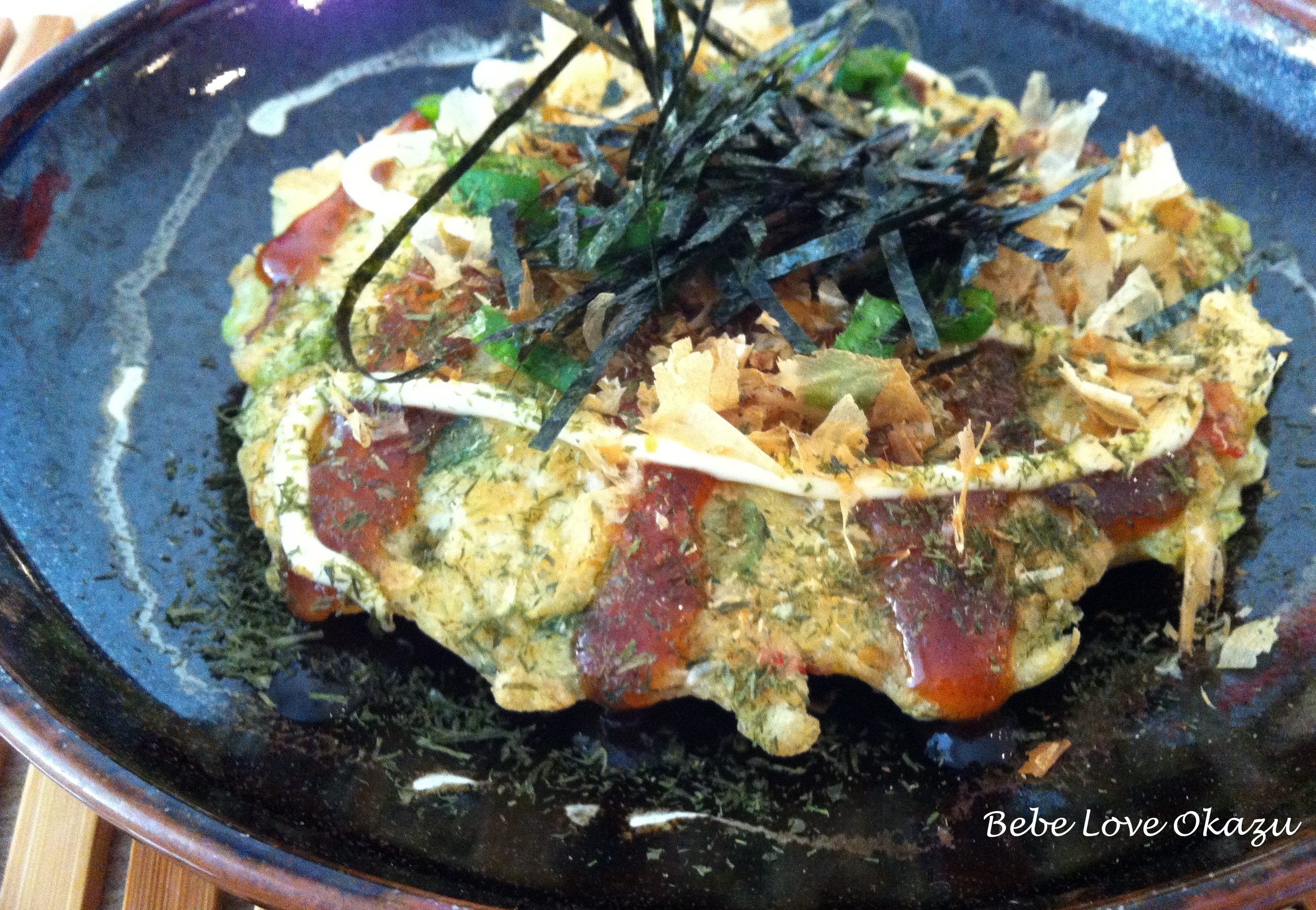 In case you are wondering how the okonomiyaki batter is packaged, here is a photo of what I purchased. I was intrigued because this particular package included nagaimo (or Japanese mountain yam), and that is one of my favorite Japanese vegetables so I couldn't resist giving this a try. In a future post, I will share a homemade okonomiyaki batter recipe that my mom used to make for us.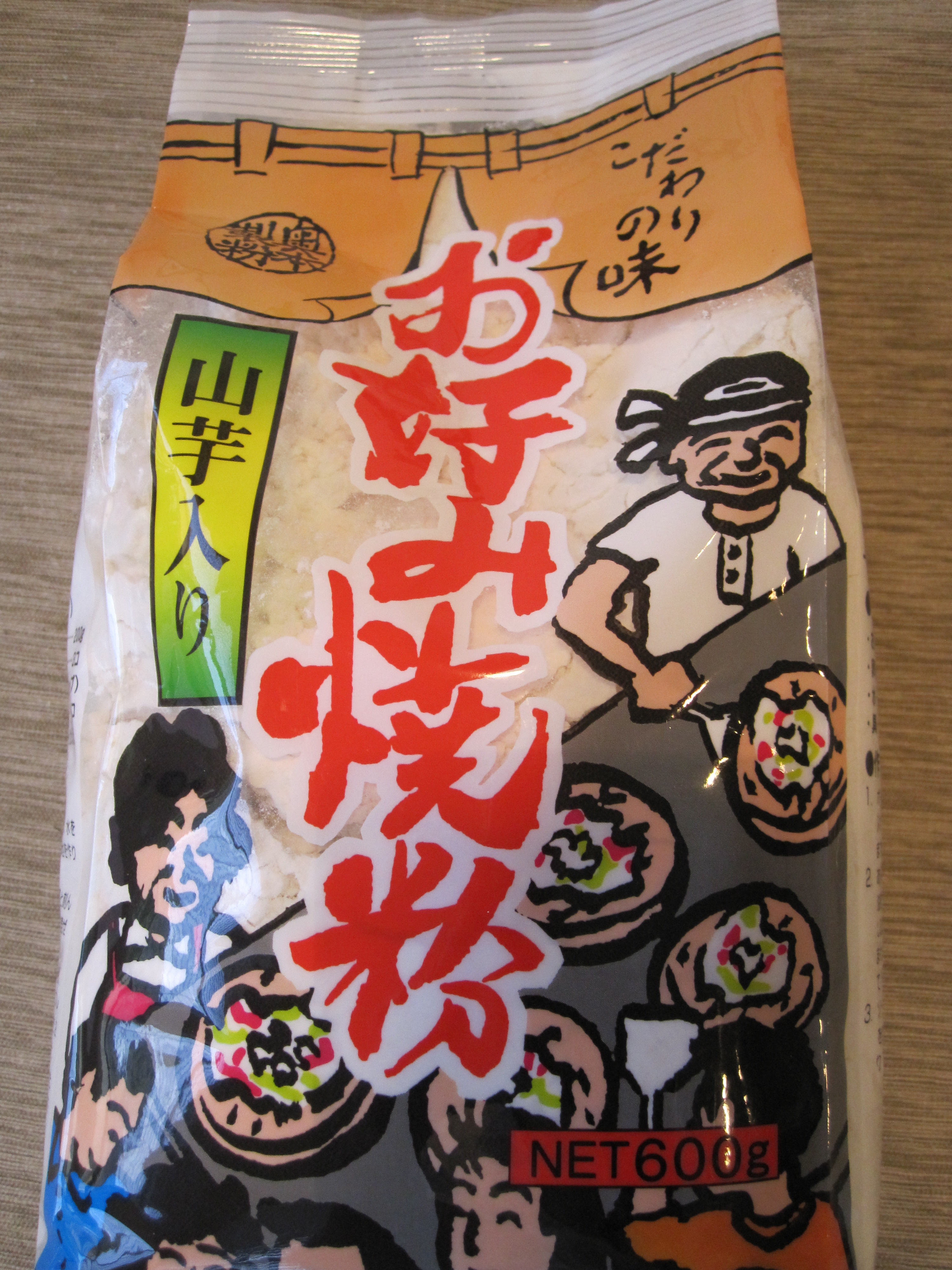 The okonomiyaki batter ready to go on the grill…
The batter will start to firm and turn into a hearty pancake as it cooks…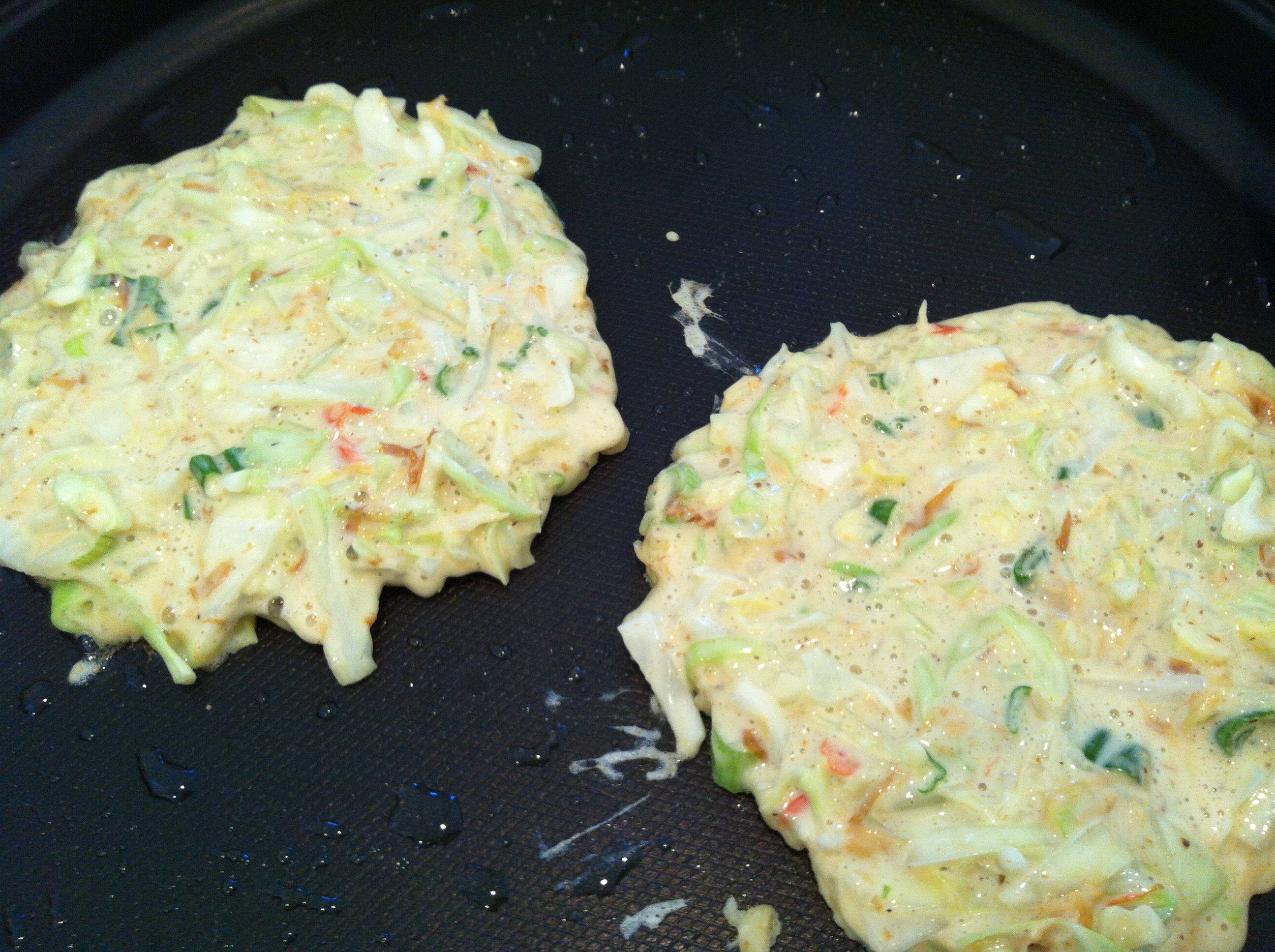 Before the pancakes are flipped, the thinly sliced shabu-shabu cut beef is layered atop the pancake…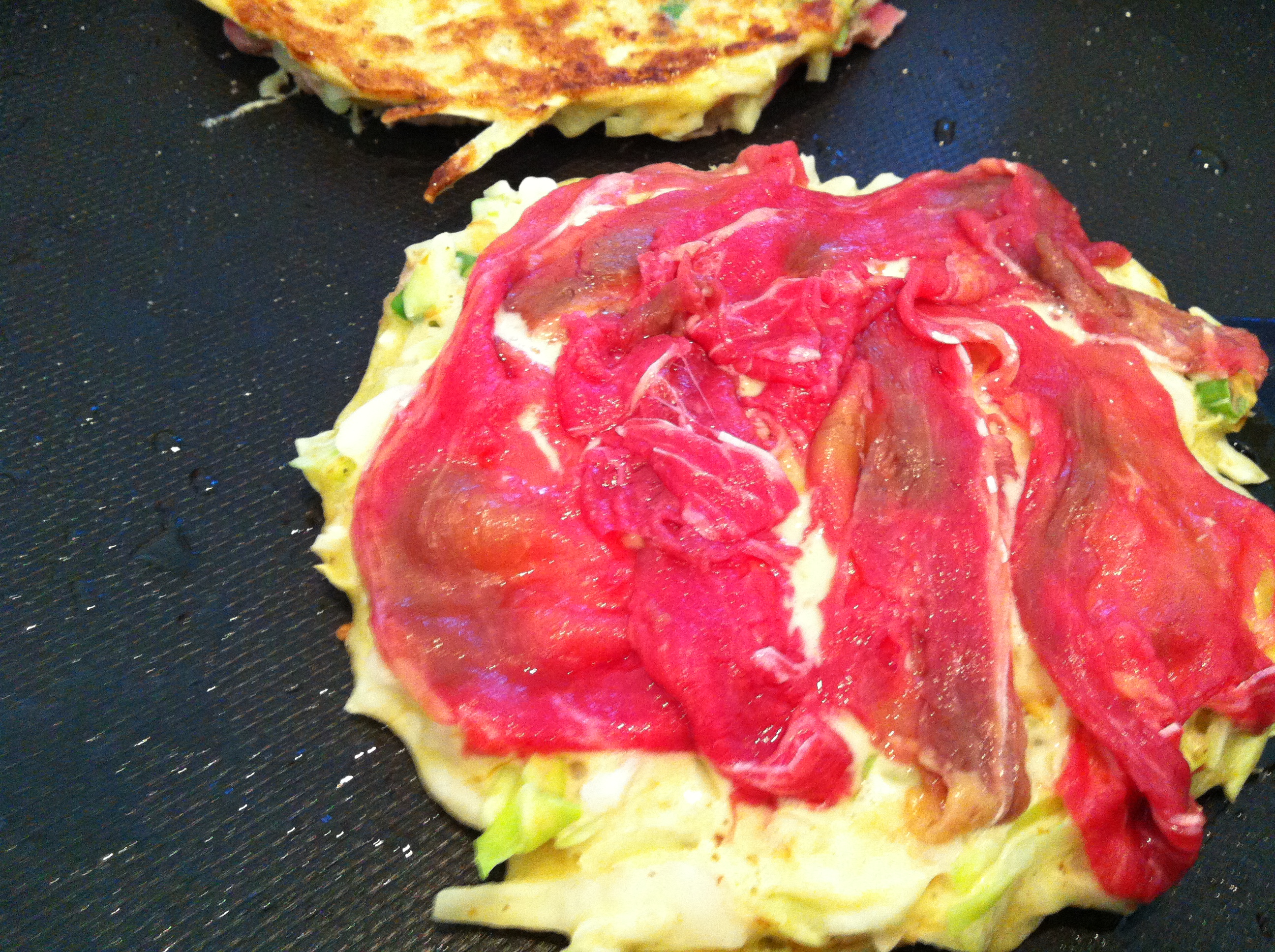 The finished Kansai style okonomiyaki ready for toppings…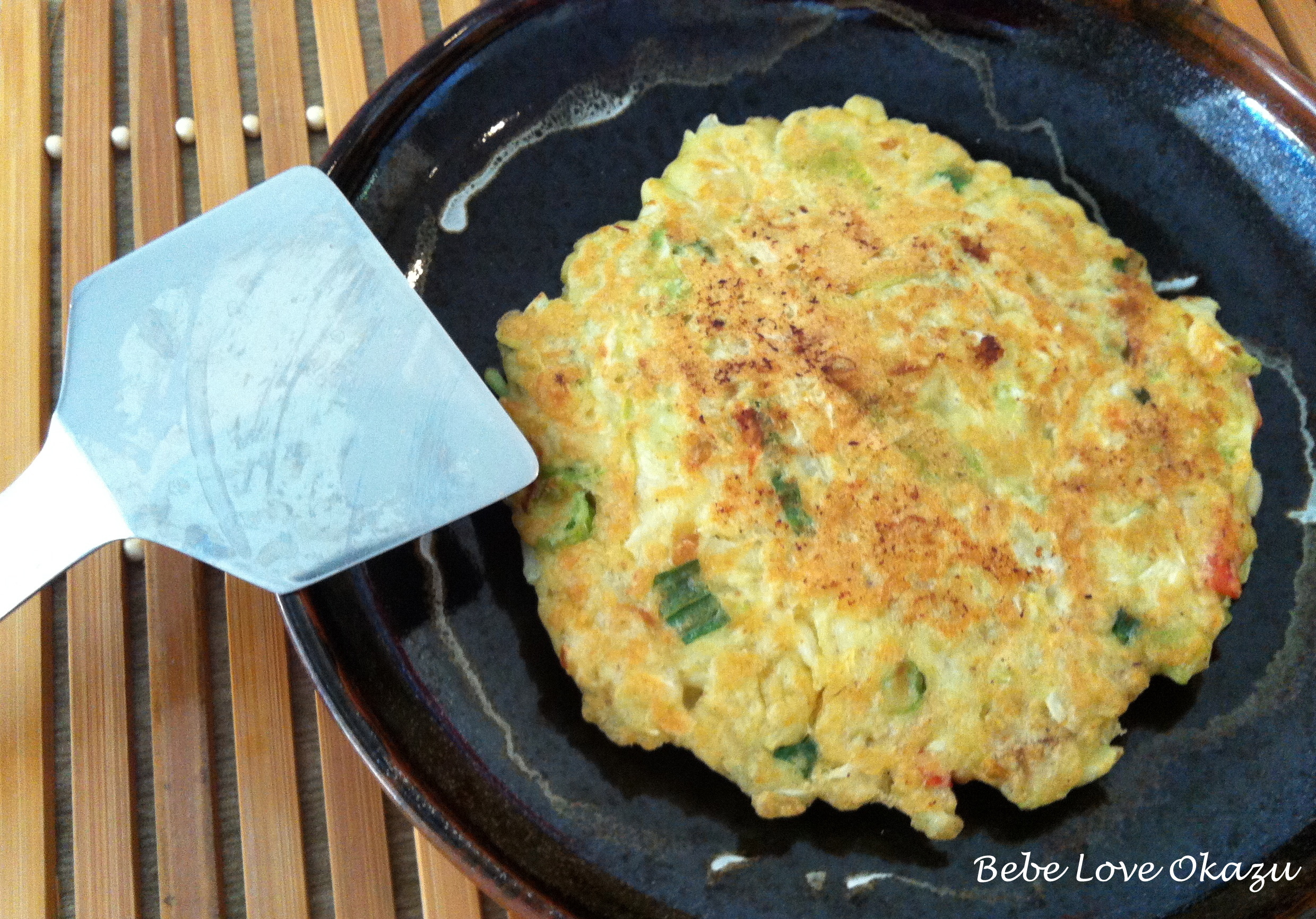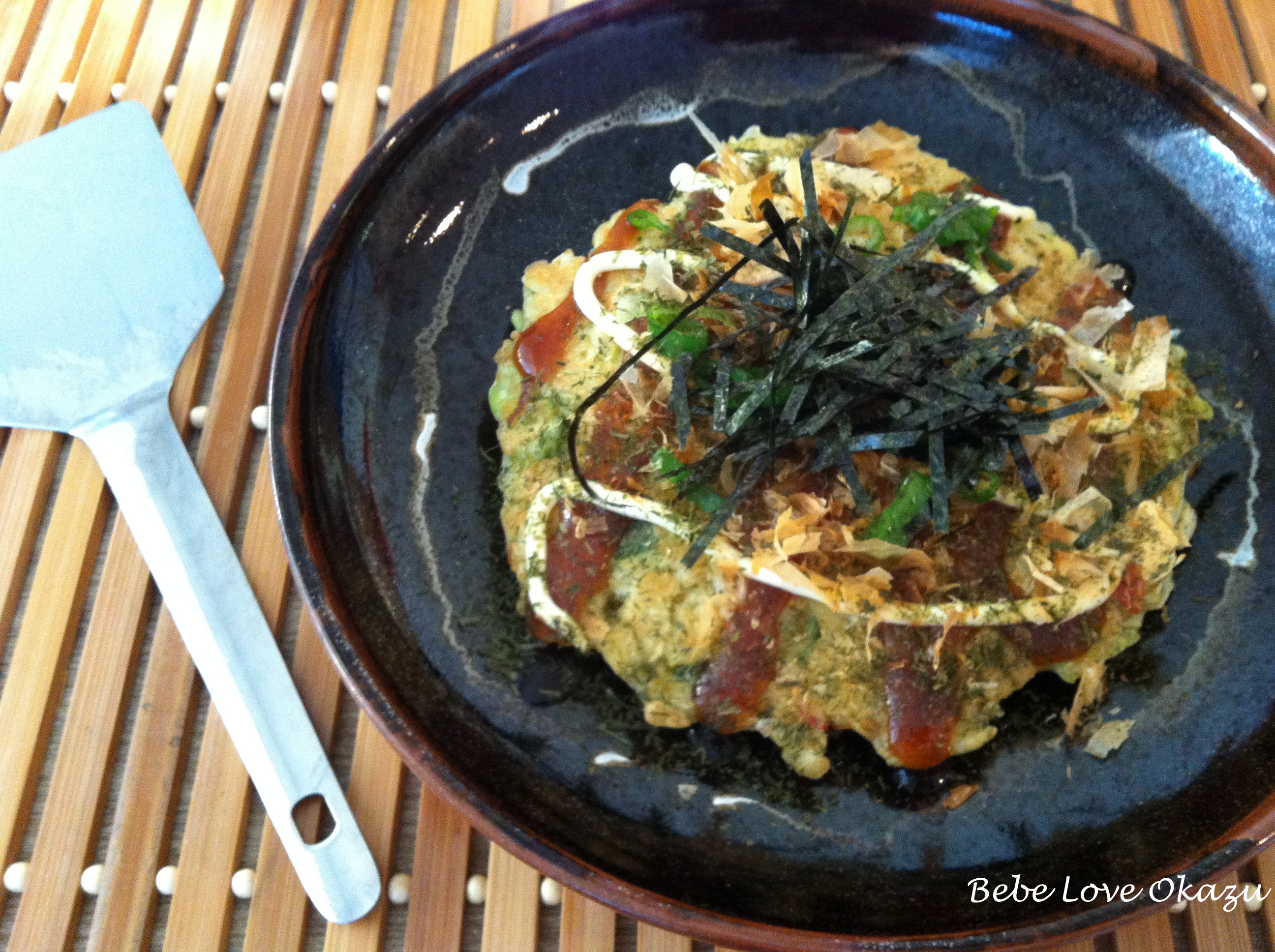 My Kansai style okonomiyaki, garnished just the way I like it. At the okonomiyaki restaurants in Japan (and probably here in the US as well), a small metal spatula is used as a utensil for cutting and eating okonomiyaki!
This Kansai – style okonomiyaki was definitely quicker and easier to make than the Hiroshima – style okonomiyaki which is cooked layer by layer, but the latter is still my favorite. Kansai -style is definitely heavy on the pancaky-texture given most all the ingredients are scrambled with the batter and essentially creates one large pancake. Hiroshima – style, given the very thin and understated pancake layer, tends to highlight more of the flavors of the vegetables, meat and noodles.
I urge you try both styles to determine your preference.
Cheers,
Judy

Kansai Style Okonomiyaki (Japanese Savory Pancake)
This Japanese savory pancake reflects the cooking style of the Kansai region.
Ingredients
for batter:
1 cup water
1 cup okonomiyaki kona (batter) *Okonomiyaki mix is available at the Japanese supermarket. *Note: I use a 1:1 ratio to start, but I prefer our batter to be thin vs. thick so I will add up to an additional ½ cup of water or eyeball the consistency of the batter to my desired thinness. Often, the ratios found on the back of the okonomiyaki batter package lean toward a thicker pancake. Feel free to follow the ratios on the package and experiment.
for okonomiyaki:
Kezuriko (dried shaved mackerel powder)
Katsuobushi (dried bonito flakes)
Beni-ebi (sakura / dried baby shrimp)
¼ cabbage, chopped
1 stalk negi (green onions), sliced
Satsuma-age (fried fish cake), sliced - optional
Shabu-shabu beef (very thinly sliced beef typically used for shabu-shabu)
2 eggs
Canola oil for the griddle
for topping:
Negi (green onions), sliced
Okonomiyaki sauce (sold at Japanese supermarket)
Kizami nori (sliced black seaweed)
Aonori (green seaweed)
Katsuobushi (dried bonito flakes)
Black pepper
Lite Mayo (Japanese brand Kewpie Mayonnaise is a family favorite)
Instructions
Prepare the okonomiyaki batter according to the instructions on the package. As mentioned above, feel free to add water to thin the batter. I used 1 cup batter to about 1½ cups water. Batter might be slightly lumpy when mixed. I use chopsticks to lightly mix the batter.
Prepared okonomiyaki batter purchased at Japanese supermarkets.
Slice cabbage into small lengthwise pieces, then rough chop into smaller bites. Place in a bowl and cover with a wet paper towel. Microwave on high for 2 minutes. This slightly pre-cooks the cabbage and shortens the cooking time on the teppan.
Add the chopped cabbage, egg, kezuriko (dried shaved mackerel powder), katsuobushi (dried bonito flakes), beni ebi (sakura / dried baby shrimp) and green onions. (Also add sliced satsuma age fried fish cake) at this point if available.) Mix well until eggs are incorporated.
OPTIONAL: At this point, seafood such as shrimp or squid could also be mixed into the batter. For a vegetarian option, omit meat and consider adding more vegetables such as moyashi (bean sprouts) or spinach. Other options include: takuan (Japanese pickled radish), kimchi (Korean pickled spicy cabbage), or yamaimo (Japanese mountain yam). The term "okonomi" in Japanese means "personal preference", so be creative and make your okonomiyaki with ingredients you like!
Heat griddle or teppan to medium-high heat, and using a brush or paper towel, coat the griddle with canola oil.
Scoop about ½ cup of the okonomiyaki batter on the teppan and spread it out using the bottom of the ladle in a circular motion until desired size. Use less or add more batter depending on how big you want your okonomiyaki. Allow the okonomiyaki to cook on medium high heat for about 4 minutes.
Lay shabu-shabu beef (or other thinly sliced meat) on top of the okonomiyaki, then flip the okonomiyaki over. Allow it to cook another 4 to 5 minutes. Other types of meat can also be used. Sometimes we make combination okonomiyaki with thin slices of pork and beef.
NOTE: If you want to experiment with adding noodles, I recommend sautéing the yakisoba noodles or udon noodles, and placing them on top of of the okonomiyaki batter, and then placing the meat on top of the noodles before flipping the pancake over.
When your okonomiyaki is cooked and ready to be plated, be sure to cover your plate with okonomiyaki sauce and some katsuobushi prior to transferring the okonomiyaki on to your plate.
Pile on the toppings! Pour more sauce on top of the okonomiyaki. (We're brand loyal to the Otafuku brand when it comes to okonomiyaki sauce.)
Add optional toppings such as: katsuobushi (dried bonito flakes), aji nori (seasoned dry seaweed), ao nori (green nori flakes), Qewpie brand Japanese mayonnaise (YES, mayo!), negi (chopped green onions), and a dash of black pepper.