Hina Ningyo Sushi (Dolls Made of Rice) and Hinamatsuri 2012 (Japanese Girls Day)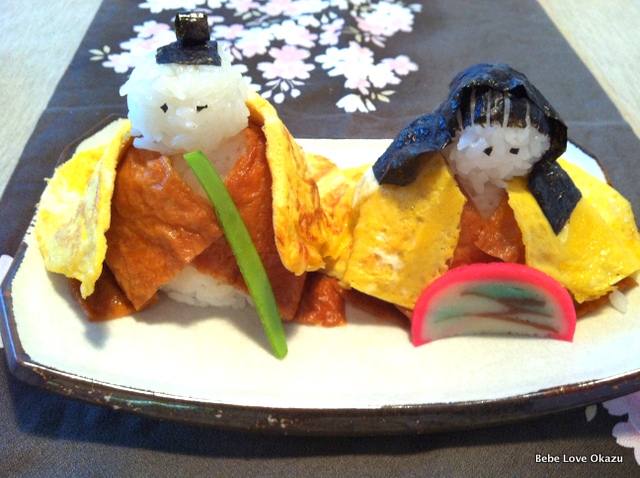 The week leading up to March 3rd, or Hinamatsuri (Japanese Girl's Day), I was busy running errands to different Asian supermarkets. Bebe E was excited about her Hinamatsuri party and when I mentioned that I needed to cook or that I needed to run an errand, she started asking, "for my hina-ma-sri party?" :)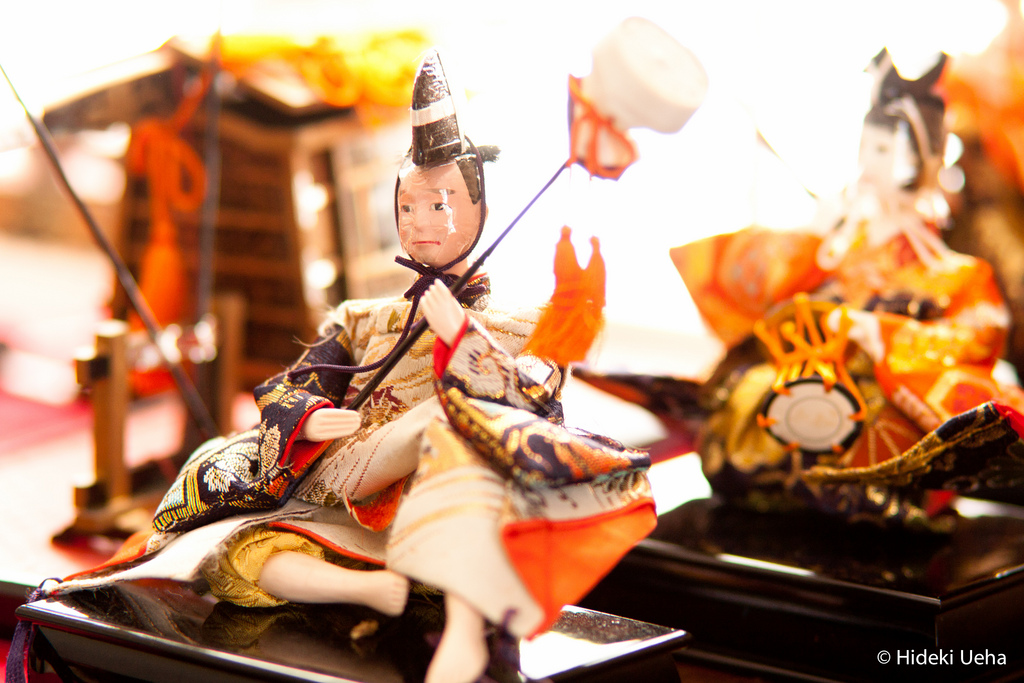 Photo Credit: Hideki Ueha
Many thanks to my bro-in-law for taking some amazing photos at our Hinamatsuri party! He has great shots from trips, hikes, surf competitions, race cars, Rose Parade floats, the list endless! Please take a moment to view his photography by clicking on the link.
This is also the same week that I somehow managed to french braid Bebe E's very limited, and very fine hair and tie the ends with pink ribbon. I discovered that my husband's hair gel does wonders for baby fine hair, making it much easier to handle. After taking pictures of her braids and showing them to her, she asked, "please, Bebe E have these for my hina-ma-sri-party?" :)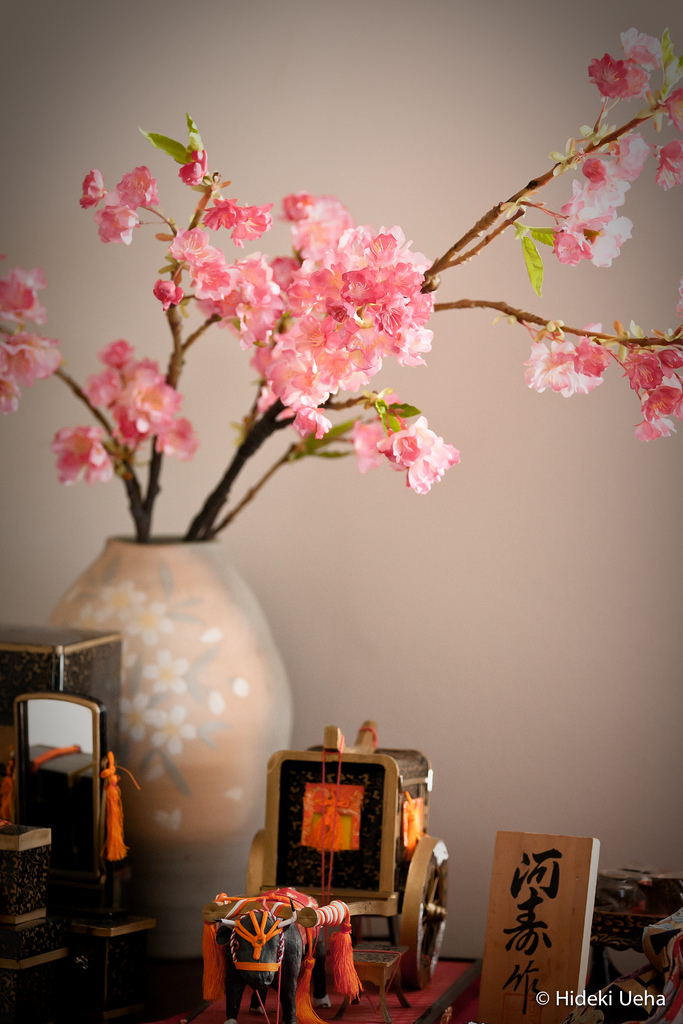 Photo Credit: Hideki Ueha
Crafts is one of Bebe E's favorite activities and it's a great way to make a holiday more memorable. We also enjoy gifting our crafts to our loved ones. Last month, for Valentine's Day, we made cards, paper hearts, lady "luv" bugs, and cupcakes.
For Hinamatsuri, I found a cute Japanese paper doll bookmark dressed in a kimono (traditional Japanese garment) and obi (sash). The doll had three pieces that needed to be cut out and assembled with glue.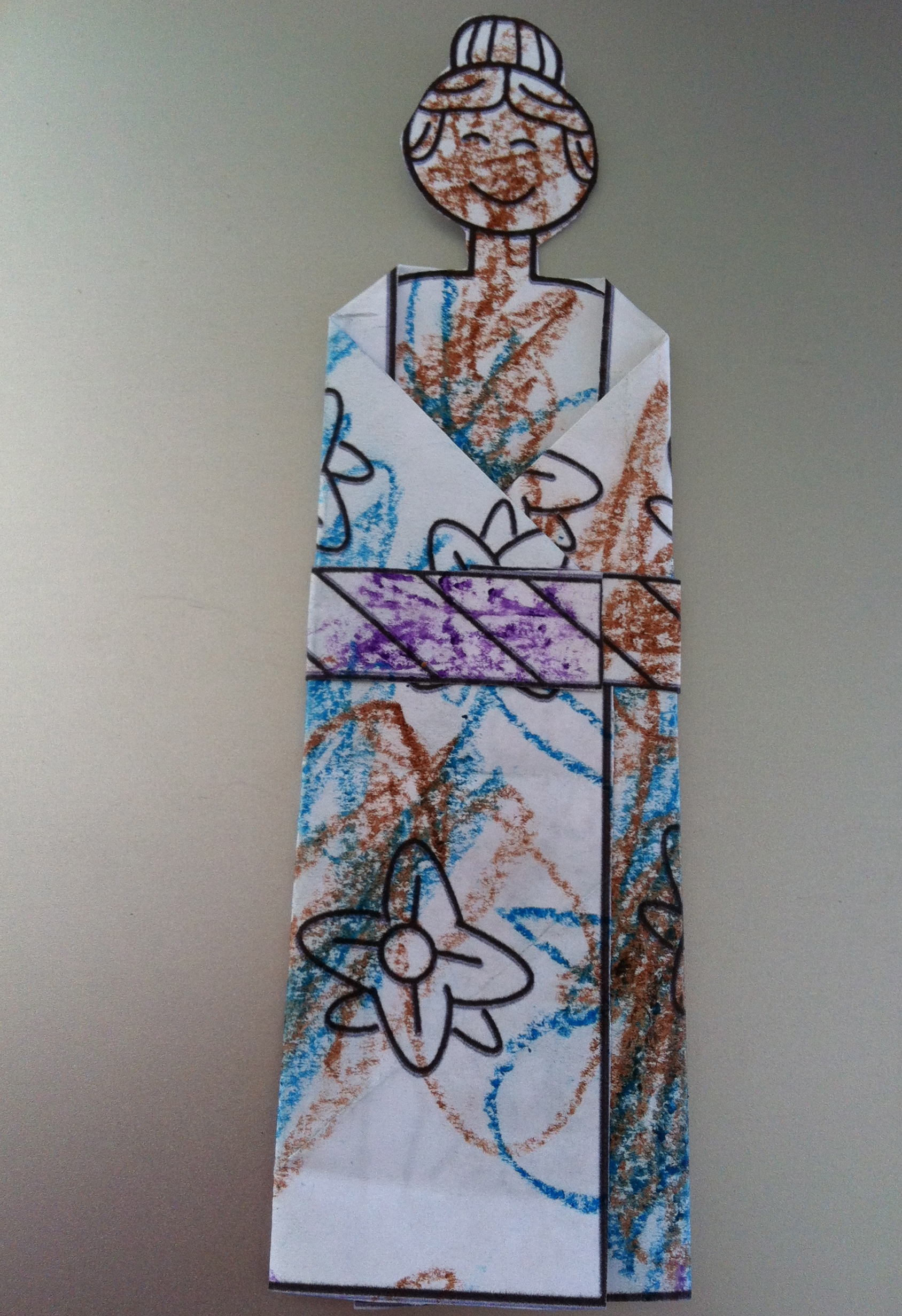 I also found a cute hina ningyo (Japanese Girl's Day dolls) calendar/coloring sheet on a Japanese website. Bebe E colored a hina ningyo sheet especially for Obaachan (her maternal grandma). She said her picture was "the same as Obaachan's hina-ma-sri" (referring to the dolls on display) and wanted to give it to her.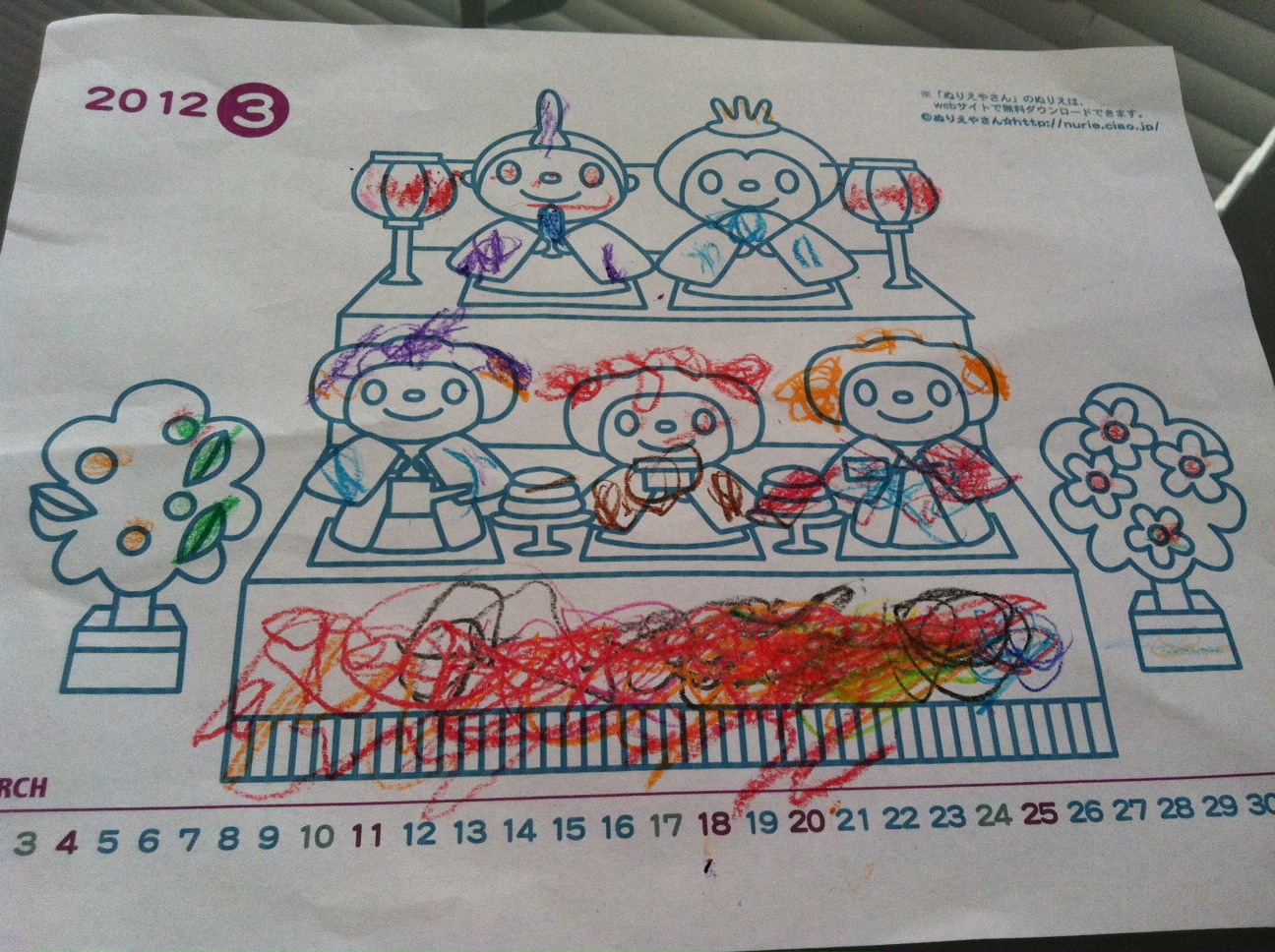 Bebe E colored this all by herself. I like how she is doing a good job staying within the lines! Look at those oranges! I think that she might have inherited more than a few of my personality traits. :) 
The Hinamatsuri display has between one and seven platforms. I taught Bebe E that on the top row of the hina ningyo display is where the Prince and Princess sit. The girl on the right is the Empress, or "Hina-Sama" in Japanese, and the boy on the left is the Emperor, or "Odairi-Sama" in Japanese. Together, they are known as dairi-bina (or imperial dolls). (More info on Hinamatsuri available here.)
On the the second row is where the three ladies sit. These are the Ladies in Waiting, or "San-nin Kanjyo". That's a lot of info for a 2 year old. What she retained is that there is a princess and a prince – she was happy. :)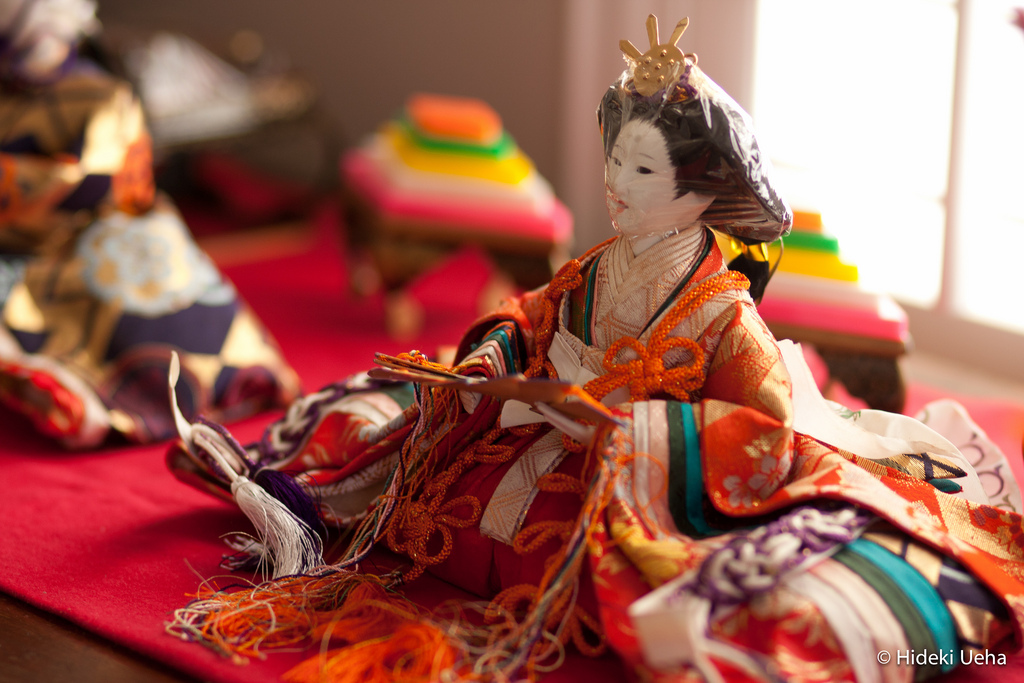 Photo Credit: Hideki Ueha
Ohina-sama (Empress) from our hina ningyo collection.
My mom displayed just a handful of my (now Bebe E's) hina ningyo from the nana-dan (seven platform) set that my maternal grandparents sent from Japan when I was born – – – decades ago. :) We joked that the hina ningyo set is now "vintage" but sadly, it really is fairly old! Unfortunately, a small handful of the items from our set were damaged due to unforeseen circumstances but I've almost reassembled the set, thanks to my Auntie & Uncle in Japan.
Next year, we should be able to display all seven platforms… stay tuned in 2013! In the meantime, it is important to keep in mind that parents in Japan traditionally celebrate Hinamatsuri (Japanese Girl's Day) to wish their young daughters happiness, good health and marriage in life. (See my 2011 Hinamatsuri post here.)
Over the weekend, I hosted a family Hinamatsuri party for Bebe E and my baby niece. We celebrated with 17 family members. It was as though we were re-visiting our Oshogatsu celebration, sans 20 Japanese dishes.
I made a simpler version of last year's Hinamatsuri chirashi sushi. This year, I kept the toppings simple: kinshi tamago (thin egg omelette), snow peas, kaiware (radish sprouts), kamaboko (fish cake), ebi (shrimp), amazu renkon (pickled lotus root), and ikura (salmon roe).
Photo Credit: Hideki Ueha
Chirashi sushi recipe post is available here.
I also made edamame gohan. In addition, we ordered a platter of nigiri sushi, inari, and futomaki sushi from our local Japanese deli, and my Dad grilled our favorite salt and pepper chicken wings and salmon.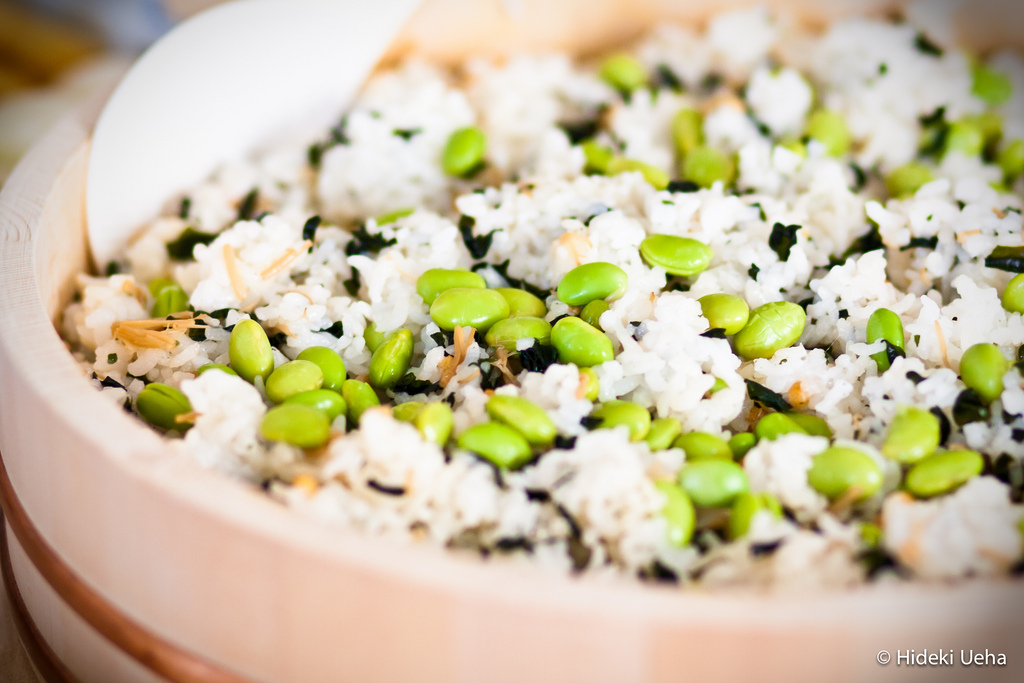 Photo Credit: Hideki Ueha
Edamame Gohan (rice with soy beans, seaweed and namesake mushrooms).
Recipe post is available here.
Typically, for Hinamatsuri, asari no sumashijiru (clear soup with clams) is what my Mom used to serve us when I was a little girl, but one year I made asari no miso shiru (recipe post here) and this year, I asked my Mom to make miso shiru (miso soup recipe post here) and tonjiru (pork miso soup), just to change things up a bit.
For dessert, I considered making sakura mochi (follow link for recipe post) which is a traditional Hinamatsuri wagashi (Japanese sweet rice cake dessert), but our lunch menu consisted of chirashi RICE, edamame RICE, inari RICE, futomake RICE, and nigiri RICE. Too much rice/carbs! Instead, I served fresh fruit and of all things, jello, because that's what Bebe E enjoys. My brother purchased some kashiwa mochi from our local Mitsuwa.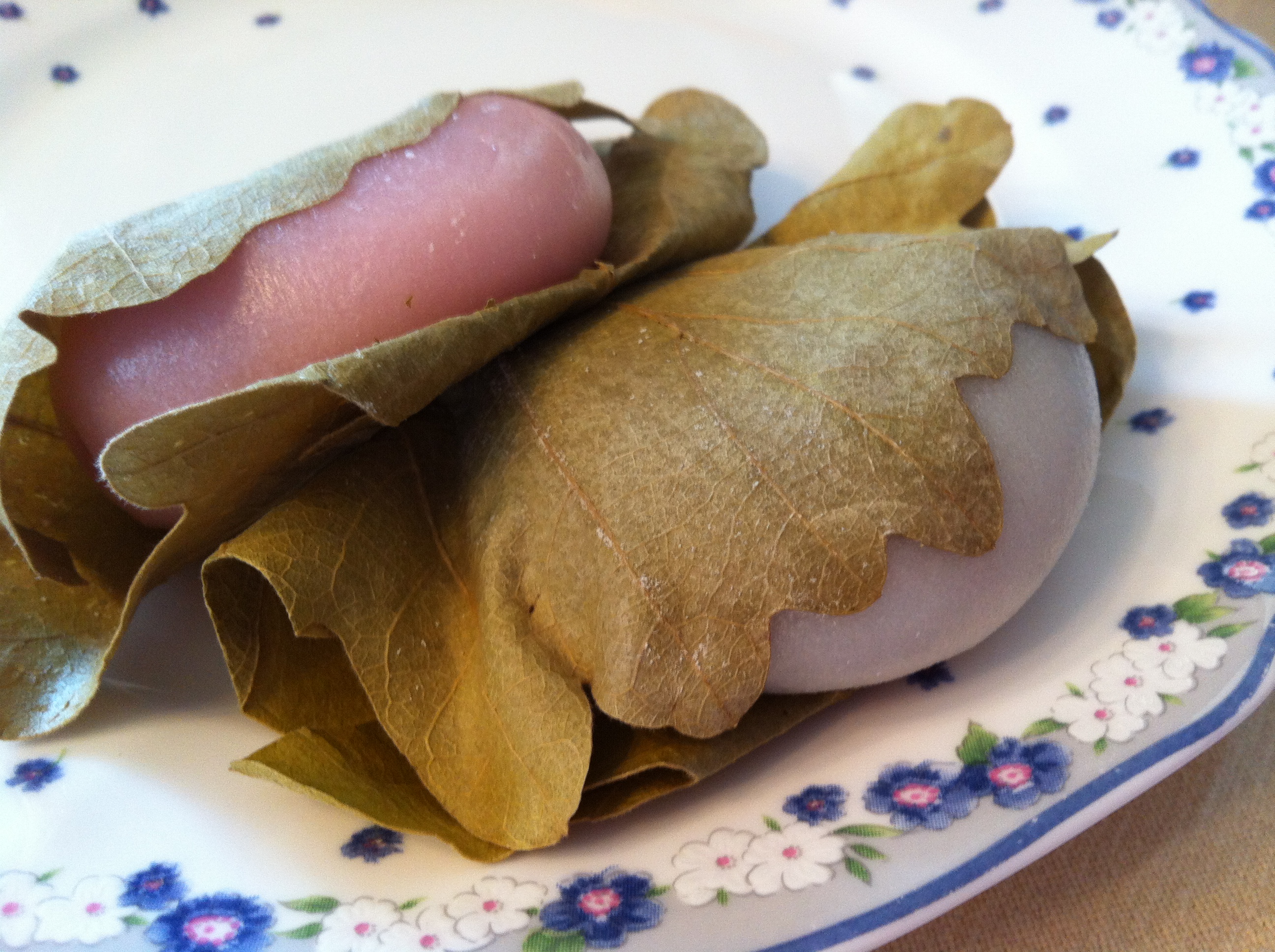 While I made quite a bit of food for our Hinamatsuri party, I made special sushi shaped in the form of the dairi-bina (imperial dolls) this week for Bebe E and Big Onechan. I used leftover white rice and a little help from packaged foods (yes, I am resourceful at times).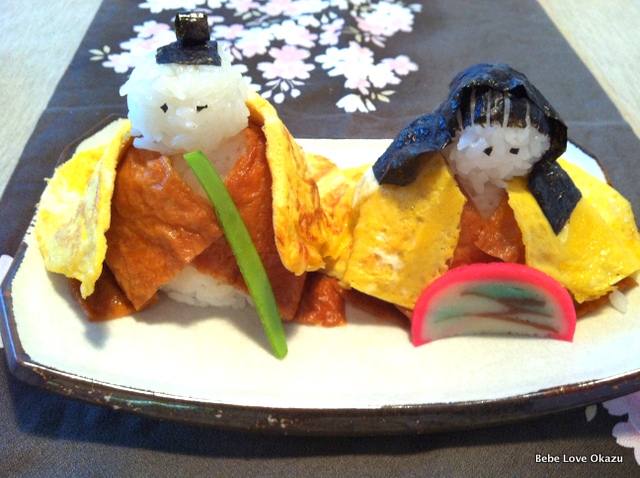 Hina Ningyo (Girl's Day Dolls) Sushi
Left – Emperor carrying a sword made of snow pea; Right: Empress carrying a fan made of decorative kamaboko (fish cake). *The empresses hair is slightly wilted – mistake putting on the hair while rice was still warm. Sadly, Hideki was not available to take photos of my hina ningyo sushi. I'm guilty AGAIN of hastily using my iPhone. :)
Bebe E, Big Onechan and Bebe Dada all got a kick from the little hina ningyo sushi. I thank my friend Aloha Girl for sharing this wonderful recipe from her mom who made a set of hina ningyo sushi dolls on Girl's Day (March 3rd) over the weekend. ♥
Shortcuts to Consider For Making Hina Ningyo Sushi (Dolls Made of Rice)
1. I remembered that I had a package of pre-seasoned and pre-cooked inari ageh in my refrigerator, thinking I'd make a few quick inari sushi either for lunch or dinner. This is sold at the Japanese supermarket.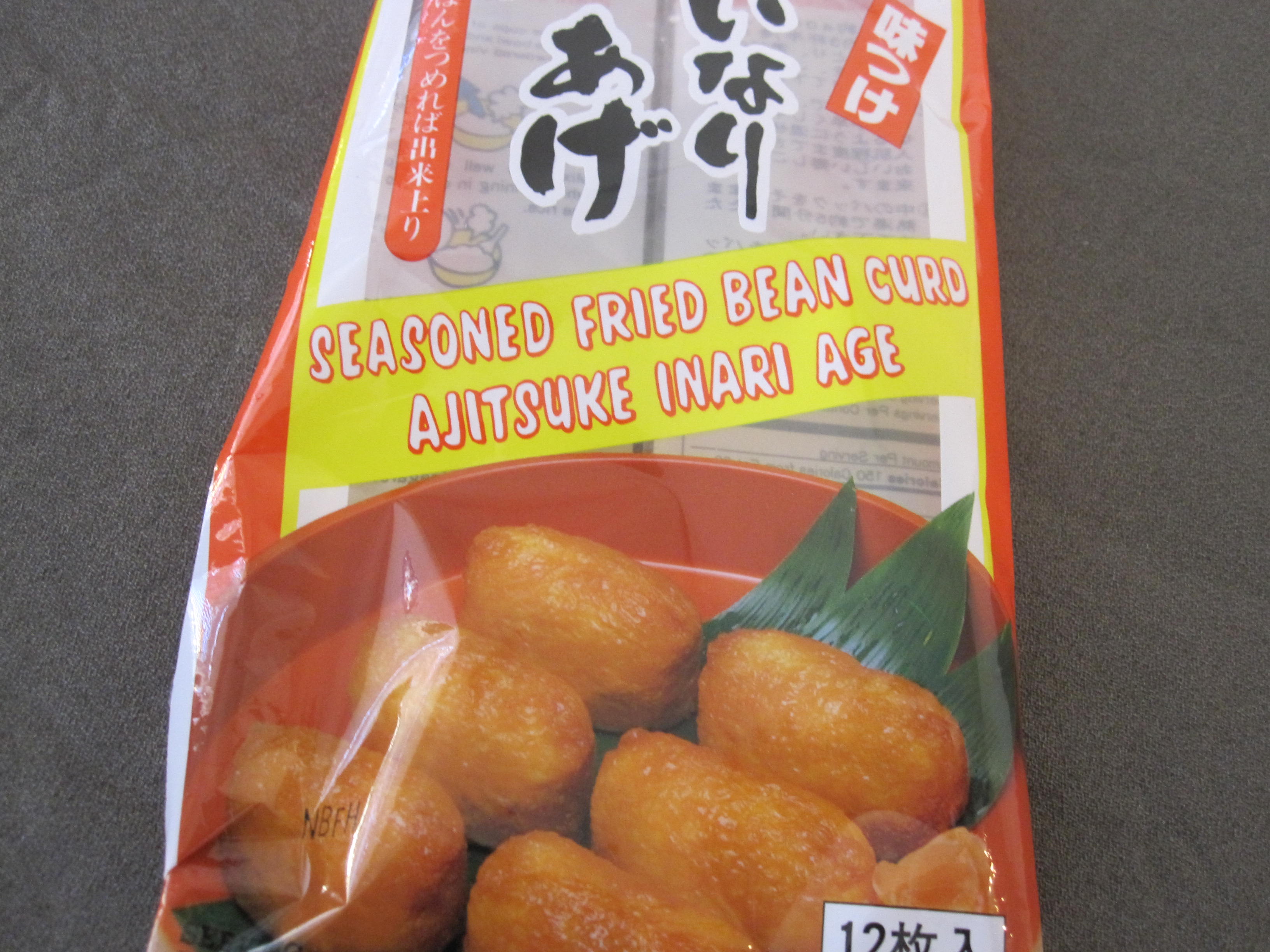 2. I also remembered I had a package of Sushi Taro brand instant sushi mix (yes, I keep a variety of unusual items in my pantry, fridge and freezer). I didn't have any leftover awase-zu (seasoned vinegar) from the chirashi sushi that I made over the weekend, so I used Sushi Taro. It has a retort package of gomoku mix and also a packet of powdered awase-zu. Not glamorous, but it works. Sprinkle hot rice with powder awase-zu and allow to cool slightly. Use desired amount of seasoning to achieve desired sushi rice flavor. I did not use the gomoku mix for the sushi dolls.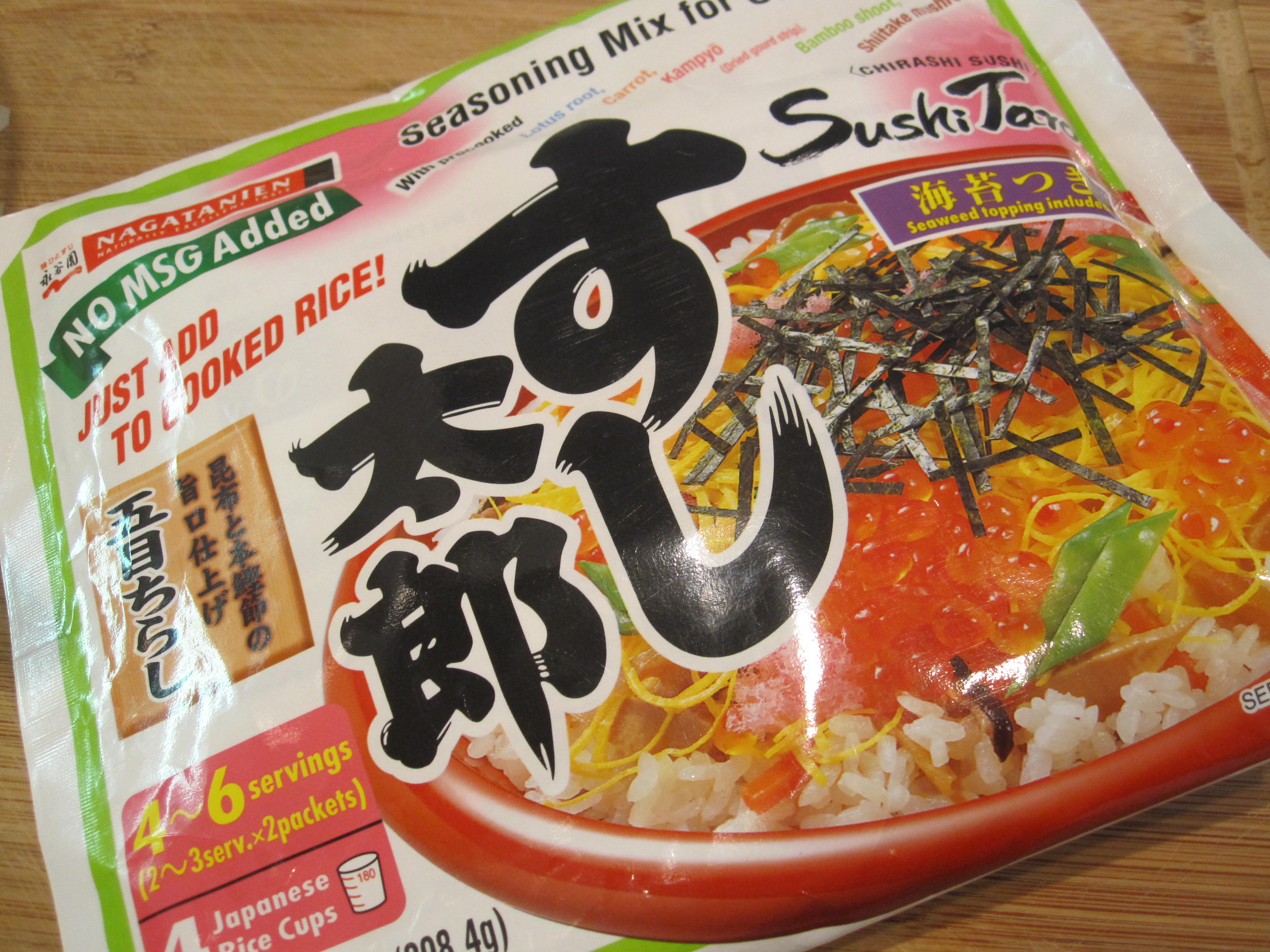 The body of the sushi dolls…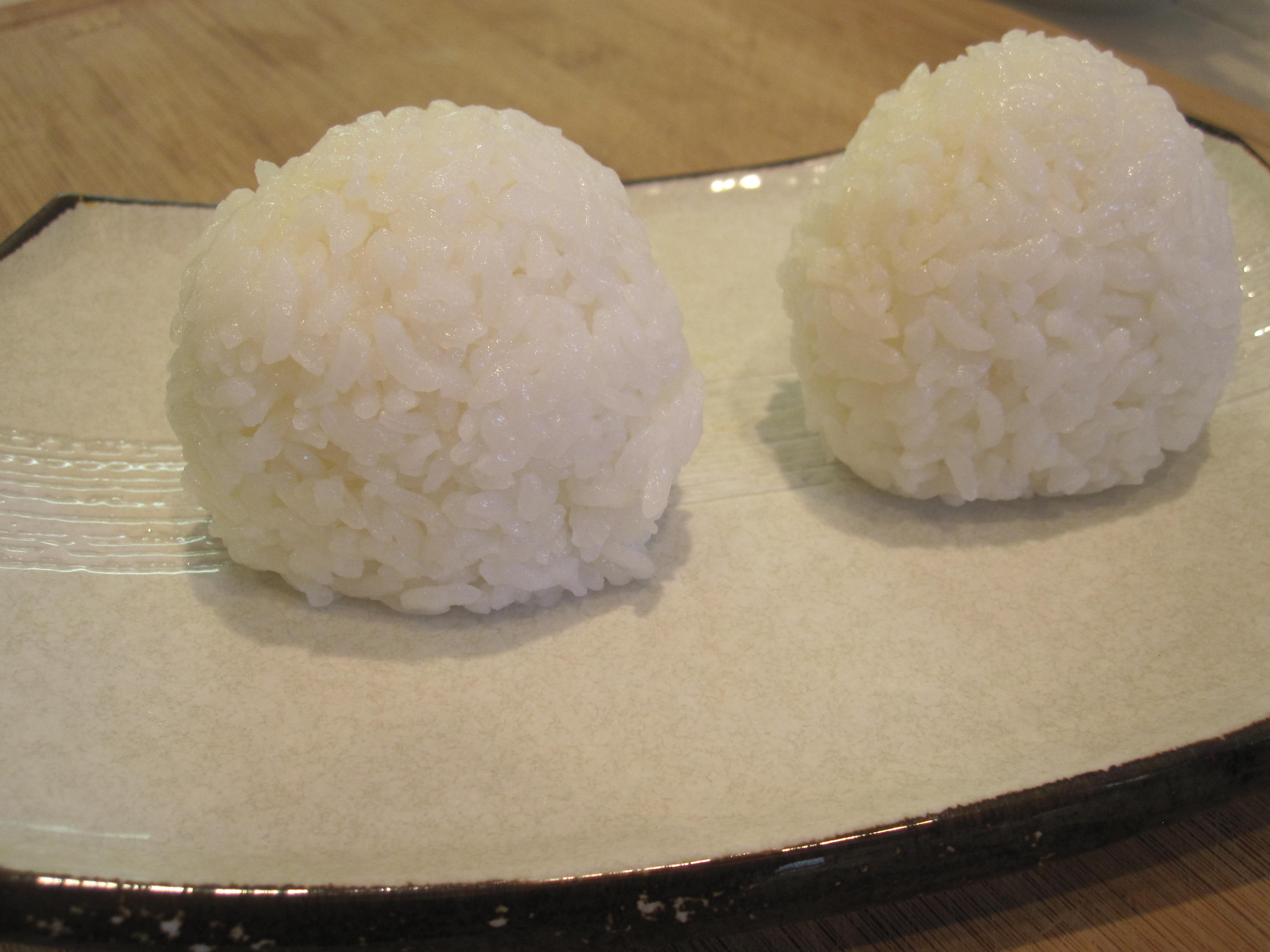 Dress the rice ball "bodies" with the inari ageh…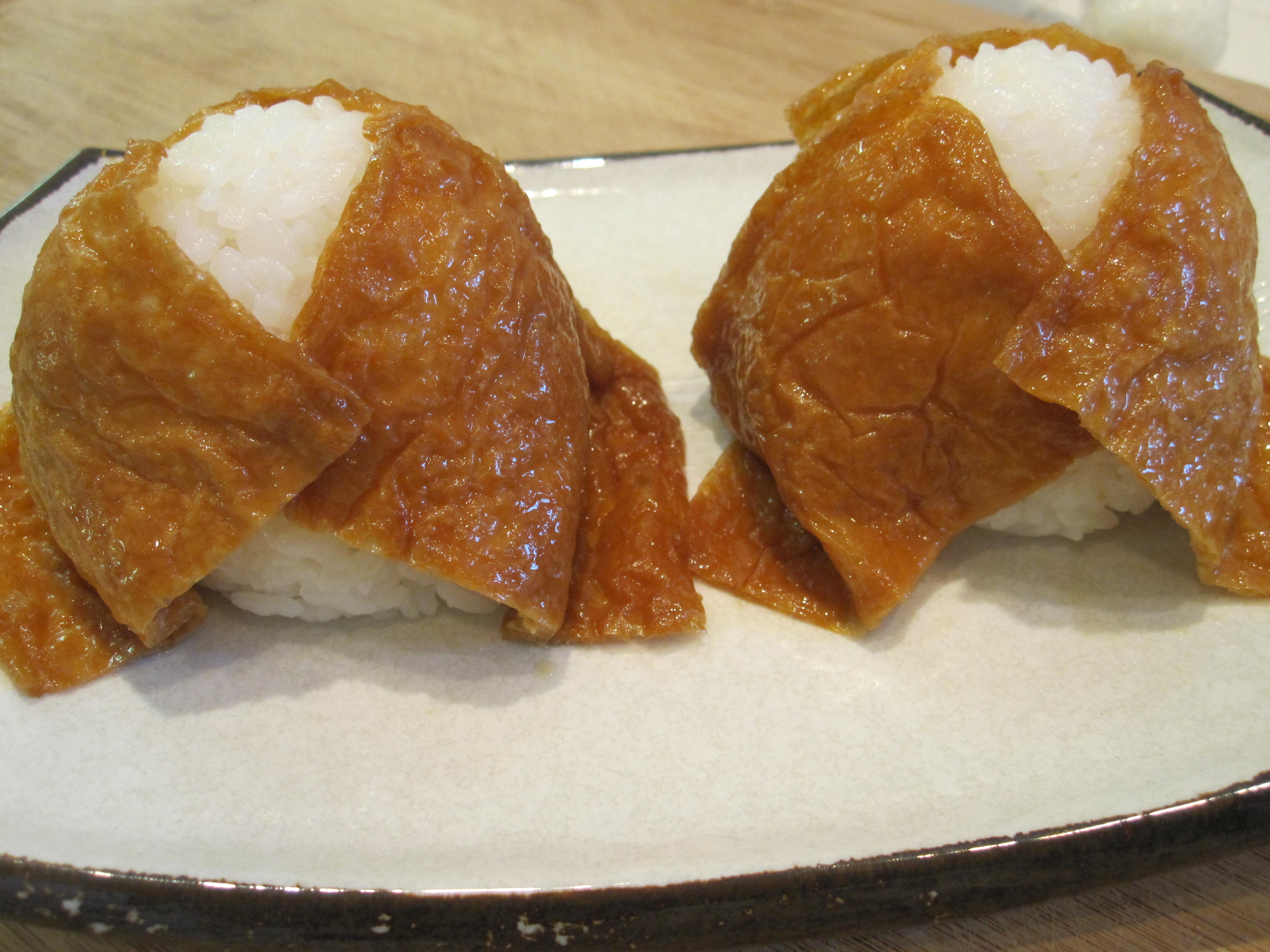 Dres the inari kimono with the tamagoyaki kimono, and trim as necessary…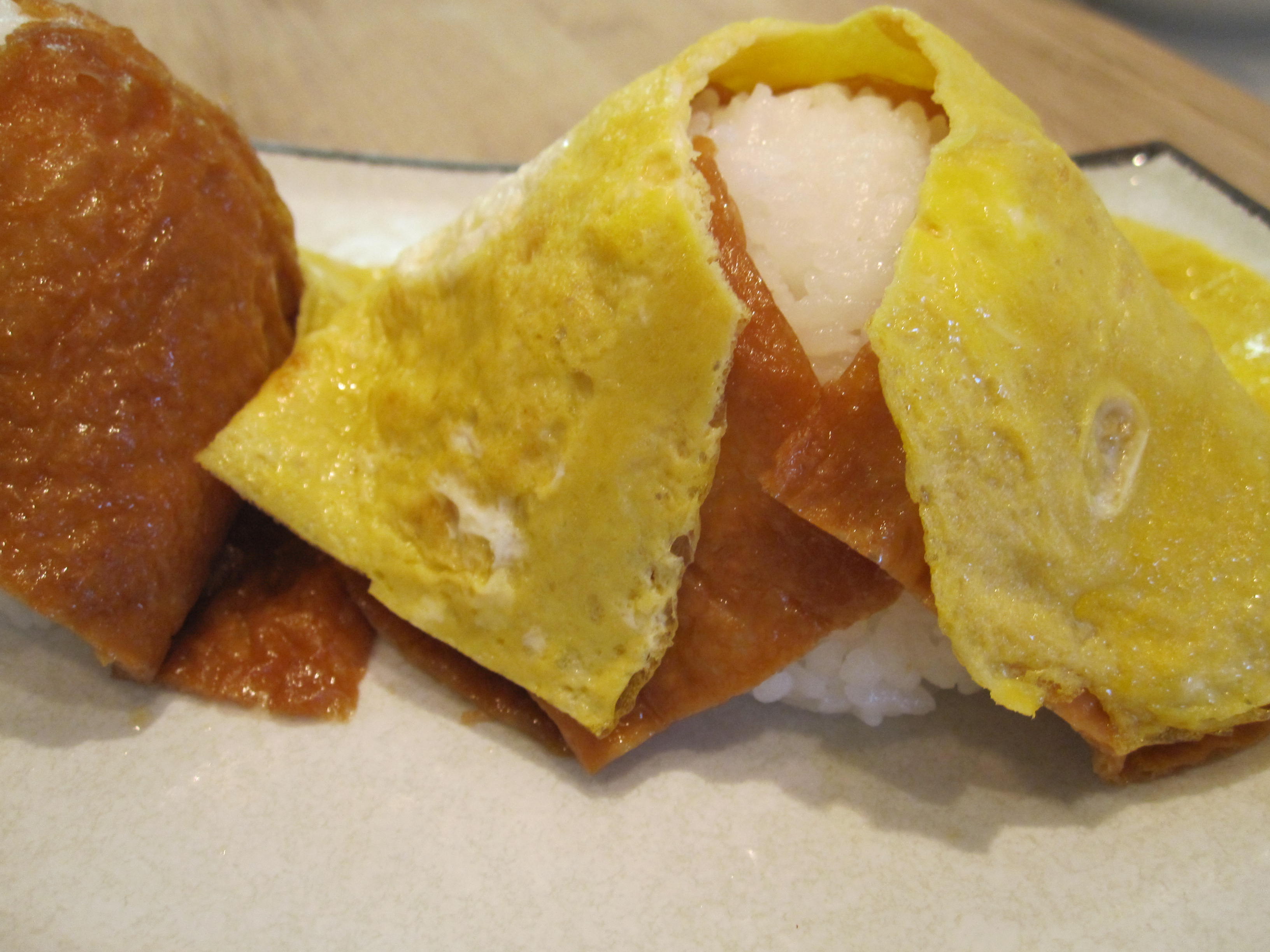 Make "hair" for the sushi dolls using seaweed…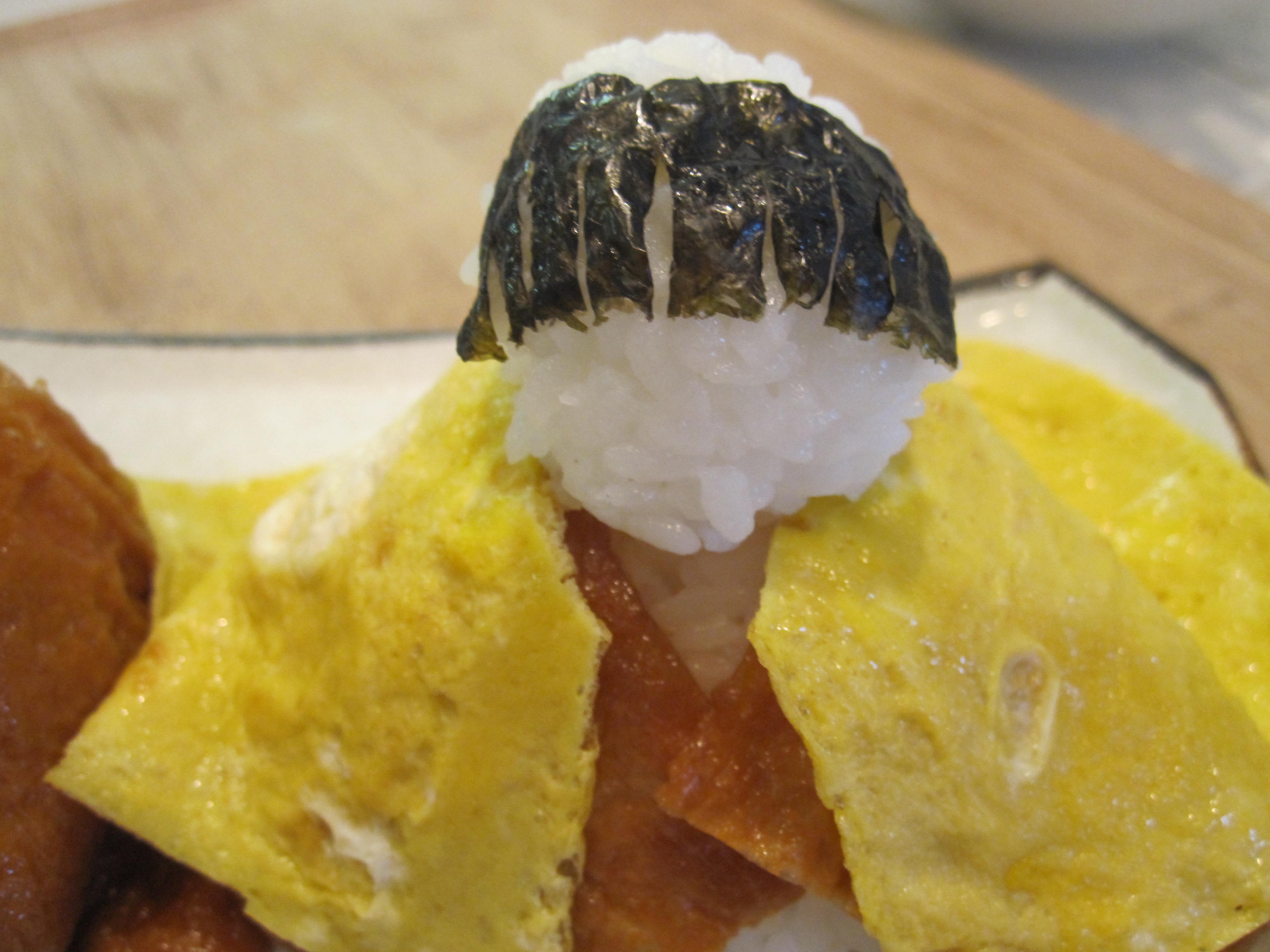 Accessorize the Hina Ningyo Sushi Dolls – Emperor and Empress…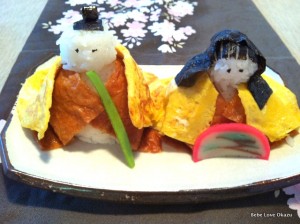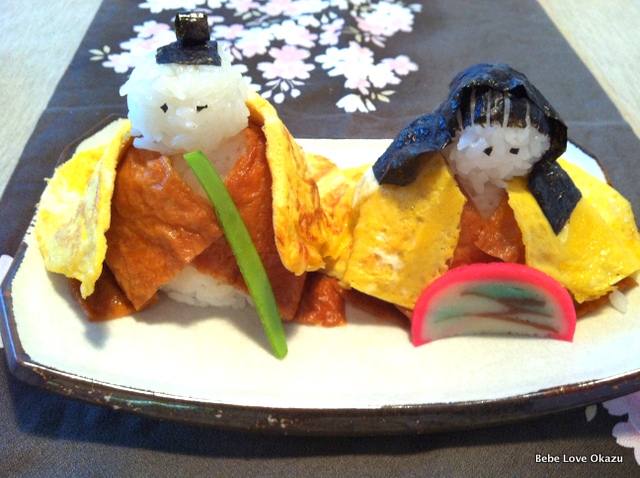 Special thanks once again to Hideki Ueha for the amazing photos on this post!
(I am credited with the not-so-hot photos – haha.)
A warm-hearted special thank you to Aloha Girl's Mom for the sushi doll recipe!
This concludes our Girl's Day celebration for 2012. I'm looking forward to celebrating many more Hinamatsuri in the years to come.
Happy Hinamatsuri!!!
Judy
Hina Ningyo Sushi (Dolls Made of Rice)
Recipe type:
Appetizer, Side Dish
A festive sushi for celebrating Japanese Girl's Day or Hinamatsuri.
Ingredients
2 cups cooked sushi rice
2 to 4 inari ageh (deep fried tofu), or pre-cooked packaged inari
2 eggs
Roasted sushi nori (seaweed)
Kamaboko (fish cake)
1 snow pea
Dashi shoyu (seasoned soy sauce)
Oil for cooking eggs
Optional for the sushi doll head: uzura tamago (quail egg) or sato imo (taro)
Instructions
Prepare kinshi tamago (see chirashi sushi post in recipe index for details). This is a very thin egg omelette. Proper kinshi tamago should not be browned.
Combine 2 eggs with dashi shoyu. If you don't have seasoned soy sauce, use a dash of salt or combination of soy sauce with dried dashi
(bonito stock) powder. (see recipe index for homemade dashi)
Using a very small pan (24 cm), heat a very small amount of oil, pour a very small amount of egg (just enough to cover the pan) and cook on medium low until just cooked. Flip omelette over, cook another 2 minutes until firm. NOTE: I have a very small rectangular pan so I ended up with rectangular egg kimono. These required trimming.
Remove egg and allow it to cool. Don't slice the egg. Make a second thin egg omelette.
Make sushi rice (see recipe index for sushi rice), or use my short-cut, "Sushi Taro" package - mix powder awase-zu with warm rice.
Set aside a small portion of the rice for the sushi doll's heads.
Using saran wrap, place a heaping scoop of rice on top of saran wrap. Close saran wrap and shape rice into an oval. (see recipe for sake onigiri regarding rice ball making tips.)
Make two (2) oval rice balls. Rest on a dish, side by side. If you do this while the rice is still warm, it is more pliable and can easily be made to stand.
Prepare inari ageh according to package instructions. I highly recommend this short-cut over cooking and seasoning inari ageh for this project.
Cut each end of the inari pouch along the SIDE folds to create one large rectangular piece of inari ageh.
Wrap the rice balls with the inari ageh. Be careful not to make the rice balls too big. If you do, you will require 2 inari ageh per doll, instead of 1.
Wrap the inari kimono with the tamagoyaki kimono. I had to trim the edges and then I rounded the back "cape" of the dolls.
Make little rice balls for the heads of the sushi dolls. If you do this while the sushi is relatively warm, it will easily adhere to the body of the doll.
OPTIONAL: The original recipe called for boiled quail eggs for the heads of the sushi dolls. The quail egg is held in place using a toothpick. I felt this was an expensive item for the doll's head (especially as I only made two dolls). A less expensive alternative is sato imo or taro root. The Japanese supermarket sells frozen satoimo balls for relatively cheap, but I didn't have this ingredient in my freezer, which is why I went with the cheaper and more readily-available rice!
Accesorize! Cut nori (seaweed) into desired hair pieces. Make bangs and long hair for the empress and a Japanese chonmage, a traditional male hairstyle from the Edo period seen on men (you might recall images of samurai with the little loop of hair on the top of the head) for the emperor. NOTE: I recommend waiting to add the "hair" until the rice cools a bit, otherwise your hair will wilt!
You don't have to make eyes, but I did - out of scraps of nori. It was difficult to pick-up the little scraps of nori but I managed. It easily stuck to the warm sushi. Kitchen tweezers might work well in this situation.
Trim snow pea lengthwise, using the flat portion of the pea and discarding (or eating) the portion with the beans). Shape this into a sword for the emperor. Place this in front of him.
Slice kamaboko to become the empresses fan. Place this in front of her.