Dried Cranberry & Yogurt Chip Cookies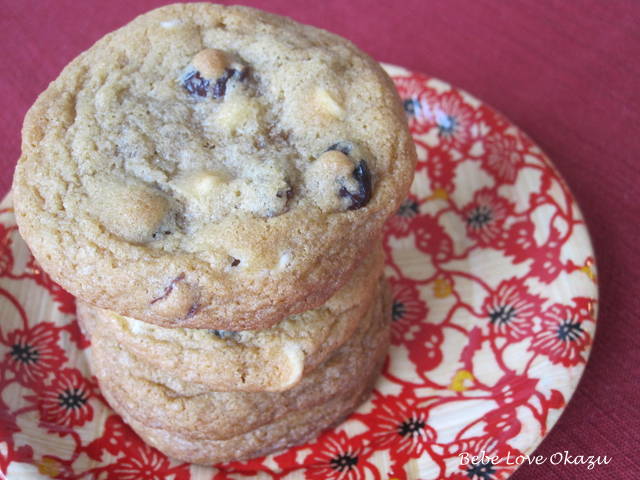 This recipe post is related to my chocolate chip cookie post in that it uses the same Ghiradelli cookie dough recipe. I just substituted chocolate chips with dried cranberries and yogurt chips.
Chocolate chips are occassionally processed on equipment which also processes peanuts or other tree nuts and I thought that using yogurt chips (which the label indicated were not processed on equipment associated with peanuts) would be a good alternative to chocolate chips.
It turns out one of Bebe E's favorite snacks, dried cranberries, goes well with yogurt chips.
I made these cookies, along with chocolate chip cookies as a gift for my foodie friend, Melissa of The Hungry Artist food blog, and illustrator and author of Soup Day whom I had the chance to meet recently.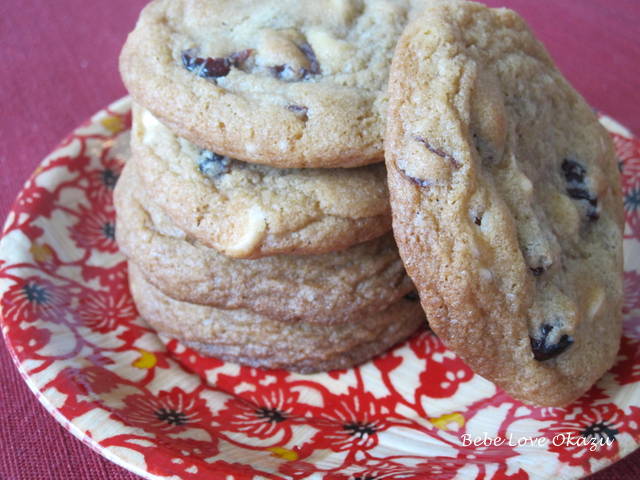 I would definitely make these yogurt chip and dried cranberry cookies again. They are not as sweet as chocolate chip cookies but just as good.
See post that immediately follows for my chocolate chip cookie post and my visit with Melissa!
Cheers,
Judy
Dried Cranberry & Yogurt Chip Cookies
Ingredients
2¼ cup bread flour*, unsifted
1 teaspoon baking soda
½ teaspoon salt
1 cup butter (2 sticks), softened
¾ cup sugar
¾ cup dark brown sugar, packed
2 teaspoons vanilla extract
2 eggs
1 cup yogurt chips
1 cup dried cranberries
Instructions
Preheat oven 350° F. (Original recipe calls for 375° F)
Combine butter, sugar, and dark brown sugar and mix until creamy.
Add eggs and vanilla extract. Mix.
Add bread flour, baking soda, salt and mix until creamy and incorporated. Stir in yogurt chips and dried cranberries SHOPPING TIP: Yogurt chips can be purchased at Sprouts or Whole Foods markets.
Chill dough for 2 hours or overnight.
On parchment paper, drop heaping tablespoons of cookie dough and bake for 9 minutes. I tend to bake until the tops are just barely golden brown. Baking the cookies until they are still a little pale but this ensures a softer cookie, which I prefer. If you like your cookies crunchy, by all means bake them for 12-plus minutes.
Notes
NOTE: I learned from Alton Brown that using bread flour helps the cookie to retain moisture, creating a more moist cookie. Recipe adapted from Ghiradelli Chocolate.