Chocolate Chip Cookies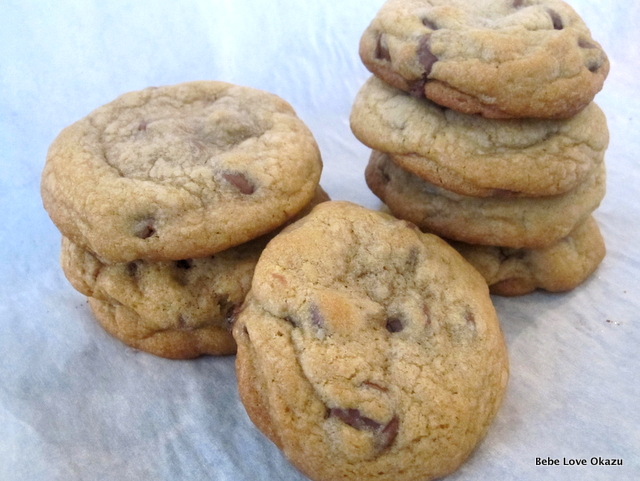 This week has been a really busy week so I'm going to keep this post short and sweet.
When I first started my food blog, it was really a vehicle for me to archive our family's recipes and create a life journal of sorts for my Bebe to one day enjoy.
Out of my curiosity for good food, I joined a food blog community and I met a few really great people that I've mentioned on my blog in the past. One of my favorite food blogs is the Hungry Artist and I recently had the wonderful opportunity to meet the Hungry Artist, Melissa, in person!
She is an illustrator and also an author of children's books. She was visiting Southern California to promote her book, Soup Day. You can stop by her website to learn more about her work as an illustrator and her latest books.
Melissa and I share roots in Southern California and we were surprised to find that we had mutual friends. Such a small world! I never imagined meeting any of my food blog friends, but luckily, the day after Valentine's Day, Melissa was driving through my part of town and we made plans for a coffee date! I had the chance to meet her wonderful son, husband and mother too! It was so nice to meet and get to know her family. I got to introduce her to my Bebe E.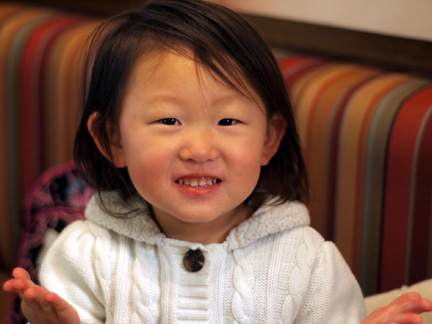 Bebe E at the Coffee Bean & Tea Leaf having fun making new friends.
Photo compliments of Melissa's husband, Denis. 
Melissa is genuinely sweet and down to earth. I wished that we had more time to chat and get to know one another. We had so much to talk about, but in all of the excitement I forgot to tell her that I've tried a few of her recipes and really enjoyed them. Most recently, her cauliflower zucchini soup and her mom's chicken enchiladas! She's really creative in the kitchen, and thanks to her, I've expanded my repertoire in my own kitchen.
You can visit Melissa's blog, the Hungry Artist to learn more about her cooking, or visit her website to learn more about her work as an author and illustrator.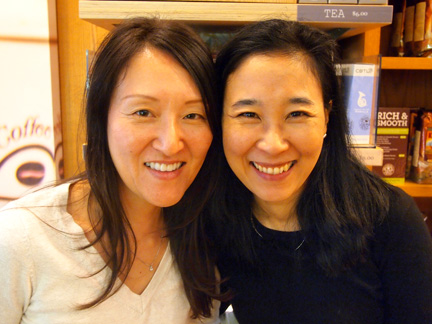 Photo: Judy (left) and Melissa (on the right).
Photo compliments of Denis, Melissa's husband. 
Because I knew Melissa and her family would be on the road for a while, I baked some of my favorite cookies for her and her family to enjoy on their long drive. As an alternative to chocolate chips I used half of the cookie dough to make dried cranberry and yogurt chip cookies.
Before I started baking these chocolate chip cookies, I tried many recipes in search of a good cookie that I liked. My favorite chewy cookie recipe I will save for another post but forget Nestle Toll House cookies because Ghiradelli Chocolate Chip cookies are currently my favorite!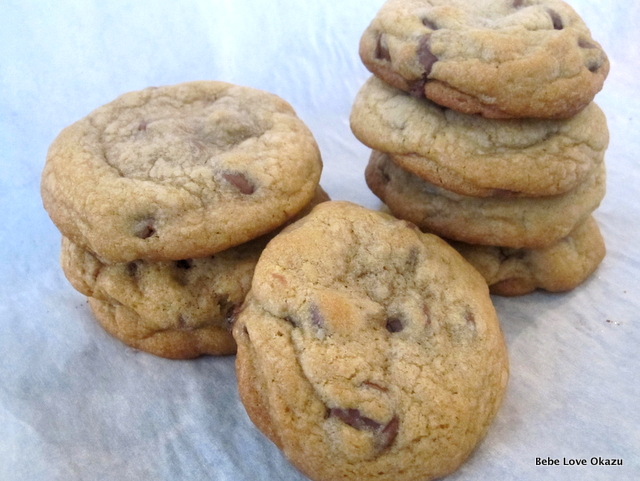 It was so nice to have met my foodie friend, Melissa. If it wasn't for my food blog, I would have missed this opportunity to make a new friend. Please don't forget to check out Melissa's book Soup Day.
Thankful for new friends,
Judy
Ingredients
2¼ cup bread flour*, unsifted
1 teaspoon baking soda
½ teaspoon salt
1 cup butter (2 sticks), softened
¾ cup sugar
¾ cup dark brown sugar, packed
2 teaspoons vanilla extract
2 eggs
2 cups semi-sweet chocolate chips or 1 12-oz bag Ghiradelli milk chocolate chips (a favorite of mine!)
Instructions
Preheat oven 350° F. (Original recipe calls for 375° F)
Combine butter, sugar, and dark brown sugar and mix until creamy.
Add eggs and vanilla extract. Mix.
Add bread flour, baking soda, salt and mix until creamy and incorporated. Stir in chocolate chips.
Chill dough for 2 hours or overnight.
On parchment paper, drop heaping tablespoons of cookie dough and bake for 9 minutes. I tend to bake until the tops are just barely golden brown. Baking the cookies until they are still a little pale but this ensures a softer cookie, which I prefer. If you like your cookies crunchy, by all means bake them for 12-plus minutes.
Notes
*NOTE: Alton Brown recommends using bread flour to help the cookie retain moisture, creating a more soft and moist cookie. Recipe adapted from Ghiradelli Chocolate.