Pumpkin Pancakes & Monterey Bay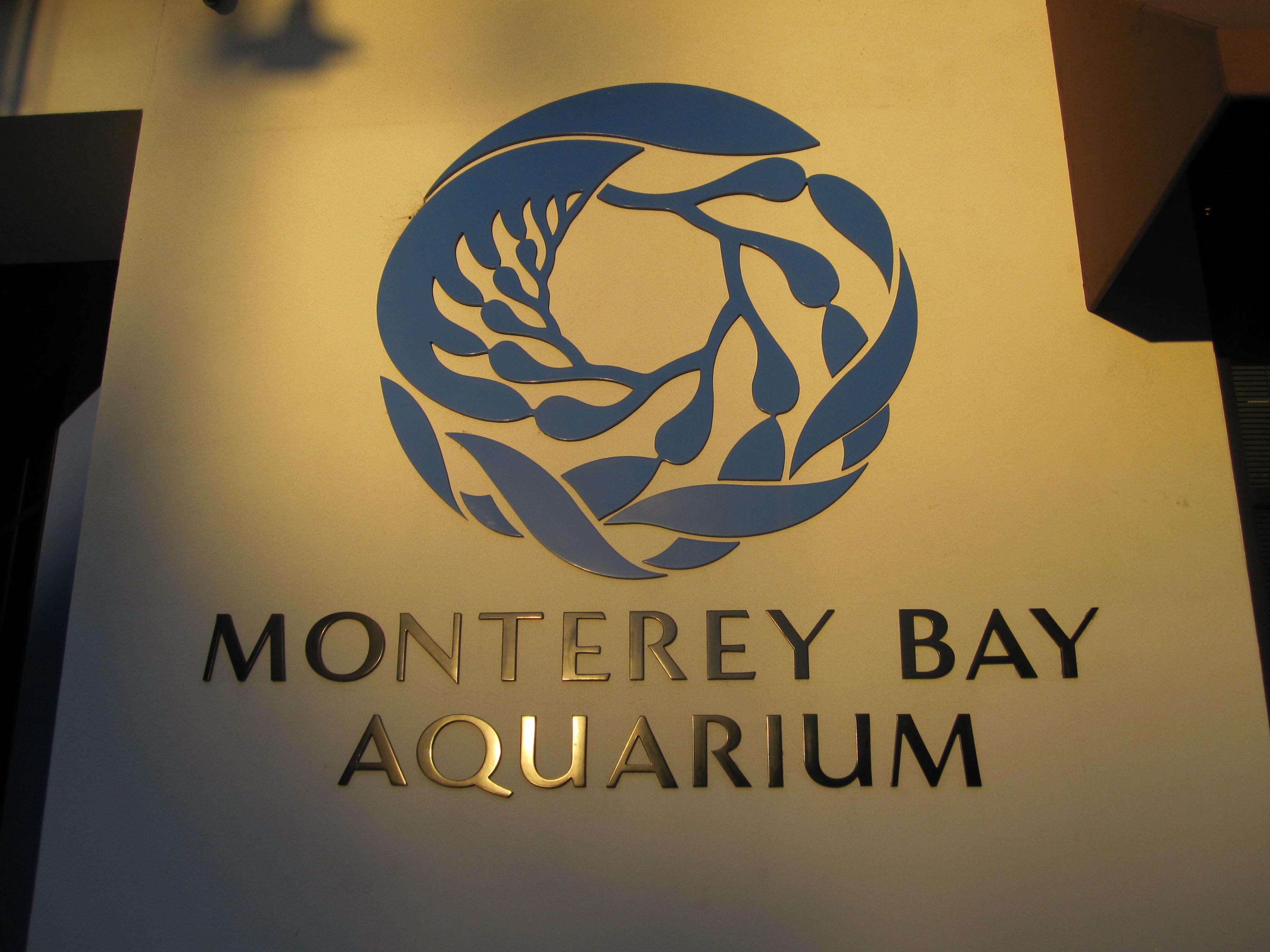 Until our visit to the Monterey Bay Aquarium, the farthest road trip we had ever taken with Bebe E was to San Diego for a visit to Sea World or the San Diego Zoo, which is a mere 1 1/2-hour drive. However, since our 17 hour flight to Beijing, we've gotten bold as parents.
Just prior to the Thanksgiving Holiday, Bebe Dada invited us to accompany him on a business trip to Northern California. He suggested we take a road trip and that we visit the Monterey Bay Aquarium. At first, I was hesitant to embark on a long road trip, but considering how well Bebe E did on our trip to China I figured we would manage somehow.
In fact, she did quite well on her first trip to Northern California. Well, with the exception of about 1/2 an hour on the drive up when I fell asleep after lunch and Dada was left to fend for himself while driving through Paso Robles and appeasing a whinning Bebe in the back seat until she finally fell asleep. After a car ride singing to Bebe E's favorite nursery rhymes and Japanese children's songs, we arrived in Monterey Bay in the late afternoon, just in time for a walk before sunset.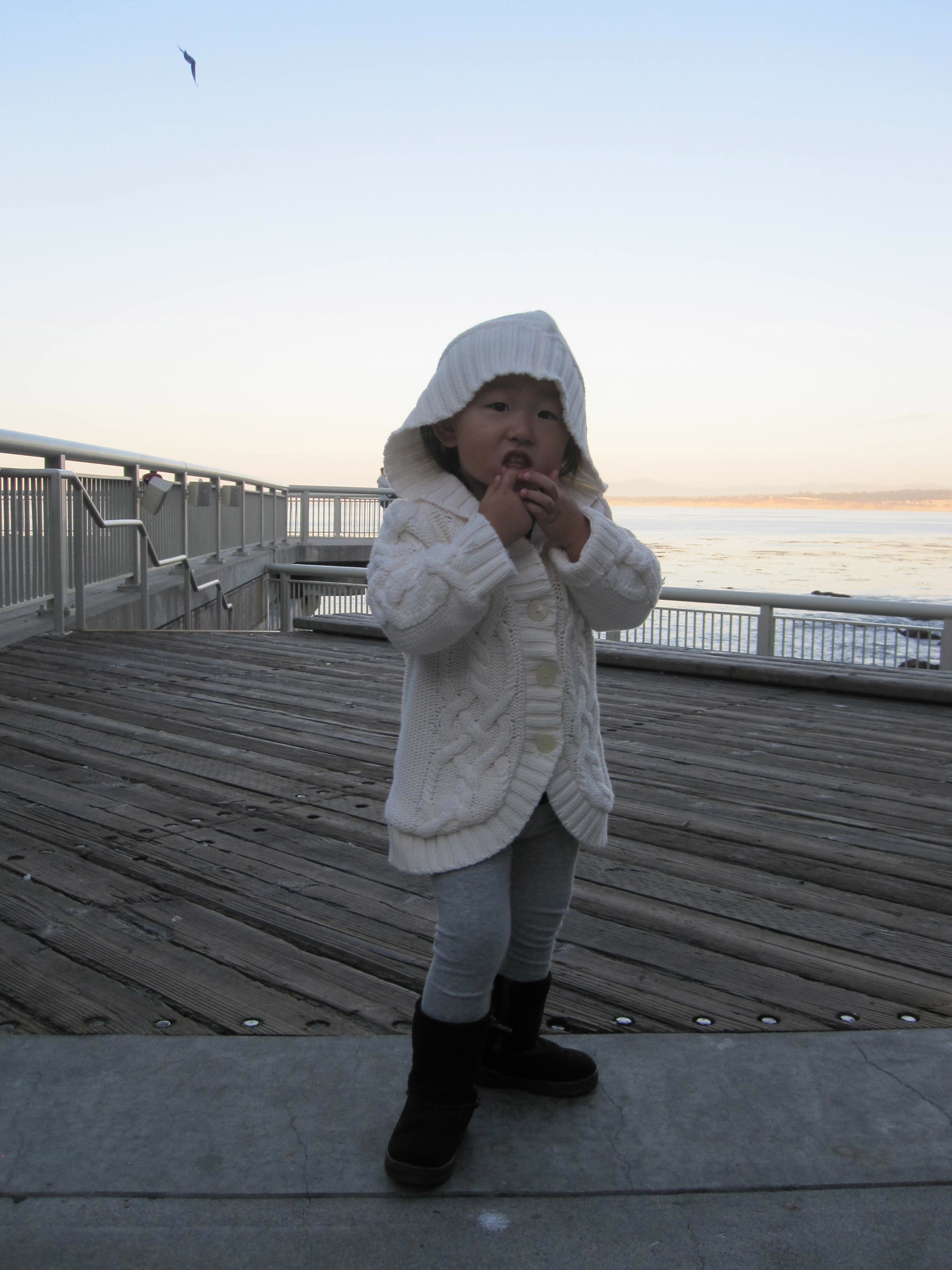 We spent one full day at the Monterey Bay aquarium, from opening 'til closing, and we saw A LOT of marine life yet we find ourselves looking forward to another visit one day. Our favorites, by far, were the touch pools and the beautiful star fish, jelly fish, turtles, giant octopus, sea horses and the Open Sea Exhibit. We also enjoyed the Bat Ray exhibit but we were too frightened to touch them.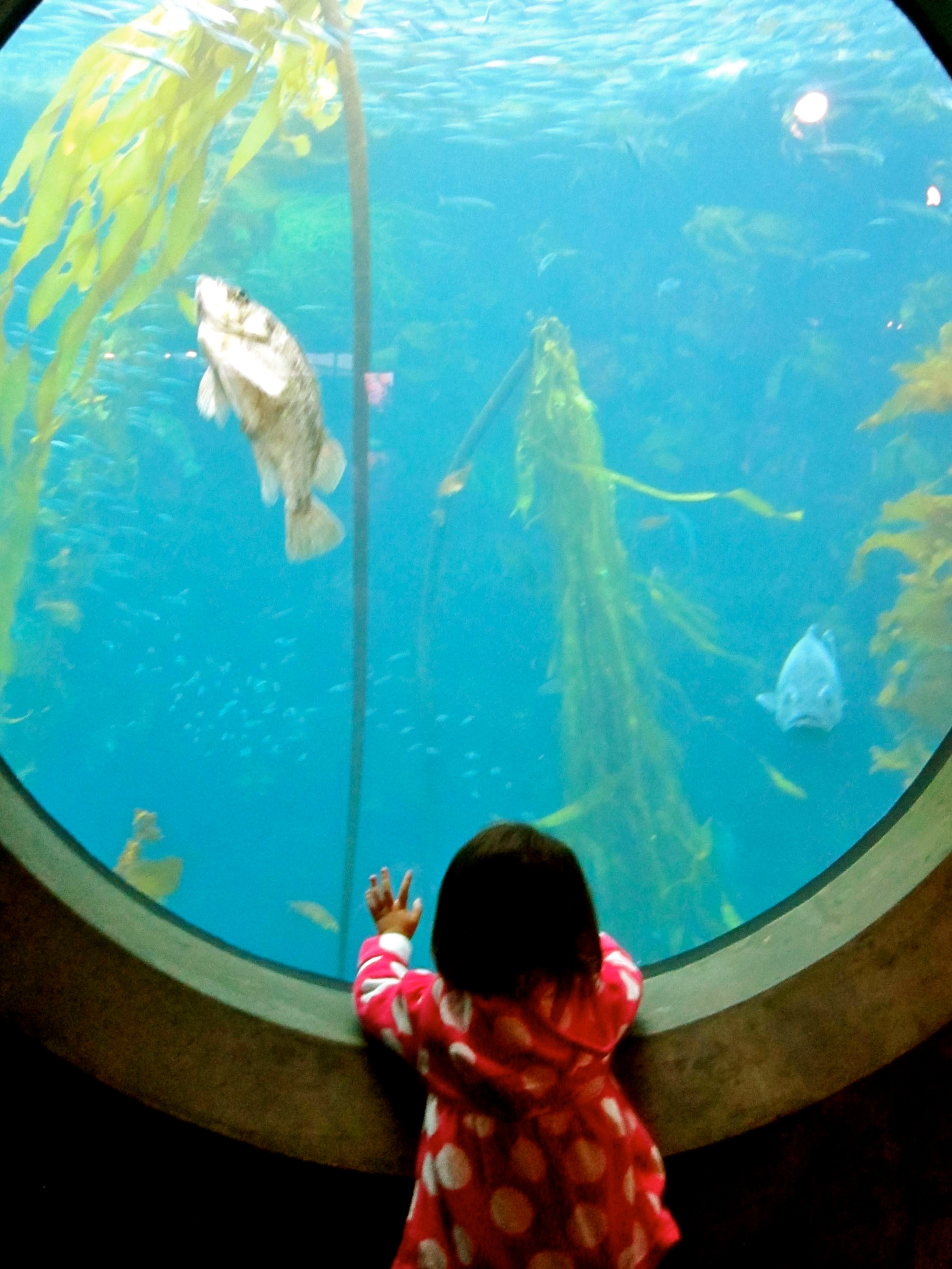 Not the best photography, but Bebe E standing in front of the aquarium watching the fish swim by captures all that was magical during our visit to the Monterey Bay Aquarium.
There's something intriguing, yet very relaxing and tranquil about watching fish swim in an aquarium. Bebe E has always loved fish, whether we spied them in fish tanks at restaurants or people's homes, in ponds and in lakes. It's no surprise that we gave her little goldfish for her birthday – – – her first pets! She was extremely delighted. I admit, I failed to keep the first 4 or 5 alive for longer than two days, but thanks to the tender care provided by Aya-chan, the last four that we adopted at the end of summer have happily lived in our home for the past few months.
Getting back to our little road trip….
The drive back to Southern California was much easier. The morning we departed, we drove from San Jose, where we were visiting friends, back down to Monterey Bay. It was a quick and uneventful drive. There, we stopped to take the 17-mile drive along Pebble Beach and made several stops to admire the beautiful ocean scenery. Bebe E kept telling us that she wanted to play in the sand with her "sand tools" but we hurried her back into the car as we were on a schedule to get back to Southern California… And never mind the crazy, crashing waves that would have swept our daughter away… no sand tools… nuh-uh.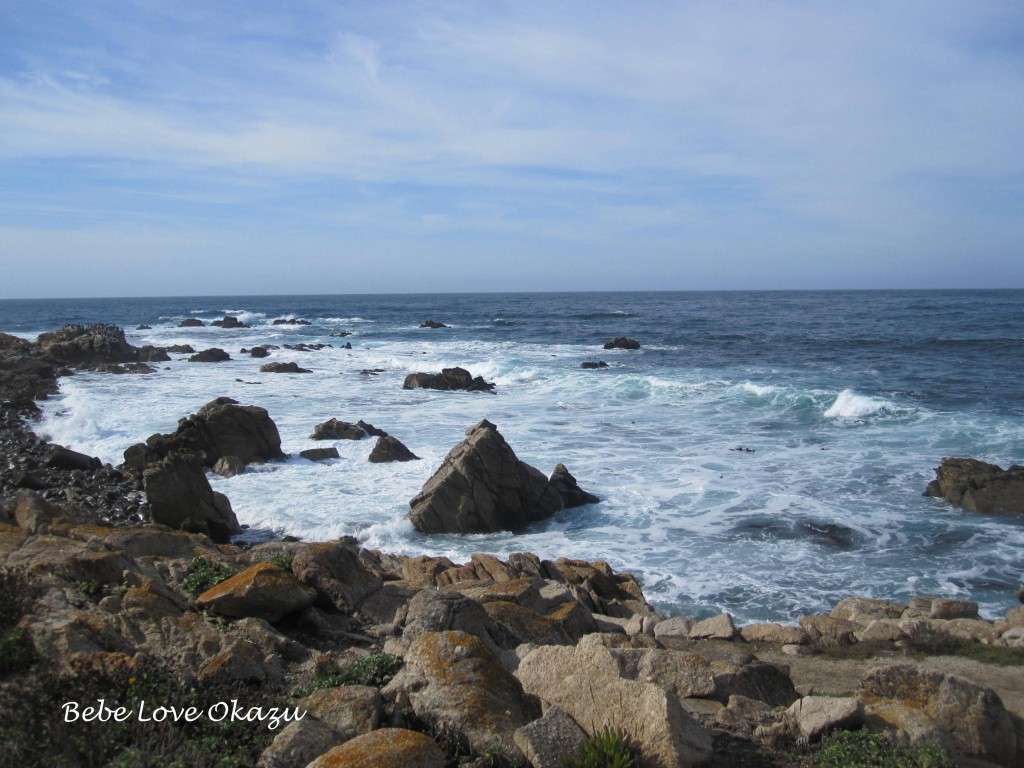 We ate lunch at the local market and happily found the food to be surprisingly good. Afterwards, we quickly hopped back on the highway and it was prime time for Bebe E's nap.Thanks to all the festivities of the weekend, she fell asleep instantly and took a fabulous 3 – hour nap. Upon waking, she was in a fantastic mood and literally talked our ears off for 2 1/2 hours STRAIGHT, as we drove to Los Angeles where we made a pit-stop at Bachan and Jichan's home for dinner. I told my husband that I couldn't believe our baby talked for THAT long and was happily entertained the entire time she was chatting. He simply stated that, "she's just like her mother."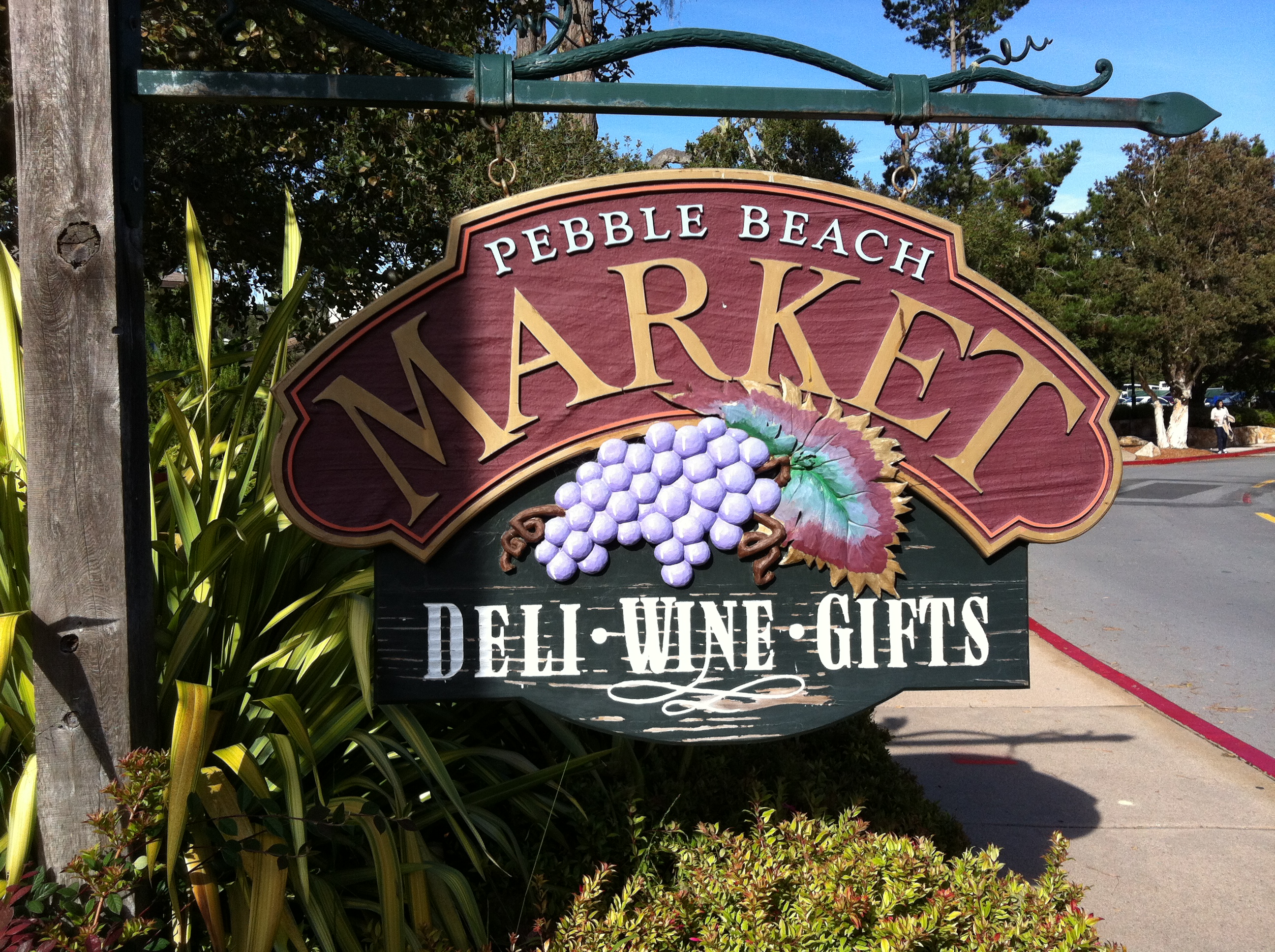 The weekend after we came home I was still obsessed with pumpkin. I'd already enjoyed my favorite pumpkin cheesecake from The Cheesecake Factory, and I'd already made a huge batch of my favorite creamy pumpkin soup. While I was almost inspired to try my hand at baking my first ever home made pumpkin cheesecake, I shied away, and instead, thought I could whip-up a quick batch of instant pumpkin pancakes using my favorite out-of-the-box Krusteaz Pancake Mix, but woe is me – – – I didn't have enough mix. In order to feed my craving I reluctantly Googled a recipe for home made pumpkin pancakes adapted one from Allrecipes., but it was surprisingly quick and easy to whip-up, and even better were the results!
These pancakes turned out beyond thick and fluffy, with pumpkin-y goodness and were absolutely yummilicious! You won't be disappointed with this recipe. The whole family enjoyed these pancakes and I'm happy to bank this recipe in my blog-a-la-family-cookbook.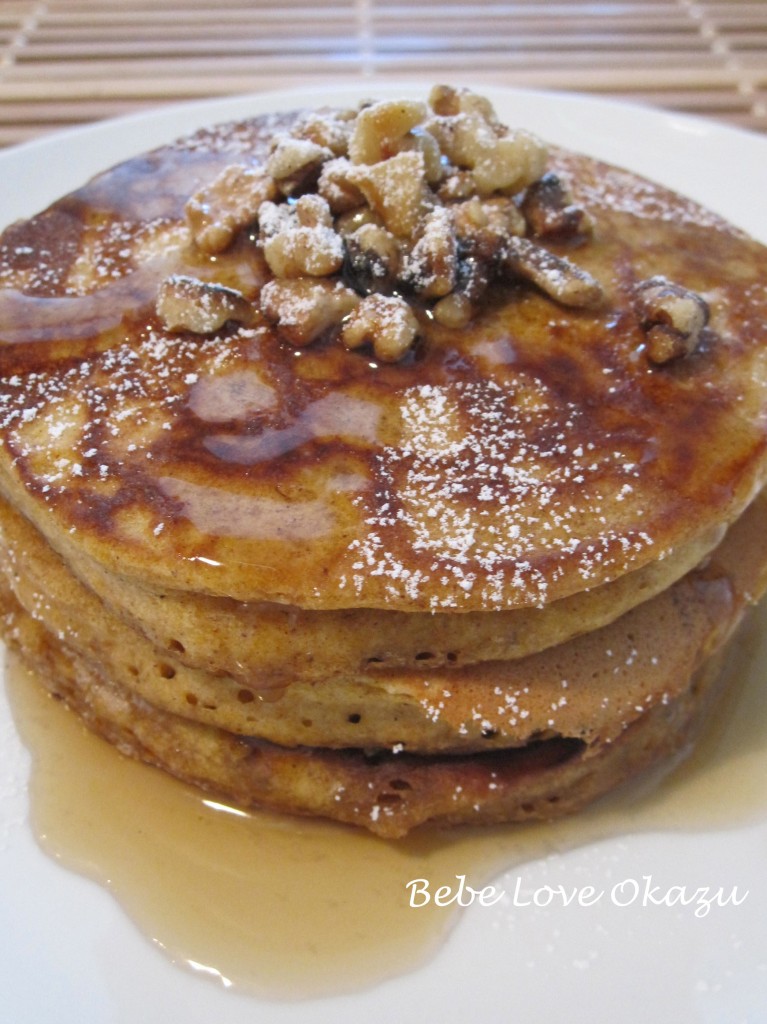 Have a wonderful week!
Cheers,
Judy
Pumpkin Pancakes & Monterey Bay
Ingredients
1½ cups milk
1 cup pumpkin puree
1 egg
2 tablespoons vegetable oil
2 tablespoons vinegar
2 cups all-purpose flour
3 tablespoons brown sugar
2 teaspoons baking powder
1 teaspoon baking soda
1 teaspoon ground cinnamon
1 teaspoon pumpkin pie spice
½ teaspoon salt
Roasted walnuts, for garnish
Powdered sugar, for garnish
Pure maple syrup, for yummy goodness
Instructions
In a bowl, mix together the milk, pumpkin, egg, oil and vinegar. Combine the flour, brown sugar, baking powder, baking soda, allspice, cinnamon, ginger and salt in a separate bowl. Stir into the pumpkin mixture just enough to combine.
Heat a lightly oiled griddle or frying pan over medium high heat. Pour or scoop the batter onto the griddle, using approximately ¼ cup for each pancake. Brown on both sides and serve with maple syrup and garnish while hot.
NOTE: If you use walnuts to garnish your pumpkins, be sure to roast them in a pan over medium-high heat for a few minutes until crisp.
Notes
Recipe adapted from Allrecipes.