Persimmon Salad with Pomegranate and Apples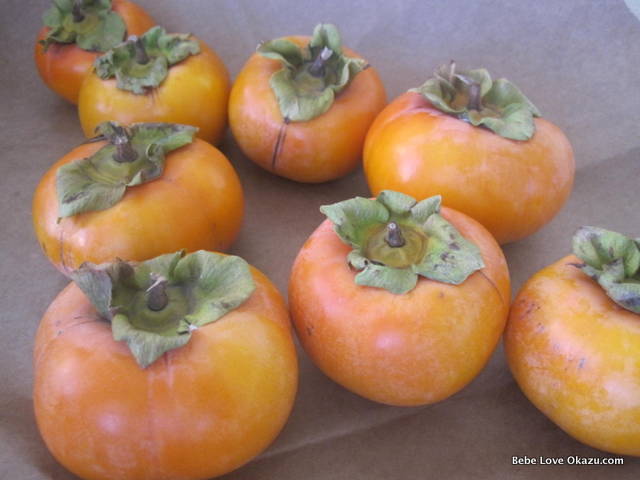 The other day, Bebe E and I took a walk with a good friend of ours and the leaves on the maple trees were gorgeous shades of red, gold, orange and yellow. It was beautiful, and in my friend's words, peaceful.
Fall is one of my favorite times of the year. Bebe E and I have been picking leaves whenever we have the chance. I've found recently picked leaves in the house, on the floor of our car, and the other day I found a little crushed leaf in her car seat. She's also been giving leaves as little gifts, to Bachan, Jichan, Dada, Nene or myself. It's been a joy to watch her pick leaves, and as a mother, I must admit that my love for my little one and  this warm-hearted season grew leaps and bounds yesterday as I watched Bebe E jump atop fallen leaves, crunching them with her little pink sneakers. Everything is new to her, and the joy she had on her face just gave me lots of little warm fuzzies.
We were very fortunate to visit our friend as her persimmon tree was at it's peak! My in-laws' persimmon tree (which is our annual source of Fuyu persimmons) already bore all it's fruit for the season and I was a bit saddened as it's bounty seemed less than previous years. We have only three left in our refrigerator from my mother-in-law's tree, but our good friend replenished our persimmon supply! Thank you, my friend!
My friend doesn't care for persimmons but she asked us how I eat this delectable fall fruit (OK, she didn't describe persimmons as "delectable", but they certainly are to me!) and I shared with her that my favorite way to eat persimmon is to peel and slice them like an apple. They are sweet, slightly crisp yet tender enough that your teeth easily sink into it's rich flesh. When I was growing up, my Mom used to sit at our dining table after dinner and peel kaki (Japanese for persimmons) and then slice them into nice chunky pieces, just like an apple, for us to enjoy for dessert.
Aside from eating Fuyu persimmons as they are, I shared with her that I love them in fruit salad. A few years ago I was fortunate to come by a simple recipe, thanks to my BFF who mentioned that a friend of ours makes a persimmon fruit salad that is "REALLY good", in her exact words.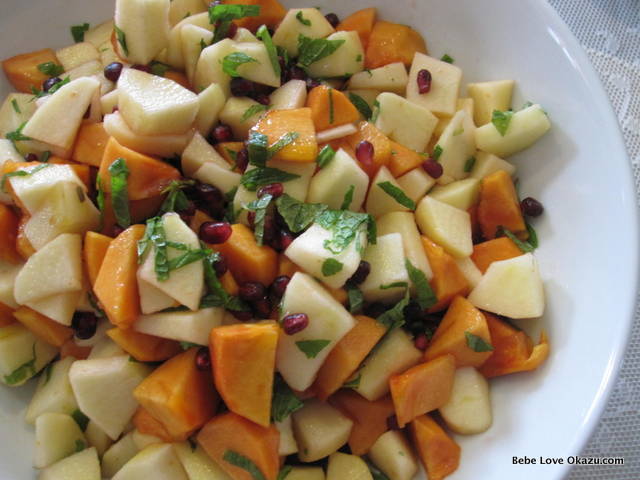 For the past few years, I've made this persimmon salad for our family's Thanksgiving and at the end of the day, there is never any left. It is made from Fuyu persimmons, Fujii apples, pomegranate seeds and mint. Every year I've been fortunate to have a supply of my mother in law's Fuyu persimmons to make this wonderful salad for Thanksgiving.
Recipe compliments of Simply Recipes.

Persimmon Salad with Pomegranate and Apples
Ingredients
3 Fuyu persimmons - peeled, seeds removed, and chopped into bite size pieces
1 cup pomegranate seeds (I use a pack of pre-peeled pomegranate seeds found at Trader Joe's)
3 Fuji apples; peeled, cored, chopped into bite size pieces
7-10 fresh mint leaves, thinly sliced crosswise
Lemon juice, fresh squeezed, to taste
Honey, to taste
.
Instructions
After slicing apples, dredge them in fresh squeezed lemon juice (about ½ lemon) and toss. This will prevent the apples from turning brown and it also adds a refreshing tartness to the fruit salad.
In a large bowl, combine sliced Fuyu persimmons, pomegranate seeds and sliced mint leaves with the apple slices. Drizzle with additional fresh squeezed lemon, to your preference, and then drizzle with honey, also to your preference. I tend to go light on the honey. Serve immediately.
The salad is best served immediately and consumed the same day it is made. The persimmons will become darker and softer if left until the next day and I admit that I've never enjoyed left over persimmon salad. It just isn't the same!
Notes
Recipe compliments of Simply Recipes.