Creamy Pumpkin Soup & Tanaka Farms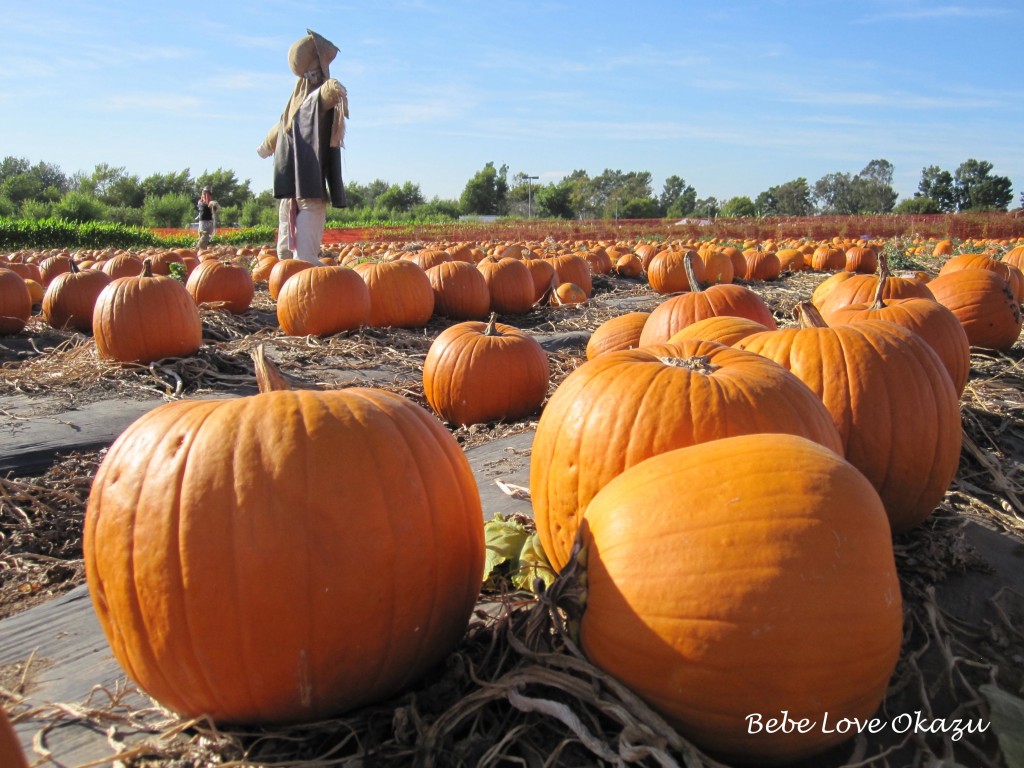 This year, our Halloween celebration was a bit impromptu, resulting in a quick lunch at Wahoo's for Aya-chan, Bebe E and I and trick-or-treating on-the-fly at a few retailers at the mall before nap-time. It wasn't the typical Halloween celebration I enjoyed as a child, but Bebe E had a blast and it was fun to watch her enjoy herself so much.
Our plans to trick-or-treat in the neighborhood at dusk were foiled by an exhausted and cranky toddler and a Mama who couldn't get dinner on the table soon enough. As a result, Bebe E's bath was running at 6:45 PM and our little calf was in bed EARLY. This suited Mama and Dada just fine as we were exhausted from the weekend. Bebe E didn't know that she was missing anything that evening… until the next morning when she kept asking me, "trick-or-treat-moo, mama?" I explained to her that Halloween was yesterday and that it had already passed. She seemed to protest with a few little nooooo's but she seemed OK with the fact that we would go again next year. Not that the term "year" means anything to a toddler, but she was content – – – and therefore, so was I.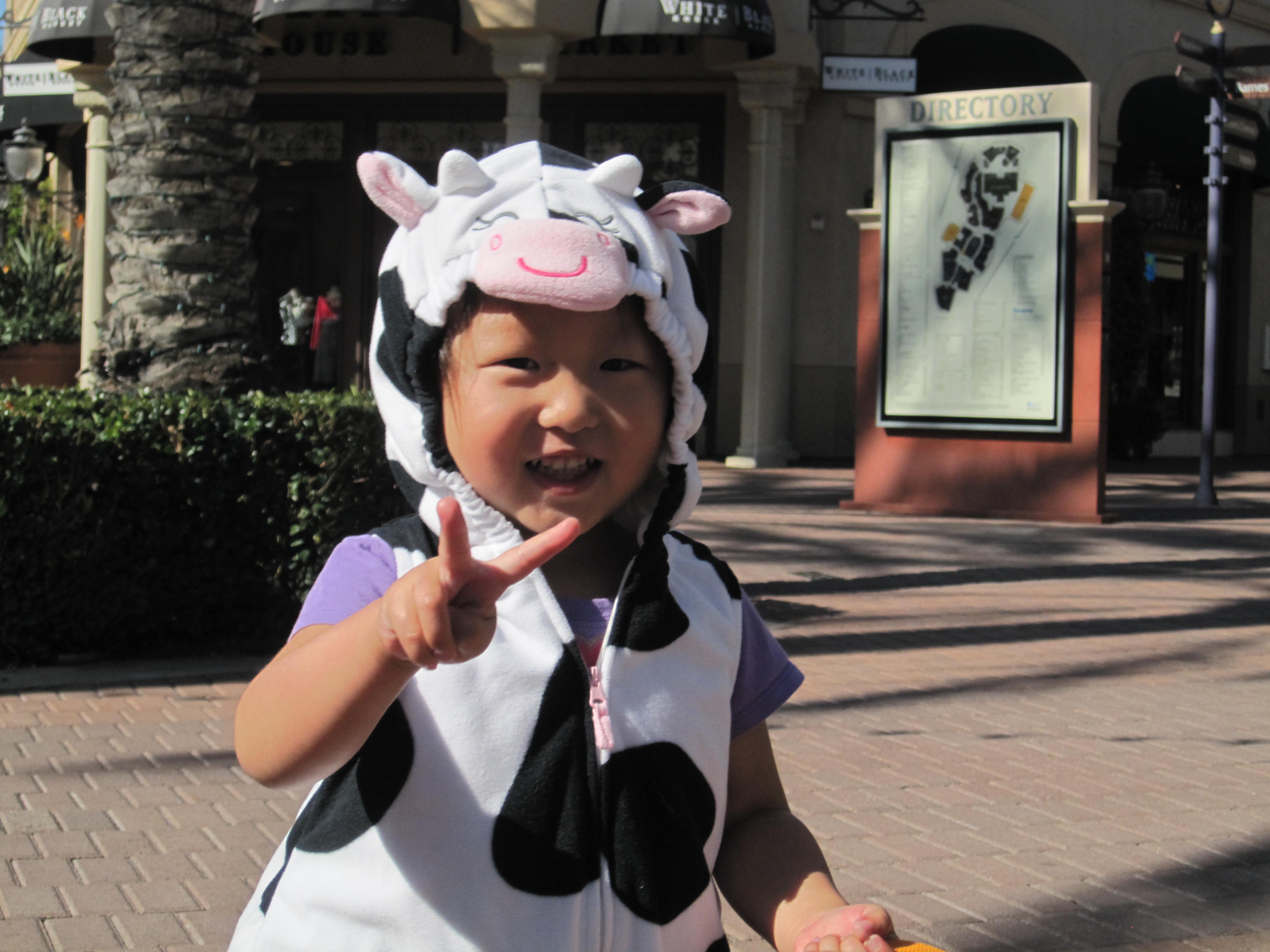 I'm not sure if I've shared this before, but I love to eat and make soup. Now that it's Fall and the weather is drastically cooler, if not down-right COLD by Southern California standards, it's the perfect time for soup. I make quite a few different types of soups and most all have been a part of my soup repertoire for years, but for whatever reason, I've posted very few soup recipes on my blog. No time is better than now to start sharing my super simple favorite soups.
Every year I make pumpkin soup at least once or twice in the Fall. In the past, I've made this creamy pumpkin soup as a starter course for Thanksgiving, but, I don't serve this anymore since I received complaints that starting with a big bowl of creamy pumpkin soup before our Thanksgiving meal doesn't leave a whole lot of room for all the other delicious food. It's a compliment in disguise, right?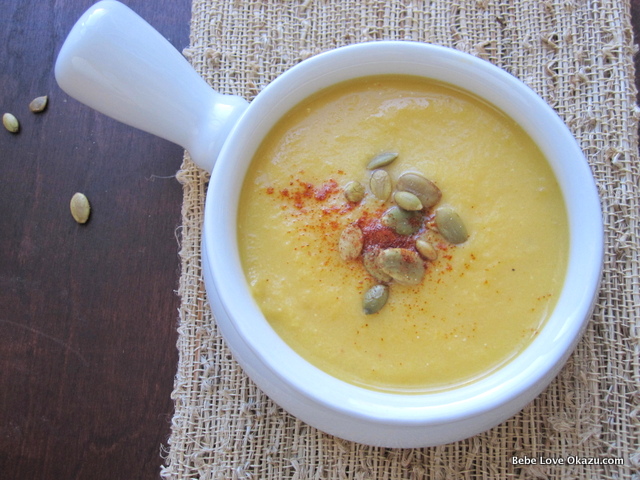 Theoretically, I could serve a smaller cup of creamy pumpkin soup as the starter for our Thanksgiving feast, but instead, I now serve it as the main course on a regular weeknight for our family's dinner, along with some bread and a salad. I quite prefer this creamy pumpkin soup as the main course, rather than served as a starter.
I'm not sure where I got this recipe because I've had it for years, and back then, I never really bothered to keep track of where my favorite recipes were sourced, but I share this with you now, my favorite creamy pumpkin soup recipe.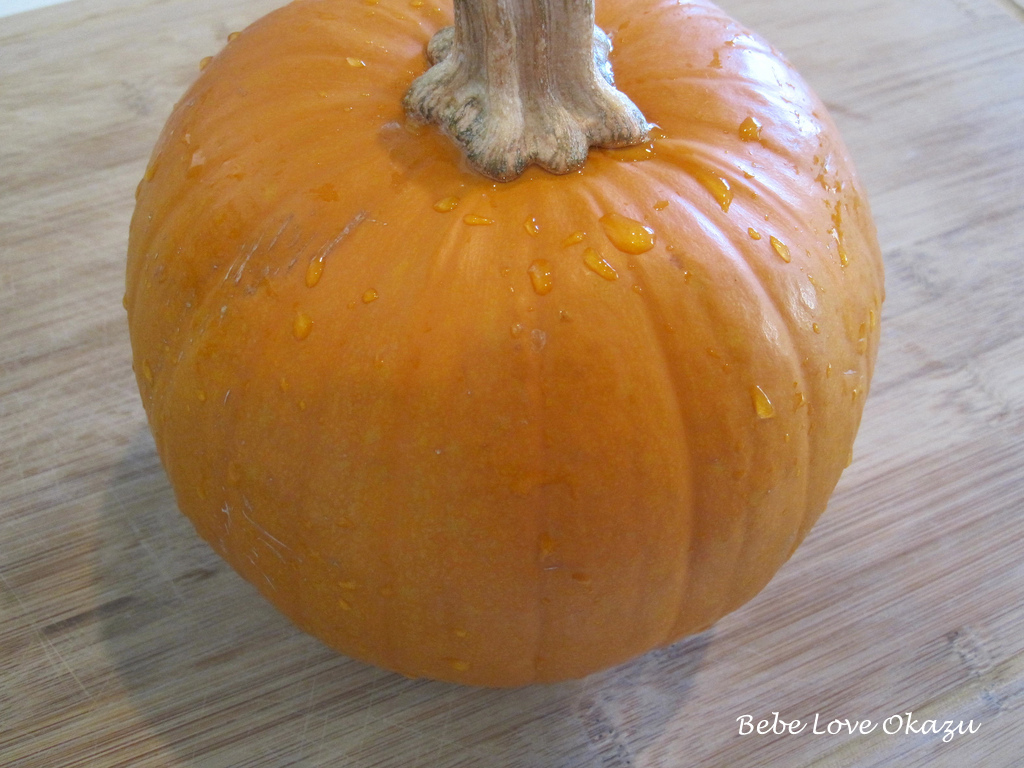 The little pumpkin featured above was one that Bebe E selected at Trader Joe's. After we bought a larger pumpkin and carved her jack-o-lantern, I asked her if she would like to help me make pumpkin soup out of her little pumpkin. I was prepared for her to say, "no", that she wanted to keep her pumpkin, but she happily agreed and helped me scoop out the seeds of her little pumpkin and "helped" me make soup. Now that she is talking and very communicative it's wonderful to have conversations with my little one.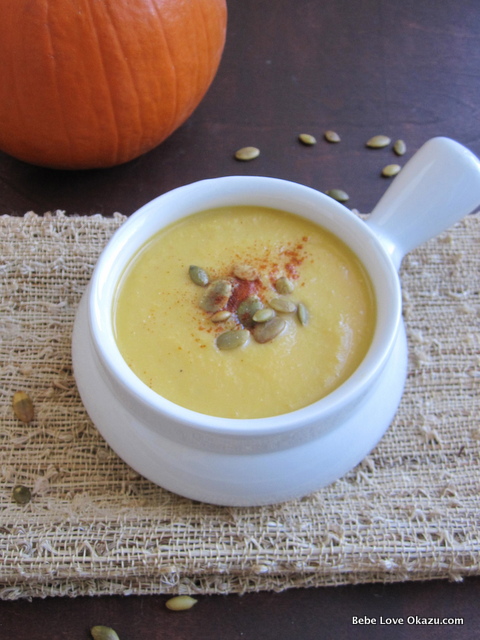 When I made this soup, I had nothing to garnish it with – – – no croutons, no flat leaf parsley, no green onions – – – nothing! In hindsight, a swirl of heavy cream or even a few of the pumpkin seeds that we roasted would have made my photo of creamy pumpkin soup more attractive, appetizing, and "food-styled". Yet, there you have it… served straight from the stock pot, bubbles and all. This is how we ate our soup that night. It was creamy and yummy as is.
Cheers,
Judy | Bebe Mama
NOTE: A foodie friend of mine over at Lemons and Anchovies recently posted a soup recipe where she substituted heavy cream with almond milk for a lower cholesterol, vegan and healthy alternative. While I chose to stick with my original recipe using heavy cream, I might try almond milk next time. Thanks, Jean for the tip!
Ingredients
6 cups chicken stock
4 cups pumpkin puree (use freshly steamed pumpkin and supplement with canned if needed)
1 cup chopped onion
1 clove garlic, minced
Olive oil for sautéing
½ cup heavy whipping cream (use almond milk for lighter or vegan option)
Salt/pepper to taste
Chopped fresh parsley, croutons, or sliced green onions with paprika for garnish (optional)
Instructions
Remove seeds and veins from fresh pumpkin and cube, with skin on. Steam the pumpkin for about 20 minutes. (Alternatively, pumpkin can be roasted in the oven.) Once the pumpkin is cooked, it is easy to separate the flesh of the pumpkin from it's skin. Set aside pumpkin flesh.
Cook onion and garlic with olive oil until onions are translucent. Add steamed pumpkin and chicken stock. Bring to  boil, reduce heat to low, simmer for 30 minutes uncovered.
Using a hand blender, puree soup. I turn off the heat, place the hand blender directly into the pot and gently puree the soup.  Salt and pepper to taste. Bring soup to boil and cook for additional 10 minutes.  Stir in heavy cream.  Serve with garnish.
Notes
If your pumpkin doesn't provide 4 cups of pumpkin flesh, supplement with canned pumpkin. I've never made this soup strictly using canned pumpkin and I don't recommend it only because I've always used fresh pumpkin. I'm sure canned pumpkin alone would be fine to use but fresh is best!