We Are Home! China Adventures Part I: Beijing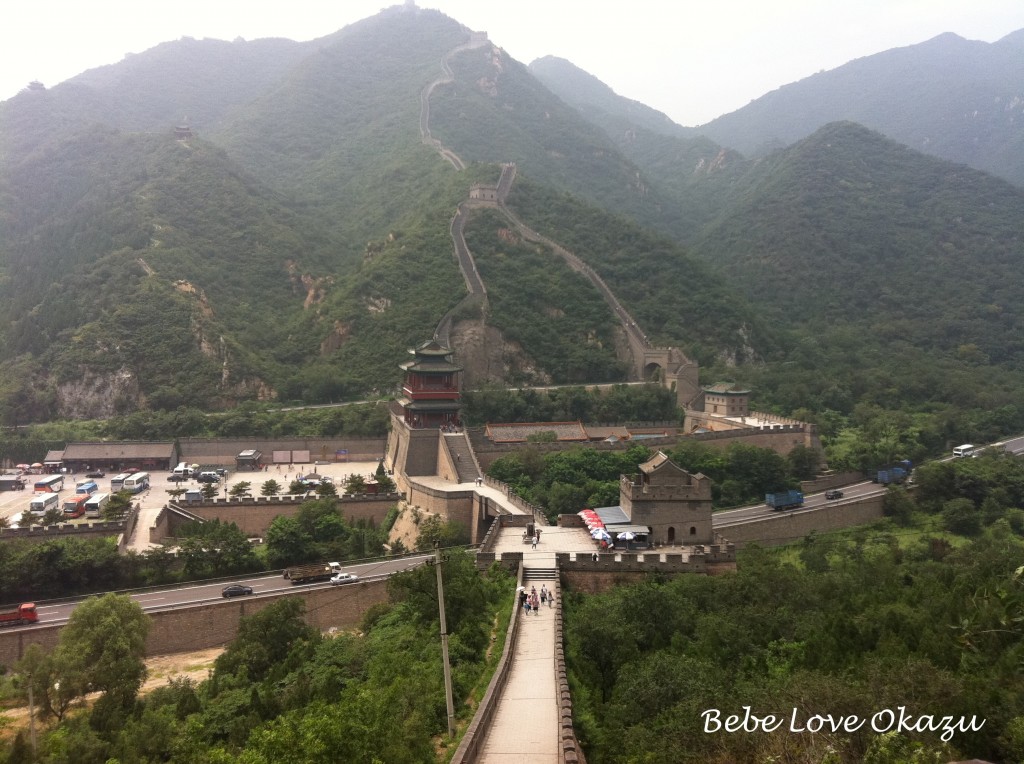 Home sweet home!
Sunny blue skies and mild California weather. Love it! AND there's nothing like sleeping in your own bed after a long trip. For two weeks, my family and I were half-way across the world sightseeing in China with my in-laws.
Bet you didn't even notice I was gone, huh? I drafted a few blog posts prior to our departure and scheduled these to be published while we were on vacation. Sneaky, huh? :)
North Beijing – The Great Wall of China
View from Gate 2, Badaling Section of The Wall. My husband, Bebe E and I climbed the easier, flatter section of the wall (Big Onechan climbed the steeper more difficult section of the wall with her cousins) but we didn't go beyond Gate 2, given the steps were extremely uneven. Some steps were 5 inches tall, while others were over 13 inches tall. In addition, Bebe Dada had our heavy backpack on his back in addition to our 30-pound baby in his arms. Instead, we sat on the stairs, ate snacks, and admired the view in absolute awe, knowing that 2,000 years ago thousands of people built this 4,000 mile long wall BY HAND! The Great Wall was one of my favorite attractions on the trip.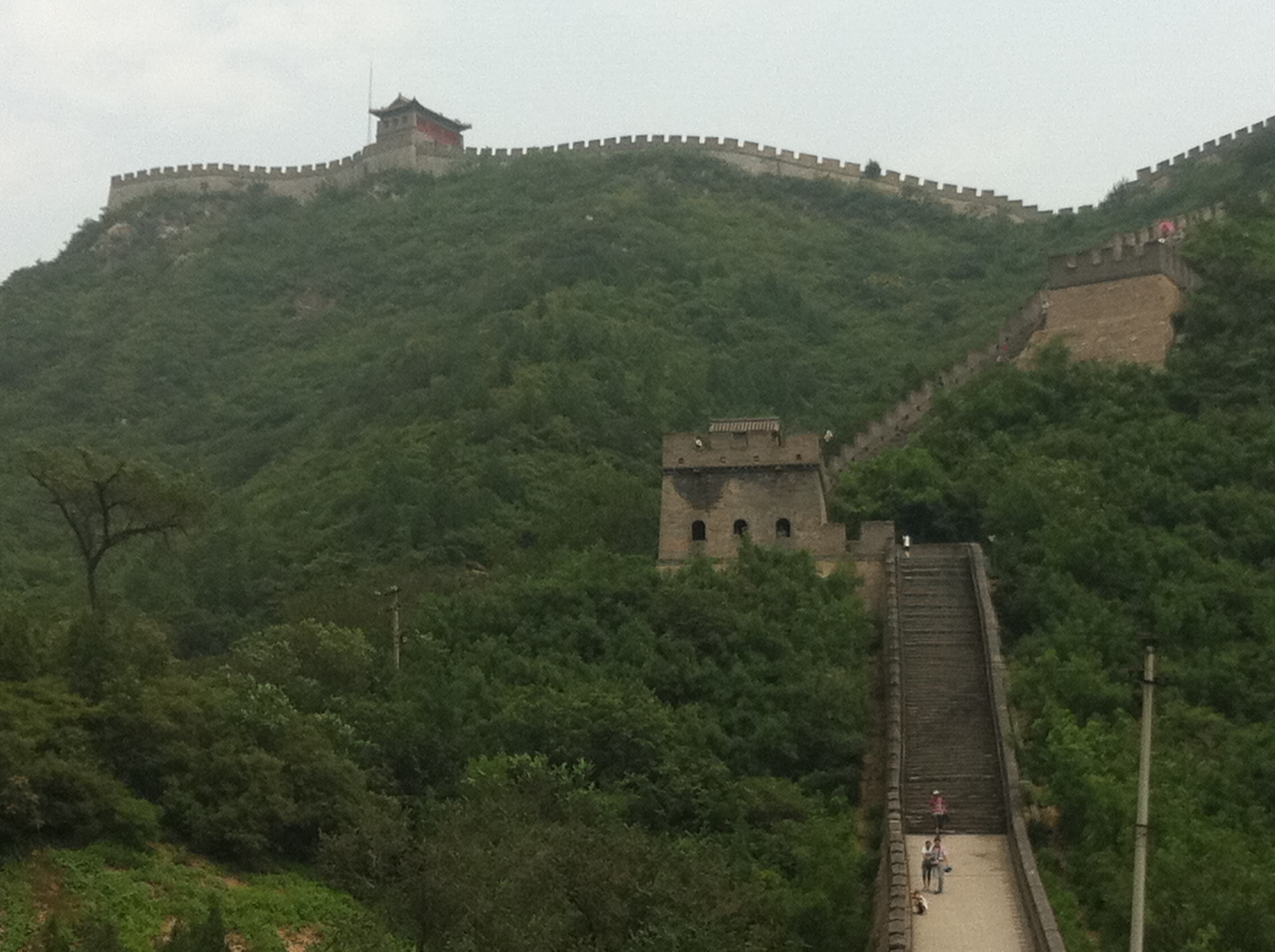 We returned to LAX a week ago Saturday, after a whirlwind 14-day tour to Beijing, Xian, Guilin, Shanghai, and Hong Kong. Yes, five cities in two weeks was a lot to accomplish, but despite our tough schedule, several delayed flights with countless hours logged at airports, and the challenges of traveling with a toddler, we truly had a great time seeing the historical sites of China and we will have many memories to cherish forever.
We started our vacation in Beijing with dinner on our own – an adventure unto itself.
We stayed in downtown in the Xicheng District and walked a short distance from our hotel to a restaurant that was bright, large and well-populated. Unfortuantely, the entire menu was in Chinese. While Big Onechan did a good job acting as our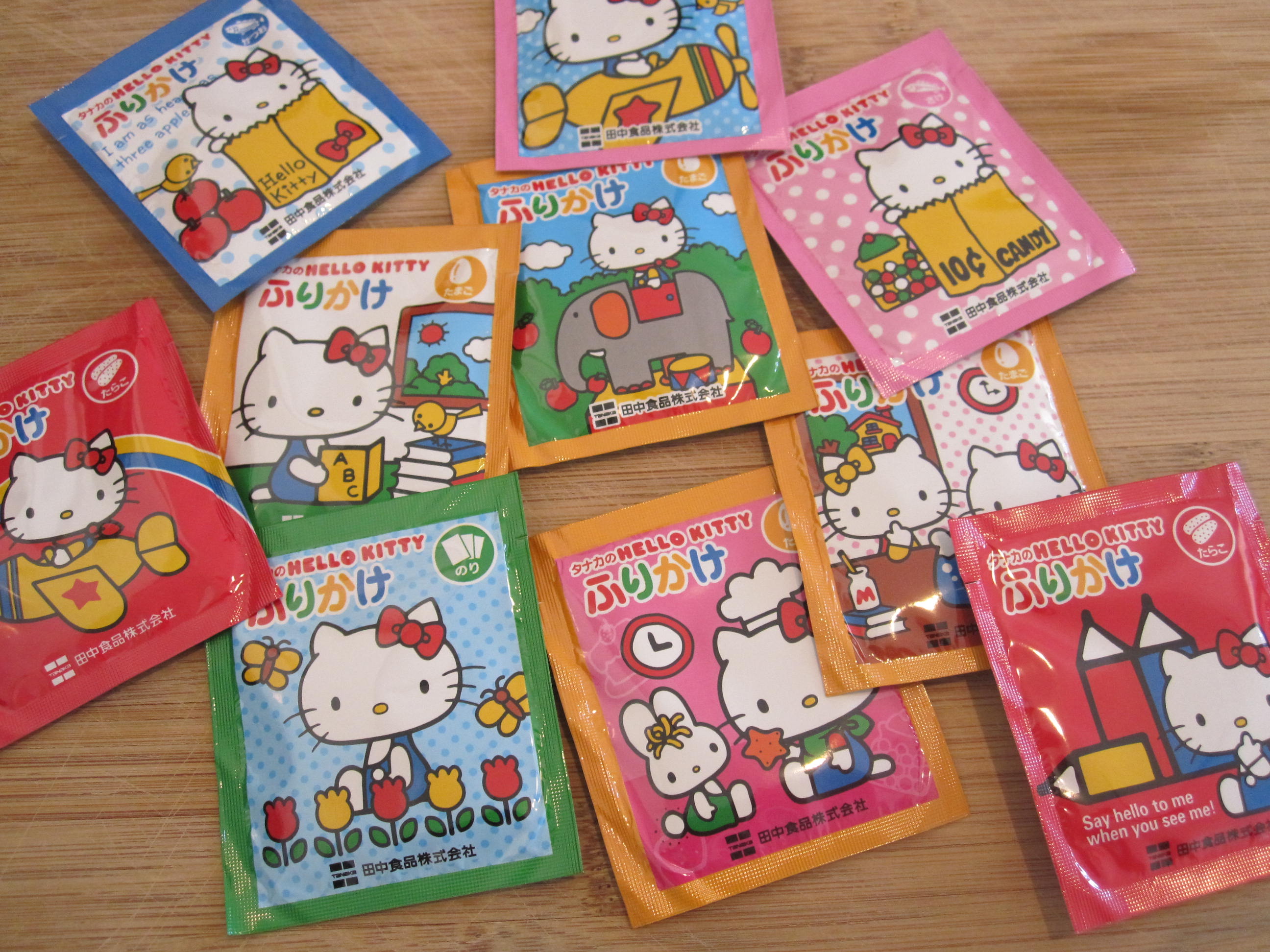 psuedo-translator with her limited Mandarin knowledge, between she and I, we were able to distinguish the types of meat on the menu based upon the Chinese characters. (Thank goodness I learned to read Japanese which is based upon Chinese characters, and remembered some of the kanji characters for beef, chicken and fish.)
We ordered several dishes that all looked good, unfortunately, the popular style of cooking in Beijing is Hunan, which is known for thick and strong flavors heavily seasoned with chili and peppers. The food was SPICY. Since Bebe E and I can't eat spicy foods, we filled-up on cooked vegetables, steamed fish, and rice seasoned with furikake. Yes, I brought several little packs of furikake for Bebe E but I admit to using quite a bit of it myself. Sadly, I forgot to take pictures of our food on this first night, but I got better about this as our tour progressed.
* * *
Don't be afraid of the insects below… People eat these all the time!
Andrew Zimmerman certainly has! But we politely passed on these delicacies…  We browsed the Donghuanmen Night Snack Market which was lined with carts and many, many tourists. This famous street food market is one Beijing's top 10 snack markets.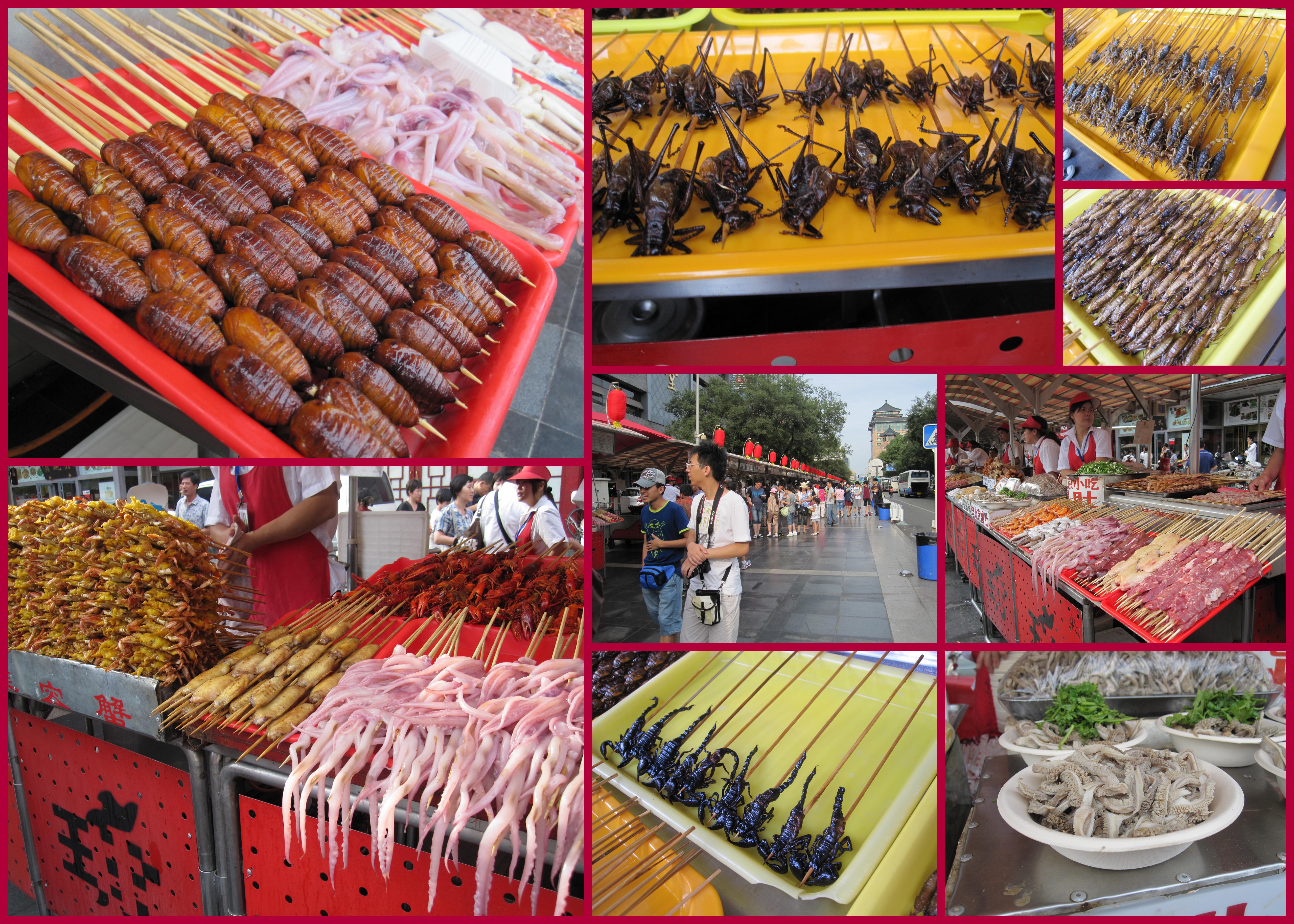 Donghuanmen Night Snack Market.
* * *
We spent two full days sightseeing in Beijing. The following are just a few of the tourist spots that we visited.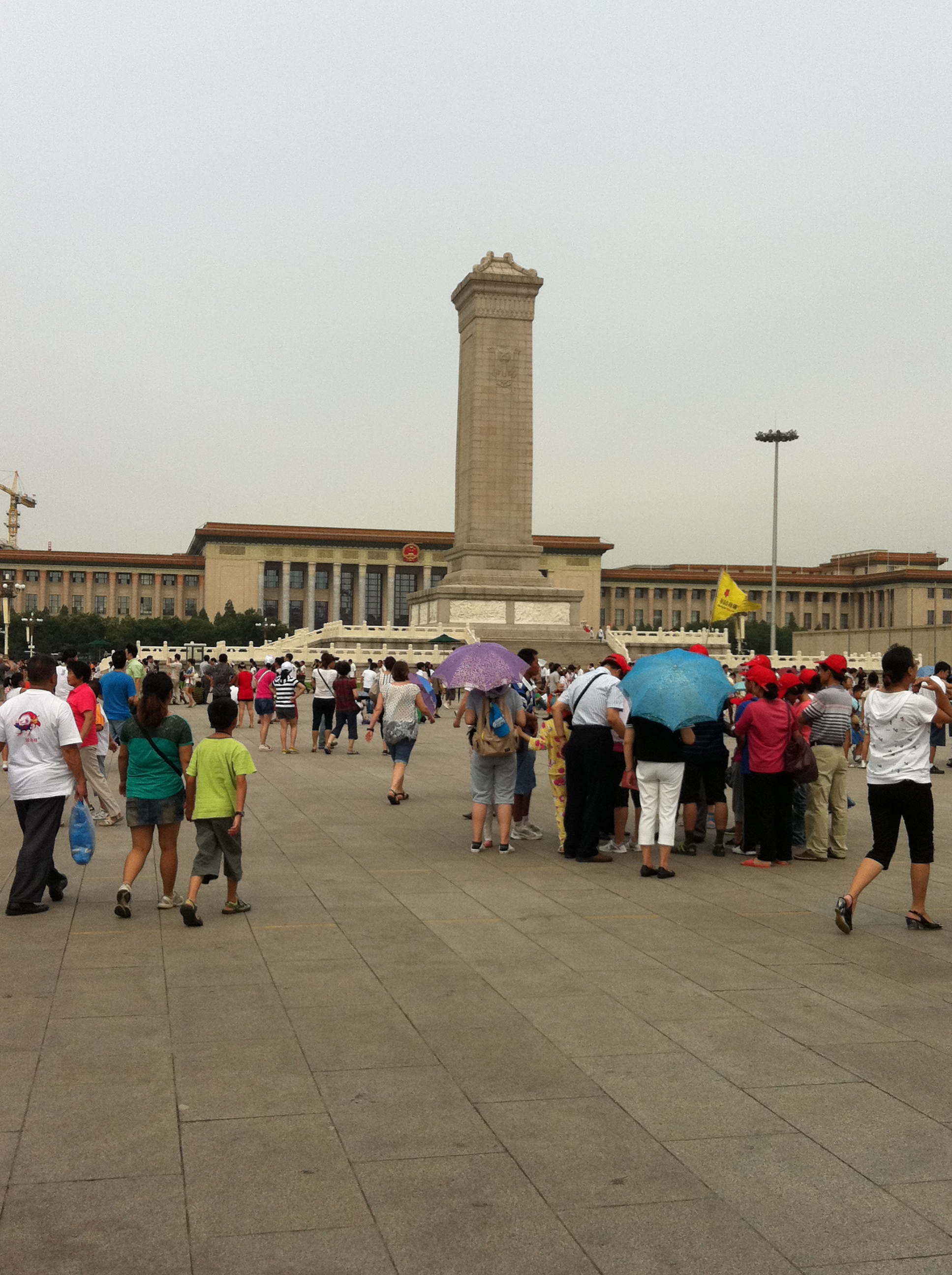 (Above Photo) Monument at Tiananmen Square
This is the largest public square in the world (although there are debates that a larger one exists in Iran) and owes its design to Chairman Mao Zedong. The featured monument is the Monument to the People's Heroes, which commemorates those who died in the Chinese Revolution which resulted in the establishment of the People's Republic of China. The building behind the monument is the Mausoleum of Mao Zedong. On the day we visited the Square, there was a line of tourists, mostly Chinese nationals, over a mile deep waiting to get in. We did not go into the mausoleum.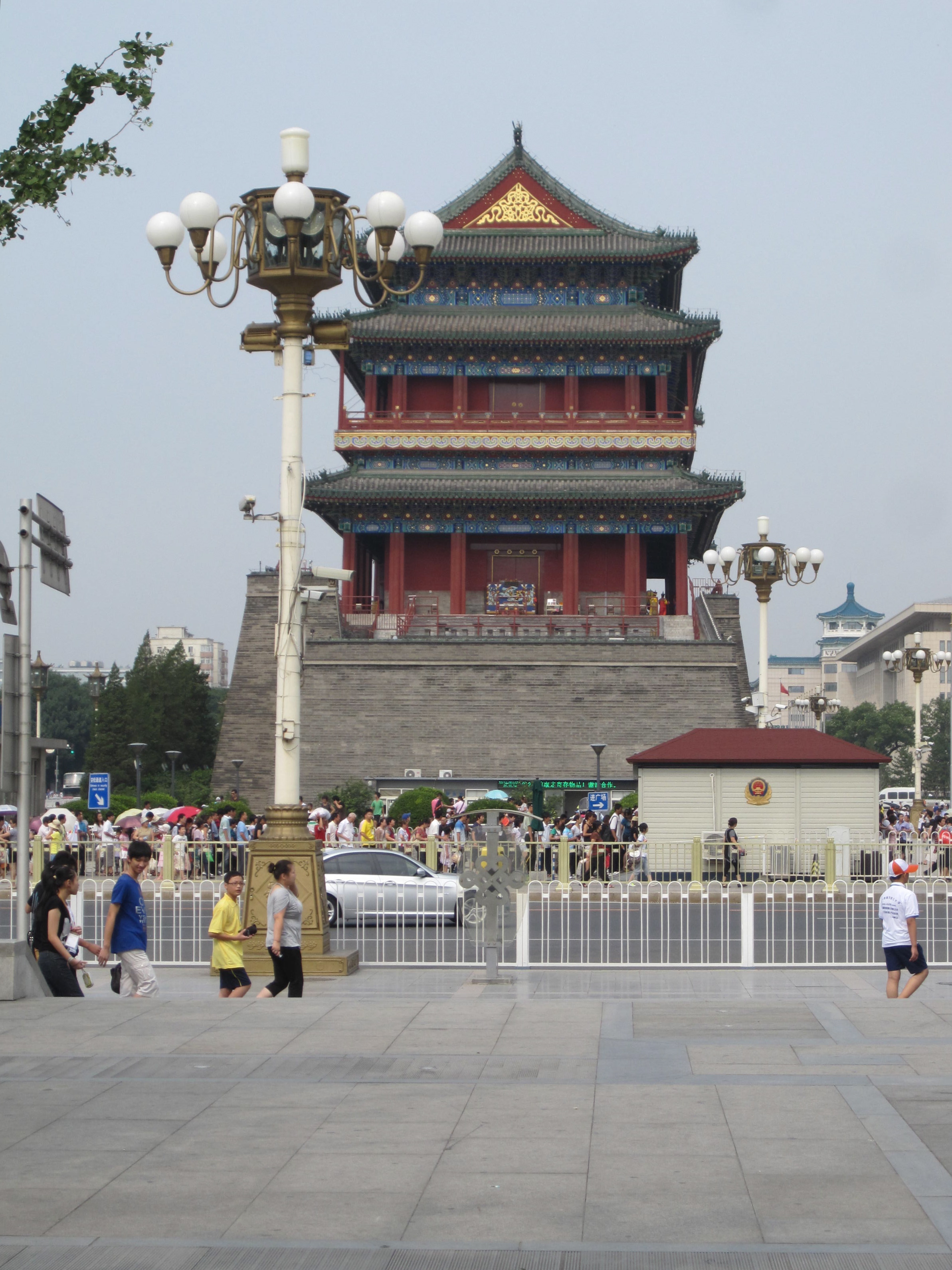 (Left Photo) Tiananmen Square South Gate
The south gate is known as The Front Gate or Qianmen. Two gates flank the square which covers 100 acres.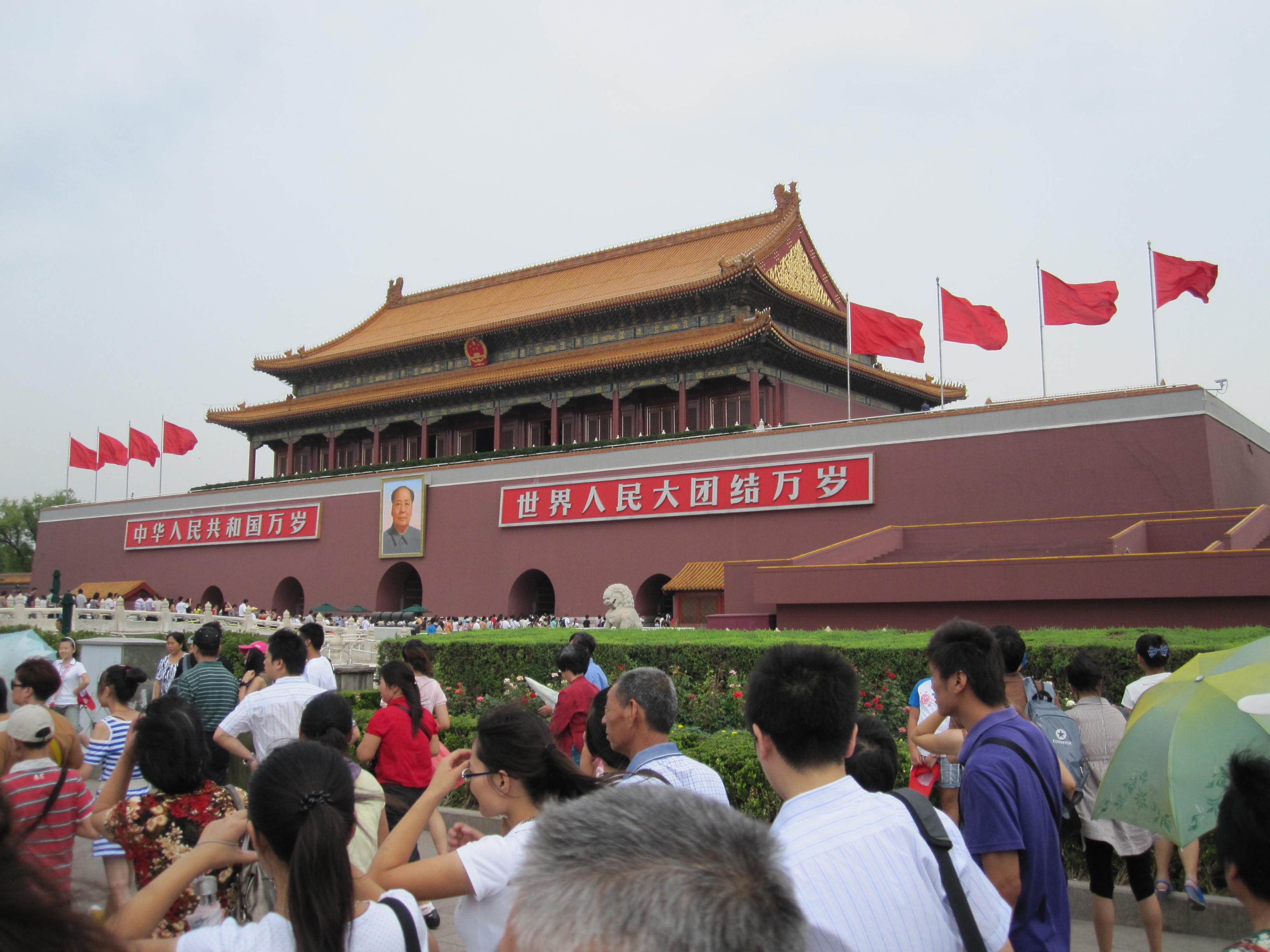 (Bottom Photo) Tiananmen Square North Gate
The north gate is known as The Gate of Heavenly Peace. Beyond this is the entrance to the Forbidden City. While it is difficult to see, the gate is decorated with the iconic photo of Mao Zedong.
After passing through The Gate of Heavenly Peace, we entered The Forbidden City, home of the Imperial Palace. We walked through two massive gates, the Meridian Gate and the Gate of Supreme Harmony before we reached the Imperial Palace which was home to the emperors of the Ming and Qing Dynasties.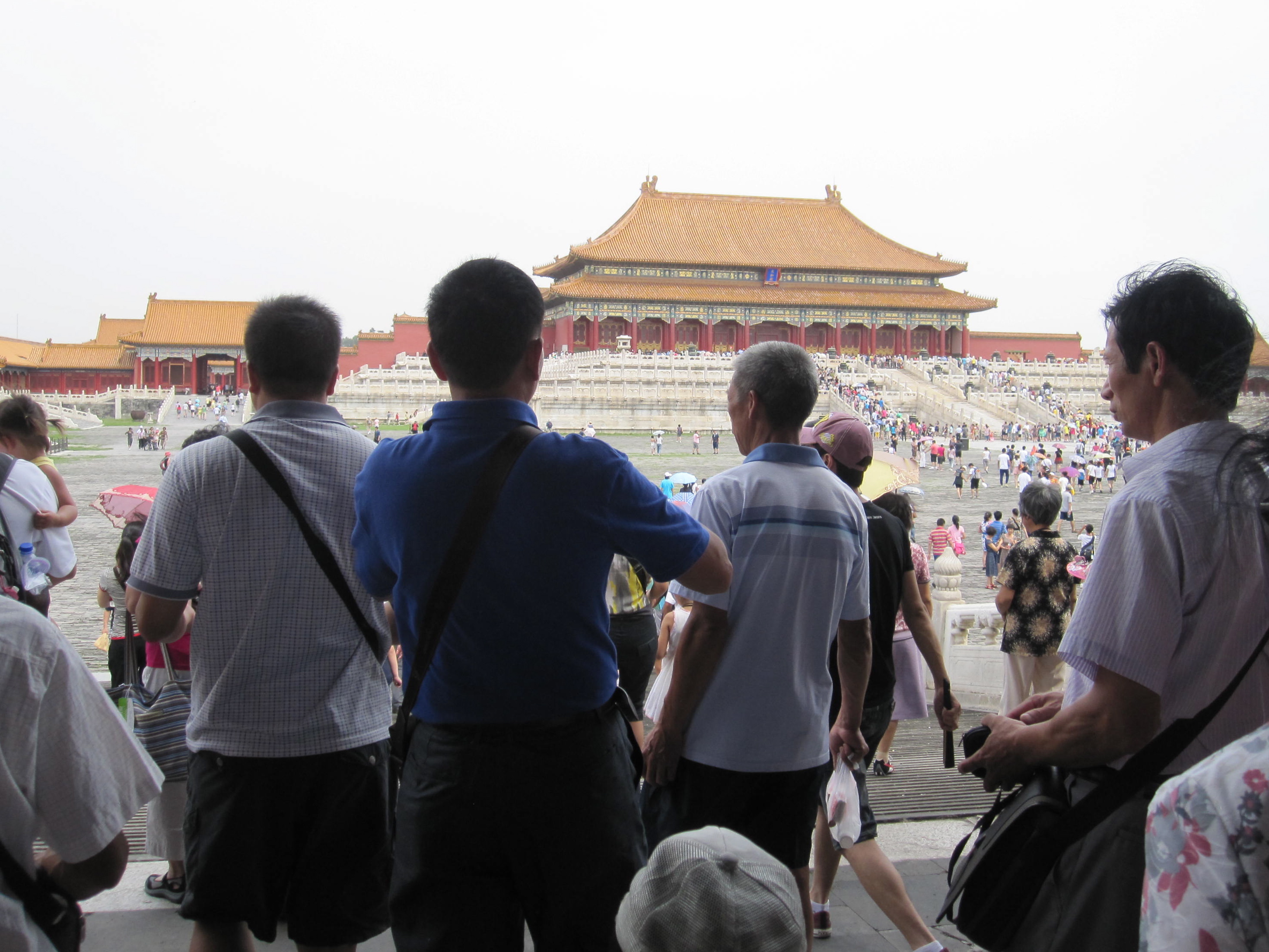 Imperial Palace – The Hall of  Supreme Harmony
The Hall is the largest of three halls located in the Hall of Supreme Harmony Square, a vast open square, and is considered to be the largest surviving wooden structure in China. The Hall was used primarily for ceremonial purposes but during the Ming Dynasty the Emperor also used the Hall for court and to hold imperial discussions.   
 Here are a few Googled tidbits about The Forbidden City:
The City was not open to commoners until after the Cultural Revolution in 1976.
Took over 14 years to build, between 1406 and 1420, and more than a million workers to complete.
It is the largest surviving palace complex in the world.
Spans over 17.8 million square feet or 178 acres.
980 buildings and 8,707 bays of rooms.
City is surrounded by walls that are 26 feet high.
City is surrounded by a moat that is 20 feet deep and 171 feet side
24 Chinese Emperors of the Ming and Qing Dynasties lived in the Imperial Palace.
We walked a total of 6 miles through Tiananmen Square and The Forbidden City.
By far, my favorite attraction in Beijing is the Summer Palace. It was hot, yet not unbearable on the day that we visited, and we arrived in the late afternoon. As we walked through the entrance we came upon a grand hall protected by large bronze statues.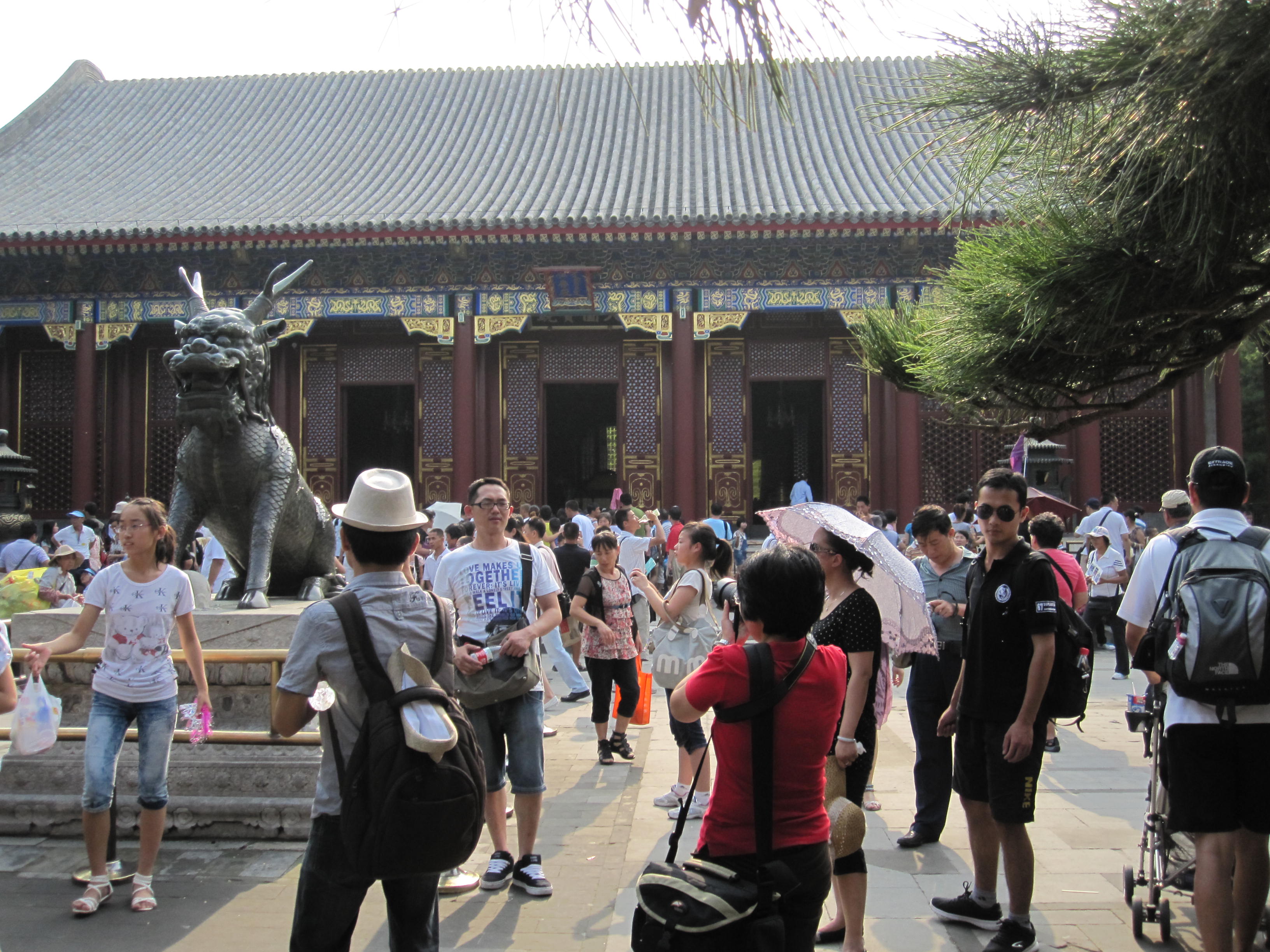 Summer Palace – Hall of Benevolence and Longevity
As we walked passed the Hall of Benevolence and Longevity we walked along a short, curvy garden path which was designed such that we could not see the beautiful lake that awaited us. As we made the final turn, the lake slowly came into view as the golden afternoon sun reflected across the waters of Kunming Lake. Despite the hazy weather it was truly gorgeous.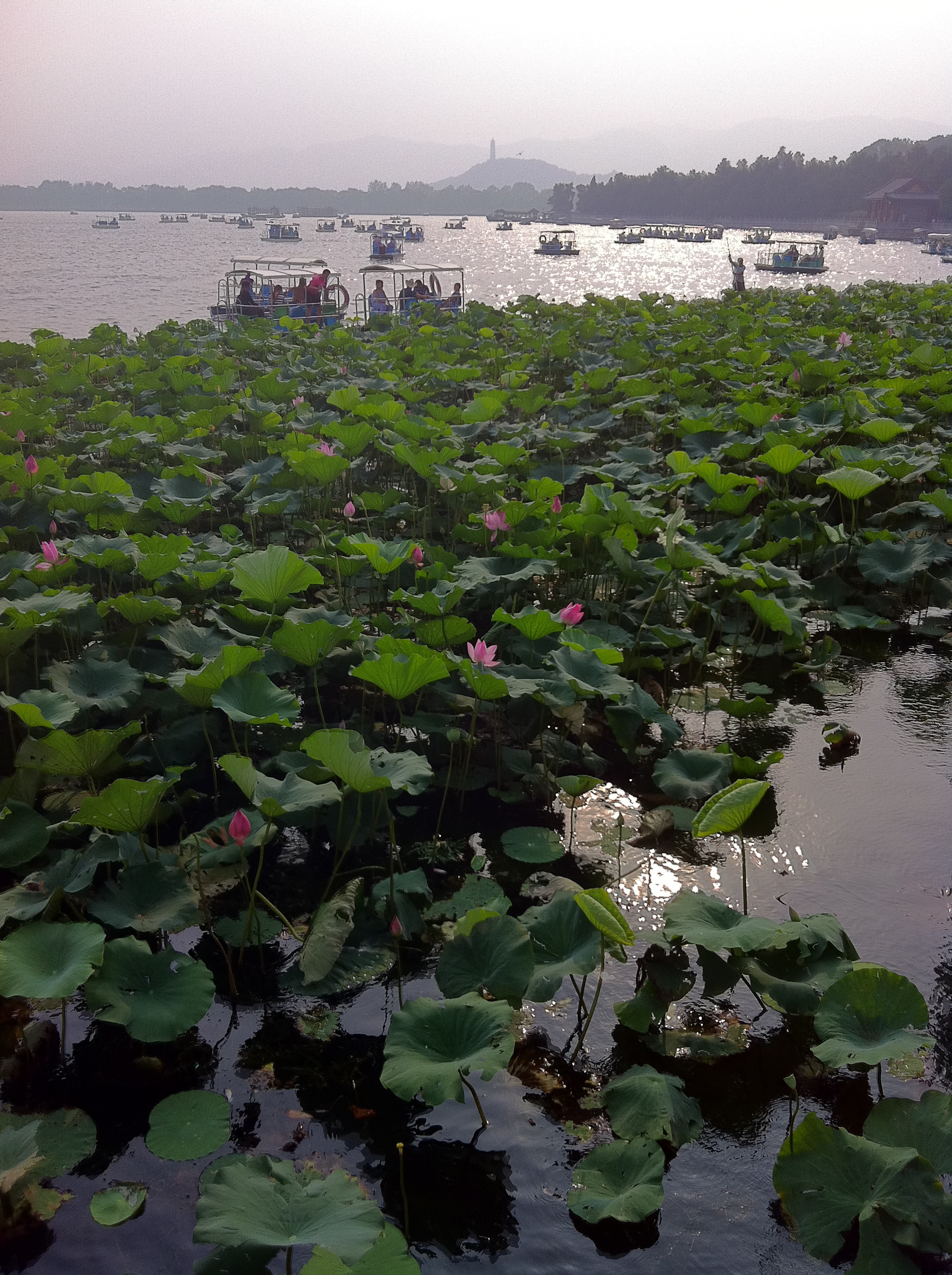 Summer Palace – Kunming Lake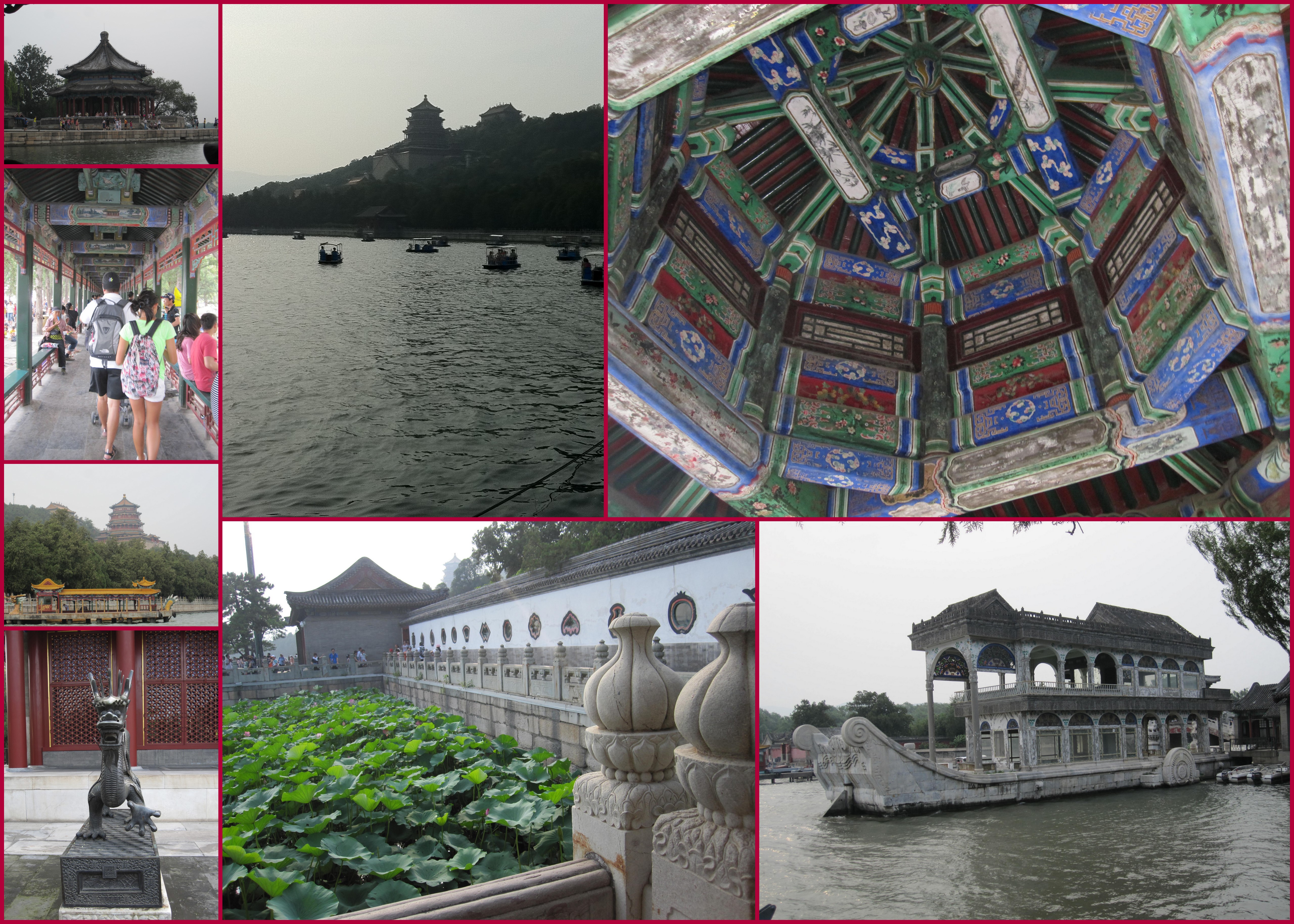 Summer Palace Collage – Top Left to Right Photos: Pavilion at the Summer Palace; view across Kunming Lake and Yu Quan Hill with Yu Feng Pagoda; artwork along the famous Long Corridor; Bottom Left to Right Photos: Bronze dragon statue, water lilies along the edge of Kunming Lake, Marble Boat (also known as the Boat of Purity and Ease) is not really made of marble but instead wood, and painted to look like marble.
A few Googled tidbits and facts from Fodor's about the Summer Palace:
Emperor Qianlong (Qian Dynasty 1735 – 1796) commissioned the Summer Palace as a retreat for his mother's 60th birthday in 1750.
The Summer Palace is 700 acres.
Palace was renovated with redirected funds from China's naval budget after it incurred fire damage by Anglo-French forces in 1860.
Kunming Lake is largely a man-made lake and accounts for three-fourths of the Palace complex.
Empress Dowager Cixi or Tsu-hsi, concubine to Emperor Xianfeng (1850 – 1861), was known for "ruling behind the curtain" when her 12-year old son inherited the throne. She overthrew eight regents whom Emperor Xianfeng had appointed on his deathbed to rule for the child.
For 47 years, even while her nephew Emperor Guangxu ruled (1875 – 1908), Empress Dowager Cixi was the de facto ruler of China and the Qing Dynasty.
Empress Dowager Cixi retired at the Summer Palace in 1889.
In 1903, she Empress Dowager Cixi moved the moved the seat of government from the Forbidden City to the Summer Palace until her death in 1908.
What about the food in Beijing?
I mentioned earlier in this post that the predominant cooking style is Hunan, which is very spicy, HOT, and bold. Unfortunately, I had to avoid many of the spicy dishes and focused my chopsticks on vegetables, noodles, and non-spicy chicken and fish, but it was the first time in my life that I had ever eaten Chinese cuisine twice a day for more than three days straight.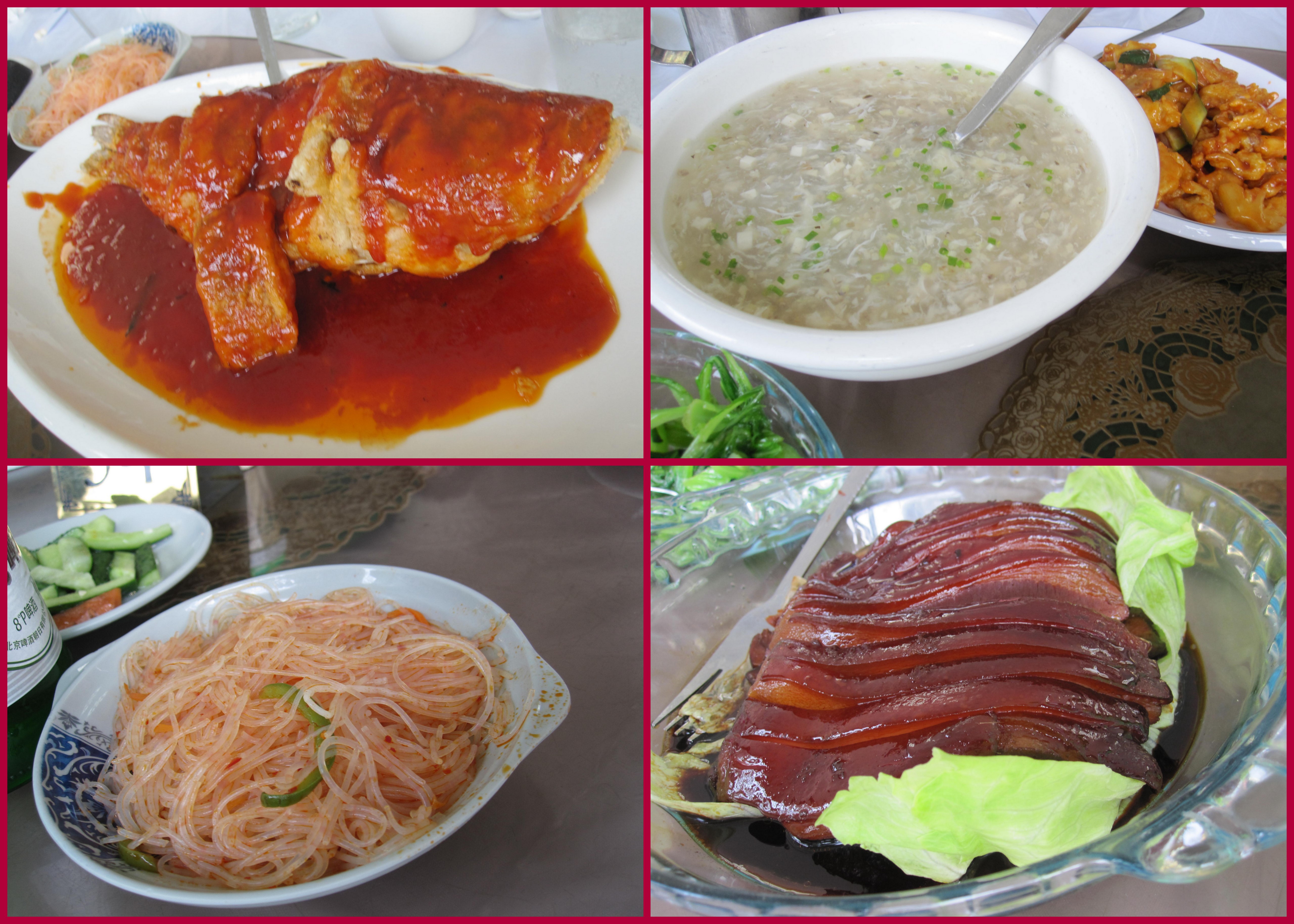 Of course, it actually turned out to be 14 days straight and sadly, my stomach just couldn't keep up. For the majority of the trip I had what my buddy refers to as, "China Belly". While I continued to taste most of the dishes and had a few favorites, as our trip progressed the temperature and humidity rose and my appetite waned.  Fortunately, I didn't have "China Belly" in Beijing for our Peking Duck feast and ate with gusto.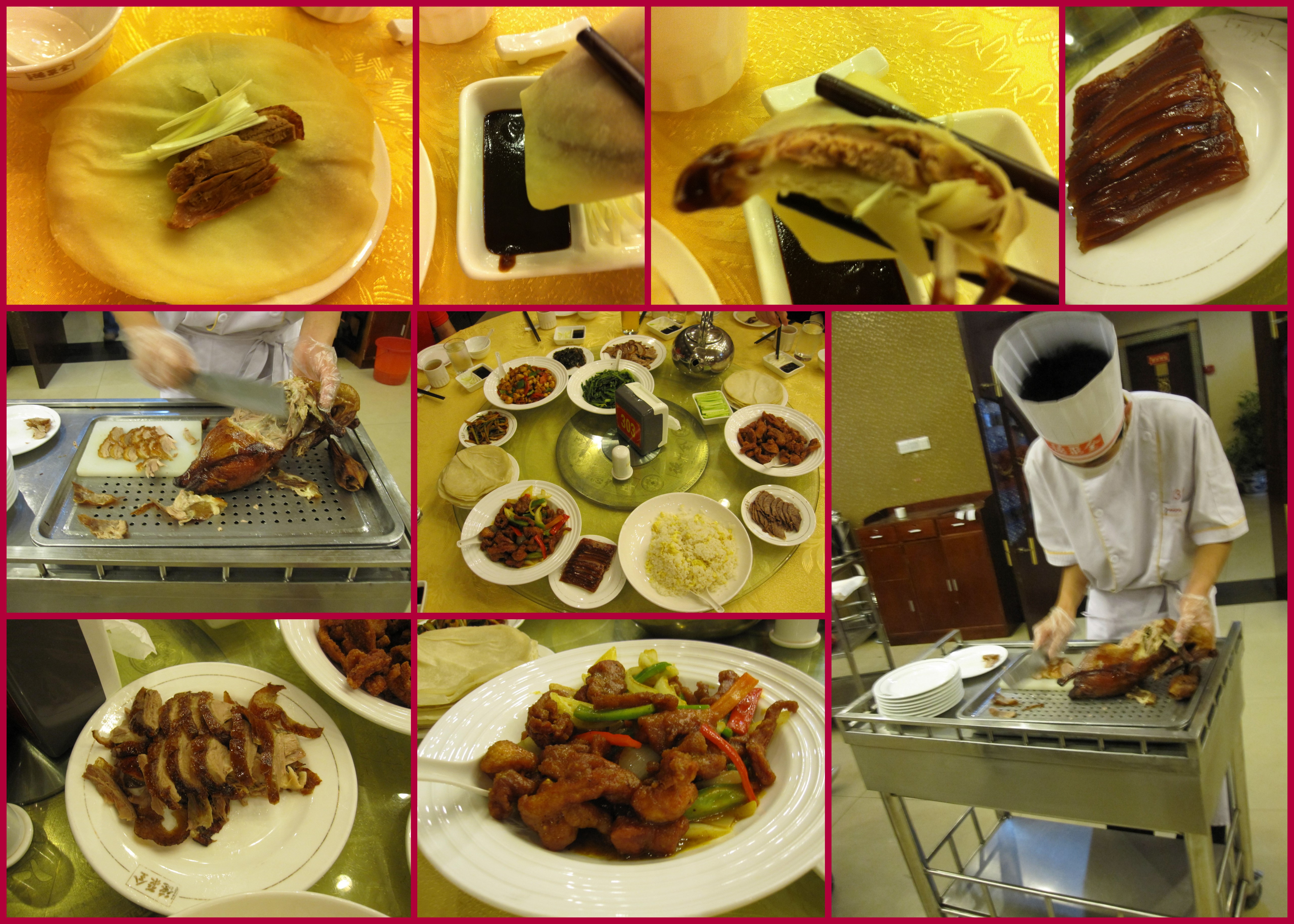 Peking Duck Luncheon
Peking Duck is a famous duck dish in Beijing that has been prepared since before the 1,400's. Cooked peking duck is traditionally carved table-side. It is served with fluffy white steamed buns and a rich and savory sweet bean sauce.  
I have much more to share about our trip, but for now, I bid you farewell 'til next time.
Zai Jian!  – – – That's Mandarin for "bye-bye" in case you're wondering. :)