Spicy Tuna Hand Roll
The convenience of having a Japanese supermarket near my home is that I can pop on over to the store to pick-up a few things, but more importantly, I can buy sashimi for a really simple and quick dinner.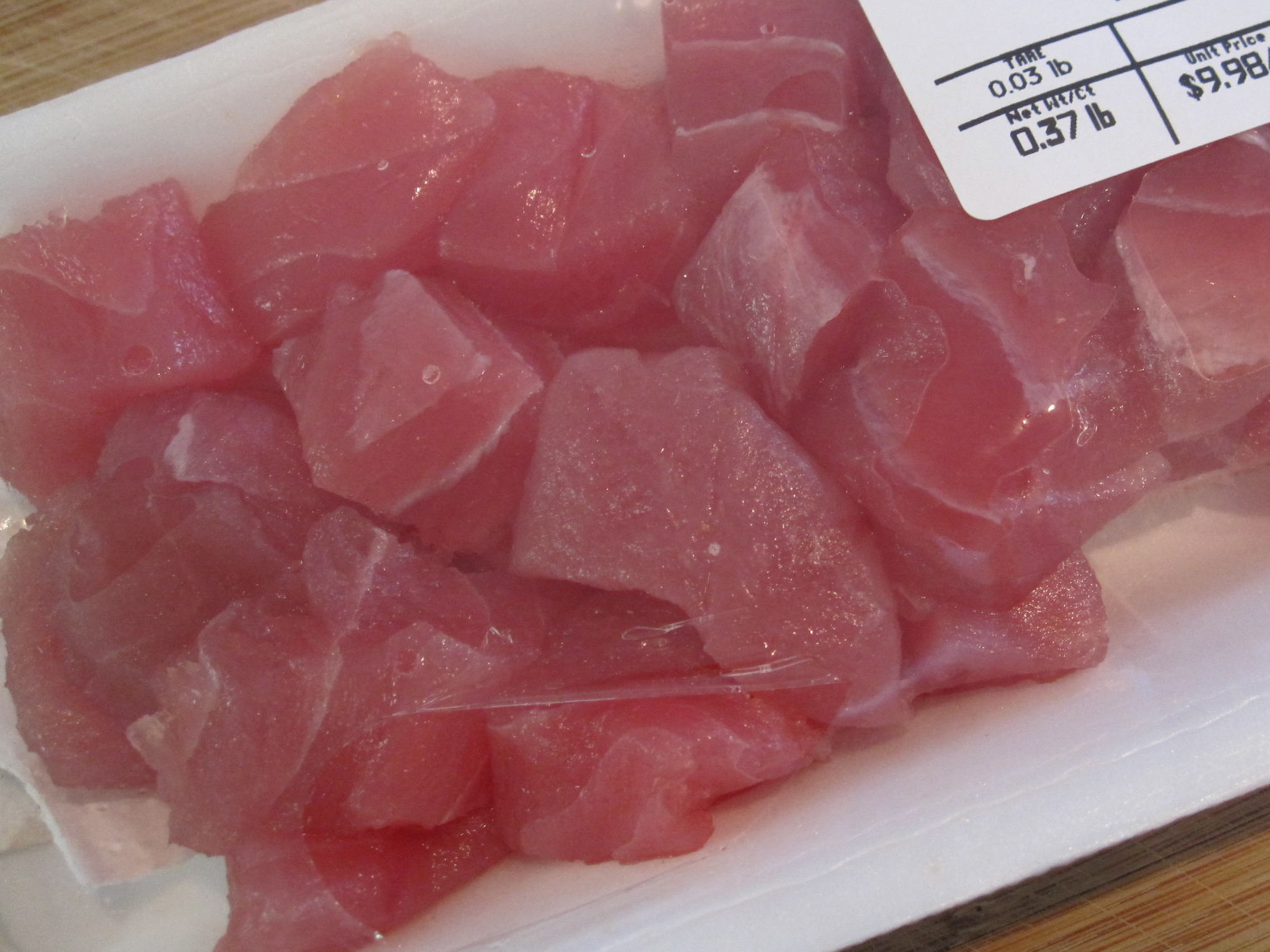 We don't feed Big Onechan sashimi since her idea of sushi is an avocado roll or tamago, and Bebe E is too young for sashimi, but when I need a quick dinner for Bebe Dada and I, my go-to item is inexpensive wild maguro (tuna) from the oceans down south. You will often find different grades of maguro at the Japanese supermarket. Typically, the fattier the tuna the more expensive it is.
The chopped maguro with no fat is relatively inexpensive and perfect for making spicy tuna. The melt-in-your mouth tuna that you might find at high-end sushi bars, if you are very lucky, is o-toro (the uber-premium fattiest tuna belly), but usually the more readily-available maguro is chu-toro (slightly fatty tuna towards the rear of the fish).
If we're at the sushi bar, Bebe Dada almost always order a spicy tuna hand roll. Depending on the quality of the sushi bar, you will find the spicy tuna either made from chu-toro or the less expensive non-fatty tuna. I buy the inexpensive, no-fat maguro (tuna) for our handrolls at home.
I never used to make spicy tuna hand rolls at home, but quite a long time ago I invited my brother's family over for a simple temaki sushi dinner and my sister-in-law requested spicy tuna. While I've eaten this many times at the sushi bar, I never tried to make this myself. I learned the recipe below from my brother.
Chopped tuna is chunky and almost pasty in consistency…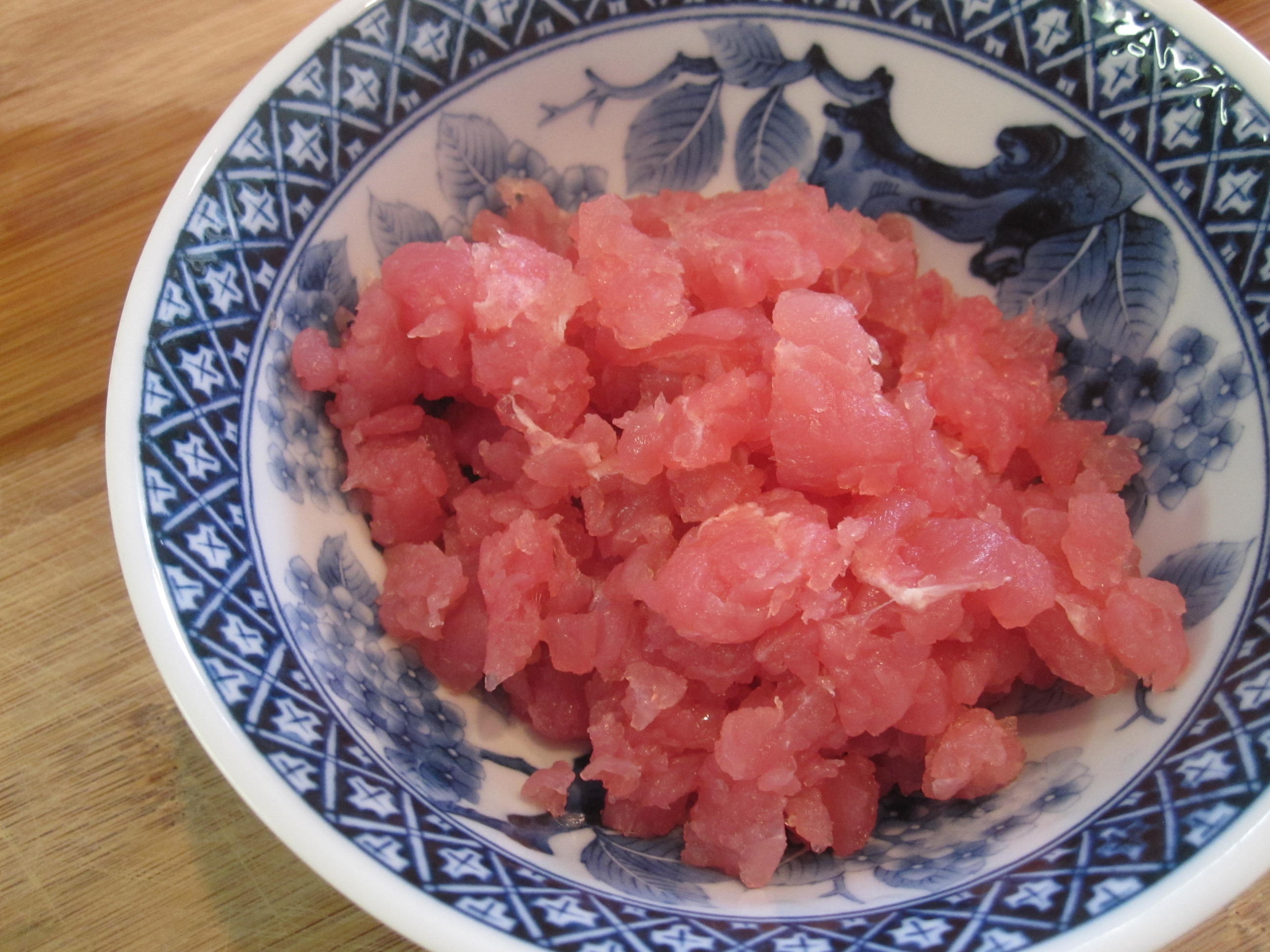 The finished spicy tuna mix…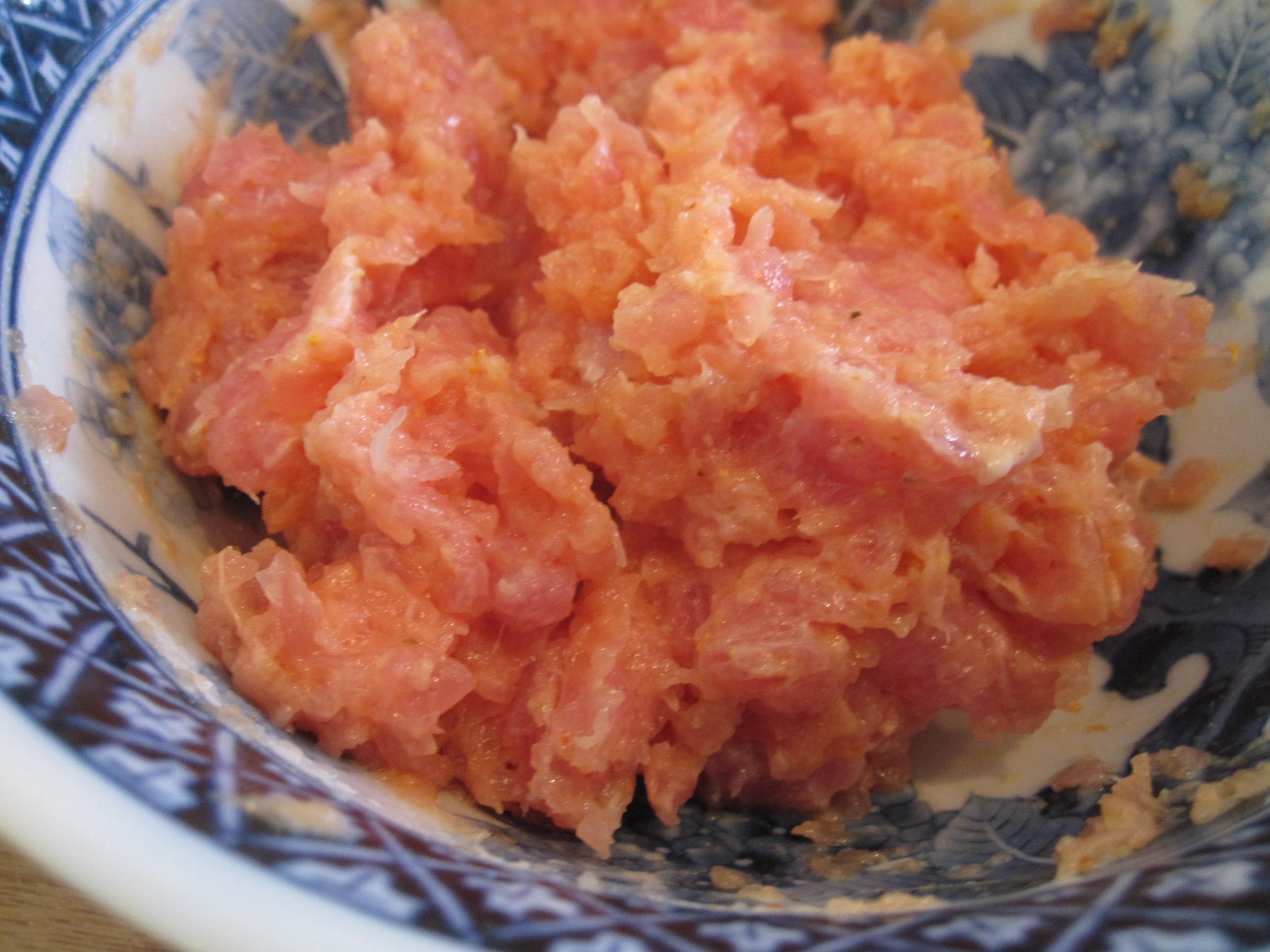 Traditional spicy tuna hand roll is often served with kaiware (daikon radish sprouts), but I chose to add sliced green onions to make another popular Japanese hand roll: negi toro.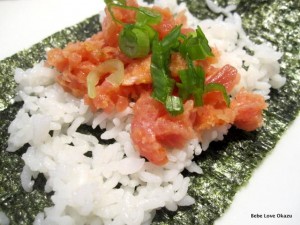 Temaki sushi almost rolled and ready to eat…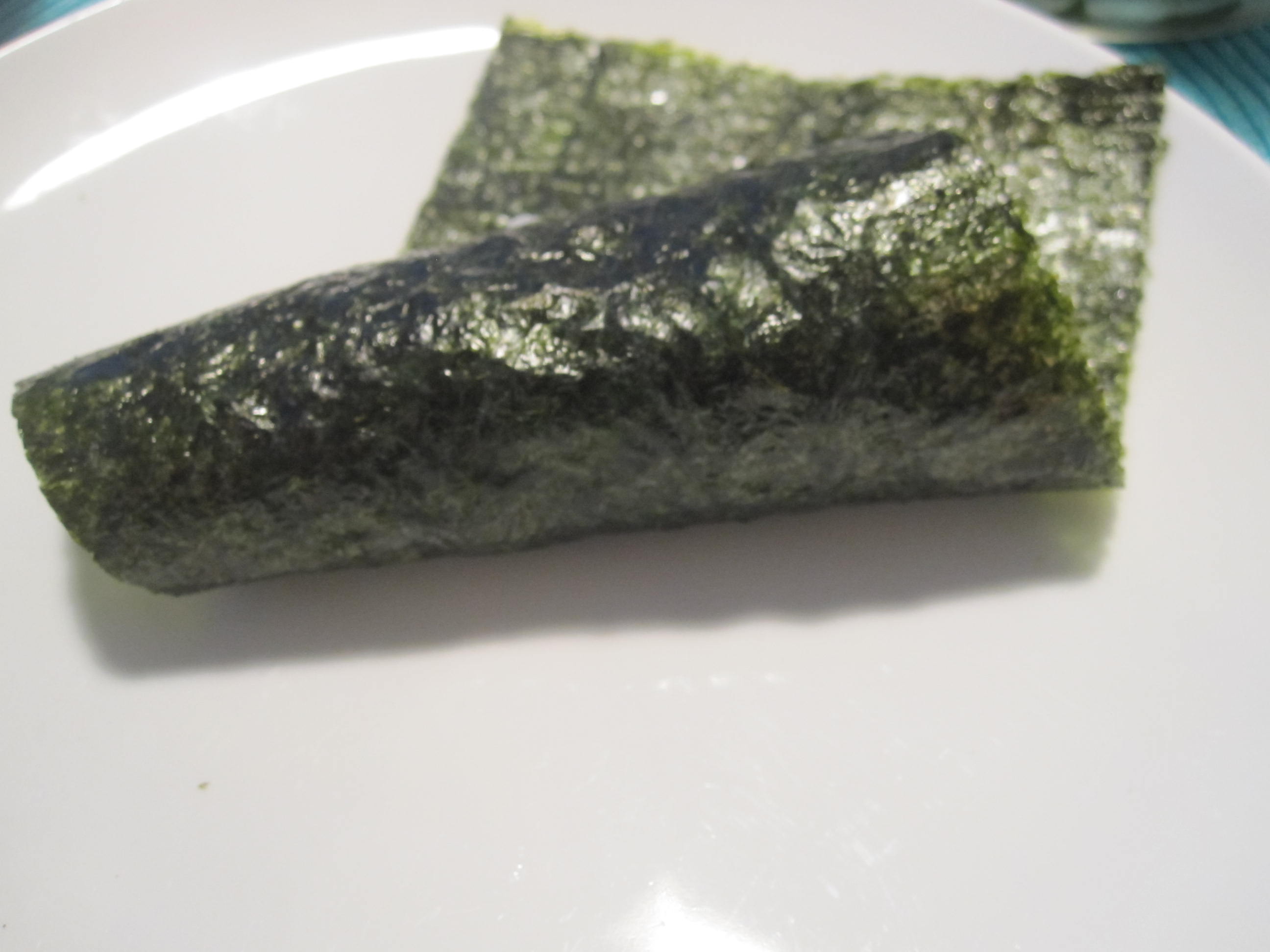 Your spicy tuna hand roll is ready to eat! Dip your hand roll in soy sauce and enjoy! I typically serve this with gari shoga (pickled ginger) on the side because Bebe Dada loves this ginger!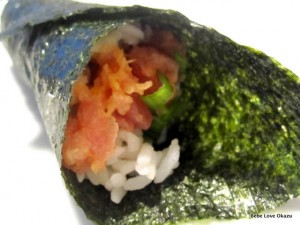 While you are welcome to try steamed white rice for these spicy tuna hand rolls, and I admit I've done this when I was short on time or out of sheer laziness, sushi rice always tastes better. My mom uses the following when she's pressed for time.
Short-Cut Sushi Rice Recipe:
1/4 cup sugar
3/8 cup rice vinegar
1/4 teaspoon salt
In a microwave safe bowl, combine the ingredients, stir and microwave on high for 1 to 1 1/2  minutes until sugar dissolves. Drizzle SOME (not all) of the vinegar mixture over 2 to 3 cups of cooked white rice, gently mix while hot, then allow the rice to cool to room temperature.
For additional tips and recipes on how to make sushi rice, see my posts on chirashi sushi and temaki sushi.

Ingredients
2 cups cooked sushi rice (see recipe index for recipes)
4 to 5 sheets of roasted black sushi seaweed
⅓ pound of sashimi-grade maguro (tuna)
¼ teaspoon sesame oil
1 to 2 tablespoons Shiracha sauce
1 to 2 tablespoons light mayonnaise, to taste
Dash shichimi togarashi (Japanese chili pepper), to taste
Few drops of Ra-yu (chili oil), optional
1 stalk green onion, chopped (optional: substitute with kaiware radish sprouts for a more traditional spicy tuna handroll)
Instructions
Make sushi rice. (see recipe index for sushi rice recipe)
Chop tuna using a sharp knife until the consistency of the tuna is chunky, yet almost paste-like.
Add sesame oil, Shiracha sauce, mayo, togarashi (Japanese chili pepper), and ra-yu (chili oil) Mix all ingredients together until incorporated. Adjust spices to taste.
Take each sheet of seaweed and quickly wave them over the range to roast them. My Mom turns on one burner on low and using tongs, gently hold the sheet of seaweed by the corner and run it over the open flame to get the seaweed slightly toasted and crisp. Take the sheet of seaweed and cut it lengthwise in half.
Place seaweed on a plate, spread a small portion of rice then lay a strip of the spicy tuna mixture over the rice. Place a few green onion slices on top.
Grab one corner of the seaweed and gently roll it towards the center of the seaweed, on the diagonal.
Notes
For sushi rice recipes, see recipe index for chirashi sushi post and temaki sushi post.