Buta no Shogayaki (Japanese Ginger Pork)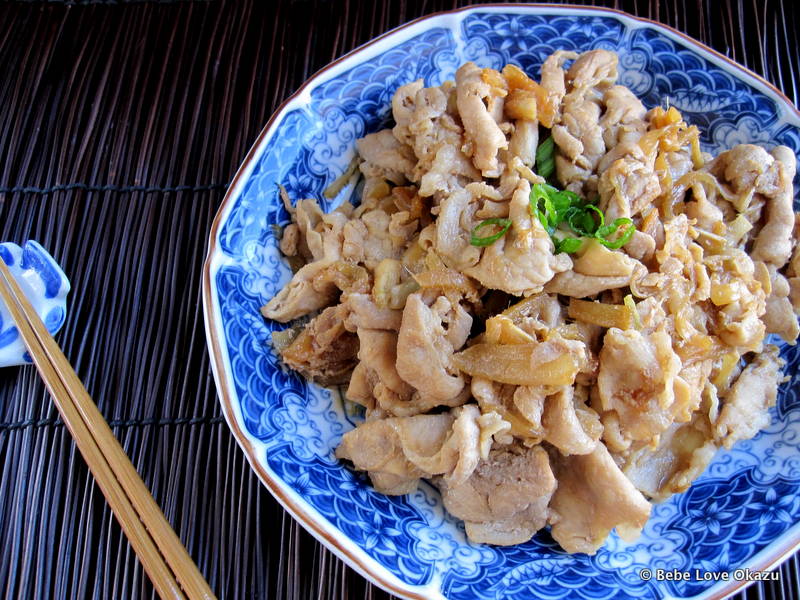 As a kid, I never used to like pork much. Especially pork chops. These days, I seem to like pork more, not just because lean pork is lower in calories and fat than beef, but because I like it's versatility. However, I still don't make pork chops very often, in fact, I rarely make pork chops although Bebe Dada would enjoy it if I did. Instead, I've been using thinner bite-sized cuts of lean pork typically found at Japanese supermarkets such as pork for shabu-shabu and yaki-niku.
Some of my favorite pork dishes include oven roasted kalua pork (not necessarily lower in fat and calories) and buta shabu-shabu. Both dishes will provide at least two to three leftover meals, so that's always a motivating factor to make these. My mom used to make buta shabu-shabu for us when I was younger, but I always preferred beef. These days, especially during the Fall and Winter months (and also on gloomy June nights), I make buta shabu-shabu as an alternative to beef shabu-shabu. We can eat three nights of buta shabu-shabu. Seems excessive, doesn't it? But during a busy week, shabu-shabu is one of the easiest and fastest and most satisfying dinners that I can prepare and best of all, no one in my family complains about eating shabu-shabu for three nights. THREE. I'm pretty lucky that I have an easy-going family AND they love shabu THAT much.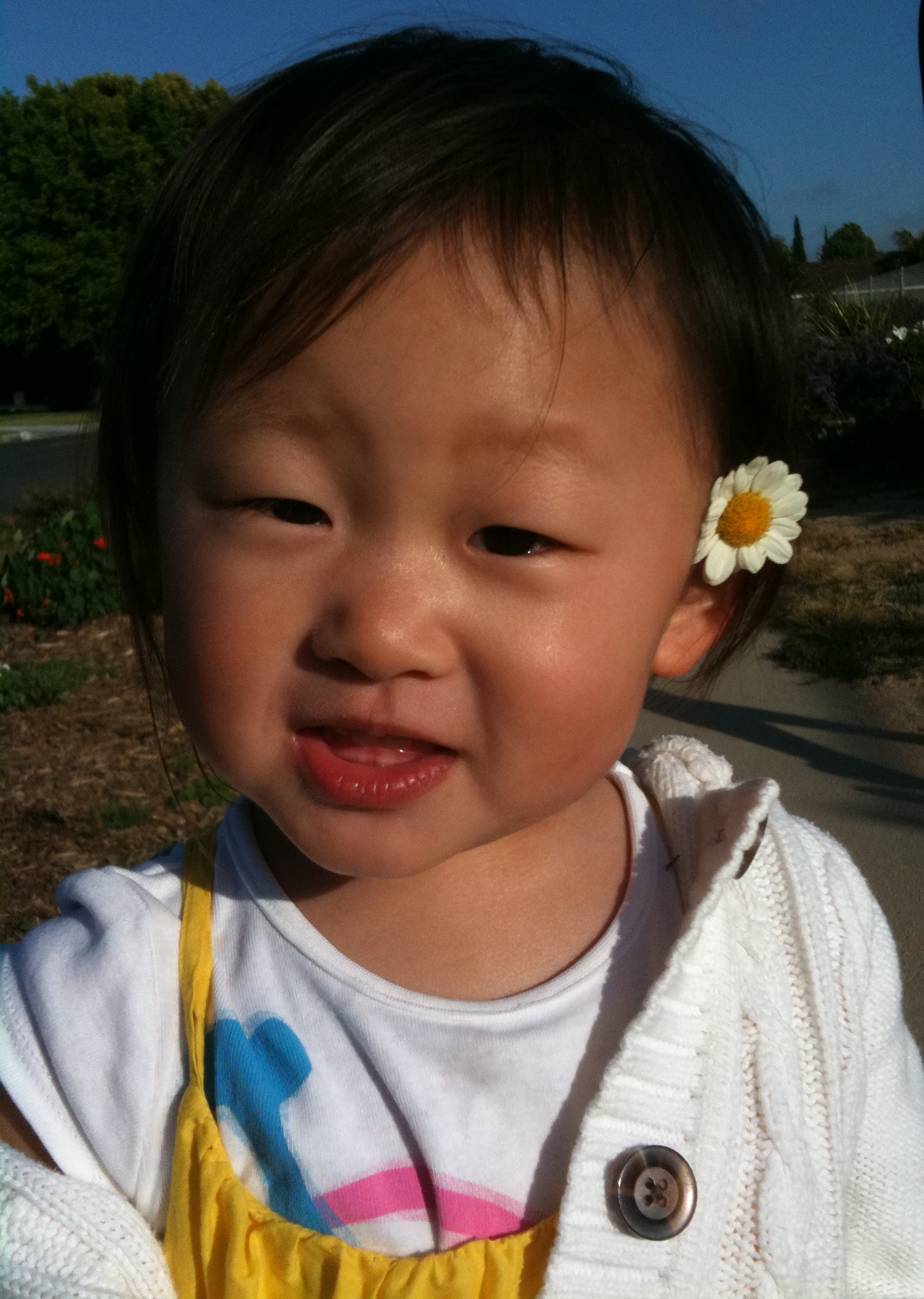 An afternoon of lavender-picking… despite the fact that Bebe E doesn't have a lavender flower behind her ear.
So what about buta no shogayaki? Buta is pig or pork in Japanese, and shoga is ginger, and yaki stems from the Japanese word yaku, which means to grill. Buta no shogayaki is a common Japanese pork dish. My Mom used to make this for us but it wasn't a favorite of mine growing up. Then, one day I found myself ordering this more frequently at Japanese restaurants while dining out. However, it wasn't until I tried a bento box at a popular Japanese-fusion chain restaurant where I was slightly disappointed with their buta no shogayaki that I quickly thought to myself, "I think I can make this at home and it will actually taste better than this."
Don't you hate it when that happens?
I absolutely abhor ordering something while I'm dining out, only to find out that it doesn't taste good, and even worse, that I could possible make it better! And I don't even consider myself a good cook. When I eat out, I want to eat food that is SO good that I'm wondering how the food was made and what exactly makes it taste SO good.
I called my Mom to find out how to make buta no shogayaki. She said in Japanese, "ginger, shoyu, some mirin and maybe sake." As usual, the proportions are something that she just throws together.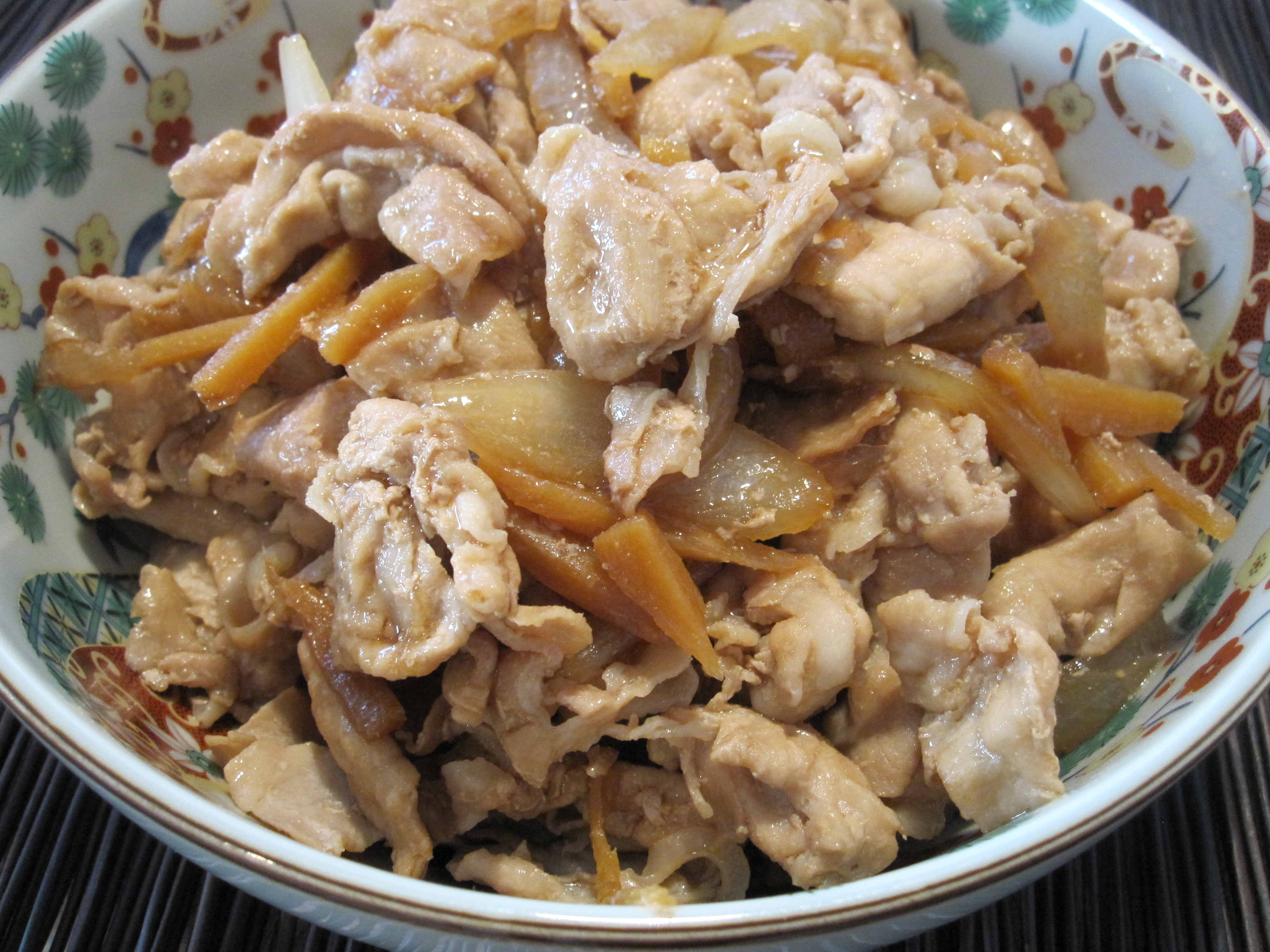 I should mention that this is a dish that I made for the very first time (quite a while ago) and invited my BFF over as a guinea pig. It turns out that the dish is pretty easy to prepare and it tastes great. Both Bebe Dada and my BFF were satisfied so it's definitely worth trying if you're interested in a new pork dish.
Enjoy!
Have a great week!
Judy | bebe mama
Buta-No-Shogayaki | Japanese Ginger Pork
Prep time:
Cook time:
Total time:
Ingredients
¾ pound, thinly sliced pork (shabu-shabu or sukiyaki pork)
3 tablespoons shoyu
3 tablespoons sake
2 tablespoon mirin
½ onion, sliced
2 tablespoons ginger, chopped into matchsticks
½ to 1 tablespoon canola oil
Instructions
Heat canola oil over medium heat in saute pan and add onion, saute, then add pork and saute until it just turns white. Remove pork and onion from pan, set aside. Using a paper towel, wipe the pan free of oil.
Next, add half the ginger (1 tablespoon), shoyu, sake and mirin and simmer for 1 minute.
Add cooked pork and onions back into the pan. Allow the pork to simmer with the sauce for another 2 - 3 minutes. Transfer pork to a serving bowl, pour remaining sauce from the pan over the pork, and sprinkle remaining ginger over the pork.