Ageh Tofu Yasai Itame (Fried Tofu Veggie Stir-Fry)
I decided to neglect the MOUNTAIN of laundry that needs to be folded and quickly draft a post. Do I dare publish this on my blog within *GASP* a week of my last post?!?
However, if you don't want anything to do with our laundry, I recommend you stop reading and quickly jump ahead to the stir-fry recipe below. :) Yes, this post is about boring laundry because I write about whatever is on my mind, and unfortunately THAT is what's on my mind. Actually, it's been on my mind for 2 1/2 weeks now…
I'm typically not one to procrastinate, UNLESS it is really something that I absolutely do not want to address. For the time being, it's folding laundry. Perhaps it's because I'd been feeling under the weather and I am just now getting back into the swing of things. Unfortunately, getting back into the swing of things also means catching up on cleaning.
I've always enjoyed doing my own laundry since I was a teen, but I never, ever, liked folding and putting away my clothes. Some things just don't change. I enjoy sorting laundry – placing dry cleaning items in our dry cleaning basket, separating darks from whites, sheets from towels. I gain great satisfaction from dumping dirty clothes in the washing machine and throwing it in the dryer. But, after the dryer . . . I really don't want to have anything to do with it! I guess that's why we call laundry a chore. Something that simply needs to be done, so I do it.
(I told you this post was about laundry. Bet you're kicking yourself, thinking you just should have jumped ahead to the recipe. Mwa-haha.)
In our home, I am lovingly referred to as, "The Laundry Fairy". Sometimes, this fairy turns on the TV, looks for one of her favorite recorded shows on the DVR, presses "play" and starts folding laundry. Sometimes Bebe E likes to help by bringing pieces of clothing from the MOUNTAIN as she happily helps "fold" laundry. She also likes to help put away clothes and she is actually getting pretty good at knowing where her things belong, or that Mama's socks go in a different drawer and towels go elsewhere.  She's great at "folded laundry transport".
I'm also fortunate because, despite the fact that I am currently a stay-at-home mommy and I've taken on most of our household chores, Bebe Dada still helps out around the house quite a bit and I truly appreciate his efforts. Is that why I married him? Or is it because he's not offended that I usually prefer my cooking over his, he'll eat anything I put on our table without complaint, and always has nice things to say about what I cook or how I take care of our Bebe.
Fortunately, he doesn't complain about vegetables, despite the fact that, according to Big Onechan, before I showed up, salad didn't make a regular appearance at dinner and canned corn and frozen peas worked just fine as the "star veggie" of the meal. :)
Over the past two years I've been making changes to our diet by substituting white rice with brown rice, using whole wheat pasta, adding more vegetables to our meals and secretly adding vegetables (steamed and chopped) to dishes where they wouldn't be noticed.
One dish I've been making more of, is a simple yasai itame, or stir-fried vegetables. I decided to try something different from my Mom's typical yasai itame (a post for another day) and found the following recipe that I use quite often now.
Yasai itame is perfect for leftover vegetables you might have lingering in your fridge. It's also a good way to incorporate some frozen veggies (I've added french green beans before), or canned pantry items such as baby corn or baby bamboo shoots. I happened to have half a pack of ageh tofu in the freezer that was left over from when I made jai, and added it to this stir fry. Depending on the day, I may or may not add chicken breast tenderloins. For the yasai itame featured above I used the following.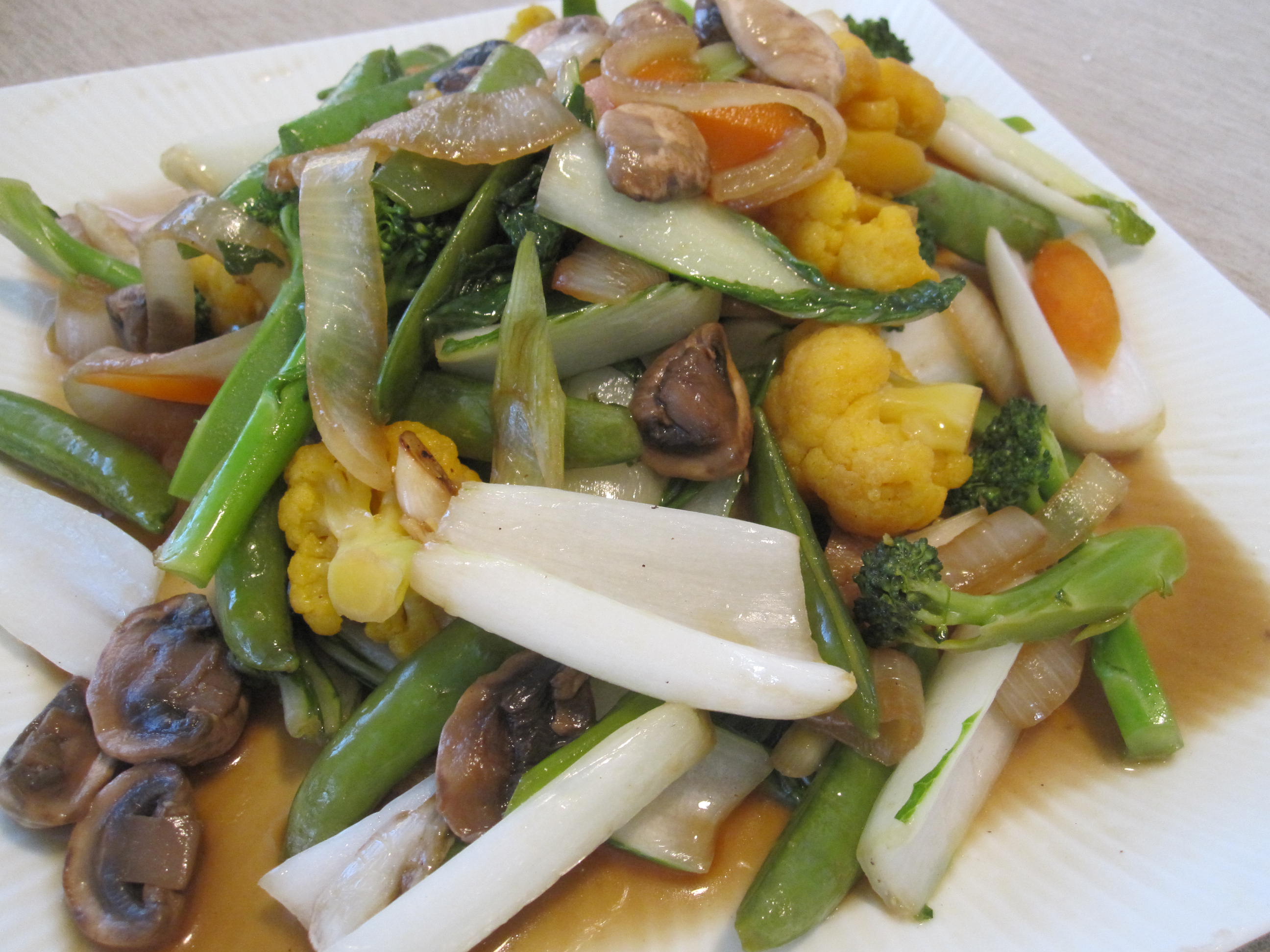 I hope you enjoy the rest of your week. I'll be finishing-up our 9th load of laundry for the week. :P
Cheers,
Judy | bebe mama
Ageh Tofu Yasai Itame (Fried Tofu Veggie Stir-Fry)
Recipe type:
Main, Vegetarian
Ingredients
FOR MARINADE:
3 tablespoons soy sauce
1 tablespoon rice vinegar
1 tablespoon honey
1 teaspoon oriental sesame oil
¼ teaspoon dried crushed red pepper, optional
¼ cup water, optional (I omitted this)
1 teaspoon cornstarch, optional (I omitted this)
FOR VEGETABLES: Any vegetables of your choice may be used.
1 package ageh tofu cut into triangles
(if using fresh tofu, use 1 package firm or extra-firm, drain for 15 minutes and pat dry with paper towels)
½ package button mushrooms
4 dried shiitake mushrooms, reconstituted, stemmed, caps quartered
Handful of sugar snap peas, trimmed
½ (small) head of yellow cauliflower
4 to 5 leaves bok choy, cut into thirds
2 -4 garlic cloves, minced
1 tablespoon minced peeled fresh ginger
½ sweeet onion, sliced
1 large carrot, slice diagonally
Broccoli, chopped into bite sized pieces
2 green onions, sliced on diagonal
2 tablespoons vegetable oil, divided
Instructions
Whisk the soy sauce, rice vinegar, sesame oil, and honey to make the marinade. Add chili flakes for a spicier stir-fry. I omitted this since Bebe E can't eat spicy foods. Add tofu and stir to coat; let it marinate for 30 minutes. Remove tofu and reserve marinade in small bowl. If you want a thicker sauce, whisk ¼ cup water and cornstarch into marinade.
Heat 1 tablespoon vegetable oil in large nonstick skillet over medium-high heat. Add tofu and sauté about 2 minutes. Using slotted spoon, transfer tofu to plate.
Add remaining 1 tablespoon vegetable oil to skillet. Add onions mushrooms and stir-fry until tender, about 3 minutes. Add cauliflower and stir-fry 3 minutes. Add broccoli, and cook for 2 minutes. Add sugar snap peas, baby bok choy; stir-fry 2 -3 minutes. Add garlic and ginger; stir-fry 30 seconds.
NOTE: I will often transfer vegetables that cook faster than others to a bowl and put them back into the skillet just before adding the marinade. Many times in the past, I've added vegetables in the wrong order (fast cooking first, slower cooking last) and ended-up with overcooked vegetables. You can avoid this by simply transferring cooked veggies out of the skillet.
Return tofu to skillet; drizzle reserved marinade mixture over. Stir-fry until marinade coats all of the vegetables and tofu. Or, if you are using the cornstarch marinade, allow the sauce to cook until it thickens slightly, about 30 seconds.
Season with salt and pepper to taste.
Transfer to a platter. Sprinkle with green onions and serve.
Notes
Recipe adapted from Epicurious.com