Asari no Sakamushi (Sake Steamed Clams)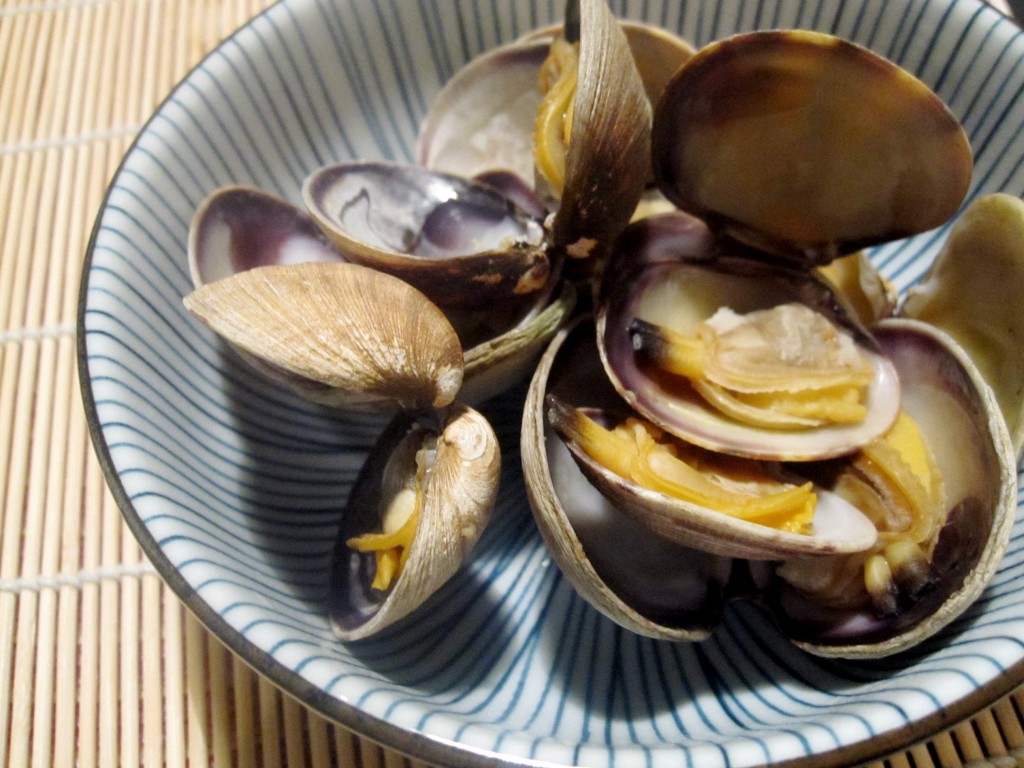 I like to think that this little dish of hamaguri no saka mushi is my ongoing effort to overcome my fear of cooking with seafood. (Have I mentioned this fear before?) Don't get me wrong, I love to eat seafood, but cooking it is another story. My Mom cooked quite a bit of fish, squid, scallops, shrimp, octopus, and clams when my brother and I were growing up. Yet all these years I've never wanted to cook seafood as it was too intimidating. I admit that I also have a problem with the smell of cooked fish lingering in the house but I'm slowly getting over it. At the bare minimum I've always cooked salmon in the oven or on the range but I'm expanding my horizons.
Since I started this blog just over a year ago I've bravely added scallops and shrimp to chirashi sushi and kakiage, as well as to experiment with gindara misozuke (now a regular in our dinner repertoire). In this second year of my blog I plan to bite the bullet and cook and post a few more seafood dishes.
I grew-up eating kai (clams). Back in the day my Dad was an avid fisherman and clam digger. He's since retired from fishing but he still enjoys a good, sand-less clam, store-bought. He claims that these days it's more difficult to come home with a bounty of fresh clams from a dig along the local shore because the clams are highly sought-after by all the Asians living in Southern California. I had to laugh at this last statement.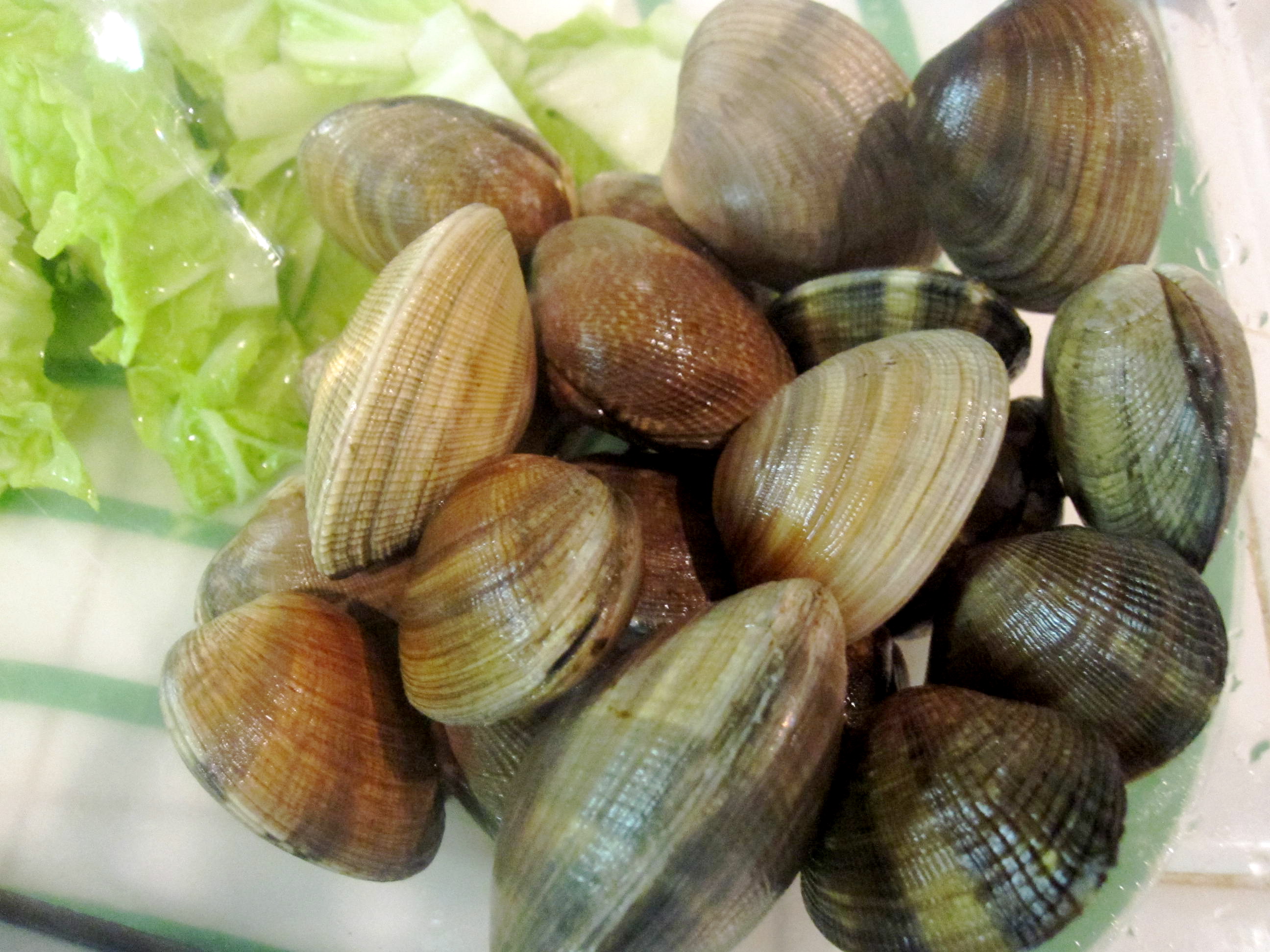 Recently, I've been buying farmed manila clams. While I've always been a proponent of wild versus farmed seafood for a host of reasons, the farmed clams just work for me because they have close to zero sand grit. Occasionally straying from my belief of only buying wild seafood is OK. I often pass right by the wild clams bathing in cool pools of water at the Asian supermarkets, fearing the sandy grit they might be harboring within. Now, if you don't mind soaking your clams to remove sand and don't mind risking a possible bite of sandy grit, then by all means, try this asari no saka mushi with wild clams. I honestly can't taste the difference between a farmed and wild clam, but I want to say that wild clams are saltier than farmed, although the latter are typically raised in ocean waters.
I usually don't pair hamaguri no saka mushi with anything special.  I'll enjoy it with most any  Japanese dish that I've prepared. In the past I've made this as an accompaniment to temaki sushi, or a simple sashimi dinner or ikura donburi.
NOTE: Farmed clams are easy to handle and prepare. Keep them stored in their ventilated package in the refrigerator until they are ready to use, preferably that night or the next day. Wash and scrub clams under cold water, then cook!
Have a wonderful weekend and let's hope Bebe E and I will be enjoying healthier days! We've been exchanging colds the past three weeks and it hasn't been fun. We spend out Memorial Day weekend mostly indoors. (For more about Memorial Day and it's origins, click
here
to read my 2010 post.)
Hamaguri No Saka Mushi (Sake Steamed Clams)
Recipe type:
Appetizer, Side Dish
Simple and delicate Japanese clam dish.
Ingredients
1 pound manila clams
4 tablespoons cooking sake
Dash of salt to taste
2 teaspoons shoyu (soy sauce); this can be omitted in lieu of additional salt
Chopped green onions for garnish (optional)
Instructions
In a large sautee pan with lid, add clams to the pan. Pour sake over the clams then cover the pan and allow the clams to steam for about 5 to 6 minutes over medium heat. All of the clams shells should be open at this point.
Drizzle soy sauce and add a dash of salt over the clams.
Serve clams in a small dish, drizzle a touch of the cooking liquid over the clams. Garnish with optional chopped green onions and serve immediately! Enjoy!