Sake Onigiri (Salmon Rice Ball), A Bebe & Mama Favorite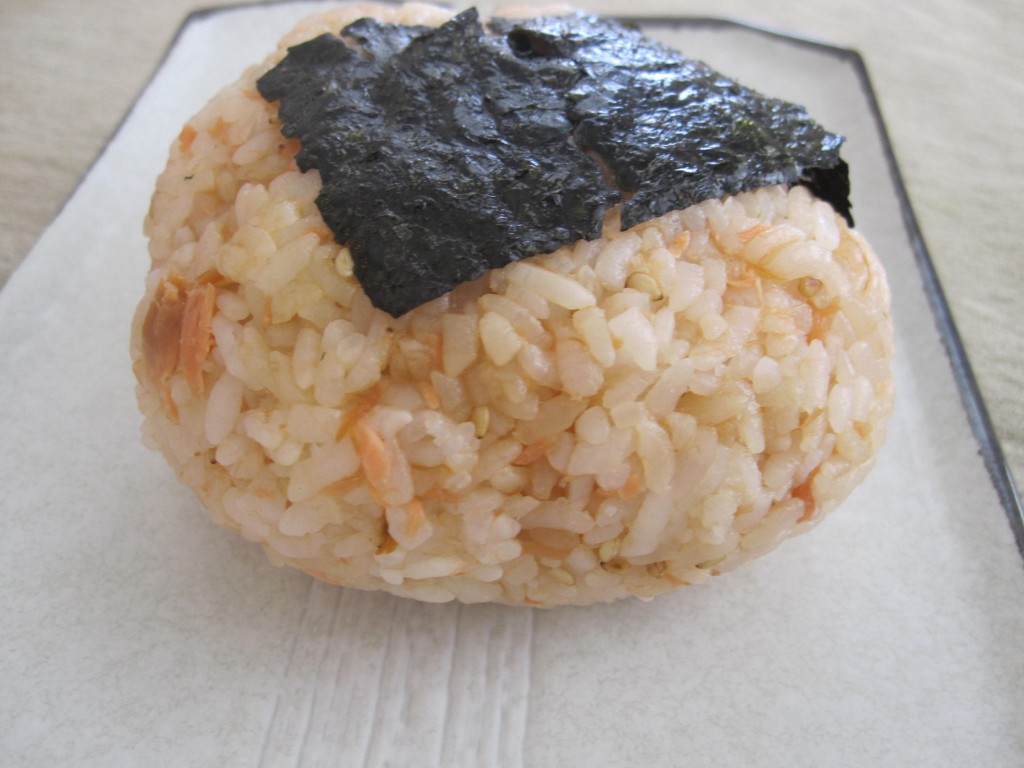 Oh, my little blog… how I've missed you so!!!
I had nothing but good intentions last week to share a winning onigiri post after the Lakers closed out Round 1 of the 2011 NBA Western Conference Finals against New Orleans. I even started a draft, but of course, the weekend arrived bearing much fun (a trip to LA, a pool party and birthday celebrations) and ultimately resulted in my being too tired to blog.
Sadly, it doesn't end there. Next, I had computer issues. To be exact, I was technology challenged once again as my laptop became the keyboard-jacking victim of Bebe E, resulting in a screen that was zoomed with distorted fonts, and moved awkwardly with every stroke of the touchpad. *Sigh.* After two days of computer withdrawal, I finally made an appointment at the Genius Bar, but through some miracle I managed to unclick a simple button in my System Preferences before my appointment and saved myself embarrassment at the Apple Store.
Meanwhile, my blog post to commemorate the Lakers Game 6 win over New Orleans in Round 1 quickly became very old news. Especially after they LOST Game 1 of Round 2 against Dallas 94 – 96. Is the magic gone? Say it ISN'T SO!!!
I still have hope, despite the Lakers lack-luster performance on Monday night. After all, we still hope to tie the reigning Celtics record of 17 NBA championship titles, RIGHT?!? With our 2010 victory, our Lakers are 16 Time NBA Champions. We can do this! I'm not going to give-up on our Lakers just yet… even though they are looking a little slower this season. I still have hope that our veterans Fish & Kobe, along with Pau, Artest and especially our 6th man, LAMAR, can somehow bring the magic back. We have to give Bynum some credit too, as he has definitely improved since he's gotten more playing time this season. Members of the second string can also make a difference when they're on their game.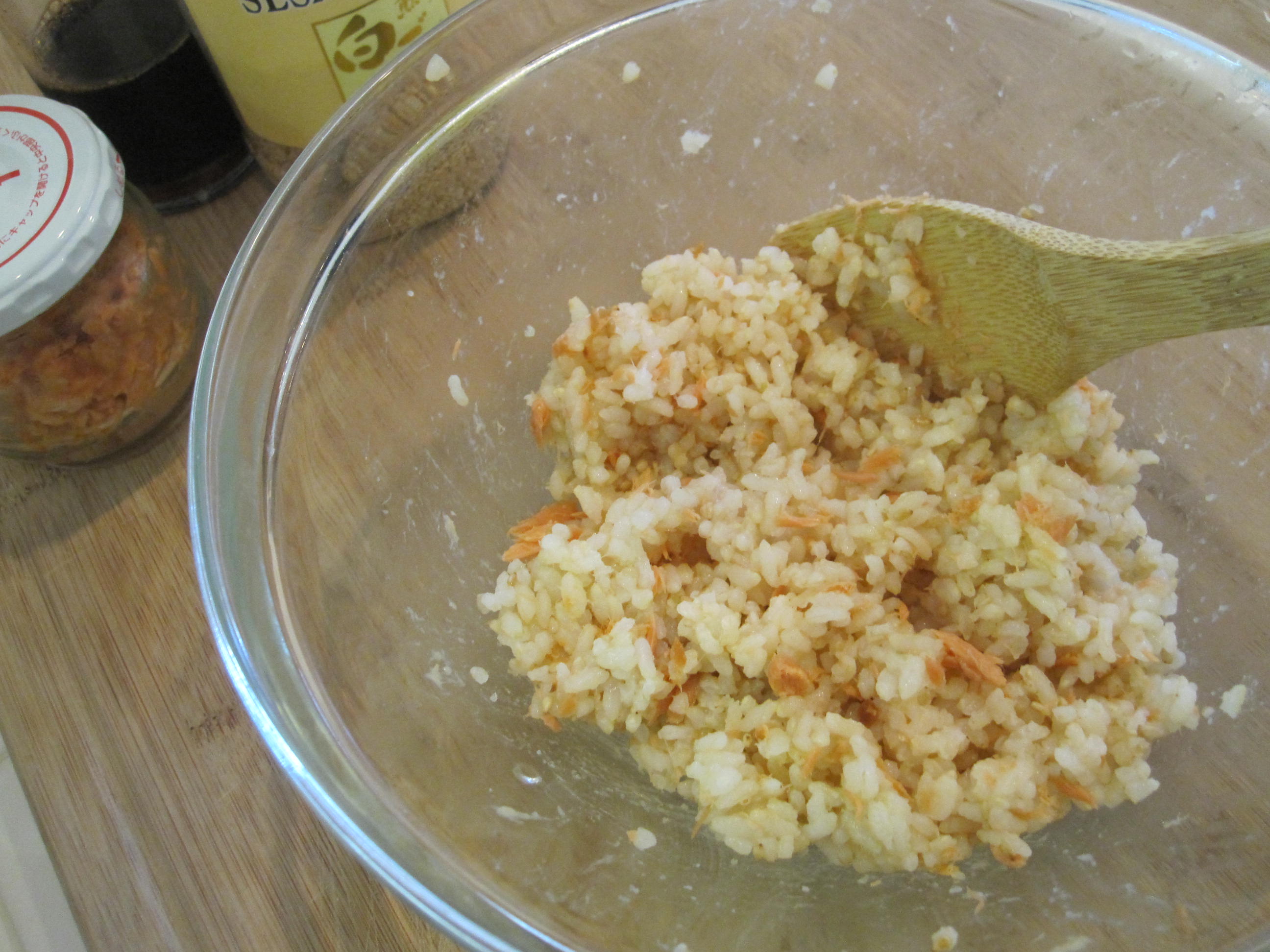 After Game 6 of Round 1 against New Orleans, the superstitious side of me largely felt that the single most influential change that occurred in Game 5 of that series was my Mom returning home from Japan. She is, after all, the greatest Laker fan in our family's history. When it comes to the Lakers and especially the Playoffs, family events, cooking lunch or dinner, social soirees, my Dad, the dogs, anything that requires leaving the house short of a 5-alarm fire, ALL take a back seat as my Mom (aka Bachan) plants herself in front of their 55″ flat screen, ready to cheer (and angrily scream) for our Lakers. On the morning of Game 5, my Mom was on a jumbo jet, somewhere over the Pacific Ocean approaching LAX. I don't doubt that my Mom's return to the sofa in LA, right smack in front of the TV, was nothing short of magical. After all, we won Game 5 with a pivotol score of 106 – 90. Then we went on to win Game 6 98 – 80, AND Round 1 of the Western Conference. Yay!!!
So my Mom is back home in LA. Why did we lose Game 1 of Round 2? WHY?!? Will tonight's game be a WIN or a loss?
Let's hope the Lakers can shake their funk. I finally shook my funk (I was feeling run-down because I was on my way to being sick with a Spring cold) but I still haven't been cooking much lately, with the exception of anything and everything easy. Some of my go-to meals have been Chinese chicken salad, simple tacos with Costco rotisserie chicken, curry, baked or pan-seared salmon, and of course, spaghetti – – – all kid friendly stuff. I seriously haven't exerted much effort in the kitchen these days and this post is a reflection of what's going on at our home. We've been on the run quite a bit and packing fruit, mini sandwiches, and baby onigiri are always go-to items.
Sake onigiri (sake is pronounced "sha-kei") is a rice ball seasoned with salmon. Salmon was my favorite fish to eat when I was a kid because the bones were large and easy to identify and remove if necessary. I remember my Mom often deboned my salmon for me and I ate it simply with a little shoyu (soy sauce) and she served this with a bowl of rice, and side dishes of hiyayako (cold tofu), sliced cucumbers and miso shiru. Given salmon was my favorite fish, it's no surprise that I love sake onigiri and Bebe E is no different. Lately, I've been making these for lunch and/or as a snack to take on our outings. They keep well in Bebe E's little cooler and they are yummy!
NOTE: You may have heard the Japanese word, omusubi, which also refers to rice ball. There is no difference between an "onigiri" and an "omusubi". Both Japanese terms refer to rice ball. The less formal term, musubi, without the "o" (which is keigo or formal Japanese) also means rice ball.
Remember I mentioned above that my Mom recently returned from a vacation to Japan? She spent her time there visiting our family in Hiroshima (which is much further South relative to the earthquake devastated Sendai region) and she came home bearing gifts from my aunties and uncles. My favorite item just might be these cute little plastic triangle containers you see below. Would you like to take a guess at what these are?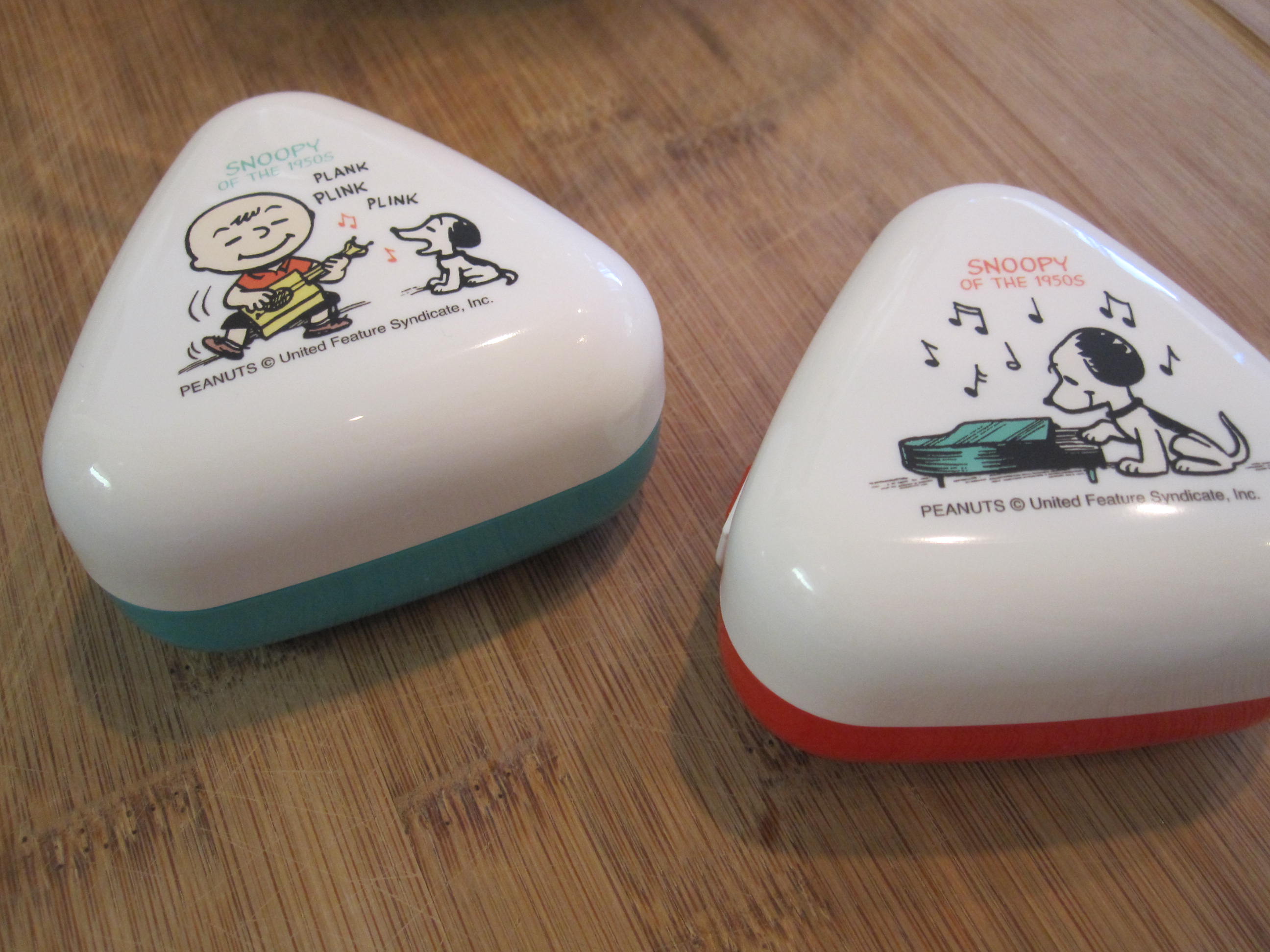 If you guessed that these are little tupperware to hold and make small baby onigiri, you are absolutely correct!!!
What I love most about these is that they are embellished with Snoopy (and Peanuts characters), my all-time favorite childhood character. I believe Snoopy was always #1, followed by Hello Kitty, and then there were a number of other Sanrio characters who I obsessed over at one point or another, such as Keropi (the frog), My Melody and Little Twin Star. But I digress…
I quickly decided to make Bebe E sake onigiri as a snack. The recipe below is my copycat version of the sake onigiri we purchase at a local Japanese bakery, Cream Pan. Bebe E knows exactly where they are in the refrigerated section of the bakery and always happily selects one for the road.
Here are a few rice ball making tips:
For Big Onigiri:
If you're making big (regular-sized) onigiri, simple lay out a generous size of plastic wrap, place half the rice (or all if you're making a giant onigiri which is what I sometimes make for Big Onechan) onto the plastic wrap, lift onto the palm of your hand, slowly close the plastic wrap around the rice to make a ball, seal the rice, and then shape into a triangle.  Click here to see detailed how-to photos of how I made karashi mentaiko onigiri (spicy cod roe rice balls).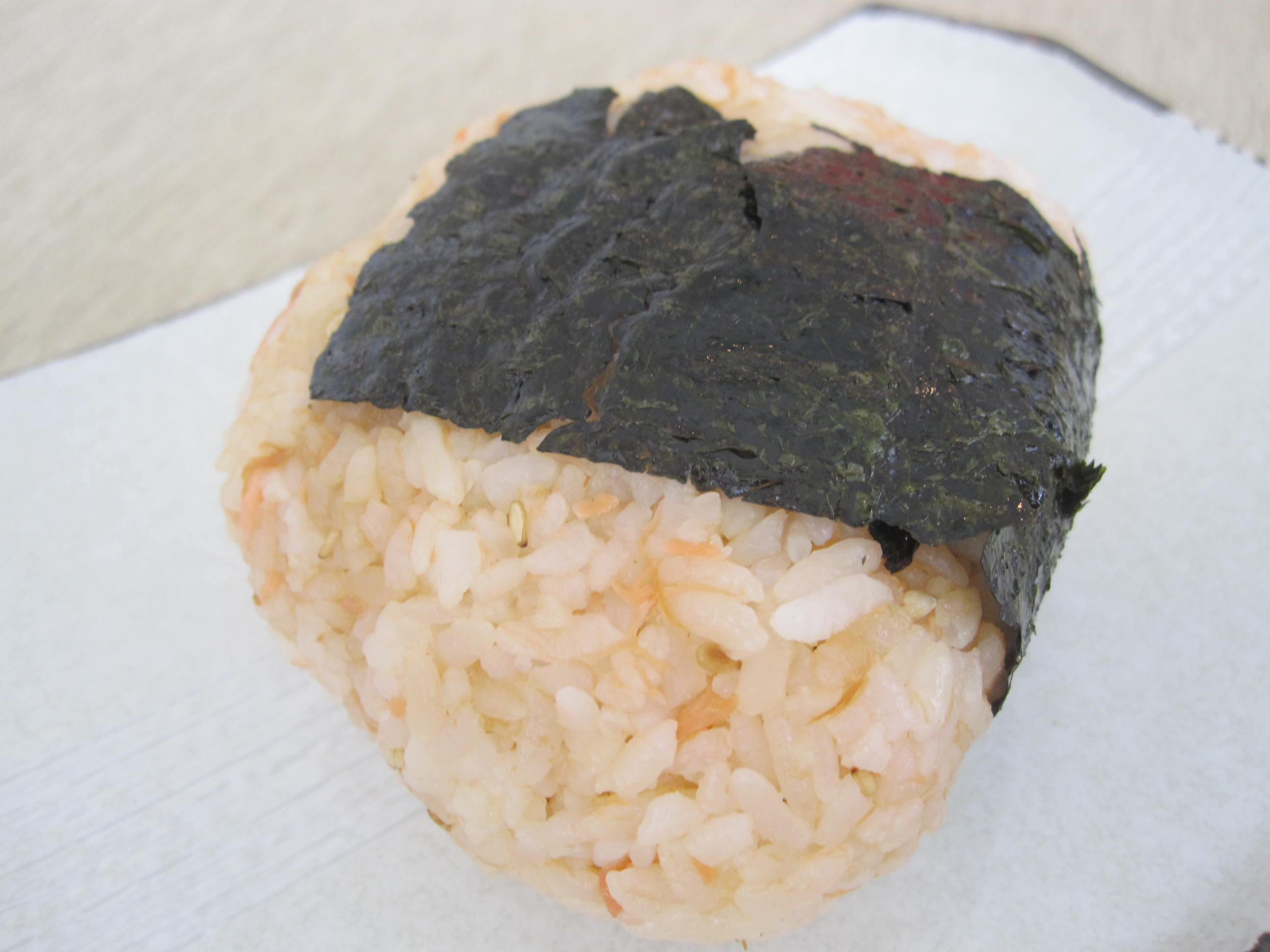 For Kiddie Onigiri:
I realize that not everyone has little baby onigiri containers to make the ones featured below, but you can always use a smaller sheet of plastic wrap, less rice and make small onigiri. When Bebe E was younger I used to make her little grape-sized onigiri that she could easily grasp and eat in one bite. She really enjoyed these. At the time, I usually made those with furikake, simple dried seasoning for rice.
Yes, I had to make a photo collage of the Hello Kitty furikake my Mom brought home from Japan. They are SO cute! The little packets are individual sized portions of furikake for bento (lunch boxes). In the past, Keropi embellished furikake and other "cutesy" character furikake could easily be found at the Japanese supermarkets in L.A., but recently I've only come across boring furikake (i.e. not Hello Kitty or any other Sanrio character).
Now, if you do happen to have little baby onigiri containers, here is a simple way that I make mine, using plastic wrap, to keep things nice and tidy.  Line plastic containers with small pieces of plastic wrap, place a piece of nori (seaweed) on the bottom (if your little one likes nori, like mine does), then scoop a small portion of rice into the container and pack the rice in. Top with a second piece of nori, wrap the remaining plastic wrap over the onigiri and seal it shut with the plastic lid.
When it's time to enjoy the onigiri, remove the plastic wrapped onigiri from it's case, and remove part of the plastic wrap and enjoy. I like how the plastic wrap helps to keep Bebe E's hands clean and rice-free.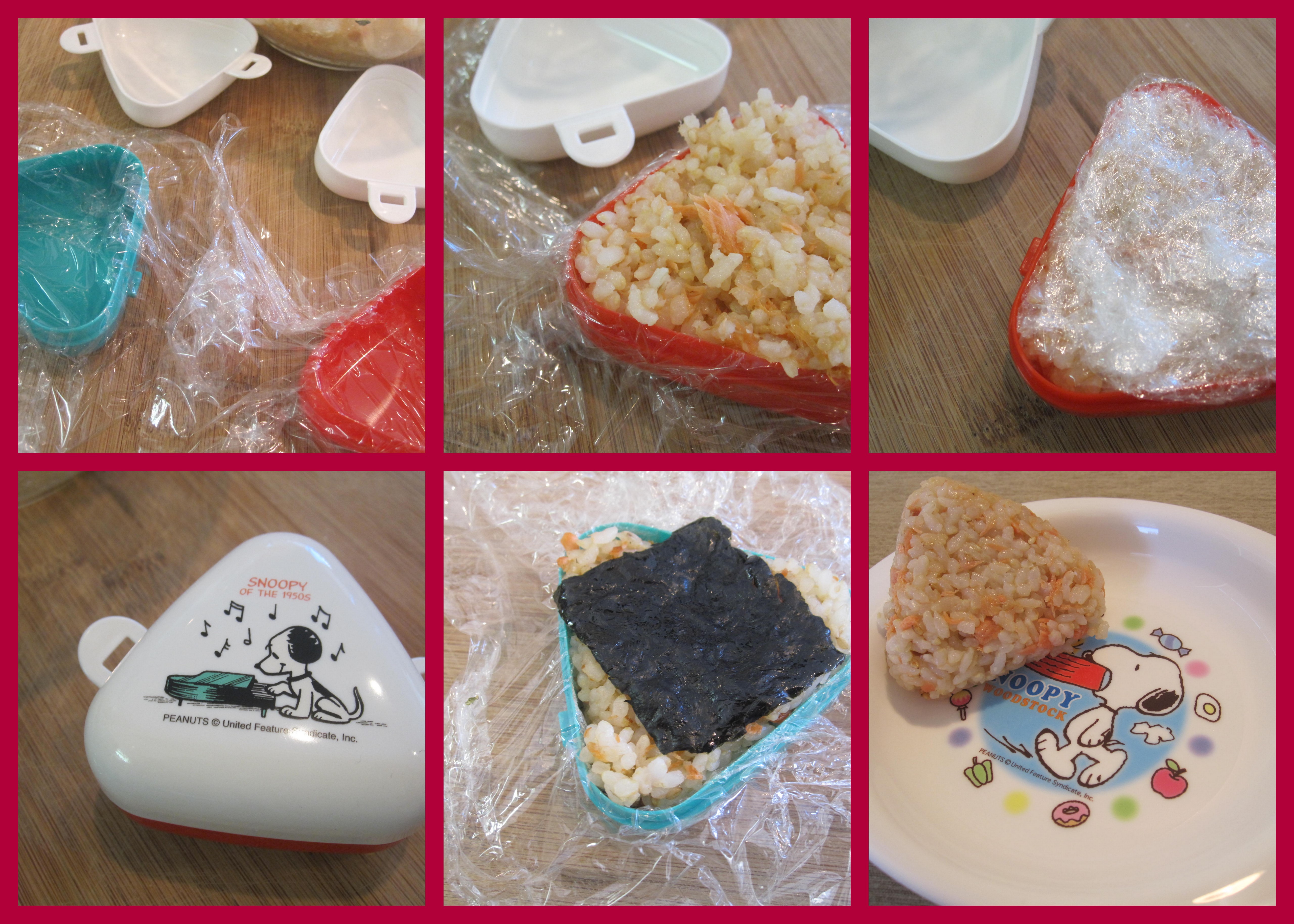 Salmon Shortcut:
I usually set aside some leftover salmon to make onigiri with, but on a recent trip to Marukai I remembered a short-cut that is perfect for making salmon onigiri at the last minute when leftover salmon is unavailable. Yaki Sake.
Yaki Sake is cooked salmon flakes in a jar. It doesn't sound appealing, but M-kun translated the label for me and apparently it's salmon that's been raised in the waters of Hokkaido, Japan and has umami that reflects the pure goodness of the region. (Sounds like marketing to me, but the salmon IS quite good.) We used to eat yaki sake from the jar with ochazuke(rice served in a bowl of hot tea or water) when I was growing up. Very nostalgic.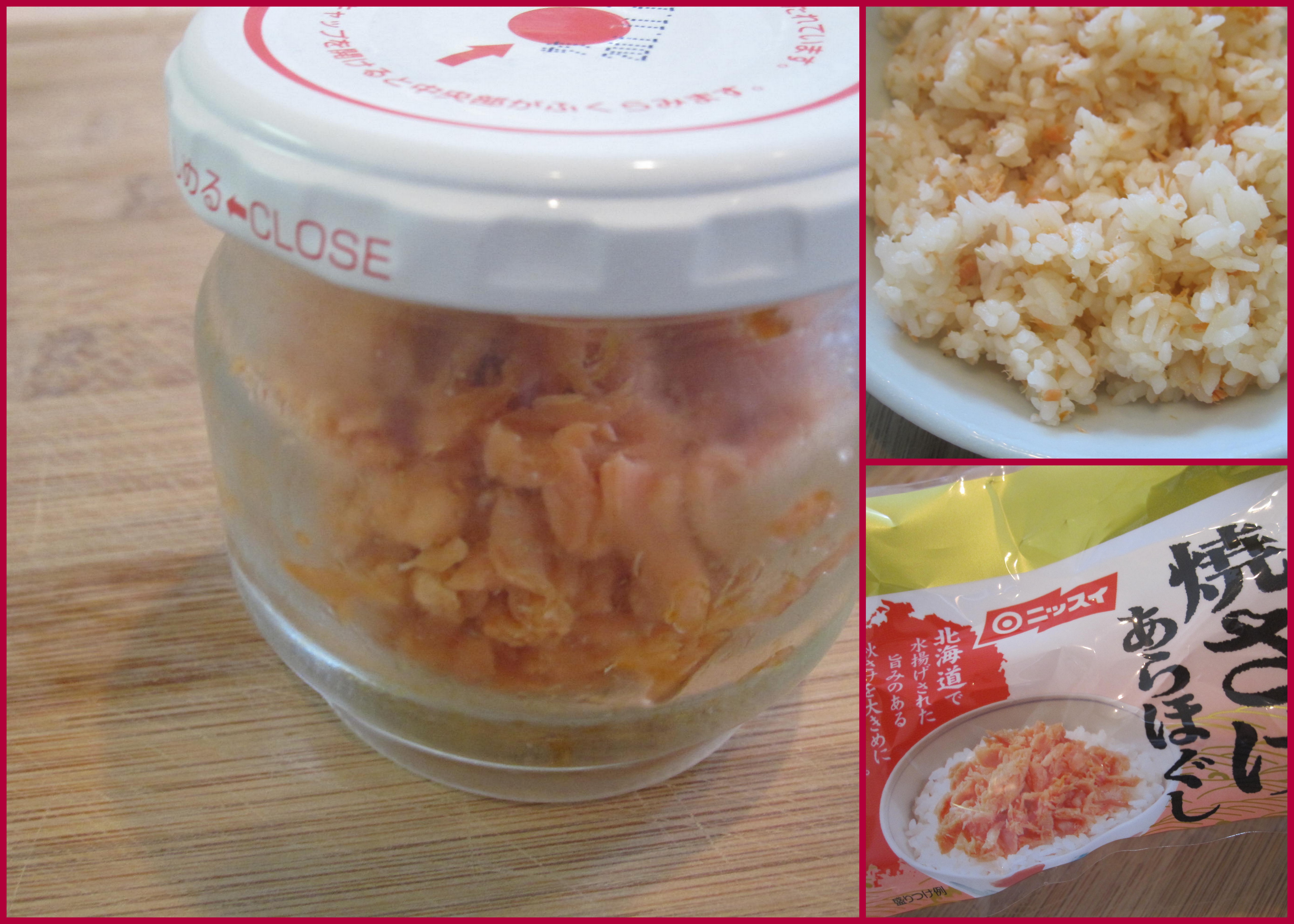 Alright, that's all I have to ramble about today. Let's hope our Lakers get back on track tonight!!!
Cheers, until next time!
GO LAKERS!!!!
Sake Onigiri (Salmon Rice Ball)
Recipe type:
Appetizer, Snack
Ingredients
2 cups cooked brown rice
¼ to ½ cup cooked salmon, broken into small flakes, to taste
½ to 1 teaspoon shoyu (soy sauce), to taste
1 teaspoon dried roasted sesame seeds
Dash of salt, to taste
Nori (dried seaweed), to wrap the onigiri
Instructions
Mix hot cooked rice, salmon, soy sauce, sesame seeds and salt in a medium bowl until well-mixed.
Test taste and add additional salt if necessary. I should mention that adding too much soy sauce will cause the rice to become too wet and the grains will separate. This will make it difficult to compress the rice into a rice ball.
Using a piece of saran wrap, place about a cup of rice on the saran wrap, and wrap it up.
Place saran wrapped rice in the palm of your hand and using both hands, begin to shape it into a ball.
Remove saran wrap, wrap with seaweed and serve. If you will not be serving the rice balls immediately, wait to wrap the seaweed around the rice ball, otherwise the seaweed will become wet.
If using baby onigiri molds, be sure to line these with saran wrap first, prior to placing rice in these.