Garbanzo Bean Soup
Seriously, WHAT is wrong with our Lakers?!? As I was making hair bows the other night while the Lakers were playing the Warriors (one of the four WORST NBA teams in the Western Conference) Bebe Dada was complaining about the Lakers and repeated numerous times, "they just don't care". Other comments I heard were, "that guy just blew by Shannon!", "Lakers are just slow", "Kobe just threw away the ball to Artest!", Kobe is such a ball-hog", and "what are they DOING?!?"
Honestly, I didn't even bother to look up at the TV to watch the game. I just kept my focus on the bows in an effort to keep my blood from boiling.
Then, after this game, I believe the Lakers lost another two games in a row. One of Bebe Dada's comments that struck home over the weekend was, "the Lakers are a lot like Tiger Woods – – – they just make stupid mistakes."  (This comment was clearly a result of Tiger's almost-win at the Masters, only to be foiled by stupid little mistakes.) Seriously, WHAT THE HECK IS WRONG WITH OUR LAKERS?!?
As for tonight's game against the Spurs, they were playing their bench against our first string and we were barely keeping up. They're in the 3rd quarter now so we'll see what happens. Our thoughts are with Bynum. We hope his knee will be OK.
So what are the bows all about? Well, the bows have been a lot more exciting than the Lakers – – – that's for sure.
This is my latest craft obsession.
Once every year to two years I might obsess over a particular craft that I think is GREAT, and I'll spend a good couple of months on it, then move on. Previous crafts have included, stamping, making cards, scrapbooking, jewelry making, Hawaiian quilting and crocheting.
Bebe E likes bows in her hair, and I think it's cute.
I believe she likes these bows because Hello Kitty has a pretty bow in her hair, and many of the princesses at Disneyland have bows in their hair, so she often says, "bow?" when I brush her hair. :) So I put a bow in her hair and we start our day.
I've spent about $20 on a bunch of little bows.
The majority I bought from a friend of a friend that makes them herself. I got these at a great price. Then I spent about $7 on two bows that I bought from a little lady at the "bow cart" at a nearby mall. Two of my family friends made fun of me for spending money at the bow cart because the bows looked simple enough that I could make them myself for a fraction of the cost.
Ribbon was on sale at Michael's – 50% off. Sold.
I bought a bunch of ribbon, bought a bunch of alligator clips, dug out my dusty glue gun, and watched a bunch of little "how to make hair bows for babies" on YouTube.
I'm up until 11:30 PM making little hair bows with glue gun string all over my hands. But there's a motive in addition to the fact that Bebe E likes bows.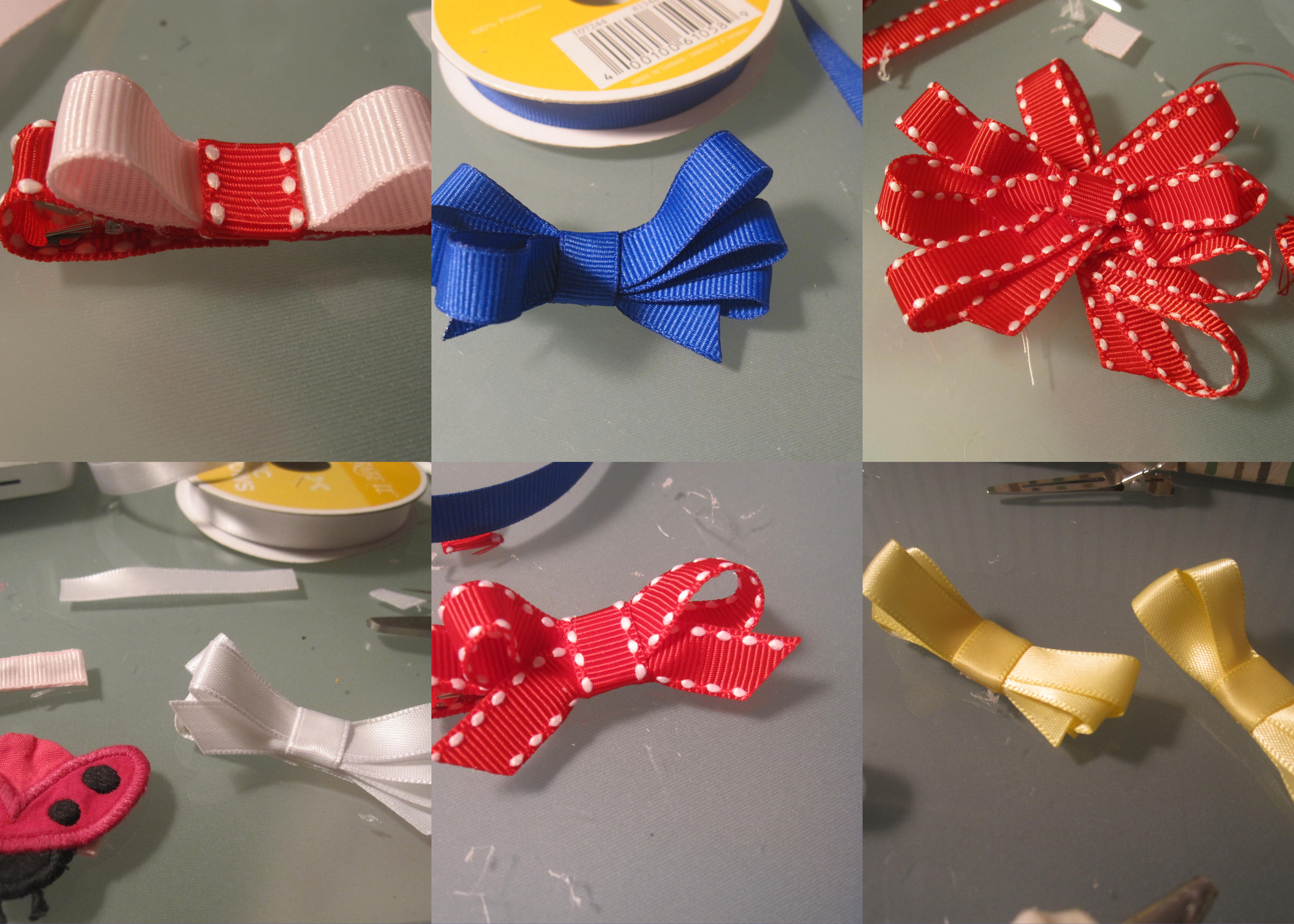 Perhaps if I didn't spend the time taking pictures of bows and making photo collages of them I would have more time to rest… I also believe that when the pictures of bows are bigger and more abundant than pictures of my food… I am definitely in a funk.
I was chatting online with my buddy in paradise (Hawaii) and she commented that my blog has been quiet these days. It's been over two weeks since my last post and until recently, I was trying to post at least once per week but these days, I just haven't been able to keep up! (It's not only due to the bow obsession.) Posting once per week has proved to be a challenge. Perhaps it's because I'd rather just lie on the sofa! Am I in a funk?
Bebe E's been fighting a little nasal cold the past week and half and that's kept us indoors, with the exception of walks on fair-weathered days although these seem few. There's not much to do when it's really cold outside and the bebe's not 100%. Unfortunately, we've been really busy on the weekends and our rough schedule has likely prolonged our bebe's little cold. Poor thing. Perhaps because of Bebe E's cold I feel like I'm in a funk.
Bebe not well = mama in a funk?
Or, perhaps I just need more sleep because I've been staying up late making bows and (gasp) watching too much late night TV and munching on popcorn laced with chocolate covered raisins with the hubby.
Mama couch potato = mama in a funk?
Or, perhaps we've just been so busy every weekend, and the weekends are usually when I get a chance to catch-up on some zzz's that I am simply, burnt out?
Burnt out mama = mama in a funk?
The other day I looked in our pantry and identified a pantry item, a can of garbonzo beans that had been sitting there, unloved for months. I'm sure I originally bought a can or two because I enjoy adding garbonzo beans to my salad occasionally, but somehow they sat there forgotten and unwanted in my salad. Next, I find myself Googling garbonzo bean soup recipes. Seriously, why do I even want to eat garbonzo bean soup?!? Who knows! I've never made anything like it, and I certainly don't order this when I'm out. Honestly, I don't think I've ever eaten anywhere that actually offered garbonzo bean soup on their menu.
Googling garbanzo bean soup recipe = mama in a funk?
Yes, I think mama is definitely in a funk. However, I strongly feel that a little rest (back to implementing bed time at 9:30 PM – lights out at 10:00 PM), no more popcorn and late night TV, and basically getting more zzz's will get mama out of this funk and all will be right in the world again.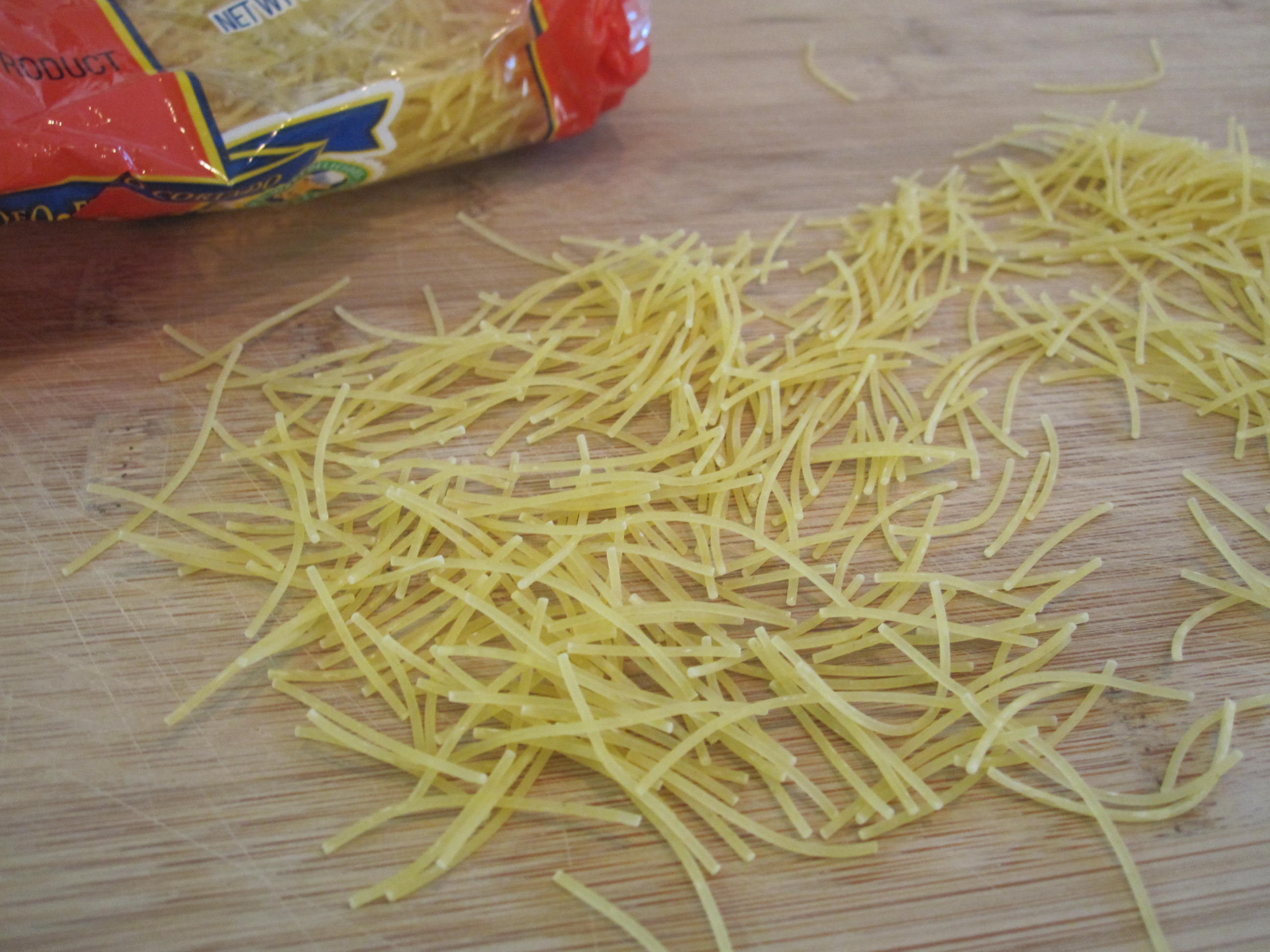 If you're like me and forget to watch the time while being escorted back to the play area to pretend cook with Bebe E at her play kitchen, you'll quickly lose that soup-like consistency as the fideo noodles absorb any and all liquid.
Ultimately, we ended up with a very thick, but hearty garbanzo bean soup. In some ways it reminded me of my childhood Chef Boyardee noodles, you know – a little "noodley – tomatoey" but believe me, this was a lot better, and not just because it didn't have that tin-can taste to it. (That last description likely won't motivate you to try this recipe – hahaha).
Bebe Dada said it was pretty good and I even got a "mmm" out of Big Onechan. Bebe E isn't a complainer. :) If ever I find another lonely can of garbonzo beans in our pantry, I might make this soup again on a cold, drizzly, funky day.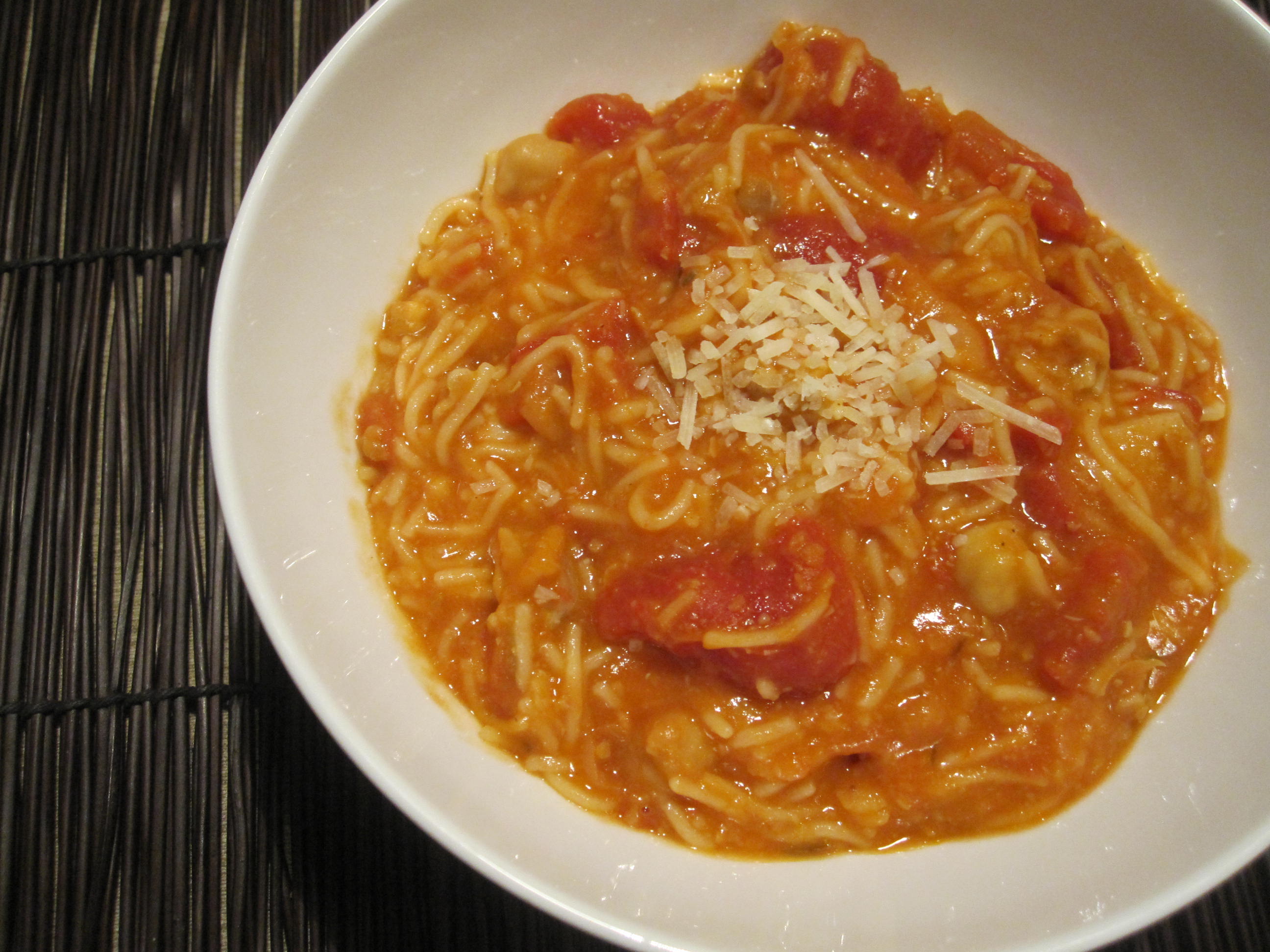 One of these days I'll be inspired to take better food photos and perhaps try my hand at "set decorating".
Well, it's 9:30 PM and I just told my husband that I have to go to bed because I'm pooped. I'm not even going to watch the Lakers play through the 4th quarter. It doesn't mean I don't have faith or that I don't care. It just means I'm THAT exhausted. Perhaps with tonight's early bed time I'll feel more energized tomorrow. I better be – – – Bebe E and I have a "Jumpin' Jack and Jills" Mommy & Me class tomorrow morning and that means I'll need my energy. :)
Cheers! Have a fabulous week!
b.mama
Oh, one last thought: Lakers in a funk = bebe mama in a funk?
Funky Garbanzo Bean Soup (surely this heading doesn't make you want to try this recipe) adapted from here.

Ingredients
1 8 oz can of garbanzo beans
1 boneless, skinless chicken thigh, chopped (optional; original soup is vegetarian with no chicken)
1 8 oz can broth (vegetable or chicken)
1 28 oz can of whole, peeled plum tomatoes, drained and chopped; NOTE: reserve tomato sauce from the can
½ cup of reserved tomato sauce
¾ cup cut fideo noodles (original recipe calls for acini di pepe)
1 teaspoon dried rosemary (original recipe calls for fresh rosemary)
1 clove of garlic
1 teaspoon olive oil
salt and pepper to taste
1 packet vegetable broth concentrate from Trader Joe's (optional)
Grated Parmesan cheese (optional)
Instructions
) Heat olive oil in a large pot over medium heat, add rough chopped garlic clove and rosemary. Don't burn the garlic and rosemary - I almost burnt mine. Add chicken and cook for 3 minutes until it's cooked on the outside. (The soup would taste good without the addition of chicken but I added a thigh since it was leftover.) The original recipe called for fresh rosemary tied in a little bunch so that it could easily be fished out of the pot, but since I didn't have any on hand, I used dried rosemary. The only problem with using dried rosemary is that you sometimes get a bite of a thick and crunchy rosemary needle.
) Drain garbanzo beans. In a small bowl puree half the beans using a hand blender. Add whole and pureed garbanzo beans to the soup pot. Add tomatoes and sauce. Add cut fideo noodles. I happened to have fideo noodles for another family favorite dish (to be posted?!?) and thought this smaller pasta would be better than large fusili pasta which is the only other thing I had in our pantry. Cook for 10 minutes until pasta is soft and chicken is cooked through.
) If the soup is too thick for your taste, add tomato sauce and can of broth to thin the soup. Salt and pepper to taste.
I threw in a packet of my favorite Trader Joe's vegetable broth concentrate for added flavor.
At this point, you should only simmer the soup for a few minutes if you want a more "soup-like" consistency. If you're like me and forget about the soup on the stove, you'll find yourself happy to find a thick, tomato stew.
Notes
Recipe adapted from AllRecipes.com