Chirashi Sushi (Mixed Rice) and Hinamatsuri 2011 (Japanese Girls Day)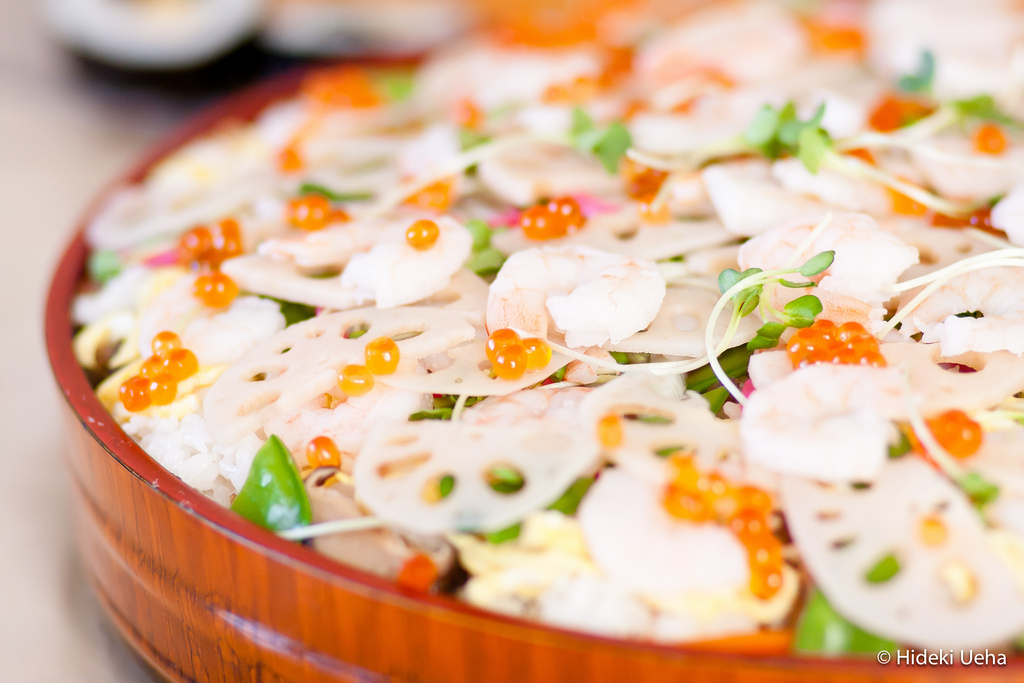 I originally planned to post this on Friday, March 11th, but it turned out to be the morning after the 9.0 earthquake that hit Sendai, Japan on March 10, 2011. It seemed inappropriate to immediately post a celebratory chirashi sushi dish that I made for a festive Japanese holiday, Girl's Day.
Featured Above: Photo Credit Hideki Ueha (chirashi that I made in 2012).
Our thoughts, prayers and condolences are with all of those who continue to struggle in the devastating aftermath in Japan. We've been fortunate that our family and friends in Hiroshima are safe. We have also heard from most of our family and friends in Tokyo that they are also safe, but they are dealing with the aftershocks and aftermath of the quake the best they can. A good friend of mine in Japan claims that even in Tokyo and as far away as Fukuoka, toilet paper, batteries, and portable heaters are in shorter supply now, or not even available in some stores, given the panic that's settled across the country as people buy supplies to send to those who do not have access, or to store for themselves in the event of another earthquake. This inconvenience however, seems minor in comparison to those in and around Sendai who lost entire neighborhoods, towns, families, or even their own lives in the earthquake and tsunami. The number of lives lost to date is 8,500 with over 10,000 missing.
Please consider donating through Citizen Effect to double the impact of your contribution. We did. Google's CEO, Eric Schmidt, and his wife Wendy, are matching every dollar donated through Citizen Effect, up to $100,000.
All donations will be directed to the American Red Cross (ARC).
100% of your donation, less 3% for credit card transaction fees goes directly to the ARC.
As of today, it appears that the Schmidt's goal has been met. That's what happens when I don't post things right away!
Regardless, below are links where you can help.
American Red Cross Japan Earthquake & Pacific Tsunami Fund
* * * * * * * * * * * * * * * * * * * * * * *
For some reason, one thing keeps happening after another and life keeps flying by. During this time, I completely missed my 1st blog-a-versary. Yes, it's been a year since I started my blog on March 5, 2010. For weeks and weeks I thought about what I could make that would be extra special to commemorate, what to me is, a meaningful anniversary, and what did I do? I FORGOT ALL ABOUT IT! Such is my life these days. I forget A LOT. I believe it's a result of sleep deprivation, possibly being too busy at times, and (GASP) old age. Perhaps, I was simply pre-occupied with Hinamatsuri and this is the real reason why I forgot about my first blog-aversary.
Not too long ago, Bebe Dada was traveling on business and Bachan (my Mom or Bebe E's grandma) stayed with us for several days. She happened to be with us on Girl's Day, or Hinamatsuri, which is celebrated annually on March 3rd. As I mentioned in last year's Hinamatsuri post, growing up, my Mom always made sure that we celebrated Girl's Day.
I never knew what the big deal was about and simply went along with the festivities, but now, as a mother myself, I realize how special it is to celebrate the healthy growth and happiness of girls in the family, which is the purpose of Hinamatsuri. Now that I look back upon my childhood, I absolutely love how my Mom made a big deal about this Japanese celebration and why it was so important to her. Thank you, Mom!
Last year, Hinamatsuri was a very big deal in our family as it was Bebe E's first celebration. My Mom hosted a little party for our family and she made temaki sushi. For dessert, I made sakura mochi. Sadly, due to our timing during the week and primarily being in Orange County versus being in Los Angeles where my Hinamatsuri dolls are stored, we didn't display any of the dolls this year but I will share photos from previous Hinamatsuri celebrations.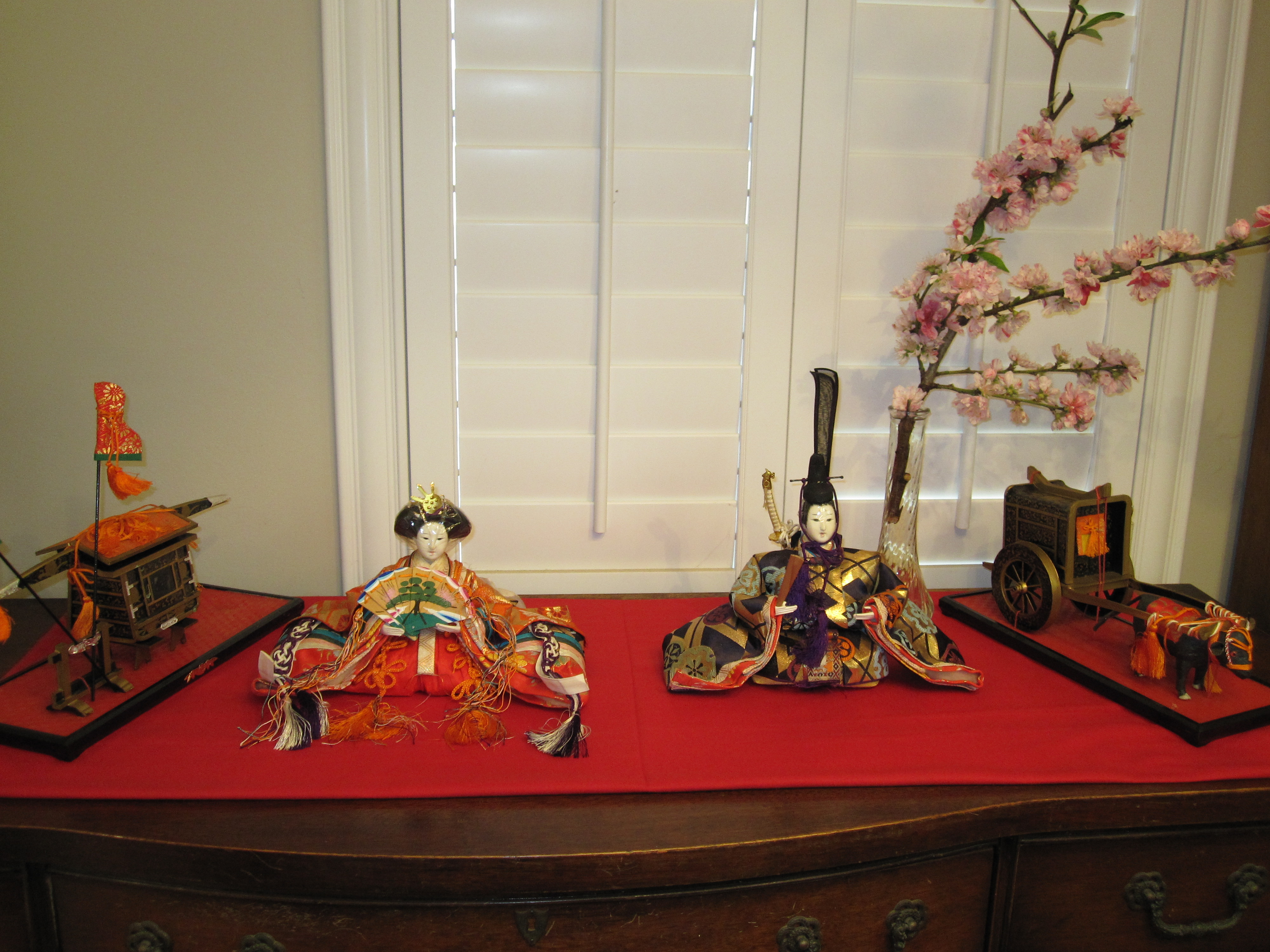 Photo from last year's (2010) Hinamatsuri display.
There are over 30 pieces to the entire display but we only displayed a few of them last year.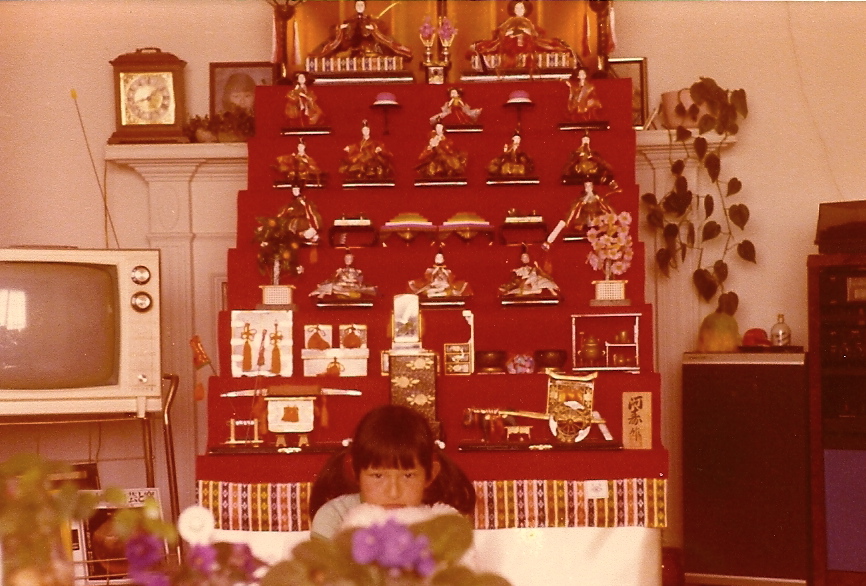 That's me sitting in front of our Hinamatsuri display, hugging my favorite stuffed white bear.
I have no idea how old I was but clearly, pig-tails were in, and I believe the TV and stereo completely date me. Hah-hah-hah!
Click here to see last year's temaki sushi & Hinamatsuri post AND little ol' me at 4 months old with my hina-ningyo.
This year, it was nice having my Mom stay with us over Hinamatsuri because she helped me to make my first chirashi sushi ever! I'd been wanting to make chirashi sushi ever since our friend Mari-chan visited us from Japan last July. She made individually boxed chirashi sushi bentos for us and it was different than the chirashi sushi that my Mom typically makes but I was inspired by Mari-chan's style of using ingredients cut in large pieces.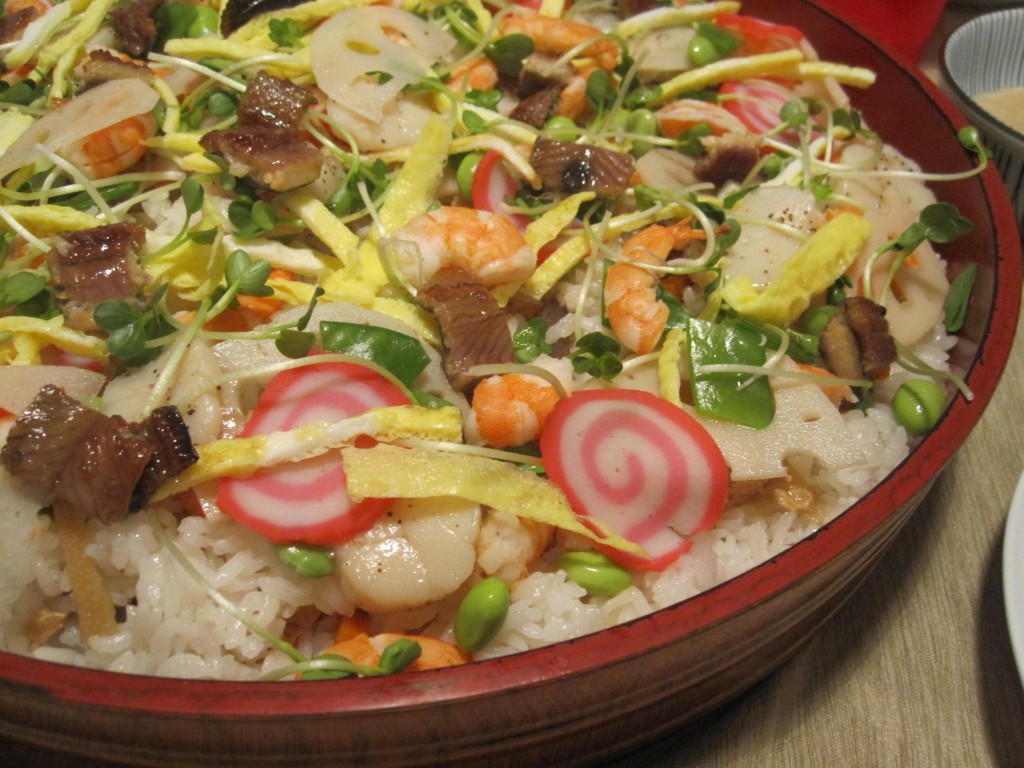 Please excuse the poor lighting for the photo above.
Typically, the chirashi sushi that my Mom makes consists of ingredients that are cut into small pieces. This style of cutting ingredients into smaller pieces is considered johin (or elegant). Never you mind about being johin! I'm all about big mouthfuls of flavorful food with ha-gotai (satisfying texture to the teeth – sounds like poor Japanese to English translation on my part, I know) or excellent chomp-worthiness (again, another Judy-ism), and that's exactly how Mari-chan's chirashi sushi was. Of course, I took a picture of Mari-chan's chirashi sushi bento. It was so good, that I needed to photograph it so that I could try and recreate it.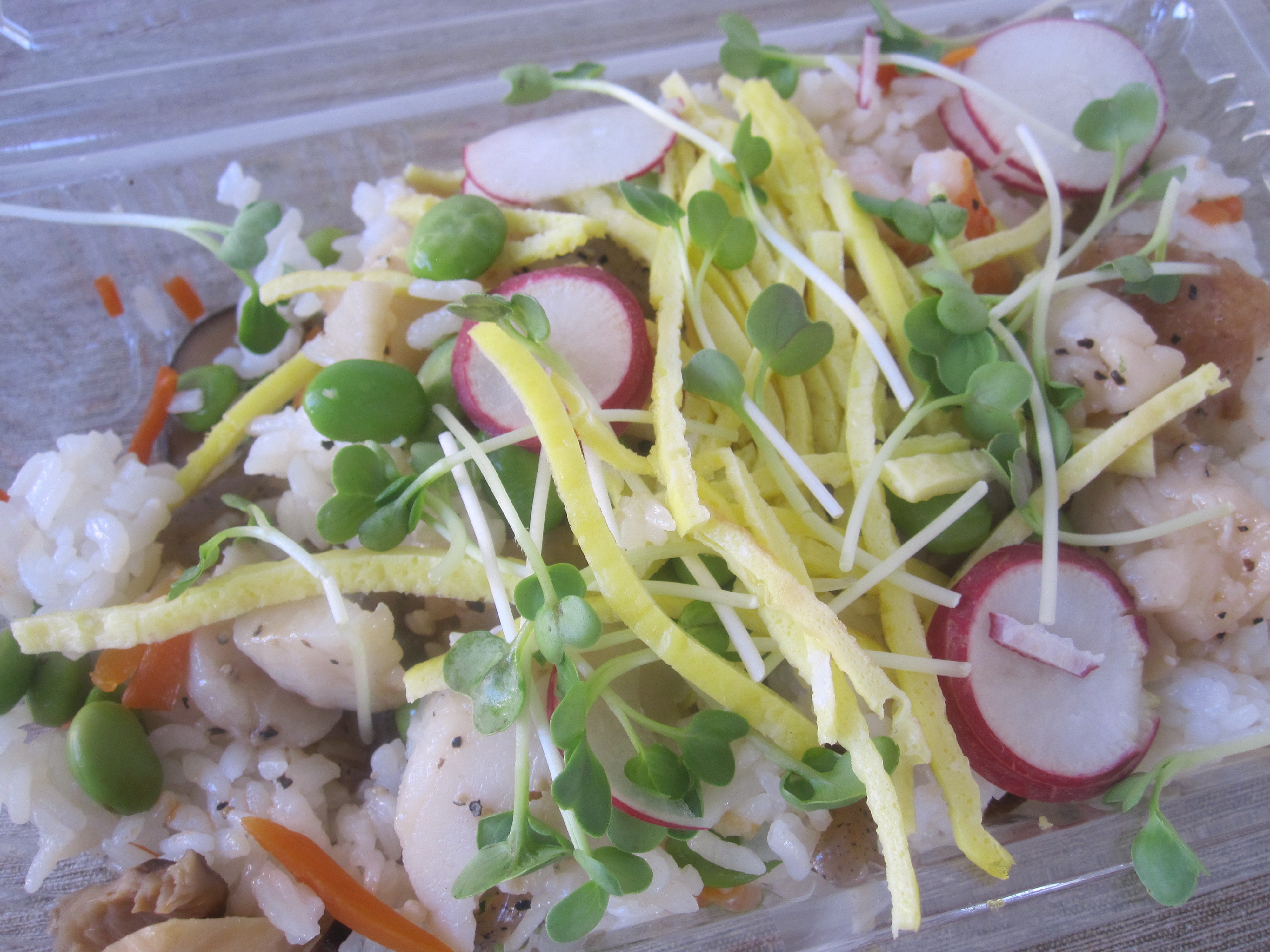 Mari-chan's Chirashi Sushi with excellent "ha-gotai".
Ingredients: egg, scallop, shrimp, edamame, radish, carrots, tofu-age, konnyaku, shiitake and sushi rice.
Chirashi sushi, which is pronounced chirashizushi (with a "z"), literally translates to "scattered sushi" and is commonly served in a bowl with vinegar seasoned sushi rice topped with any number of ingredients. According to Wikipedia there are several types of chirashi sushi. Nama-chirashi is sushi rice served beneath a variety of raw fish or sashimi. Gomokuzushi is typical of the Kansai region in Japan (includes Kyoto, Nara and Osaka) and involves cooked or raw ingredients that are seasoned and mixed into the body of the sushi rice. The chirashi sushi my Mom typically makes is of the gomokuzushi style, and this is what I made on Girl's Day this year. I should also mention that chirashi sushi is commonly served on Hinamatsuri to celebrate this special day. (I didn't know this until I read this on Google.) No wonder my Mom always made chirashi sushi for Girl's Day when I was growing up!
I served our chirashi sushi with a side dish of tororo (grated Japanese mountain yam), asari sumashijiru (a clear soup version of asari miso shiru), and kyuri no tsukemono (pickled cucumbers that I purchased at Marukai).
NOTE: I should mention that my Mom's chirashi sushi slightly differs from the one below in that she doesn't use edamame or kaiware. As for the sushi rice we used the Oishii Washoku cookbook that my Mom gifted to me and her awase-zu (vinegar mix) to season the sushi reason. In the past, my Mom typically cooked white rice without the use of konbu and sake but she feels these two simple ingredients drastically improved the flavor of the sushi rice.
Given there are several steps to making chirashi sushi, if you don't have much time on the day of your chirashi party, I recommend making the gomoku mix, and amazu-renkon the night before. The kinshi tamago may also be made the night before.
Another idea for Girl's Day or Hinamatsuri are these "doll sushi", recipe available on my blog here.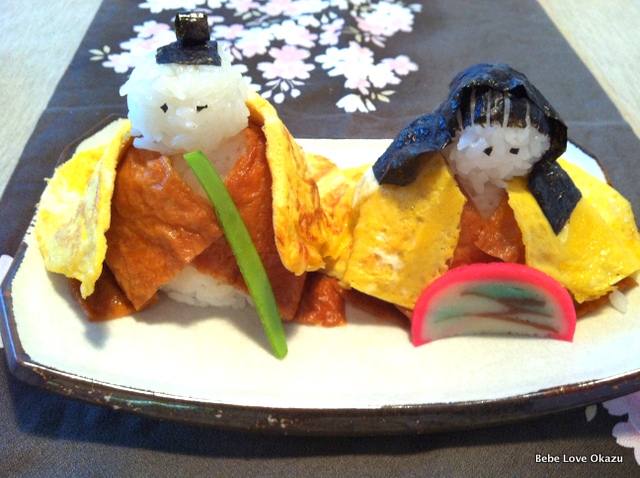 Gomoku Sushi Rice
serves 6 – 8 people
for sushi rice:
5 cups uncooked rice
2 tablespoons cooking sake
18 cm piece of dried konbu dashi
for awase-zu (vinegar mixture for cooked sushi rice):
1/4 + 1/3 cup rice vinegar
5 tablespoons sugar
2 1/2 teaspoons salt
Note: The above awase-zu measurements are specifically for 5 cups (uncooked) rice. My Mom typically makes 8 cups (uncooked) rice and her long-standing awase-zu recipe is found here.
Note: If you are serving a large party, for 10 cups of uncooked rice, I recommend using my friend Cat's Mom's awase-zu recipe: 1 cup sugar to 1 cup rice vinegar, dash of salt to taste.
for gomoku (5 ingredient sushi rice mix):
1 cup inari-age (fried tofu), sliced (approximately 3 1/2 pieces of inari; NOTE: I purchased pre-sliced inari age sold at Marukai)
8 pieces dried shiitake mushrooms, sliced
2 small carrots, sliced into large matchstick slices
approximately 1/3 piece of takenoko (bamboo), sliced; NOTE: I purchased pre-boiled takenoko packed in water, not canned)
1 block konnyaku (devils tongue Japanese yam), sliced into large matchsticks
1 2/3 cup dashi (if you don't use homemade dashi, replace dashi with water and 1 1/2 teaspoons dried katsuo (bonito) or konbu (kelp) dashi powder)
3 1/2 tablespoons shoyu (soy sauce)
3 1/2 tablespoons sugar
Chirashi Sushi Toppings
for ama-zu renkon (sweet, pickled lotus root):
1 piece fresh renkon (lotus root); Note: also sold pre-sliced and packed in water but fresh is best
1/3 + 1/2 cup rice vinegar
1/3 + 1/2 cup dashi
3 1/2 tablespoons sugar
dash of salt
Water & 1 tablespoon rice vinegar for "aku nuki" or removing bitterness and residue from the renkon
for all other toppings:
4 sashimi-grade hotate (scallops), sliced horizontally into thin pieces
10 pieces cooked ebi (shrimp)
1/2 piece of cooked unagi (fresh water eel) or anago (salt water eel) with teriyaki sauce, chopped into bite-sized pieces (sold pre-cooked)
1 piece fancy or decorative kamaboko (fishcake)
5 eggs
Low-fat milk for kinshi tamago (shredded, thin egg omelette) – optional
1 cup snow peas, deveined
1 cup cooked edamame beans (shells removed); Note: I purchased frozen pre-shelled edamame
1 package kaiware (daikon radish sprouts), ends removed
Roasted white sesame seeds
Salt
Pepper
Kizami nori (cut, dried seasoned seaweed) – optional
Gari shoga (pickled, seasoned ginger often served with sushi) – optional
1) Wash rice, add 5 cups water according to your rice cooker's measurement. Making sushi rice is different than cooking plain white rice. Add sake and dried konbu dashi. Let sit for 30 minutes. Remove konbu from the rice cooker and cook rice according to your rice cooker's setting for white rice.
Once the rice is cooked, allow the rice to finish steaming and then using a shamoji (rice paddle) gently mix the rice to "loosen" it. Then, allow the rice to rest in warming mode until you are ready to make your vinegared sushi rice. NOTE: Do not remove rice from the cooker until all of the other elements of the chirashi sushi are prepared.
2) While the rice cooks, prepare all other ingredients, beginning with the ama-zu renkon or sweet pickled lotus root. I purchased fresh renkon because my Mom only uses fresh renkon. It can also be found pre-cooked and pre-sliced and packed in water in the refrigerated section, however, my Mom says, "fresh is best" in her Japanese accent, so of course I bought fresh renkon for our special occasion chirashi sushi.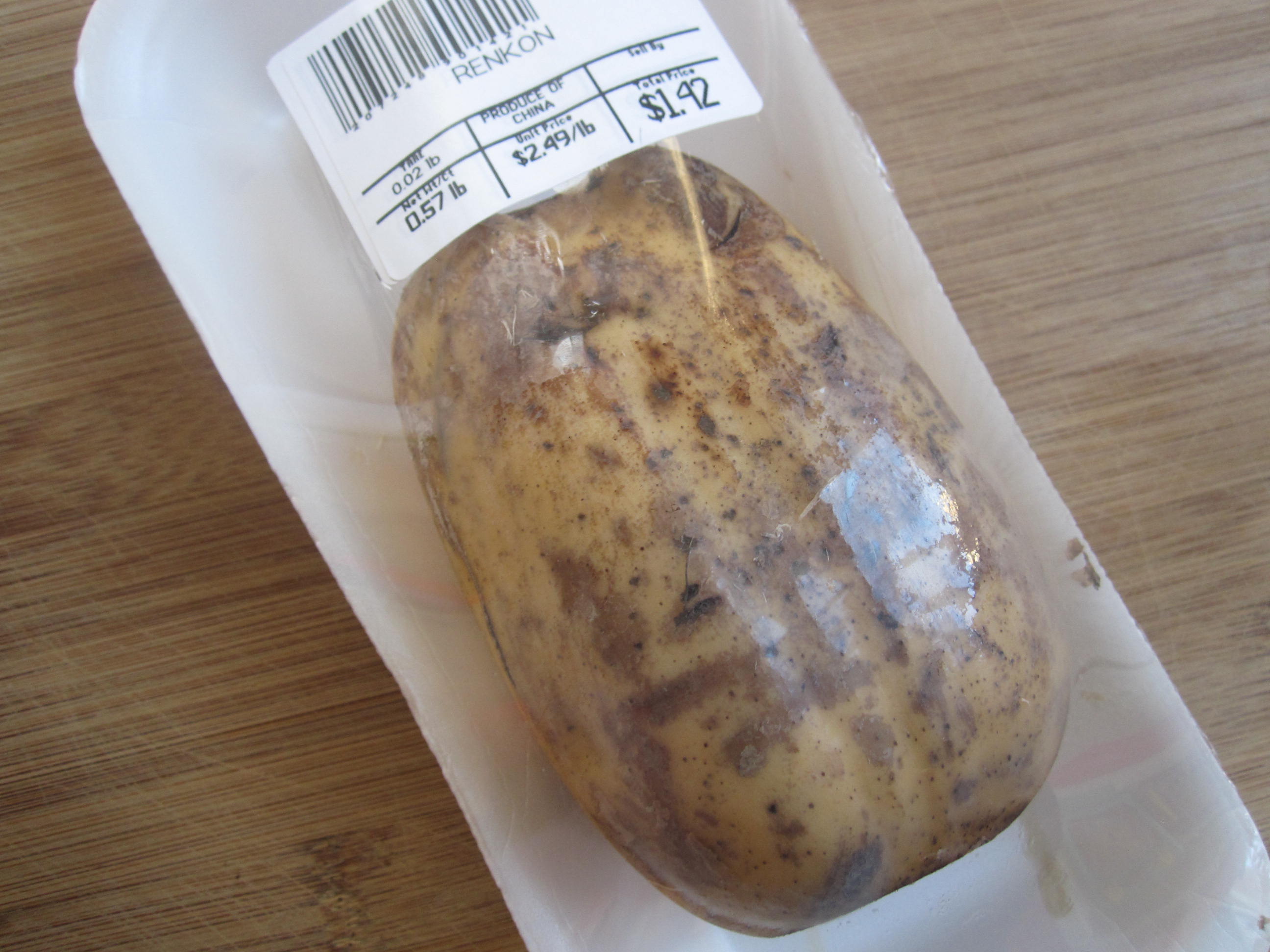 Fresh renkon (lotus root) available in the refrigerated produce section.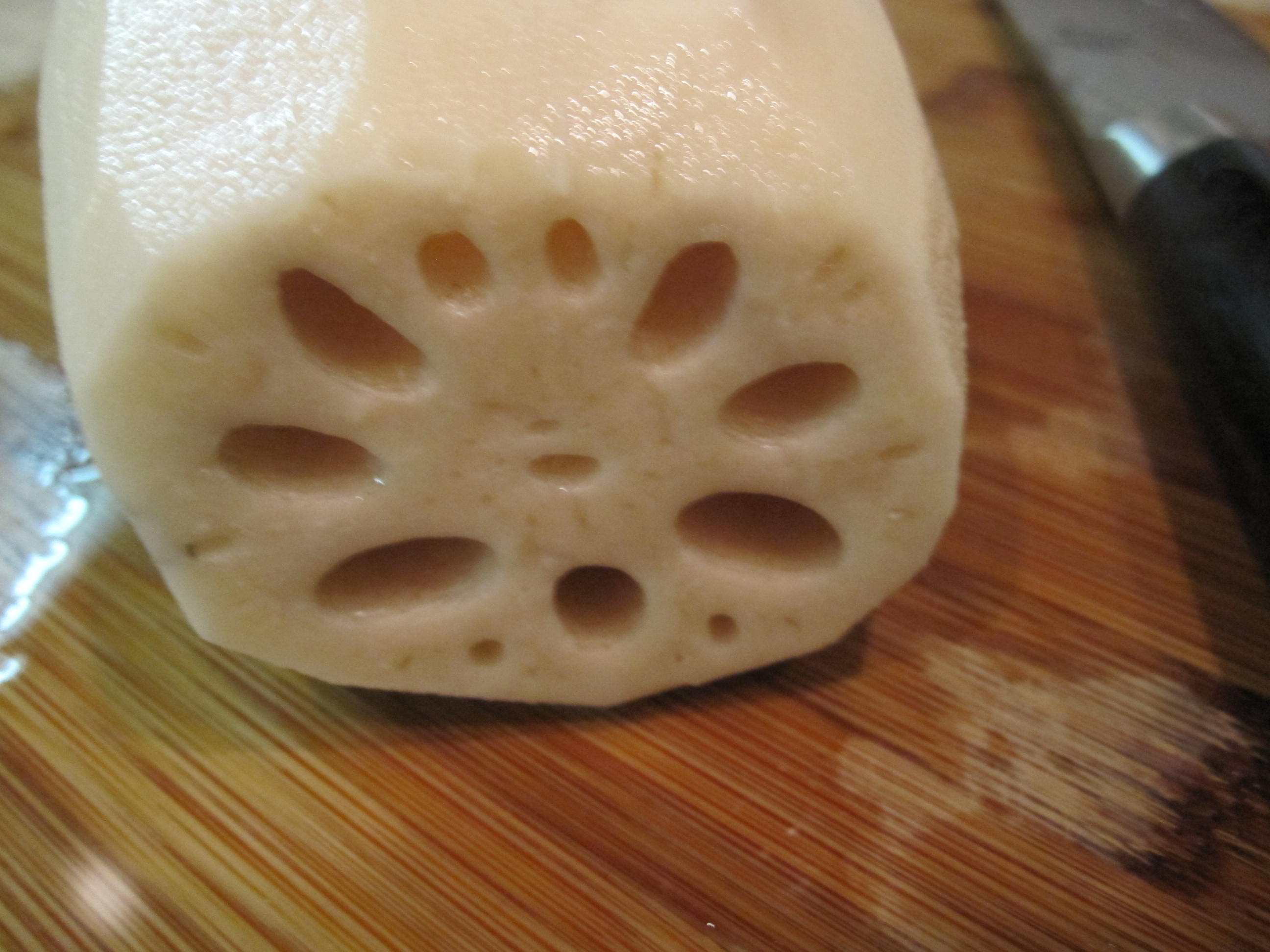 The inside of the renkon or lotus root has a beautiful decorative pattern which makes it ideal as a decorative and delicious chirashi sushi topping.
Using a vegetable peeler, remove the skin of the renkon and cut-off both ends of the renkon. The ends will be dry and thick. Similar to a potato, the renkon will have what look like "eyes" which must be removed. They resemble dark or discolored patches. Slice the renkon lengthwise in half, then thinly slice horizontally.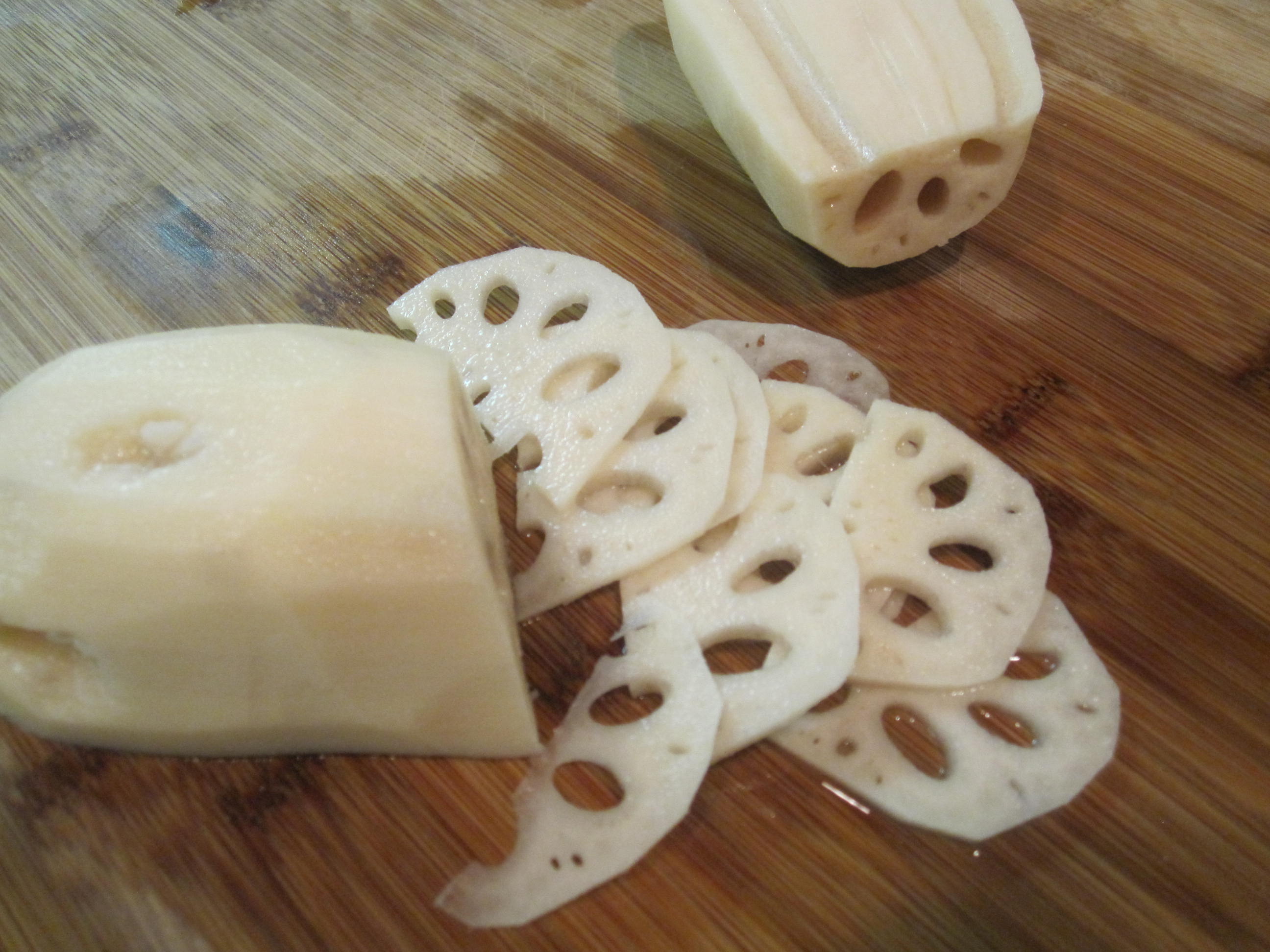 Raw renkon (lotus root) slices.
Soak uncooked renkon slices in a bowl of cold water and 1 tablespoon rice vinegar for 10 minutes. This process is called, aku-nuki in Japanese, where any unwanted residue or bitter flavor from the renkon is drawn-out in the vinegar-water solution. Drain the renkon.
In a small glass bowl, prepare the amazu marinade by combining the dashi, rice vinegar, sugar and a dash of salt and gently stirring with chopsticks. Set this aside.
Next, in a small sauce pan, boil water and add the drained renkon and blanch for 2 minutes. Transfer the blanched renkonAdd the drained renkon to this ama-zu marinade. After the renkon cools, transfered to a plastic storage container and store in the fridge. I had leftovers and happily snacked on these vinegary renkon and also enjoyed them as a side dish. Be warned, these were a bit tart so if you don't appreciate foods that are sour, I definitely recommend throwing them all into your chirashi sushi.
3) Prepare the gomoku mix. Soak the dried shiitake mushrooms in hot water, reserve soaking liquid. Remove stems of shiitake and slice in thick pieces. One of the aspects of Mari-chan's chirashi sushi that I loved was the untraditional, slightly larger pieces of the gomoku mix which really added "ha-gotai" to the chirashi. Slice carrots into chunky matchsticks, as well as konnyaku. Finally, rinse the takenoko, then slice into thin rectangular pieces.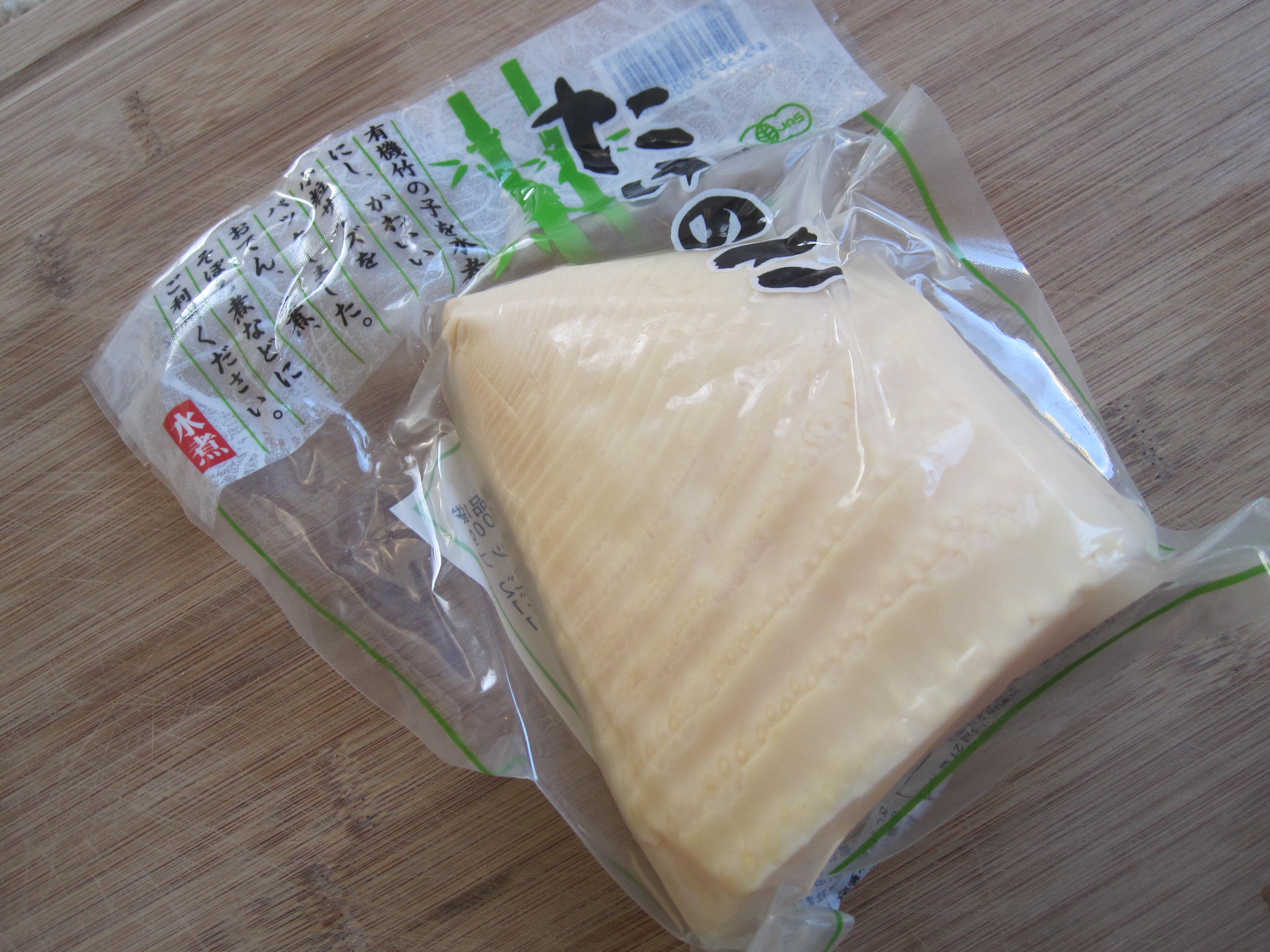 Pre-Cooked Takenoko (bamboo) Packed in Water. My Mom claims this is much better than canned bamboo shoots and I definitely agree with her. It's worth it for special dishes such as chirashi sushi.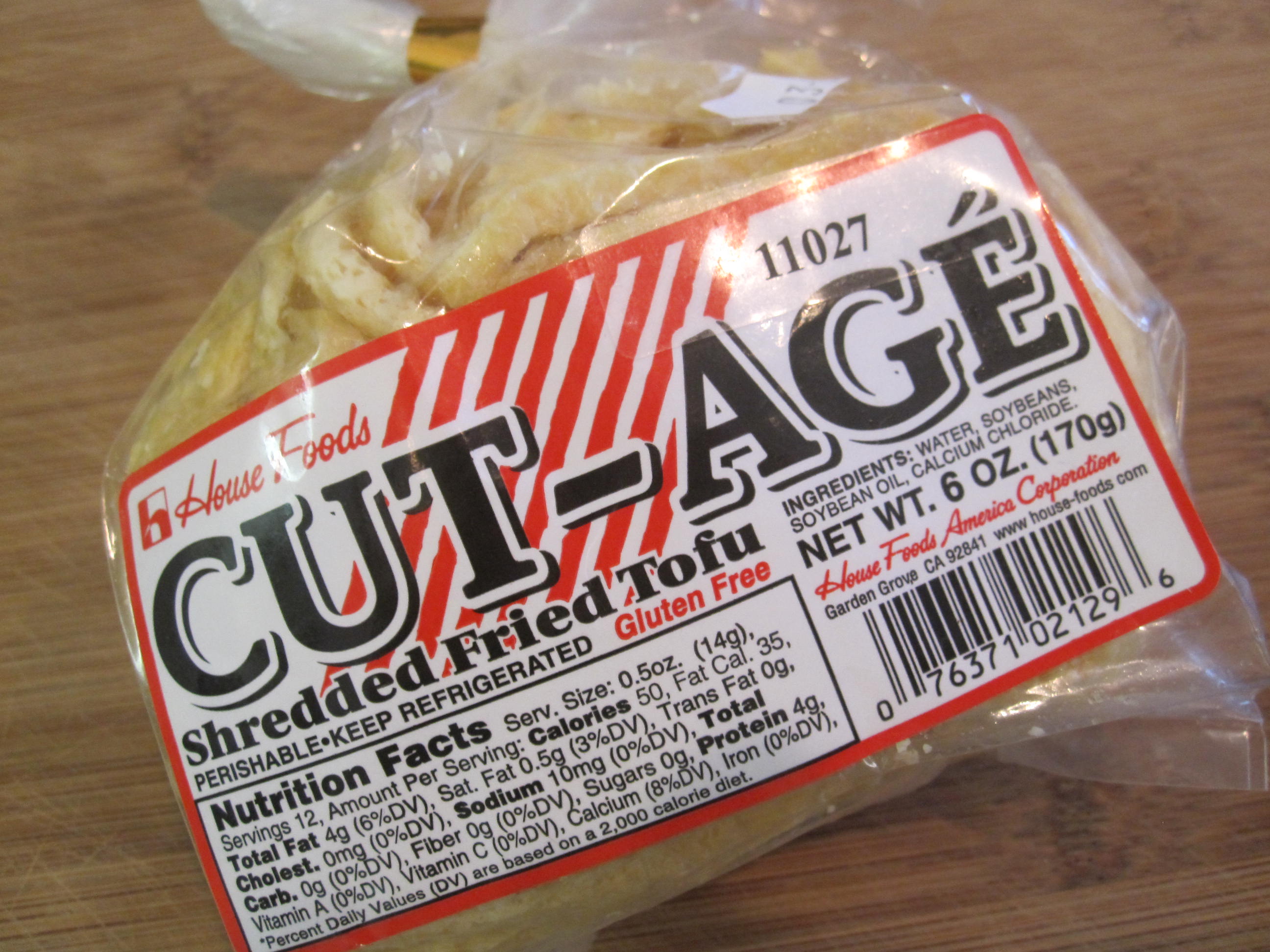 Pre-Sliced Inari-Age (Fried Tofu). I found this next to the traditional inari-age. It was very convenient and I froze what was leftover. I would definitely purchase this again.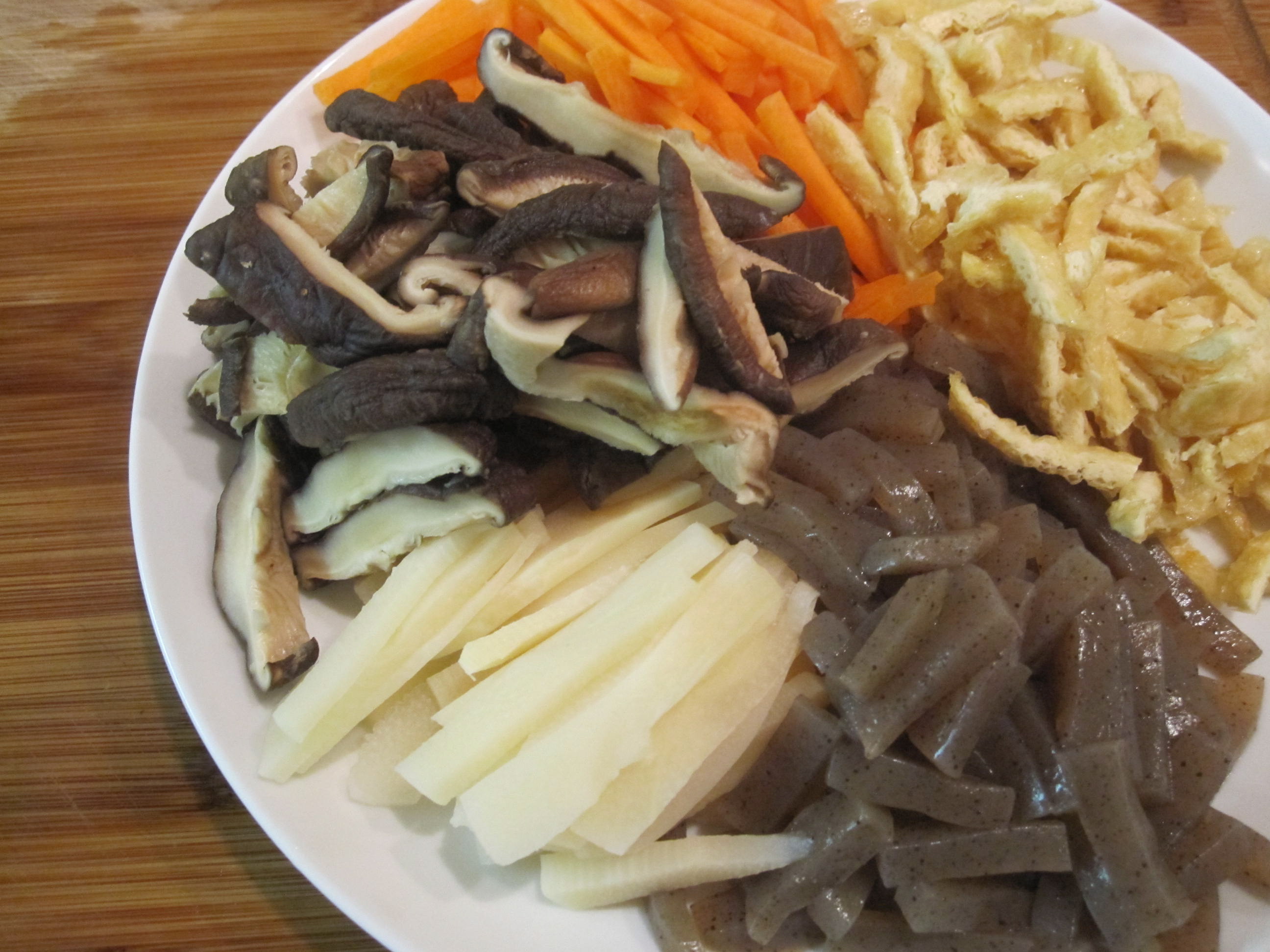 Gomoku Ingredients (clockwise): Carrots, Inari-Age, Konnyaku, Takenoko, Shiitake Mushrooms.
Make the gomoku simmering sauce. In a small sauce pan, combine dashi, shoyu and sugar. If you don't have homemade dashi, use a combination of the reserved shiitake soaking liquid and water, then use 1 1/2 teaspoons dried dashi powder. Bring sauce to gentle boil, add ingredients and reduce heat and allow to simmer for 15 minutes.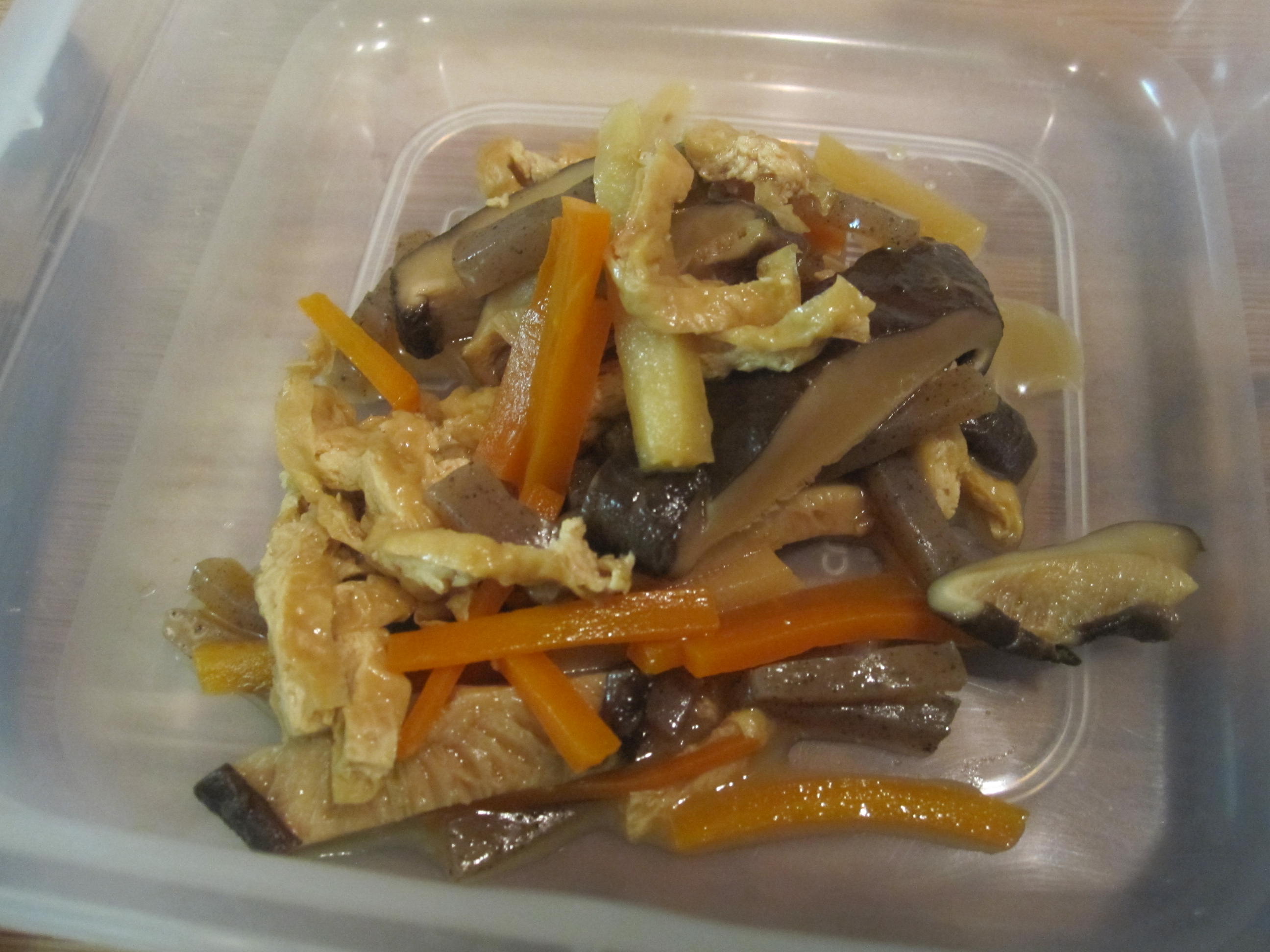 This is a small sample of the cooked gomoku mix.
4) Make kinshi tamago or egg omelette. This is a paper thin egg omelette that is thinly sliced and often used as a chirashi sushi topping. While this piece of equipment is not necessary, I purchased a rectangular tamagoyaki (egg omelette) pan last summer when Bebe E started eating eggs so that I could make her horensou no tamagoyaki (spinach egg omelette or roulade). I used this to make this kinshi tamago.
Crack all 5 eggs and gently mix. Season with a dash of salt and lighten with a splash of milk. Heat tamagoyaki pan and coat lightly with oil. Pour a very small amount of egg into the pan to create a very thin layer. I could have made my kinshi tamago thinner but often poured too much of the egg into the pan accidently. Although my Mom claims the omelette can be left to cook on one side, I flipped mine over since it was so small and easy enough to flip with chopsticks and a spatula.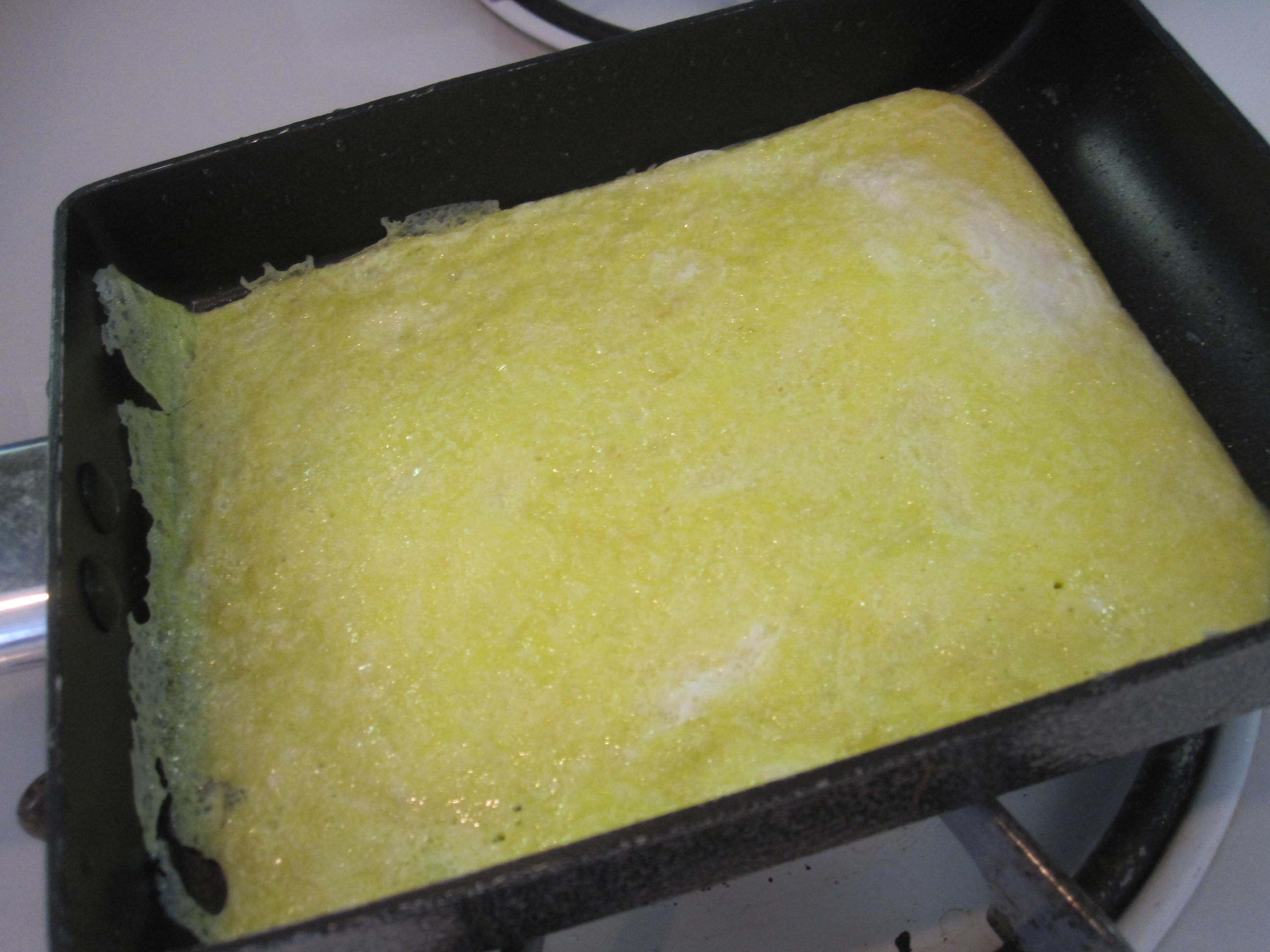 Cooked kinshi tamago, ready to be removed from the pan.
5) Cook the hotate or scallops. I purchased sashimi grade scallops for the chirashi sushi. Slice the scallops horizontally into thin pieces. Season with a generous amount of black pepper and just a hint of salt. Heat a small pan on medium and coat with olive oil. Gently sear the scallops for just a few seconds on each side so that they are just barely cooked. Remove from pan and set aside.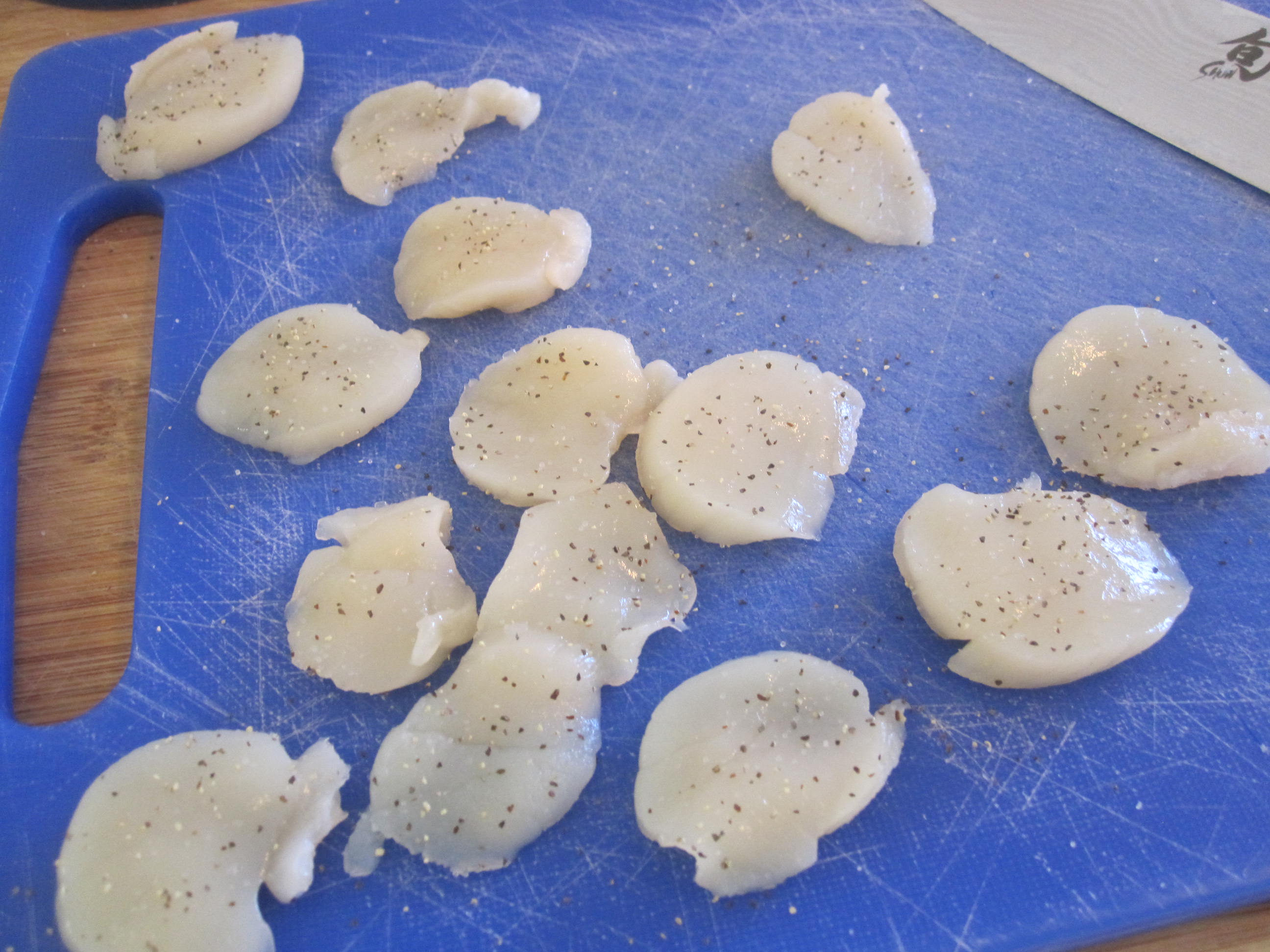 Sashimi-grade hotate (scallops).
6) Peel and devein ebi or shrimp. Cook gently in boiling water and drain. Allow the shrimp to cool and cut into bite-sized pieces. Set shrimp aside. While I was taking care of Bebe E the morning of our Hinamatsuri chirashi sushi party, my Mom prepared all of the shrimp. Thank you, Mom! I am horrible at deveining and cleaning the shrimp and I appreciated the fact that you did this for me!
7) Prepare the unagi (fresh water eel) or anago (salt water eel). There's really not much to prepare. Pre-cooked and seasoned eel can be found in the refrigerated sea food section of the Japanese market. I purchased anago at Marukai. I chose anago over unagi simply because the anago was on sale. I believe the anago might be a little bit more fatty than the unagi. Next time, I will definitely use unagi. Cut anago in half, pour seasoning sauce over and then microwave for 15 seconds. Chop into bite-sized pieces and set aside. The remaining half of the anago I wrapped-up and froze for our next chirashi sushi.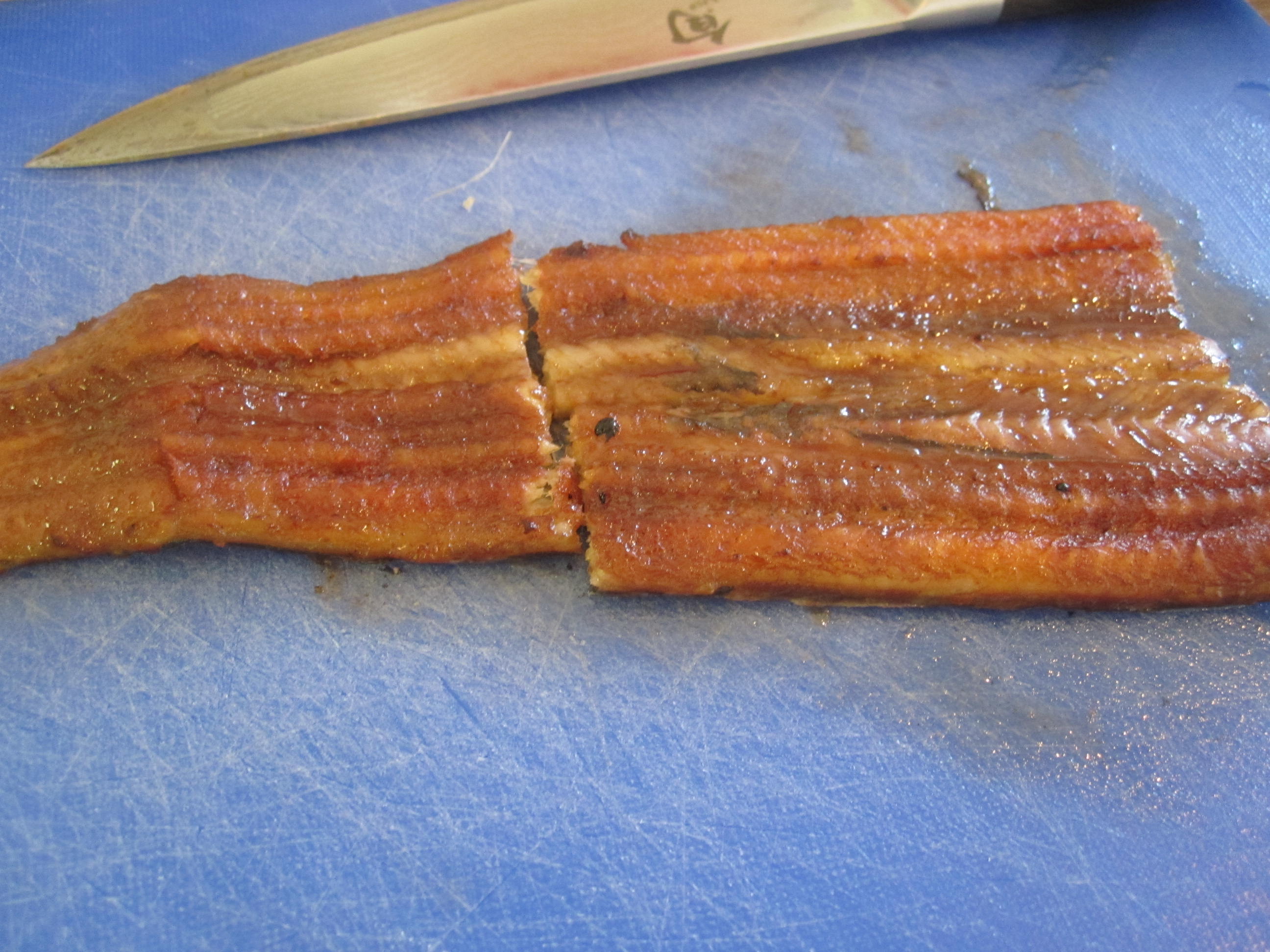 8) Prepare the snow peas, edamame, kaiware (daikon radish sprouts) and kamaboko. Make sure you devein the snow peas by pinching the tip of each of the snow pea and pulling of the stringy, fibrous vein. In a small pot boil water and quickly blanch the snow peas for about 2 -3 minutes. Drain and shock with ice water to preserve the bright green color of the snow peas. Rough chop the snow peas into diagonal pieces. Set aside.
In the microwave, heat frozen edamame beans in a bowl of water and cover with plastic wrap. Probably only need a minute in the microwave. Drain and shock with cold water. Set aside. Note: As I mentioned above, I purchased pre-shelled frozen edamame. This also great to use for making edamame gohan (soy bean and rice with nametake mushrooms and seaweed).
Kaiware is packaged similarly to alfalfa sprouts. Cut the kaiware away from the sponge and rinse gently. Be sure to remove all of the brown seed covers. These don't look pretty on the chirashi sushi.
Slice kamaboko into thin round pieces.
9) Prepare the awase-zu or sushi vinegar mix to make the sushi rice. Combine the rice vinegar, sugar and salt in a small bowl and heat in a small saucepan until the sugar is melted. Do not overcook.
Transfer cooked rice to a wooden hangiri sushi oke rice bowl. Note: this can be purchased at Marukai or other Japanese supermarkets, as well as on Amazon. (Out of sheer laziness I ended-up making the sushi rice directly in the lacquered sushi platter rather than to use the sushi oke which you can see in the upper right corner.)
It is important to make the sushi rice while the rice is still hot, otherwise, according to my Mom, the awase-zu will not properly season the sushi rice. Gently poor the awase-zu onto the shamoji, allowing the awase-zu to gently trickle onto the hot rice. Pour the awase-zu all over the rice and quickly, using the edge of the shamoji, use a top to bottom cutting motion to gently mix the rice. As a child, my job was to fan the sushi rice as my Mom gently mixed the awase-zu and rice together.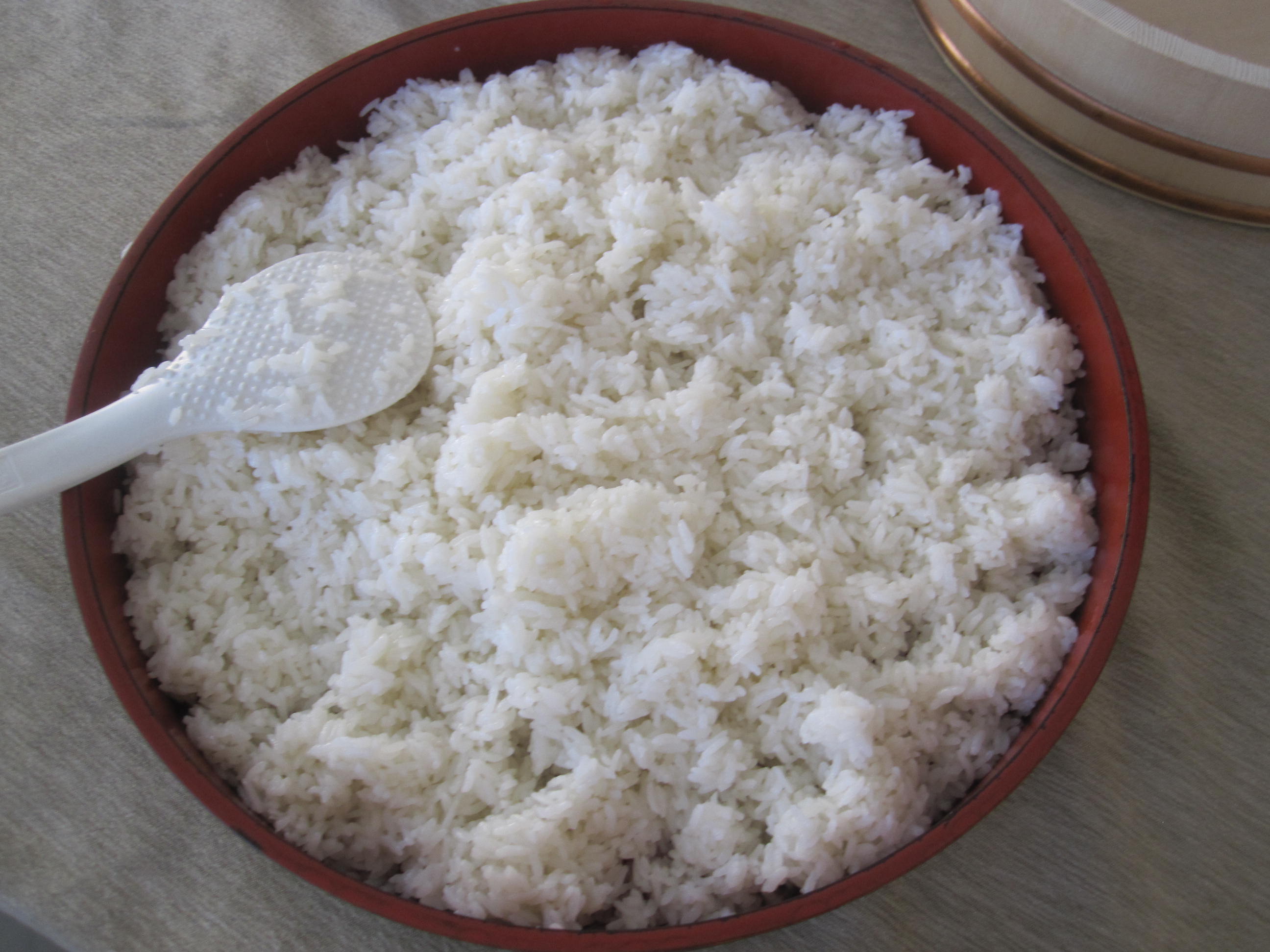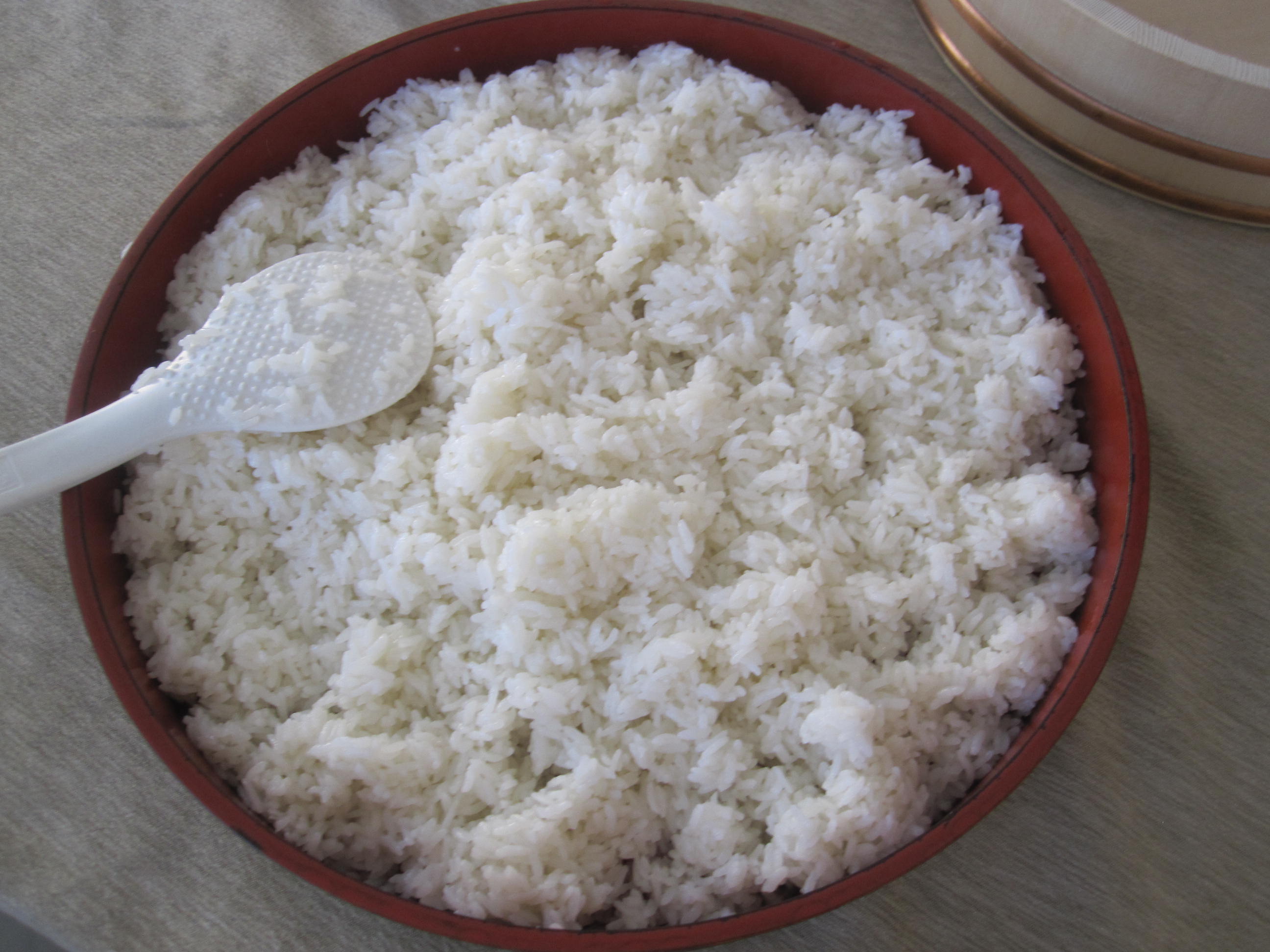 Sushi-gohan (rice) with awase-zu (vinegar mix).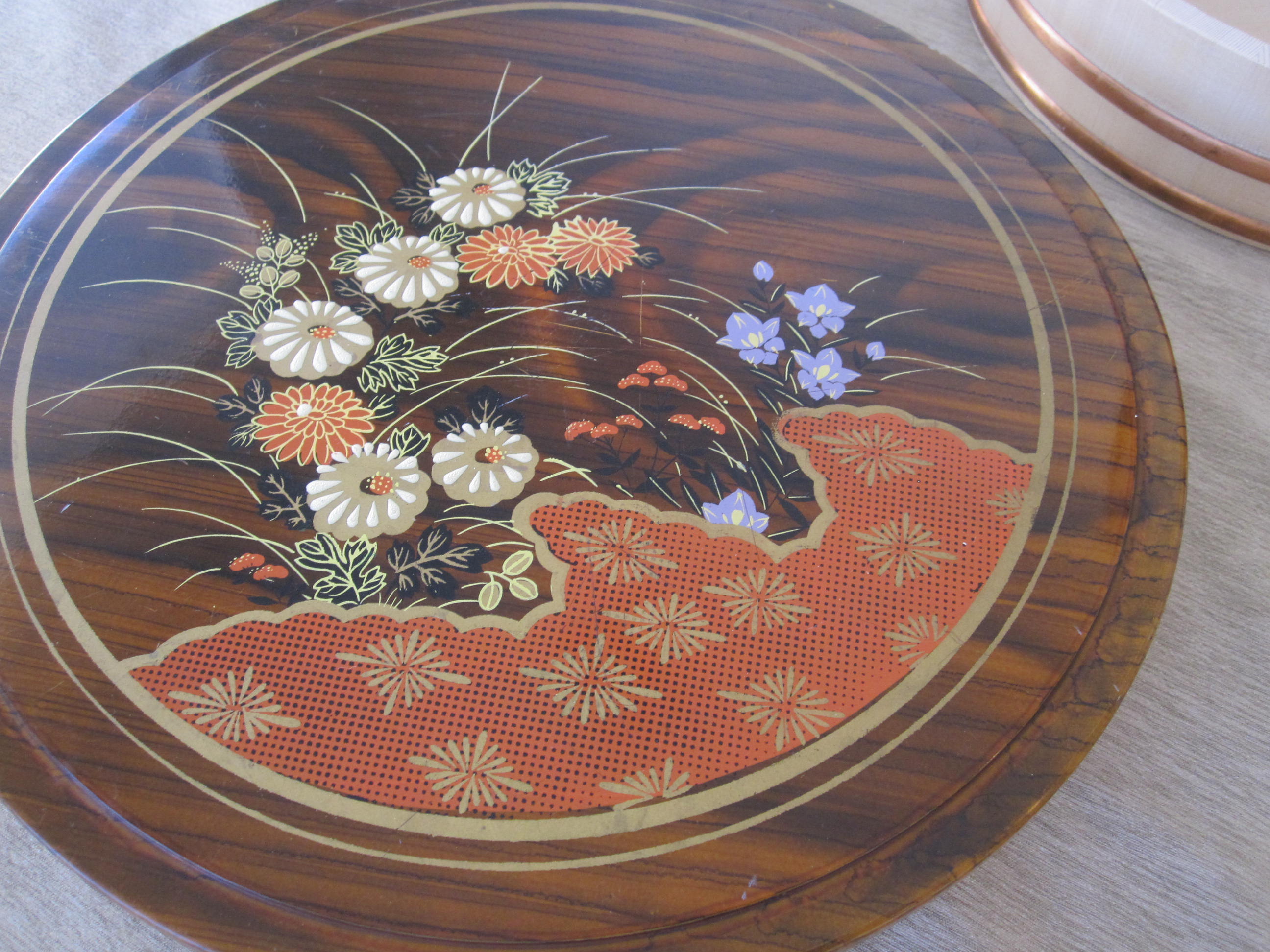 My Mom let me borrow her lacquered sushi platter with lid. This is over forty years old and something that she brought with her to the United States from Japan when she married my Dad. (In case you are wondering, no, she wasn't a mail-order bride – LOL.) This lacquered sushi platter shows signs of wear and tear but it's something that we grew up with and something that I've come to love and associate with my Mom and sushi.
10) Assemble the chirashi sushi. From here, the recipe is cake! :) Fold the gomoku mixture into the sushi rice. This should be done while the rice is still warm.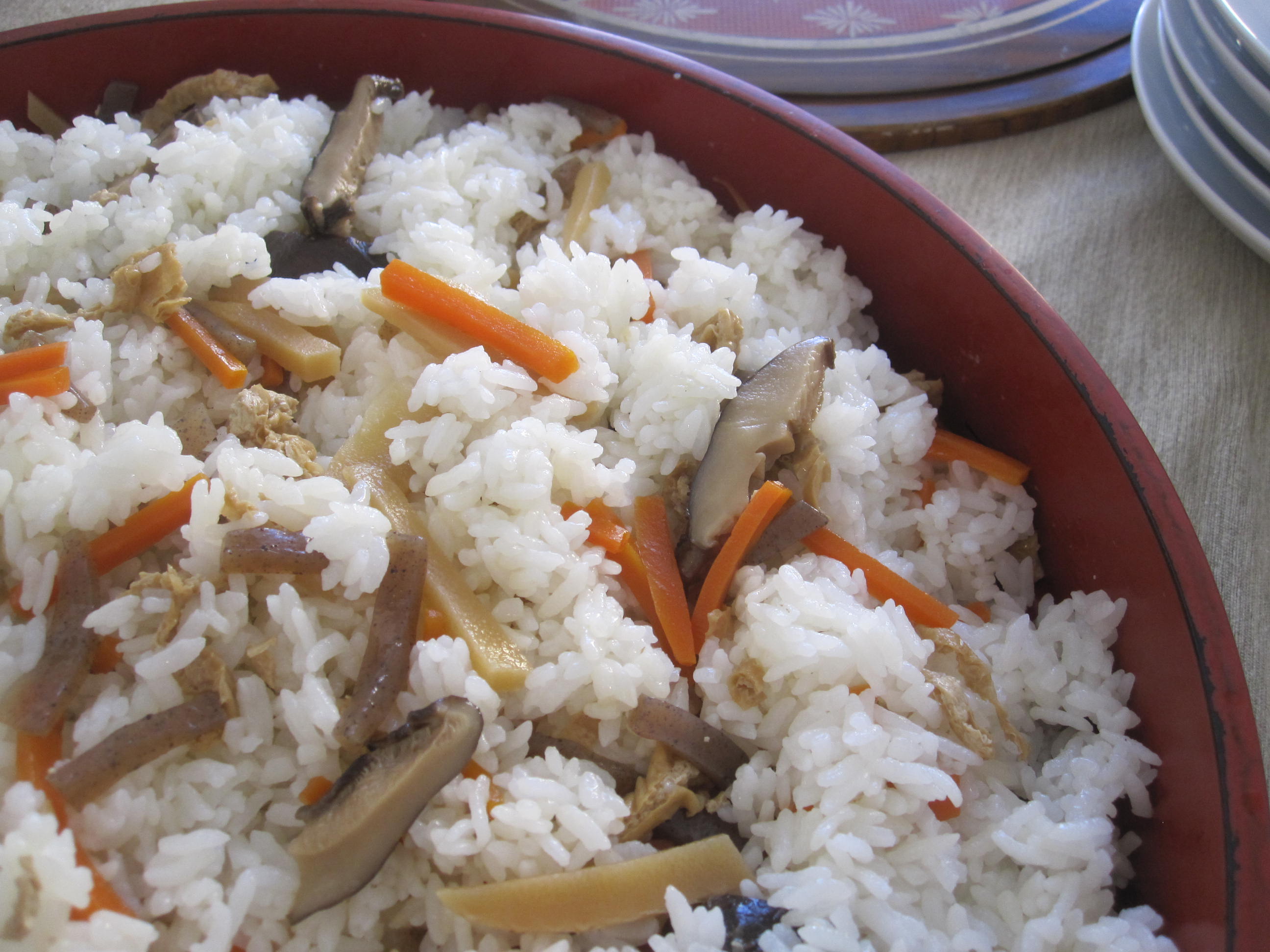 Gomoku Sushi Rice: vinegared sushi rice, konnyaku, carrots, shiitake mushrooms, takenoko, and inari-age.
Next, scatter the remaining ingredients over the gomoku sushi rice:
ebi (shrimp)
hotate (scallop)
edamame
kamaboko
snow peas
amazu-renkon (sweet vinegared lotus root)
kinshi tamago (egg omelette)
anago (salt water eel)
kaiware (radish sprouts)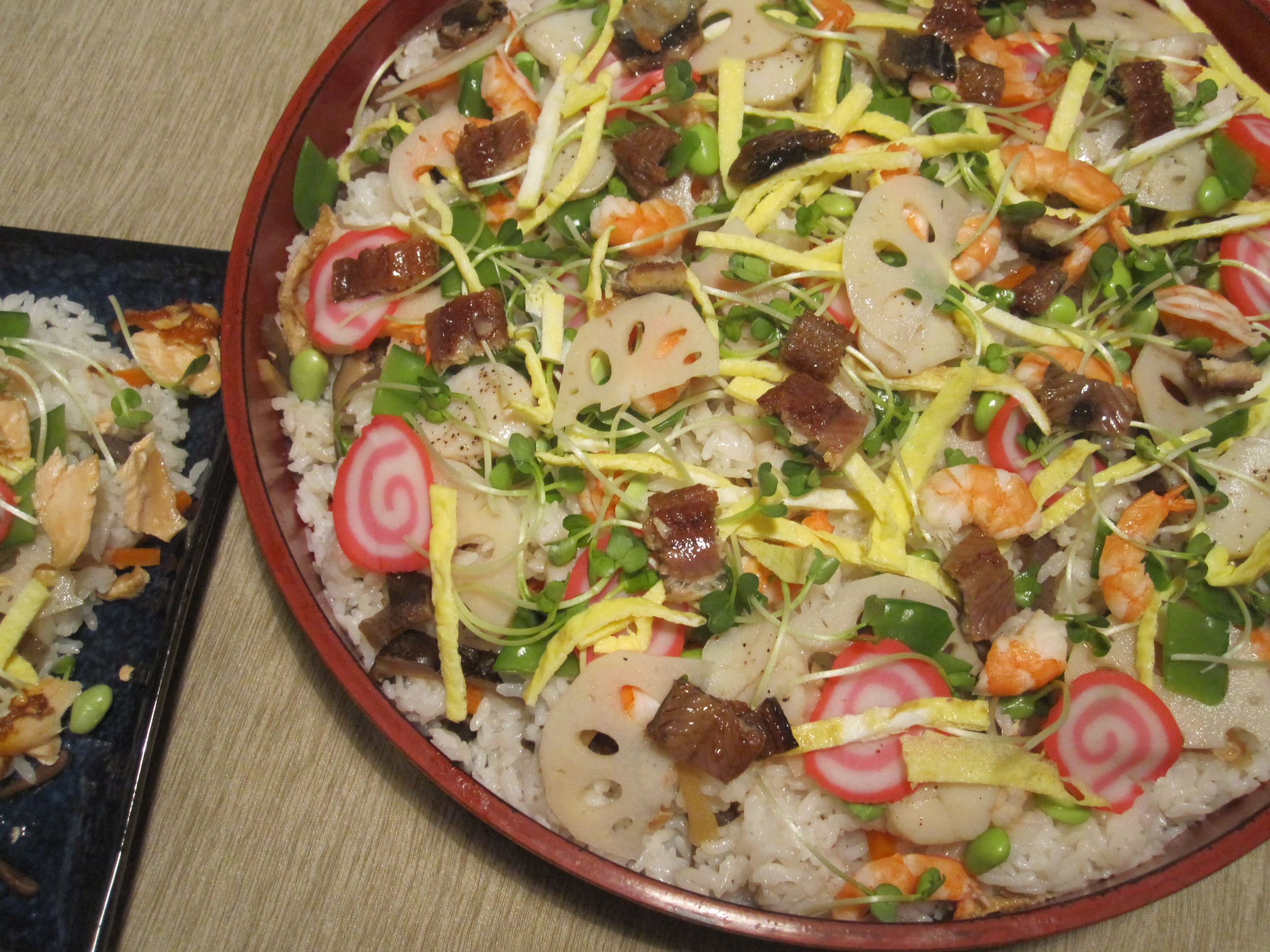 You'll notice a smaller blue platter with additional chirashi sushi. This is a version that I made for my sister-in-law who doesn't eat meat or shellfish. I "decorated" her chirashi sushi with vegetables, egg, and pieces of pan-seared salmon.
I must admit that making chirashi sushi was a bit labor-intensive because of the many ingredients used to top the chirashi. I now have a greater appreciation for the many times that my Mom made chirashi sushi for us and for hundreds of parties. Growing up, I always ate chirashi sushi, but given rice was never a favorite dish of mine, I mostly enjoyed eating the chirashi toppings with a small bite of the sushi rice.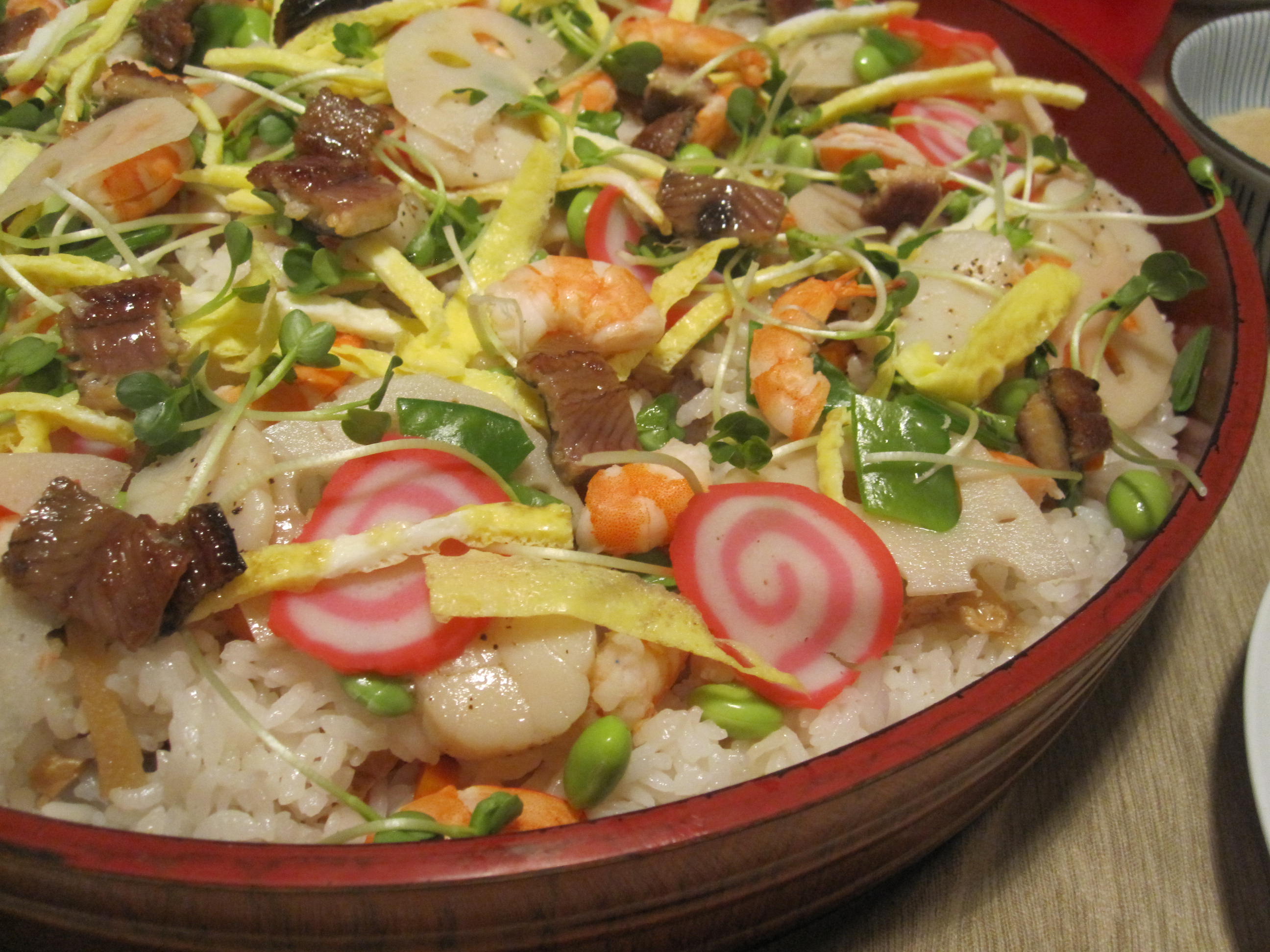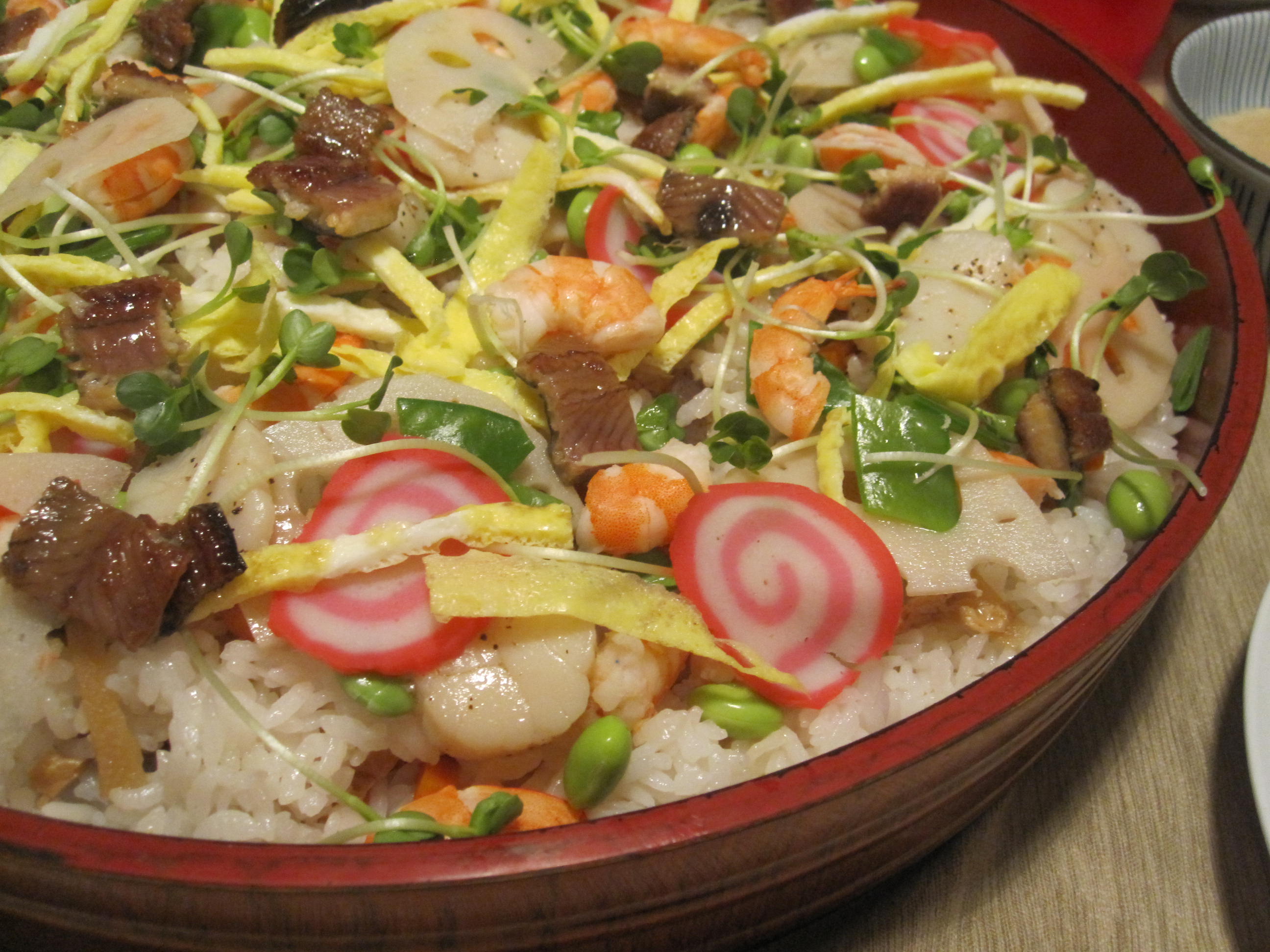 I'm a bit disappointed by my finished chirashi sushi photos. Aside from my poor camera skills the lighting was bad and my brother kept nagging me with, "Can we eat YET?!? I'm hungry. Come on, we can't eat until you take a picture, right? Hurry up, will ya?" So I hurriedly shot a few photos. They don't do justice to how nice the chirashi sushi actually looked. Oh well!
While I was waiting to publish this post, I was surprised to receive the Stylish Blog Award from my friend Hyosun of Eating and Living.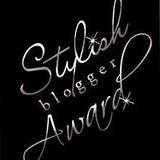 When I first joined the food blog community, she was the first person that I friend-requested after discovering her blog was about homemade Korean food. I LOVE Korean food and it is one of my favorite cuisines to eat when dining out. I've always wanted to learn how to cook Korean cuisine but there was no one that I knew whom I could learn about home-cooked Korean dishes and I wasn't inspired to buy a cookbook. That's when I discovered Hyosun's blog. She is a mother of two, a fully employed professional, a wife, and most importantly, an A-M-A-Z-I-N-G chef. She single-handedly has catered parties to feed a 100 mouths with a number of amazing Korean dishes. Through Hyosun and her blog, I have learned so much about Korean food, history and culture. I'm proud to call her my foodie-friend.
As a recipient of the Sylish Blogger Award I've been asked to share seven things about myself. I've shared so much about myself through my blog posts I'm not sure what else I can share but here we go.
1)  I am Nisei, or second generation Japanese-American born in Los Angeles but my paternal great grandmother was also Nisei, born on Oahu, Hawaii, and my paternal grandmother was Sansei, or third generation Japanese-American born in Fresno, California. Interestingly, my Dad was born in Hiroshima, Japan, but raised in Los Angeles (making him "reverse kibei") which makes me Nisei in the traditional definition and reverse kibei gosei, or reverse kibei fifth generation. Confused? Me too.
2)  None of my family were imprisoned at Manzanar during World War II. They fled to Japan from California which is why my Dad was born in Japan, and returned to Los Angeles after the war ended.
3)  I went to Japanese school for 12 years, from first grade through 12th grade. I then proceeded to minor in Japanese in college. I can speak, read and write Japanese, but my reading and writing skill level is likely stuck somewhere around 5th and 6th grade (possibly worse now). Language is a skill that one must keep up or else it is lost. It is my hope that Bebe E will be able to speak and comprehend Japanese. So far, she seems to understand us so there's hope.
4)  Since giving birth to Bebe E I have not golfed (the driving range doesn't count) or practiced yoga (looking at the schedule but not going doesn't count), two hobbies I enjoyed in the past. I imagine I will revisit these old hobbies as Bebe E gets older. In the meantime, I have found new hobbies and they are cooking and finding ways to entertain Bebe E and allow her to experience new things. The latter has allowed me to reconnect with my inner-kid. It's been so much fun… the petting zoo, ponies, story time at the library, feeding the ducks, the aquarium, Disneyland, Sea World….
5)  I am a chocolate fiend. I can easily consume an entire Hershey's bar or any sizable amount of chocolate (half-pound of See's candy etc.). Milk chocolate is my all time favorite but I have recently started buying no sugar added, high cacao concentrated dark chocolate for my chocolate fix in an effort to watch my sugar intake.
6)  I am a neat freak. I've been cleaning like a mad-woman the past month; hard-core Spring cleaning, purging, and organizing by a host of categories (pantry item, clothing type & color, tupperware, shoes etc.). Organizing is a hobby that I enjoy.
7)  Later this year, we are taking a family trip with my husband's side of the family to China. I've only been to China once (over 12 years ago) on business to Dalian (an economic development zone) and did not do any sight-seeing. This time, I am thankful that I will have the opportunity to see five major cities and their wonders. What better way to do this than with family. I'm sure it's a trip we'll all cherish forever.
Thank you, Hyosun, for recognizing my blog with this wonderful award and for your kind words and sympathy regarding the devastating earthquake in Japan.
For those of you in Japan, or with family and friends in Japan, our thoughts and prayers are with you.
Judy | bebe mama
Chirashi Sushi for Hinamatsuri Girl's Day
Ingredients
FOR SUSHI RICE:
5 cups uncooked rice
2 tablespoons cookingsake
18 cm piece of dried konbu dashi
FOR AWASE-ZU (VINEGAR MIXTURE FOR SEASONING SUSHI RICE):
¼ + ⅓ cup rice vinegar
5 tablespoons sugar
2½ teaspoons salt
Note: The above awase-zu measurements are specifically for 5 cups (uncooked) rice. If you are serving a large party, for 10 cups of uncooked rice, I recommend using my friend Cat's Mom's awase-zu recipe: 1 cup sugar to 1 cup rice vinegar, dash of salt to taste.
FOR GOMOKU MIX (5 INGREDIENTS FOR GOMOKU SUSHI)
1 cup inari-age (fried tofu), sliced (approximately 3½ pieces of inari; NOTE: I purchased pre-sliced inari age sold at Marukai)
8 pieces dried shiitake mushrooms, sliced
2 small carrots, sliced into large matchstick slices
Approximately ⅓ piece of takenoko (bamboo), sliced; NOTE: I purchased pre-boiled takenoko packed in water, not canned)
1 block konnyaku (devils tongue Japanese yam), sliced into large matchsticks
1⅔ cup dashi (if you don't use homemade dashi, replace dashi with water and 1½ teaspoons dried katsuo (bonito) or konbu (kelp) dashi powder)
3½ tablespoons shoyu (soy sauce)
3½ tablespoons sugar
CHIRASHI SUSHI TOPPINGS ~
FOR AMAZU RENKON (SWEET PICKLED LOTUS ROOT):
1 piece fresh renkon (lotus root); Note: also sold pre-sliced and packed in water but fresh is best
⅓ + ½ cup rice vinegar
⅓ + ½ cup dashi
3½ tablespoons sugar
dash of salt
Water & 1 tablespoon rice vinegar for "aku nuki" or removing bitterness and residue from the renkon
FOR ALL OTHER TOPPINGS:
4 sashimi -grade hotate (scallops), sliced horizontally into thin pieces
10 pieces cooked ebi (shrimp)
½ piece of cooked unagi (fresh water eel) or anago (salt water eel) with
teriyaki sauce, chopped into bite-sized pieces (sold pre-cooked)
1 piece fancy or decorative kamaboko (fishcake)
5 eggs
Low-fat milk for kinshi tamago (shredded, thin egg omelette) - optional
1 cup snow peas, deveined
1 cup cooked edamame beans (shells removed); Note: I purchased frozen pre-shelled edamame
1 package kaiware (daikon radish sprouts), ends removed
Roasted white sesame seeds
Salt
Pepper
Kizami nori (cut, dried seasoned seaweed) - optional
Gari shoga (pickled, seasoned ginger often served with sushi) - optional
Instructions
PREPARE SUSHI RICE:
Wash rice, add 5 cups water according to your rice cooker's measurement.
Add sake and dried konbu dashi. Let sit for 30 minutes. Remove konbu from the rice cooker and cook rice according to your rice cooker's setting for white rice.
Once the rice is cooked, allow the rice to finish steaming and then using a
shamoji (rice paddle) gently mix the rice to "loosen" it. Then, allow the rice to rest in warming mode until you are ready to make your vinegared sushi rice. NOTE: Do not remove rice from the cooker until all of the other elements of the chirashi sushi are prepared.
PREPARE AMAZU RENKON:
Using a vegetable peeler, remove the skin of the renkon and cut-off both ends of the renkon. The ends will be dry and thick.
Similar to a potato, the renkon will have what look like "eyes" which must be removed. They resemble dark or discolored patches.
Slice the renkon lengthwise in half, then thinly slice horizontally.
Soak uncooked renkon slices in a bowl of cold water and 1 tablespoon rice vinegar for 10 minutes. This process is called, aku-nuki in Japanese, where any unwanted residue or bitter flavor from the renkon is drawn-out in the vinegar-water solution.
Drain the renkon.
In a small glass bowl, prepare the amazu marinade by combining the dashi, rice vinegar, sugar and a dash of salt and gently stirring with chopsticks. Set this aside.
Next, in a small sauce pan, boil water and add the drained renkon and blanch for 2 minutes.
Add the drained renkon to this ama-zu marinade. After the renkon cools, transfered to a plastic storage container and store in the fridge.
PREPARE GOMOKU SUSHI MIX:
Soak the dried shiitake mushrooms in hot water, reserve soaking liquid. Remove stems of shiitake and slice in thick pieces.
Slice carrots into chunky matchsticks, as well as konnyaku.
Rinse the takenoko, then slice into thin rectangular pieces.
Defrost Pre-Sliced Inari-Age (Fried Tofu)
Make the gomoku simmering sauce - In a small sauce pan, combine dashi, shoyu and sugar. If you don't have homemade dashi, use a combination of the reserved shiitake soaking liquid and water, then use 1½ teaspoons dried dashi powder.
Bring sauce to gentle boil, add ingredients and reduce heat and allow to simmer for 15 minutes.
PREPARE KINSHI TAMAGO (EGG OMELETTE):
Crack all 5 eggs and gently mix.
Season with a dash of salt and lighten with a splash of milk.
Heat tamagoyaki pan and coat lightly with oil. Pour a very small amount of egg into the pan to create a very thin layer. Cook through and remove from pan.
Allow the omelette to cool completely, then slice into very thin strips.
PREPARE SCALLOPS (HOTATE):
Slice the scallops horizontally into thin pieces.
Season with a generous amount of black pepper and just a hint of salt.
Heat a small pan on medium and coat with olive oil. Gently sear the scallops for just a few seconds on each side so that they are just barely cooked. Remove from pan and set aside.
PREPARE SHRIMP:
Peel and devein shrimp.
Cook gently in boiling water and drain.
Allow the shrimp to cool and cut into bite-sized pieces. Set shrimp aside.
PREPARE UNAGI (FRESH WATER EEL):
Cut in half, pour seasoning sauce (this is included with the unagi when purchased at the Asian supermarket) over and then microwave for 15 seconds.
Chop into bite-sized pieces and set aside.
PREPARE SNOW PEAS, EDAMAME, KAIWARE (RADISH SPROUTS) AND KAMABOKO (FISH CAKE):
Make sure you devein the snow peas by pinching the tip of each of the snow pea and pulling of the stringy, fibrous vein.
In a small pot boil water and quickly blanch the snow peas for about 2 -3 minutes.
Drain and shock with ice water to preserve the bright green color of the snow peas.
Rough chop the snow peas into diagonal pieces. Set aside.
In the microwave, heat frozen edamame beans in a bowl of water and cover with plastic wrap. Probably only need a minute in the microwave. Drain and shock with cold water. Set aside.
Kaiware is packaged similarly to alfalfa sprouts. Cut the kaiware away from the sponge and rinse gently. Be sure to remove all of the brown seed covers. These don't look pretty on the chirashi sushi.
Slice kamaboko into thin round pieces.
PREPARE AWASE-ZU (VINEGAR SEASONING FOR SUSHI RICE):
Combine the rice vinegar, sugar and salt in a small bowl and heat in a small saucepan until the sugar is melted. Do not overcook.
Transfer cooked rice to a wooden hangiri sushi one (sushi rice platter).
It is important to make the sushi rice while the rice is still hot to properly season the sushi rice.
Gently poor the awase-zu onto the shamoji, allowing the awase-zu to gently trickle onto the hot rice. Pour the awase-zu all over the rice and quickly, using the edge of the shamoji, use a top to bottom cutting motion to gently mix the rice.
ASSEMBLE CHIRASHI SUSHI:
Fold the gomoku mixture into the sushi rice. This should be done while the rice is still warm.
Scatter the remaining ingredients over the gomoku sushi rice: ebi (shrimp) hotate (scallop), edamame, kamaboko, snow peas, amazu-renkon (sweet vinegared lotus root), kinshi tamago (egg omelette), anago (salt water eel), kaiware (radish sprouts)