Chocolate Crunchies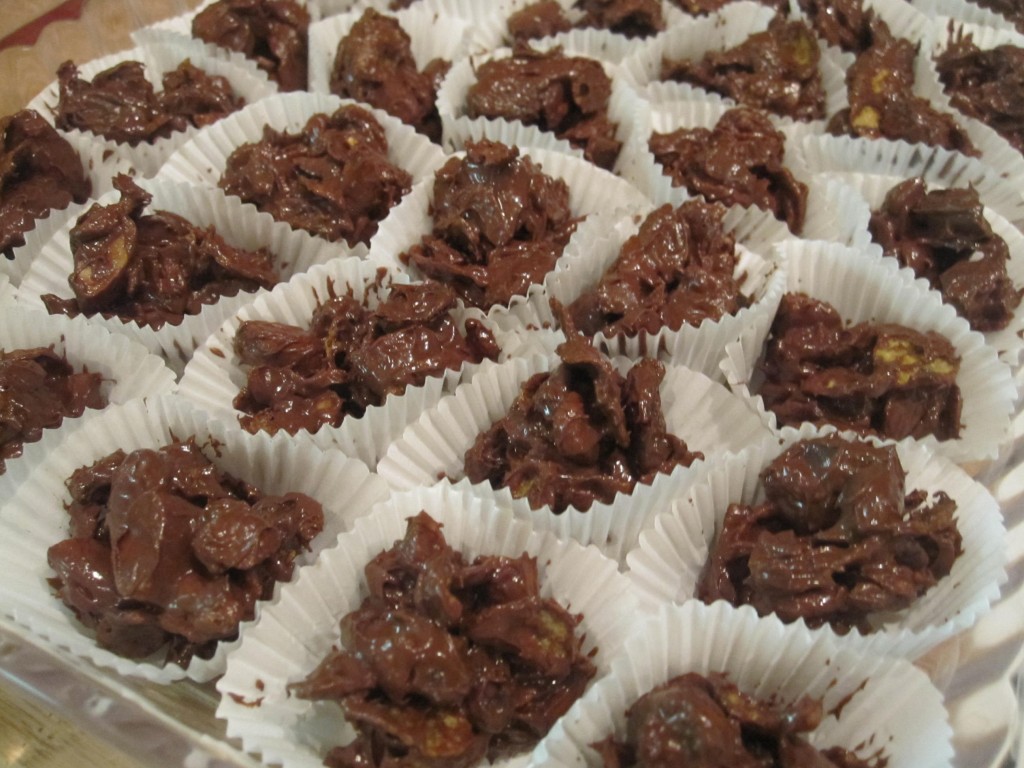 In a previous life, I used to bake five to eight different types of cookies before Christmas so that I could share these with friends and loved ones during the holidays. I remember working all day, then stopping at the supermarket to buy ingredients (and more ingredients), and then baking until midnight or 1 AM for at least two to three nights straight.
The entire dinning table would be covered with cookies cooling on racks or cookies in Ziplock bags waiting to be packed into their final decorative vessels which would then be tied with pretty ribbon and garnished with handmade gift tags. While I'm certain my friends and family enjoyed these cookies, seriously, now that I look back, I think I was absolutely CRAZY. (Even my Mom told me I was kichigai, or crazy, in Japanese.) Yet, every December (including last month), I begin the holiday season by announcing to nobody in particular (sadly, yes I talk to myself sometimes), "THIS year, I think I'll bake LOTS of holiday cookies!" But it doesn't happen. It hasn't happened in over 10 years.
Although I still enjoy baking and it's both fun and relaxing to me, I must finally admit to myself that the era of midnight holiday baking has come to an end, and it's just never going to happen again. I still enjoy making treats over the holidays, but now I make one or two types of treats (not always cookies), not two or three dozen of eight different cookies, and I'm in bed by 10 PM at the latest. Perhaps my crazy cookie baking was related to my former Type A personality (Bebe Dada likely doesn't believe I am reformed) and my competitive side that felt the need to bake the most variety of cookies. The silly thing is that I don't believe I had any "cookie competitors" so perhaps it was the overachiever in me. Who knows. Whatever the case may be, I am reformed.
One of the two sweet treats I made over the holidays is chocolate crunchies. I found this recipe in February of last year on Dorie Greenspan's blog. It was one of her 2009 holiday posts and since discovering it, I've looked at the recipe several times over the past year, wondering what would be the ideal occasion for which I could make these delicious-looking chocolate crunchies. I realize that I don't need an occasion to make sweets, but it's always nice when I am able to share what I make with friends and family. I thought about Valentine's Day, Easter, Mother's Day, then Father's Day, birthdays and BBQ's but with each occasion, I ended-up making something else. Deep down inside, I knew that this was one of those recipes that was special, and warranted a special occasion, such as Christmas.
Ideally, I would have liked to post these chocolate crunchies just before the holidays so that the timing wasn't off for the holiday goodies that I made, nor for the Snoopy ornaments I've been wanting to share, but such is life. It's practically mid-January but here I am sharing my favorite childhood ornaments.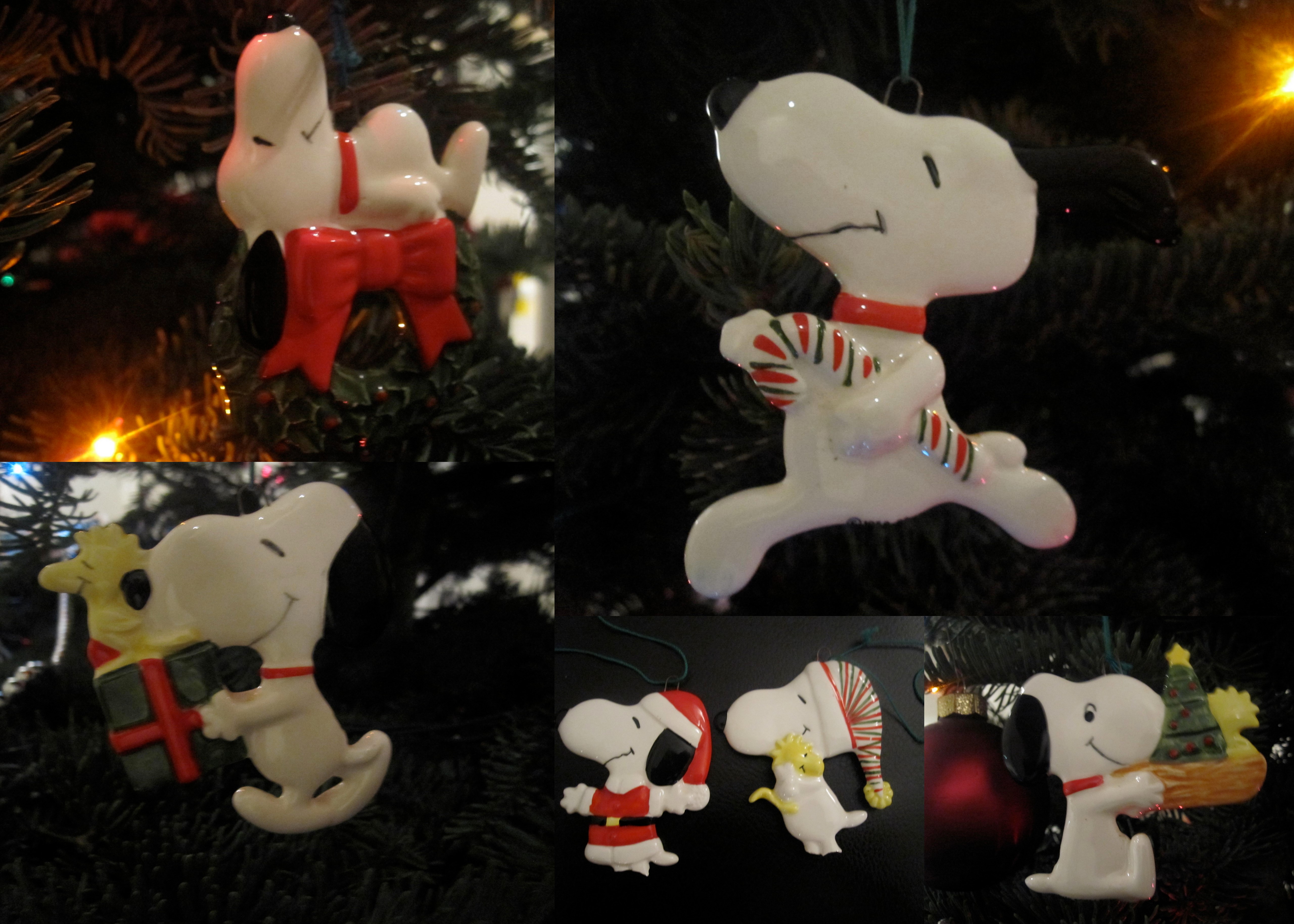 My Childhood Snoopy Ornaments.
I finally took the time to hunt down my Snoopy ornaments in storage at my parents home and decorated our tree with them. These are circa late 1970 to early 1980 – – – yes, these are classics – – – antiques?  My Mom's good friend, Junko-san gifted a handful of porcelain Snoopy ornaments to me one Christmas and these were by far, the best gift I ever received that year. Unfortunately, two of the porcelain Snoopy ornaments fell off the tree onto the hardwood floor, shattering their cute little feet. I'm not sure when those ornaments broke, but every year after that, I still proudly hung them on our Christmas tree.
I've searched for similar porcelain Snoopy ornaments and found none available on Ebay and Amazon. Lenox makes a few porcelain Snoopy ornaments but I have yet to commit to these. In addition to my porcelain Snoopy ornaments I also have a collection of Snoopy ornaments from Japan that my good friends gifted to me one year during a visit to L.A. I will wait until next Christmas to share some of these on my blog, hopefully with better timing.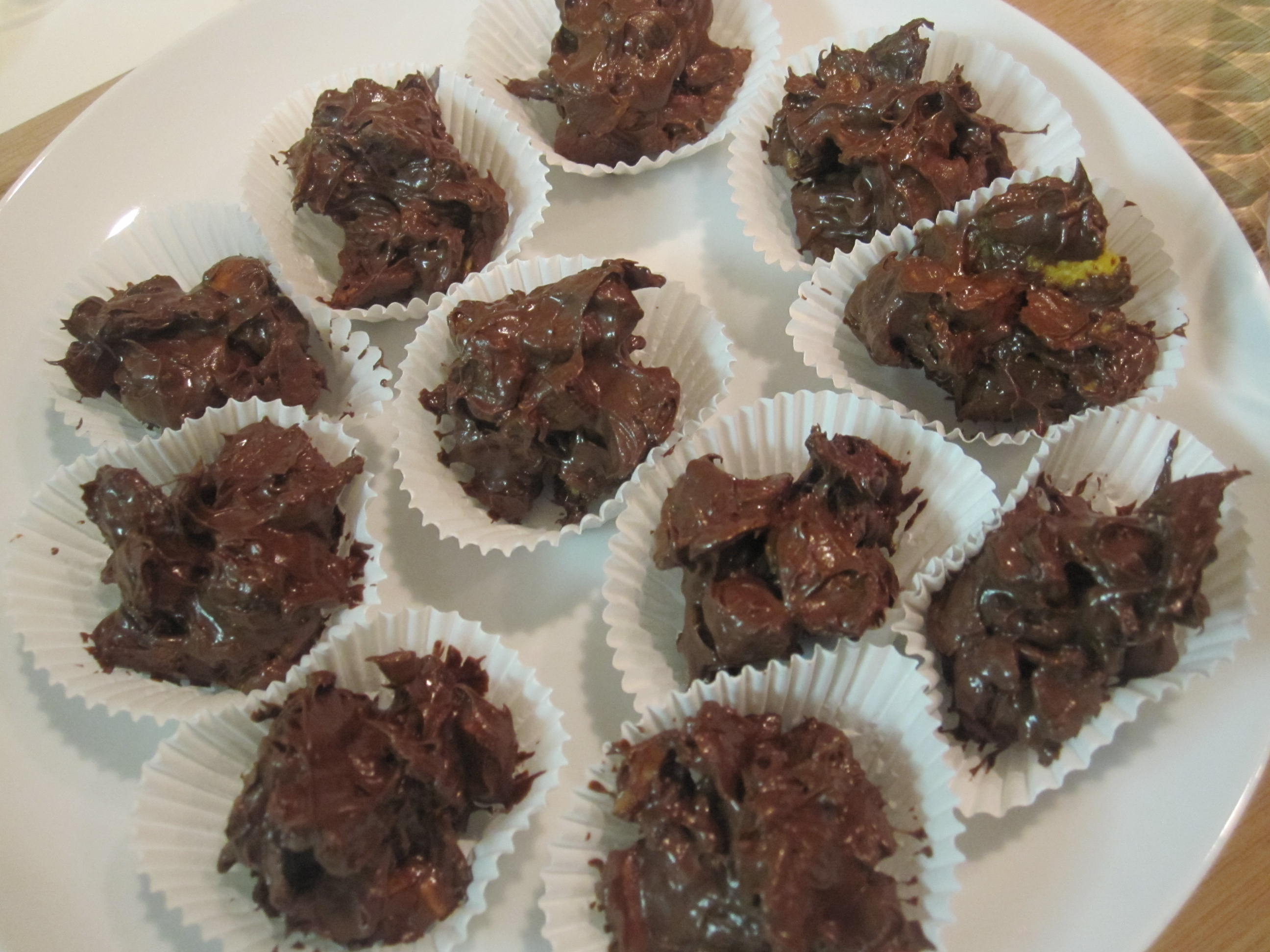 Getting back to the chocolate crunchies… They were absolutely delicious, and it was extremely hard to stop after just eating one. I made two versions: one with semi-sweet chocolate, and a second of mixed semi-sweet chocolate and milk chocolate. Personally, I prefer the creamy subtleties of milk chocolate over dark and therefore enjoyed the latter version of the mixed chocolates. I imagine I would have loved this even more if it were made with all milk chocolate, but the tanginess of the semi-sweet chocolate likely compliments the dried fruit more so than the milk chocolate. If you experiment with this recipe let me know how it turns out!
I should also mention that there are a number of ingredient combination possibilities that Dorie Greenspan listed on her chocolate crunchies post and it's definitely worth reviewing. I went with the simplest of combinations and absolutely loved this little candy treat. I loved biting into this sweet treat with the crunch of cornflakes and salted almonds.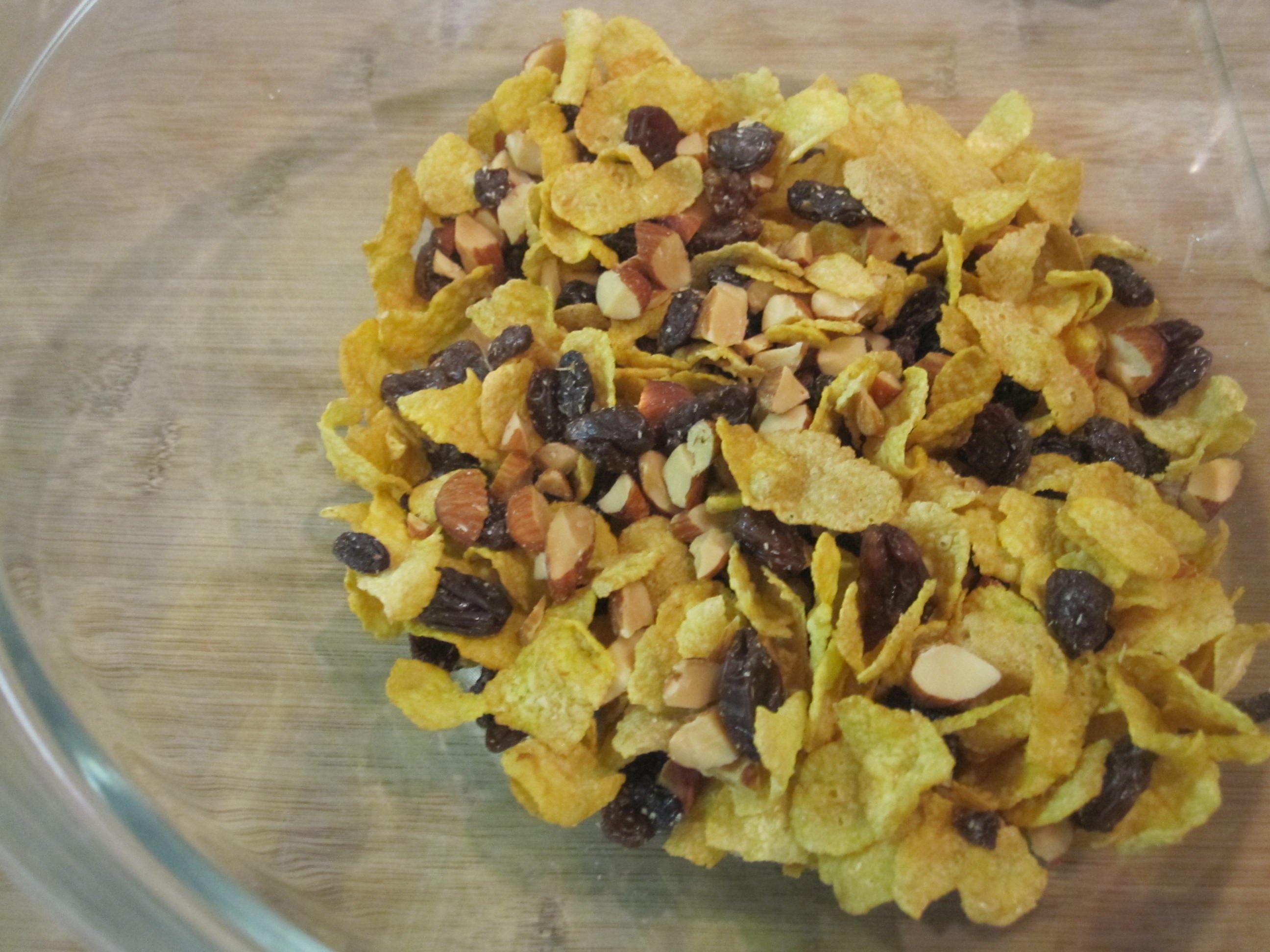 The best thing about this candy is that you can pick and choose your favorite nuts, crunches, and sweets.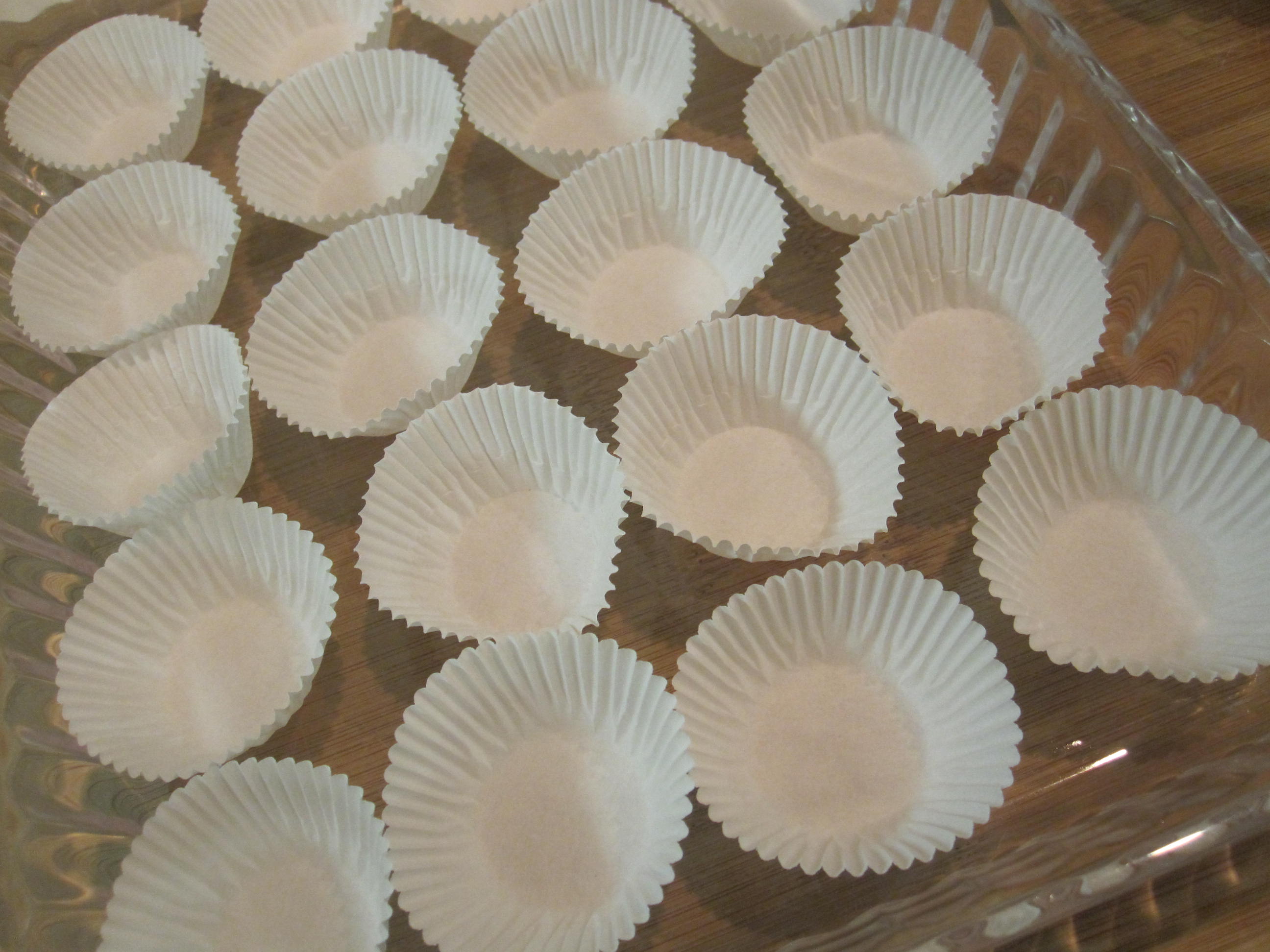 I made several batches and Big Onechan helped make some too. My inner neat-freak kept reminding her to place the chocolate candy in the cups neatly, without getting them all over the sides of the tiny paper cups. She kept saying, "oops", "oops again" and giggled every time. I started laughing. Honestly, no one was going to care about the chocolate on the paper cups. All they would remember is how tasty these sweet little treats were.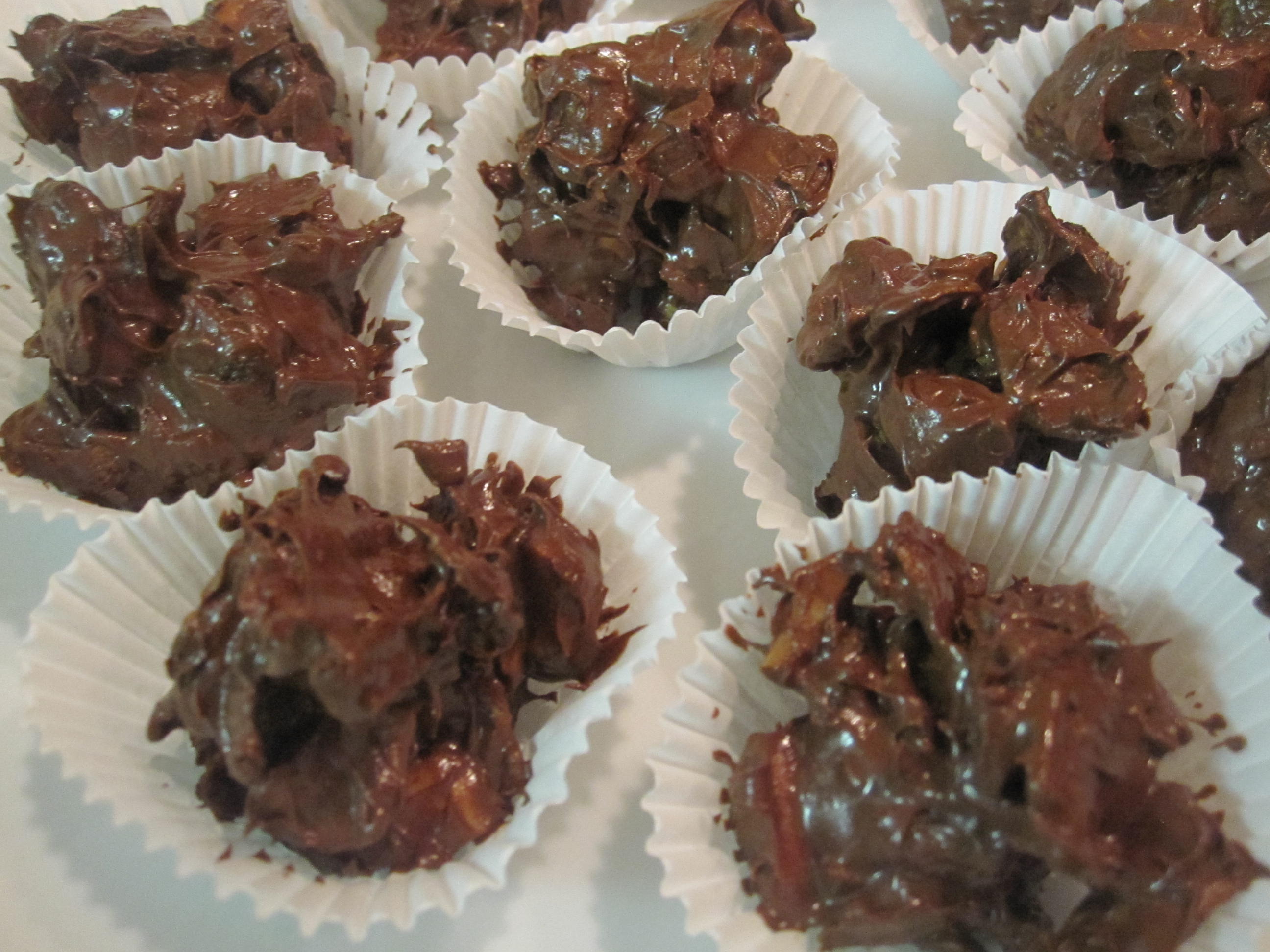 Yummy chocolate crunchies.
Unfortunately, in our holiday craze, I forgot to take photos of the cute holiday Chinese take-out boxes in which I packaged the chilled chocolate crunchies, but it was both festive and cute. Oh well! I recommend storing the chocolate crunchies in the fridge. Perhaps because the chocolate was not tempered, the color of the chocolate was dull and slightly grey in color after several days outside the fridge.
A note on fleur de sel (a French finishing salt): The original recipe suggested finishing the chocolates with a pinch of fleur de sel, however, because I purchased salted roasted almonds (without paying attention), I didn't want additional salt in the candy. The salt from the roasted almonds was just the right amount for a salty and sweet candy.
I planned to make more chocolate crunchies over the weekend for our annual girls holiday party and gift exchange which took place this past Saturday, but I was unable to make it this year.  Ever since my best girlfriends and I were about 12 or 13 years old, we have been getting together to celebrate Christmas and to conduct our annual girls only (husbands and significant others are excluded) gift exchange.
Throughout our school days, 10 of my best girlfriends would get together, usually for dinner or a dessert party at a friend's home. As we got older we dined at nice restaurants, but eventually we returned to celebrating at someone's home (since our growing WLA family is now 25 + with all the kids and husbands) but the gift exchange is always something that all of the girls look forward to, primarily because it's very competitive.
In past years we did a Secret Santa, but it's impossible to keep secrets amongst 10 best girlfriends. Every year, by the time it was time to exchange gifts, everyone had figured out who one another's Secret Santa was! That's when we implemented our competitive White Elephant game, with the rule that one gift can exchange hands three times, and on the third time, the gift is locked. You can only imagine how crazy things get, no holds barred!
I've unfairly (teasingly) been accused of cheating because I've been lucky many times over the past 20+ years (crazy that we've all been close friends for such a verrrry loooong time), for having drawn the little piece of paper with the number "1" hand-scribbled on it. The person who is #1 picks the first gift, BUT, they also have the choice to exchange their gift after all the other people have chosen their gifts. It's quite the ideal position. Granted, some of the girls play "nice" some of the time, but for the most part, we all go after and grab what we want! I am guilty of just playing the game, and not playing nice. Heh-heh. That's just part of the fun!
So I didn't make chocolate crunchies over the weekend and I wasn't able to make it to our annual holiday get together because Bebe E was very ill since last Monday, and she still wasn't feeling well over the weekend. In addition, Bebe Dada caught a cold and although he claimed he could care for our Bebe for a few hours with Big Onechan's help, I didn't want to leave Bebe E because she mostly just wanted her "ma-ma-ma-ma-ma" and I didn't want Bebe Dada to get worse. All last week while she was feverish, nothing seemed to console her other than being held, even while she slept. Although I missed my chance to snag a much-coveted gift like I did last year, I was beyond content and full of motherly love, tucking-in Bebe E and comforting her as she fell asleep.
It was quite a trying week for Mama and Dada, as we felt so bad for our little one who wasn't feeling well, but it was even harder for our Bebe who has never really been ill before this, other than a case of mild sniffles over a year ago. Thankfully, by Tuesday of this week, she was mostly back to her usual self – – – healthy, smiling, playing with her toys, and exercising her favorite word, "NO", with the sassiness we love.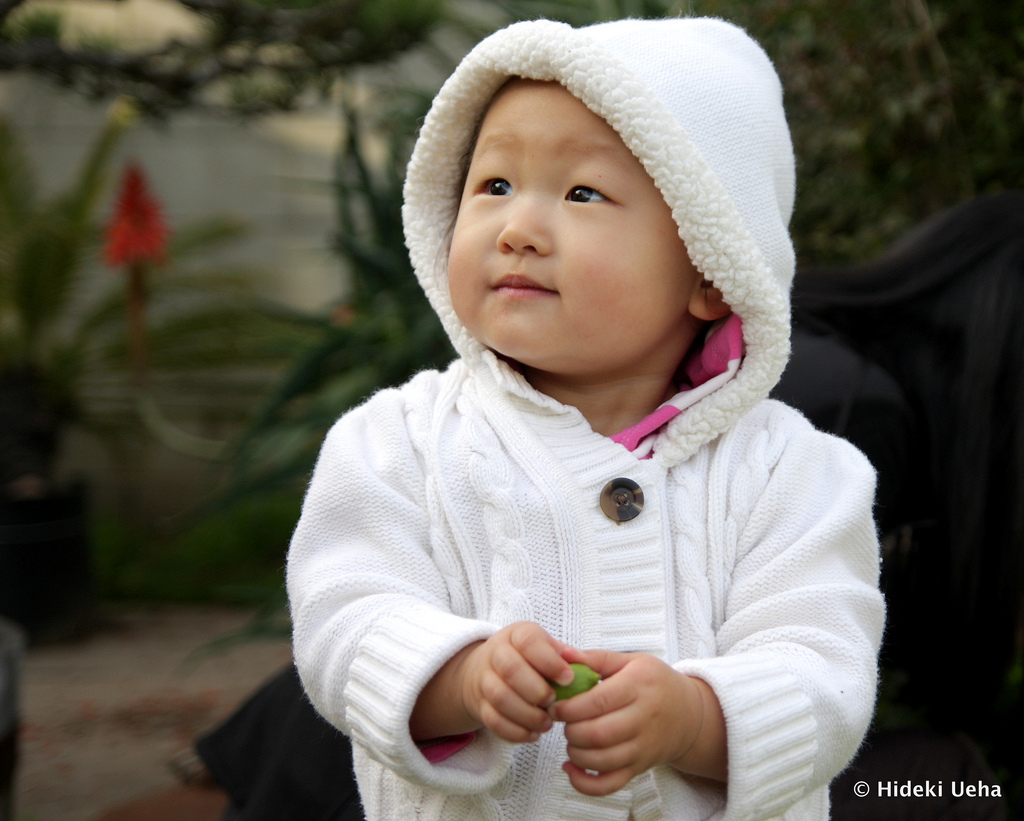 Happy Bebe E on New Year's.
Photo credit: Hideki Ueha
Next time my best girlfriends and I get together, I'll try to make chocolate crunchies for everyone to try.
Have a great week!
Judy | bebe mama
BTW, as I am closing this post, I check out the Laker game that Bebe Dada is watching and the score is 81 – 33, Lakers. The Lebron-less Cavs STINK!!!
 Original chocolate crunchies recipe found here.

Recipe type:
Dessert, Candy
Ingredients
½ cup roasted salted almonds, rough chop
½ cup soft raisins (try dried cranberries as an alternative)
1 cup cornflakes
1 cup of mixed semi-sweet and milk chocolate chips (50-50 ratio)
Instructions
If you have a double boiler, slowly melt the chocolate chips over medium to medium-low heat. I don't have a double boiler (thank goodness since that's just one more gadget in our limited space kitchen that Bebe Dada would balk over). I used a heat-resistant glass bowl in a medium-sized pot with boiling water and this worked perfectly.
I tried to use the microwave with my first batch of chocolate chips but I burnt them and decided that I would have better control of the temperature with my make-shift double boiler. First trial - mistake, second trial - success! I forgot to take a photo of the chocolate chips melting over the stove but the consistency is thick, but smooth.
In a large bowl combine almonds, raisins and corn flakes. Pour melted chocolate over dry ingredients, and using a spatula, gently combine until all of the dry ingredients are coated in chocolate.
Using a teaspoon ice cream scoop, gently place heaping teaspoons of the candy into miniature paper cups. Place the candy in the fridge for at least two to three hours.
Notes
Recipe compliments of Dorie Greenspan.