Zippys Copycat Chili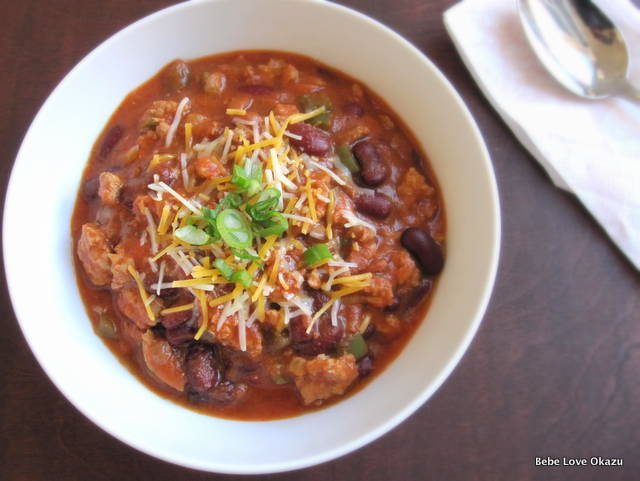 This post is for my buddy, M-kun. I thought about you when I was making this chili because I know how much you appreciate the Islands, surfing, and of course, Zippy's.
At our home, cold weather begets stews, casseroles, soups and of course, chili. I grew up with, none other than, Hormel Chili with No Beans. Chili is not something my native Japanese Mom cooked for us. As such, canned chili is not something we ate often, unless my Dad was making my brother and I a chili dog lunch over the weekend. Not the healthiest of meals, I know.
When my brother was in Boy Scouts, my mom discovered chili rice. It was a quick camp site meal (not that I ever camped except the one time I was forced to do so at church camp) but it was well-received among the boys, and it was also a favorite snack after basketball games or various potlucks. It took my mom some convincing to get me to try chili rice, but when I finally did, it wasn't bad but it still didn't make me a big fan of chili.
For some reason, guys are big chili fans. I suspect before Bebe Dada and I started dating, he ate chili dogs once in a while (or perhaps more frequently than he leads on). Every so often when I asked what we should have for lunch, he would say, "chili dogs?" I would often say, "no" and over the years, the number of chili dog lunches he's consumed has drastically declined. In fact, he hasn't asked for a chili dog lunch since the last time I actually indulged him with this request. Since I do the majority of our grocery shopping, I basically control what goes in our pantry and fridge. I bought whole wheat hot dog buns, turkey franks, and turkey chili with beans. This is drastically different from the enriched wheat white bun with beef franks and beef chili. If you've never compared the labels between turkey and beef chili or turkey and beef franks – – – it's definitely an eye opener.
No one raved about our turkey chili dog lunch and no one really liked the whole wheat hot dog buns (except for myself) and while I thought the turkey chili and franks were fine, Bebe Dada was slightly disappointed. Needless to say, neither he nor Big Onechan has asked for a chili dog lunch since.
Once in a while, however, I'll bring home a can of turkey or chicken chili from Trader Joe's to satisfy our family's chili needs. Just between you and I, I tell him that Trader Joe's only sells turkey and chicken chili, no beef. They actually sell beef chili too, but I just tell him that I've never seen beef chili there. I know… I know… I really shouldn't tell white lies to my husband but it's similar to not telling him that I puree cauliflower (and occasionally broccoli) and hide it in our spaghetti meat sauce. It's harmless, no? Oh, and he STILL doesn't read my blog which is why I can share this with all of you publicly.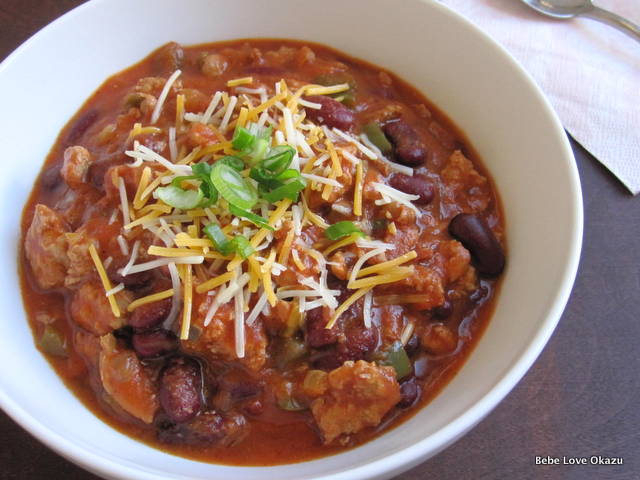 So, what is Zippy's you ask? For those of you unfamiliar with Zippy's, it's a chain of family style restaurants (similar to Denny's) found on the beautiful Hawaiian Islands. Whenever we go to Hawaii, I feel as though I need to have at least one meal at Zippy's, although our last Lanai – Big Island – Oahu trip I don't believe we made it. Zippy's offers a full menu of "plate lunch" style items, in addition to Asian and Hawaiian cuisine. My favorite dessert there is Jello Cheesecake (I made this back in April but STILL have not posted it) and my favorite dish there is the chili. For someone such as myself who is not a big fan of chili, to say that my favorite dish at a restaurant is chili, is pretty big.
A few years ago, my friend on Oahu shared with me a recipe that she found for Zippy's chili and she said it came out pretty good. It was my first attempt at making chili. I was never inspired to make chili, but when she told me it was a Zippy's copy-cat recipe, I had to taste it for myself. I tried it, but I made do without a few ingredients and it came out so-so.
My next trial with chili was using a chili starter from Williams Sonoma and it was WAY TOO SPICY. I was pregnant with Bebe E at the time, and I could only eat two bites of the chili but for the very first time, I felt her kick. It was a powerful kick, enough to make me gasp, "oh!"  I'll never forget that moment. I'm certain she was in agreement that the chili was definitely too spicy for us.
It's been almost two years since I've made chili but I wanted to give the Zippy's copy-cat chili recipe another chance. I read a few articles indicating the existence of a secret ingredient in the chili. Some believed it was mayonnaise and others believed it was Campbell's Cream of Mushroom Soup. Since there is no way I would ever put mayo in chili, I went with Campbell's. I had the contents of half a can of Campbell's Chicken and Mushroom Soup in the freezer, so I went with this. It works. Mmm.. mmm.. good. After making and eating this batch of chili, I can proudly say that I am now a big fan of chili.
And now… (drumroll please)…  in honor of Mom's chili rice and Hawaiian plate lunches all across the world….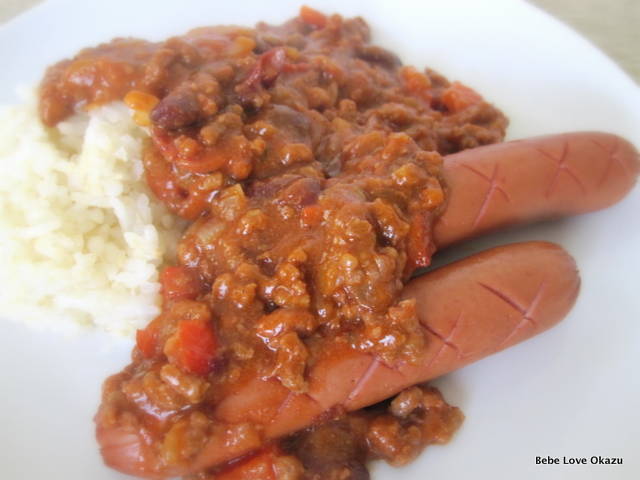 Chili-and-(turkey) franks-over-rice "Hawaiian" plate lunch, just for Masabu.
Hope everyone is having a great weekend. I'm feeling a bit under the weather with what feels like a chest cold. Back to the couch for more R &R. Bebe Dada is off to the Asian market to buy ingredients for his tung qwa (Chinese winter melon) soup. He always makes this for me when I'm under the weather and it always makes me feel better, and could quite possible be an ancient cure!
Enjoy the chili!
Chili | Zippy's Copycat Version
Author:
Judy | Bebe Love Okazu
Prep time:
Cook time:
Total time:
Ingredients
1½ pounds lean ground turkey (or beef)
4 slices of uncured, smoked thick bacon, chopped
1 small sweet onion, chopped
1 stalk celery, chopped
1 red bell pepper, chopped
2 cans (15 oz each) red kidney beans, drained
2 tubes of Trader Joe's concentrated liquid chicken stock
½ teaspoon grated ginger (I used S & B Nama Shoga Oroshi - this is pre-grated ginger in a tube, found in Asian supermarkets)
2 bay leaf, crushed into small pieces
½ teaspoon paprika.
½ tablespoon chili powder (for barely-there heat), add more to taste
½ teaspoon oregano leaves
¼ teaspoon cumin seed
5 to 6 generous dashes Worcestershire sauce
2 cans (14 oz each) Trader Joe's organic tomato sauce
½ can of Campbell's 8 oz Cream of Mushroom Soup
Salt & Pepper, few shakes
Garlic powder, few dashes
Canola oil
GARNISH:
Shredded cheese for garnish
Sliced green onions or diced brown onion
Instructions
In a large pan, add just a tad of canola oil. Brown the chopped bacon. Add diced brown onions, chopped bell pepper and chopped celery. Cook together until the brown onions are translucent. Add ground meat and cook to brown. Season with salt, pepper, garlic powder and dash of chili powder (Note: you'll add more chili powder to the chili in the slow cooker).
Transfer meat mixture to a slow cooker. You can also simmer the chili in a large stock pot over medium-low heat for 45 minutes to an hour, but I prefer using the slow cooker as this really helps to meld all the good flavors together.
Add canned beans and tomato sauce, concentrated chicken stock, Worcestershire sauce and all other spices (bay leaf, paprika, oregano leaves, cumin, ginger) into the slow cooker.
Optional: Add ½ can of 8 oz Cream of Mushroom Soup. You can add the full can of soup into the crockpot but it changes the color of the chili slightly, and it also adds more salt which you may or may not want. The Cream of Mushroom may be omitted and the chili will still taste great.
Set the slow cooker on low and cook for 6 hours.
Top with shredded cheese and sliced green onions, if desired.
Notes
Recipe adapted from Aloha World.

TIP: For best results use slow cooker.