Spreading the Sunshine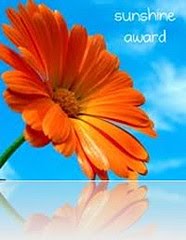 Earlier in the week, I received a wonderful surprise.  My day started out as usual getting bebe E ready for the day, then checking my inbox.  That's when I found a lovely surprise!  My friend, Liv, from Egg Wan's Eastern Food Odessey gave me the Sunshine Award!
The Sunshine Award is awarded to bloggers whose positivity and creativity inspire others in the blogging world. I am very honored and humbled to receive such a lovely award.
I've only been blogging since March and I am still learning and very new to the world of food blogs, but my experience so far has been amazing.  I've met foodies from all over, and I am in awe at their creativity and cooking prowess.  I often wish there were more hours in the day so that I could spend more time reading food blogs.  ;)
I discovered Liv's food blog early in my foodie adventure when I was seeking Chinese recipes.  My purpose for starting my own blog was to document my favorite childhood recipes and share my cultural heritage.  Given bebe E is half-Japanese and half-Chinese, I wanted to learn and incorporate more Chinese dishes in our life.  Bebe E's father is fourth-generation Chinese-American and I've learned a few Chinese recipes from him, as well as my in-laws, but I found many dishes on Liv's food blog that I've enjoyed at restaurants, but never imagined I could ever make.  She's certainly inspired me to try.  Thank you, Liv!
Liv is a professional chef by training, but she learned how to cook early on from her grandparents.  The photographs of her dishes are amazing, and her recipes are surprisingly straightforward.  Please take a moment to visit her blog and see what she's cooking in her kitchen today.
As a recipient of the Sunshine Award, I must "spread the sunshine" and select other food bloggers whose positivity and creativity inspire me.  Interestingly, Liv and I seem to read some of the same blogs but I decided to nominate these foodies regardless, just to let them know that they've spread sunshine into my life.
Drum roll please….
Hyosun from Eating and Living – I confess to being a quiet stalker of Hyosun's food blog.  She is one of the first foodies I added to my 'foodie list' because I love Korean food.  We eat this often when we dine out, but I have never tried to make this at home.  However, when I stumbled across Hyosun's food blog I was inspired to cook Korean dishes at home… There's no one better to learn from than a mom cooking homemade Korean food.
Dennis from More Than a Mount Full – I enjoy reading Dennis' blog, not just because it's heartwarming and inspirational, but also because he has many recipes that big onechan would absolutely love.  The dishes I cook when big onechan is over are simple meals that I too enjoyed as a teen (spaghetti, curry, burritos, steak), but Dennis' recipes have inspired me to broaden my 'menu horizons'.  When I first found his blog, the post of the day was "Walking Tacos".  Curious?  It's definitely worth checking out.
Roxan from Kitchen Meditation – I immediately liked Roxan because she had a photo of her pup, Nala, on her blog which immediately reminded me of my own pup, Casie.  They've got the same floppy ears…. Gotta love a fellow dog-lover!  Roxan has great baked goods which has inspired my 'copycat baking', but if she says a recipe is delish, I can trust I'll love it.  She's also got some delicious dinner recipes as well!
Heather from Lavender Blue – I first noticed Heather because she was a regular friendly commenter on my Japanese recipe posts.  Her blog is FULL of recipes – asian, continental, baked goodies – and every time I visit I find a new dish that I'd like to try.  Seriously, I wish there were more meals in a week so that I could try all the recipes of the foods I want to eat!
Tanantha from I Just Love My Apron – I only recently discovered Tanantha's food blog but I love the Asian inspired dishes on her blog.  She also has wonderful continental dishes but it was her Prosciutto Cantaloupe Skewers which REALLY caught my attention.  The photos of her food are beautiful, and if I could, I would choose to invite myself over for a home cooked meal at Tanantha's!
To the award winners, please select your favorite blogs and follow these rules.
1.   Put the logo on your blog or within your post.
2.   Pass the award on to fellow bloggers.
3.   Link the nominees within your post.
4.   Let the nominees know they have received this award by commenting on their blog.
5.   Share the love and link to the person from whom you received this award.
Thank you all for inspiring me and bringing sunshine into my life.  I hope to continue to do the same for others. Have a wonderful weekend!
Cheers,
Judy