Salmon Sashimi & Ikura Donburi – Gourmet Dinner from Marukai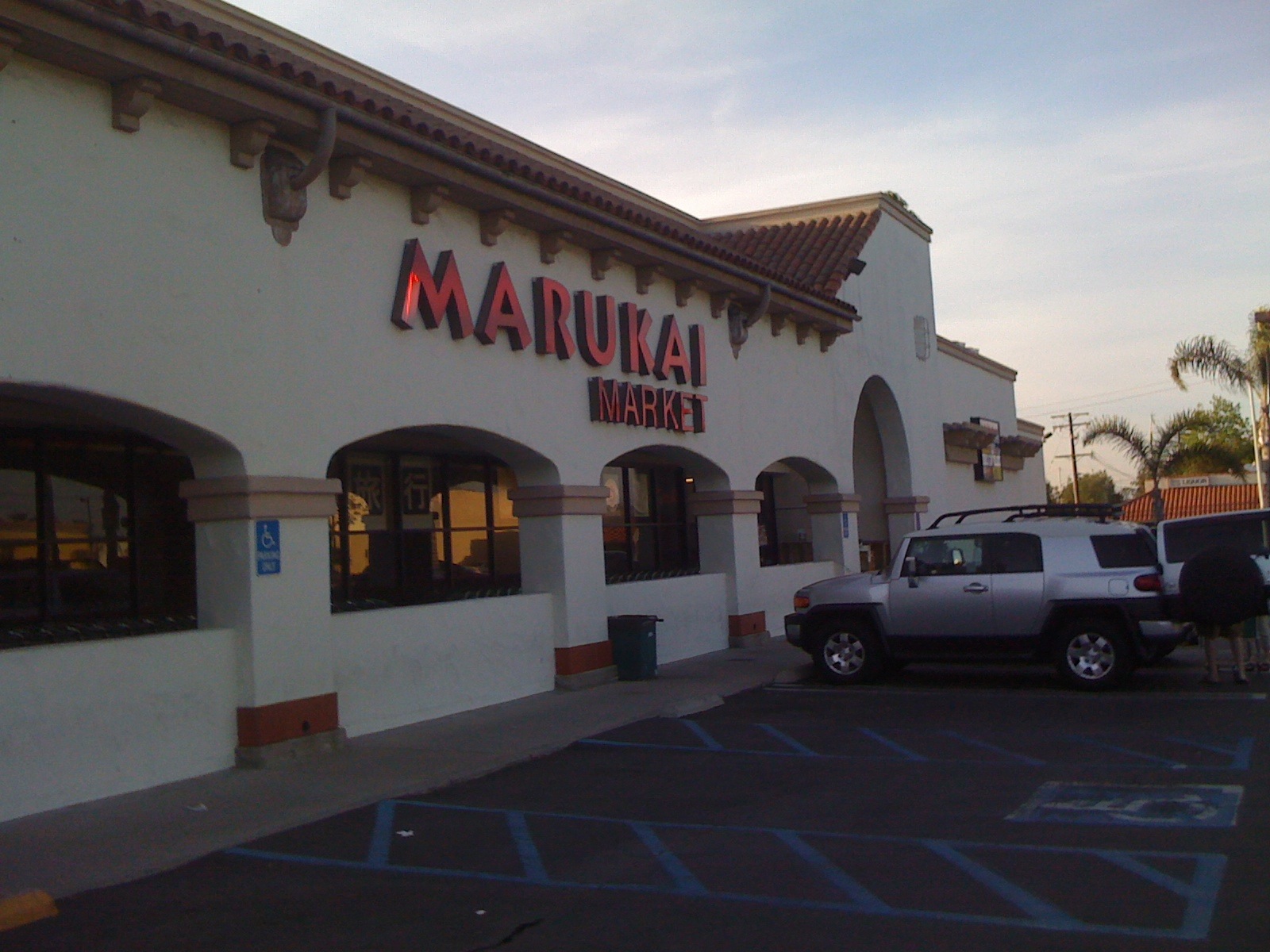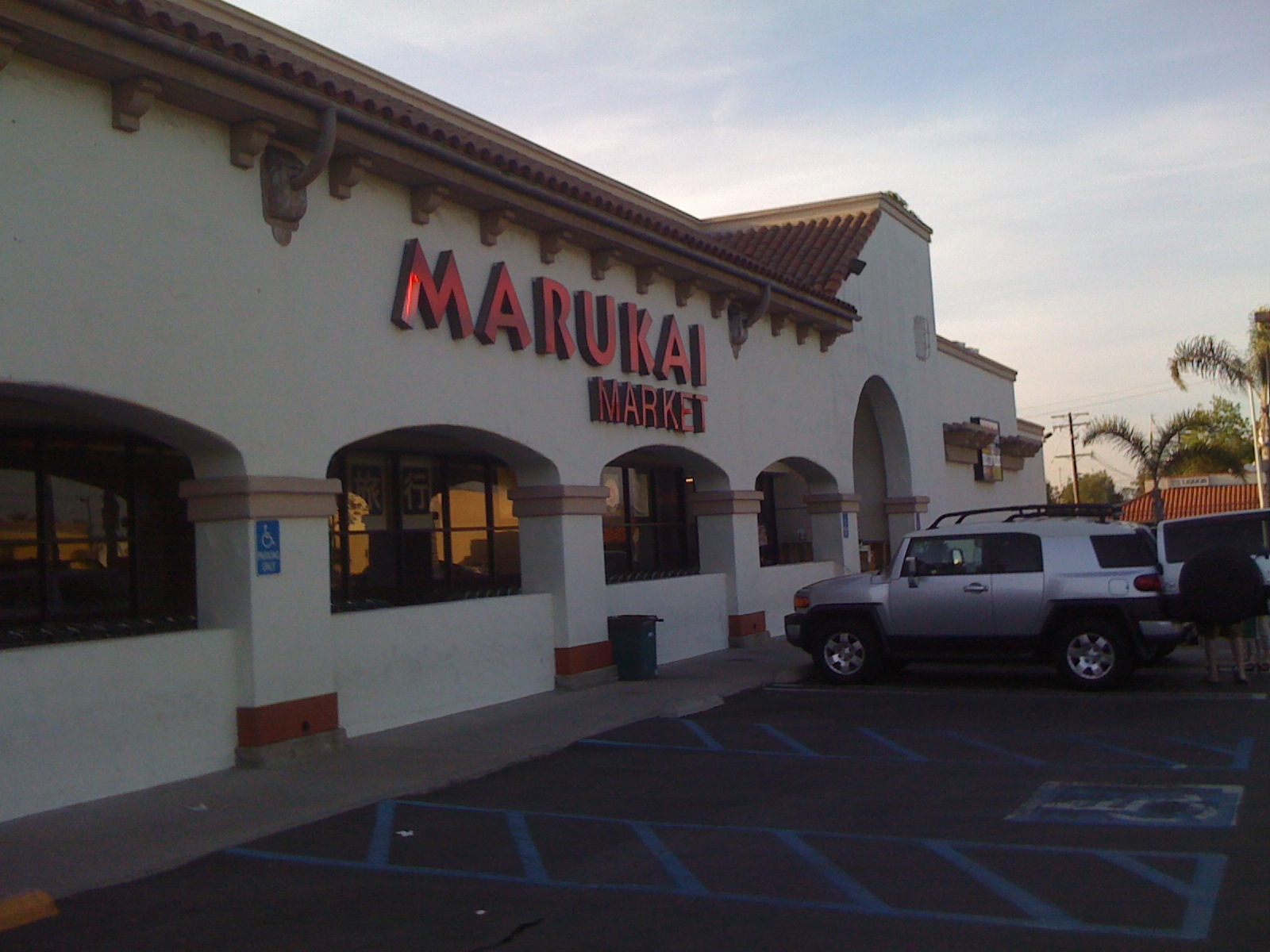 Marukai Supermarket, a Japanese specialty foods store, is by far my favorite grocery shopping destination.  One of the things I love about my move to Orange County is that it only takes me 10 minutes to drive to Marukai in Costa Mesa.
When I lived on the Westside (Los Angeles) I had to drive to Gardena, which was a 30 minute drive, in order to get to the South Bay Marukai.  It was one of those trips that warranted an invitation to my mom (since she doesn't drive on the freeway and likes to shop at Marukai) and usually took 1/2 a day or longer, with a lunch pit-stop at one of our fave Japanese restaurants in the South Bay.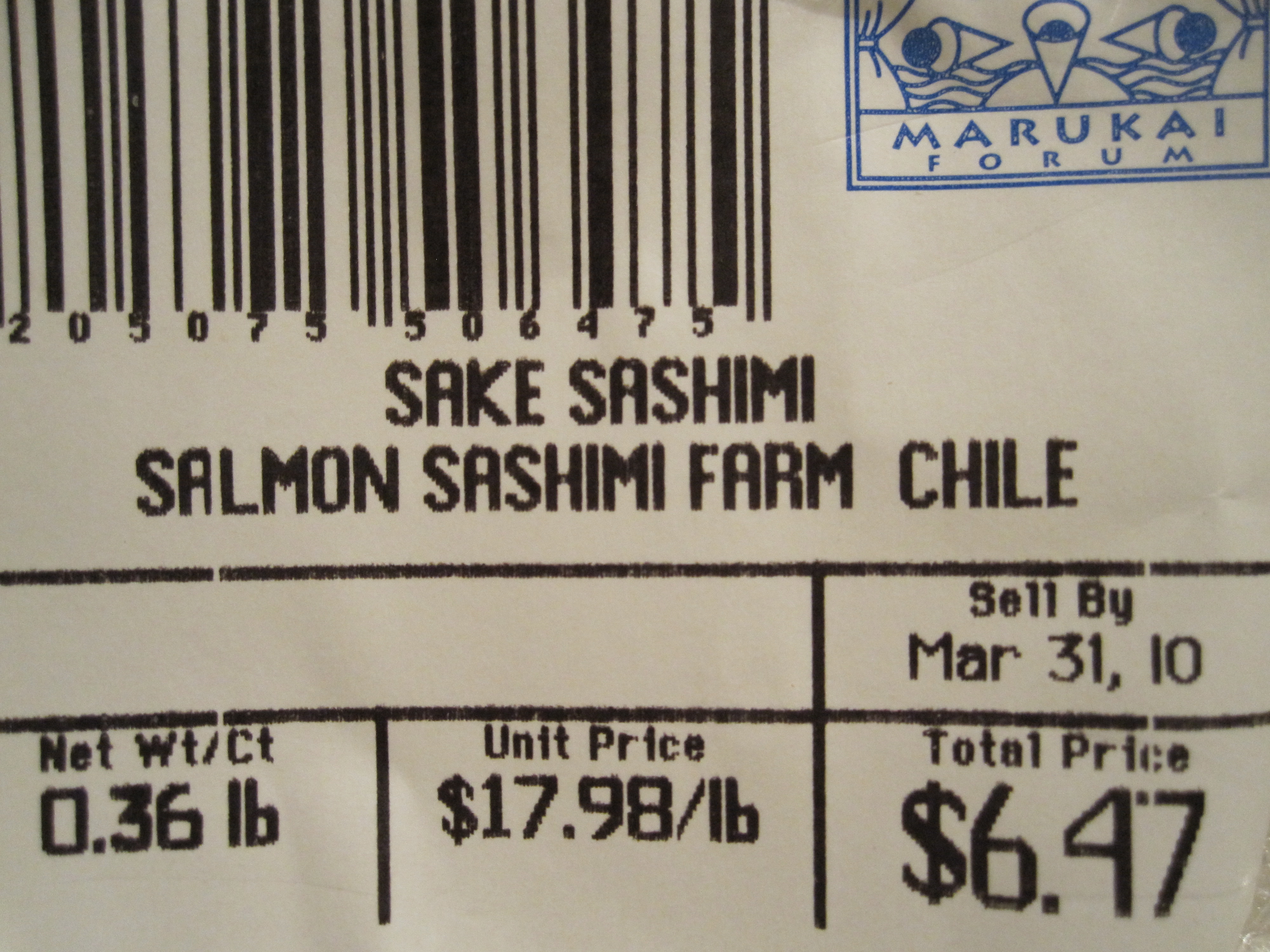 Anyway, late yesterday afternoon bebe dada and I packed up bebe E and headed over to Marukai to look for takikomi gohan ingredients for tonight.
What we left with was an affordable sushi-grade dinner.  Cheaper than going to the sushi bar at our regular, local Japanese restaurant, Goro.
Bebe dada opted for salmon sashimi.  A plateful of fresh, delicious salmon for only $6.50!  Well, $6.47 to be exact.  Good deal, eh?!?
There were 2 cuts of salmon in one package, and I just sliced the salmon with one of the crazy sharp knives from our Shun cutlery set that buddy M gave us for our wedding (thanks M!!!) and PRESTO!  A delectable, fresh plate of sake (salmon) sashimi (raw fish).
I served the sashimi with wasabi (horseradish) and shoyu (soy sauce). I also had some fresh lemons that I picked from my parent's backyard and this was an excellent garnish for the salmon.  Purdy!  :)  …Ok, in addition to my photography skills my presentations skills can be improved, but like I've said before, this bloggin' thang is a work-in-progress.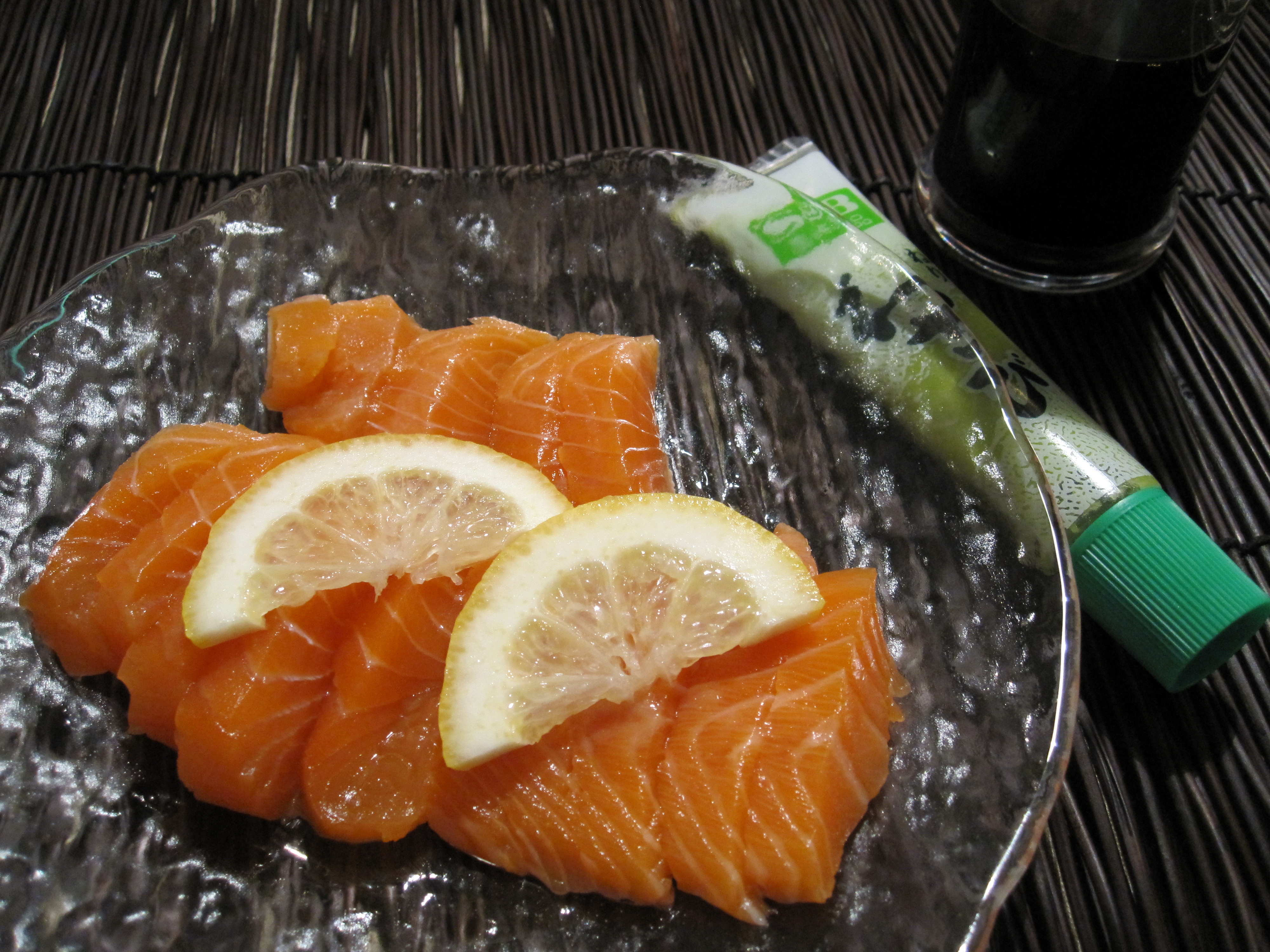 Bebe dada informed me that the garnish wasn't really garnish and that he was supposed to eat the thinly sliced lemon – the whole thing, rind and all – along with the salmon sashimi.  THIS is what the sushi bar chef apparently told him.  You GO, bebe dada!  Eat it all!
Salmon sushi and salmon sashimi just aren't my thing.  What I love is succulent, orange, popping-in-your-mouth, gooey ikura (salmon roe / caviar). Bebe dada hates this stuff because it reminds him of fishing bait.  Oh…. he has NO idea what he's missing!  :)
While perusing the fresh fish section of Marukai, I spy the little orange eggs… ikura… in their tiny plastic containers and you know what, they are CALLING my name…  "bebe mama, please, please come and buy 10, no 20 packs of us and eat us all!!!"  Ok, well that's an exaggeration, but seriously, that's how much I love this stuff.  I could really eat a whole mountain-full of ikura.
When did my love affair with this orange caviar begin?  I believe it was when my parent's friend, "sushi chef", came over to our house over 20 years ago, bearing TRAYS of precious ikura.  He used to work at California Beach (do you guys remember this rockin' sushi bar?!?) and he really knows his seafood.
When I first saw the trays with their vast sea of orange little eggs, I thought, "eew!"  But then sushi chef made us sushi rice, put a good size portion of this in a donburi bowl, and topped it with an enormous amount of ikura.  It just looked so pretty!  My mom encouraged me to try a bit, and boy, was I glad that I ever took that one little bite!
Ikura sushi is my favorite sushi at the sushi bar.  When I'm in Japan, I try to eat it wherever I can.  Good ikura donburi can be found at many quality restaurants and it can even be found at local supermarkets pre-made, and I love it… pure heaven!
So getting back to last night's dinner…
I ended up buying just 1 pack of ikura.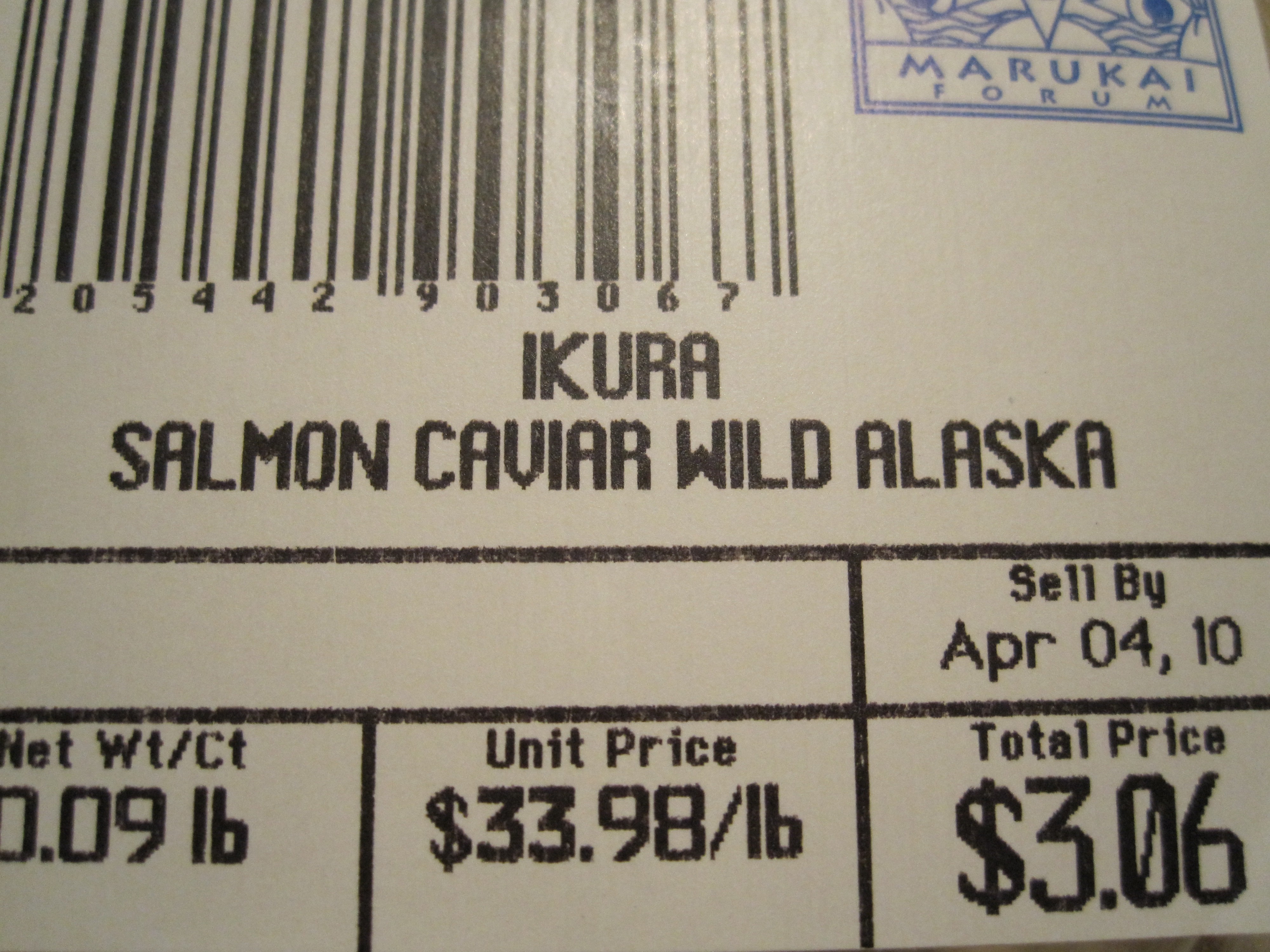 It's $33.98 per pound, but my .09 pound container was just $3.06.  Not a bad price tag for a great, fresh ikura dinner!  :)
I served the ikura over some leftover brown rice that I had warming in the rice cooker and sprinkled some kizami nori (cut dried seaweed) that I had in our pantry, and voila!  A beautiful, albeit, mini, Ikura Donburi.
IKURA TIP: If you like your ikura firm, serve over room temperature sushi rice or rice.  When ikura is placed on top of warm rice, it tends to wilt, and lose its firmness. In some cases, the outside shell of the caviar will melt, leaving an orange oozy mess.  I don't mind it, but some of you might not enjoy this.
My little ikura donburi was perfect for a light dinner.  I ate this with some of the leftover sunomono from the night before and it hit the spot!