Hiyashi Yamakake Soba: Cold Soba with Grated Japanese Mountain Yam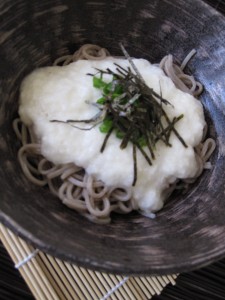 Yamaimo is my friend.  :)  Maybe even my BEST friend!
Yamaimo is Japanese mountain yam, also known as nagaimo, Korean yam, or Chinese yam.
But not everyone loves yamaimo like I do.  Bebe Dada thinks its gross, although I don't believe he's ever tried a bite. I can't blame him though.  After all, it's not the most attractive vegetable with its rough, pock-marked skin with long hairs!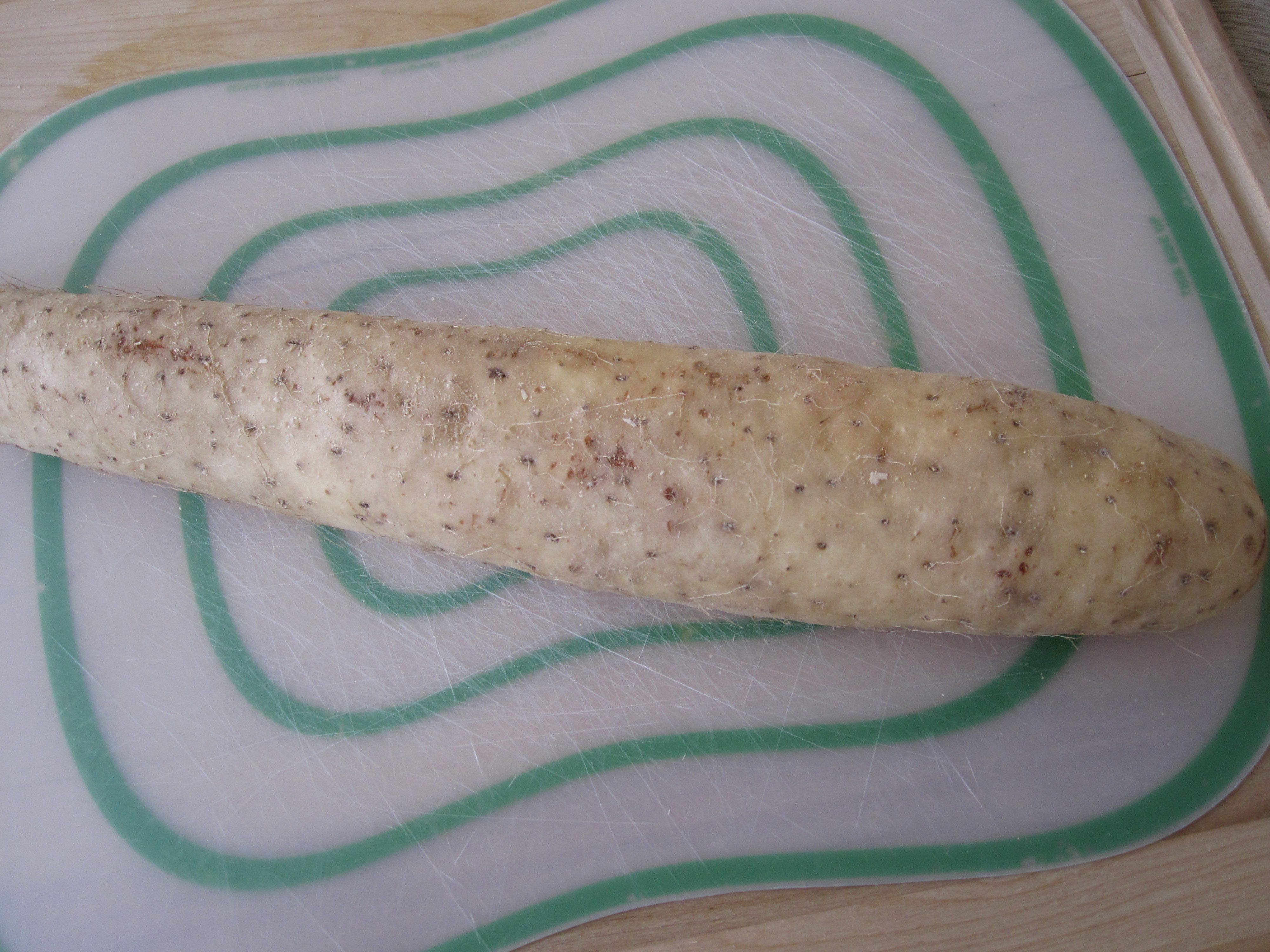 Once its peeled and grated, it's slimy, white, and has a mild yam flavor which might even be considered a little boring on its own, so really, who can blame Bebe Dada for not lovin' yamaimo.
As a kid I never knew what this odd vegetable was, and honestly didn't pay much attention to it.  My mom served it raw and grated in different dishes, and that's really what I remember. Except for that one day, when I was old enough to be hanging around the kitchen and found that odd-looking, somewhat hostile looking root in the kitchen… "MOM, what IS that?" After she explained that it's what I've been eating for years and absolutely love, I accepted it as a "friendly".
Often, we would see grated yamaimo in a bowl on its own, seasoned with dashi shoyu (seasoned soy sauce) or just plain shoyu (soy sauce) at dinner.  My mom simply called this dish, tororo (recipe here).  My brother and I would eat it as is, straight from the bowl (totally slurpable), or sometimes my brother would pour it over a hot bowl of rice, just like our Dad.
My Mom also served yamaimo over cold or hot udon (wheat) or soba (buckwheat) noodles.  This is called yamakake (grated Japanese mountain yam).
Today for lunch I made hiyashi (cold) yamakake soba.  Mmmm, mmmm good!It's really easy if you have a stocked pantry and fridge.
I usually keep nori (dried seaweed) in the pantry, and my fridge is usually stocked with frozen soba, chopped green onions, and soba noodle soup base.
Yamakake Soba
1 package frozen soba noodles
1 cup grated Japanese mountain yam
Chopped green onions
Kizami nori (cut dried seaweed)
Soba noodle soup base
1. I use frozen soba noodles by JFC "Nippon Soba" because they cook really quickly and I like their texture. These are sold in a package of 4 individual servings.  Boil water, add 1 block of the frozen soba and cook for 2 minutes.  Because these are pre-cooked, boil them only until their heated through and serve al dente.
COOKING TIP: Soba noodles, similar to udon or even ramen noodles, quickly become overcooked, and if left in the pot or in soup for too long, become long, or they "nobiru" which is what my mom says in Japanese.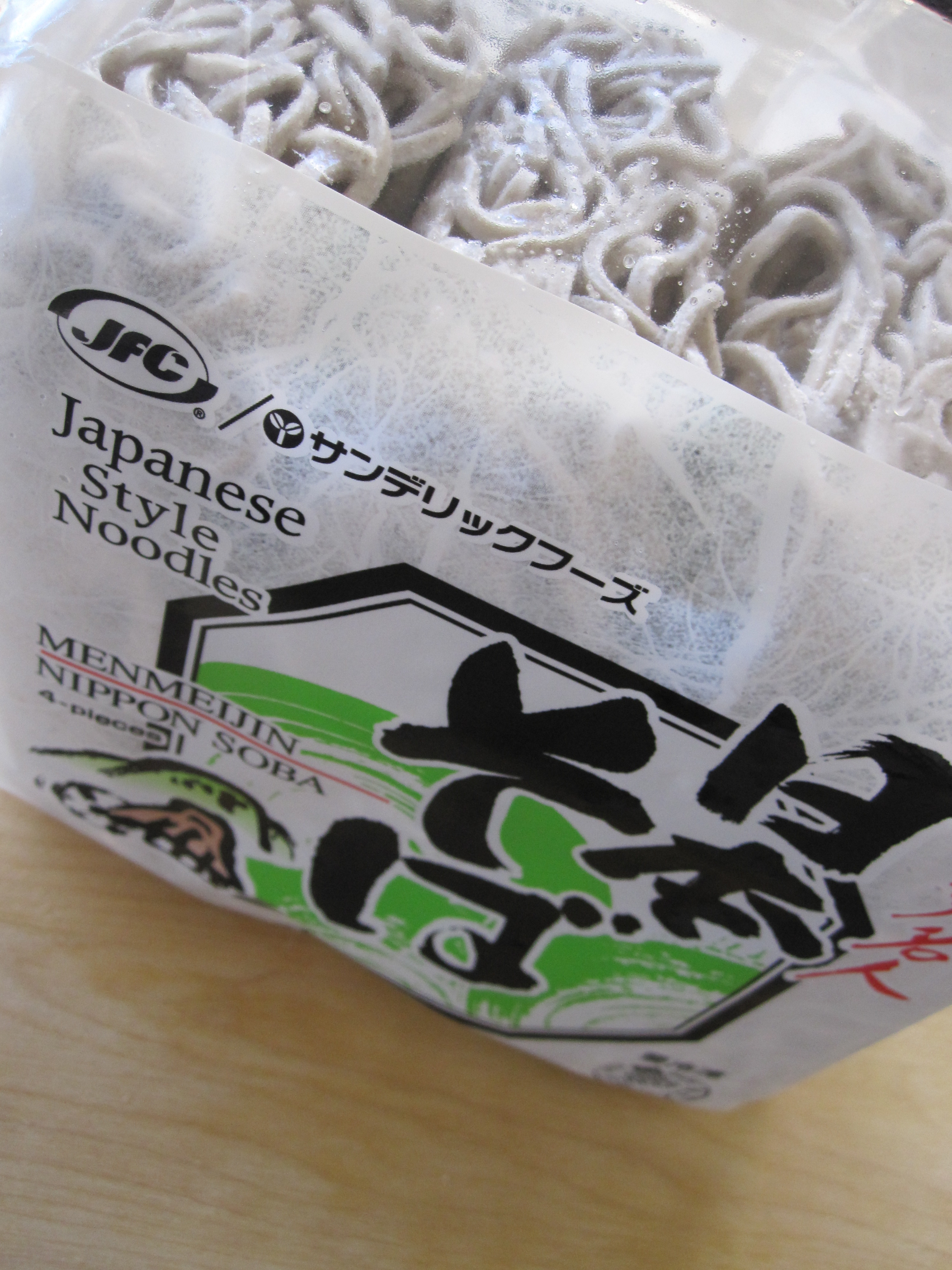 2. Drain the soba noodles in a colander, rinse with cold water.
I put ice cubes in the colander to really chill the noodles.  They're very refreshing when served ice-cold, especially on a warm spring day like today.
Transfer the noodles to a deep dish or bowl.
3. Peel the skin of the yamaimo using a vegetable peeler, but only peel off as much as you will be using.  It keeps better in the fridge if it's unpeeled.  Also, it's easier to grate if you have some of the rough peel to grip at the top.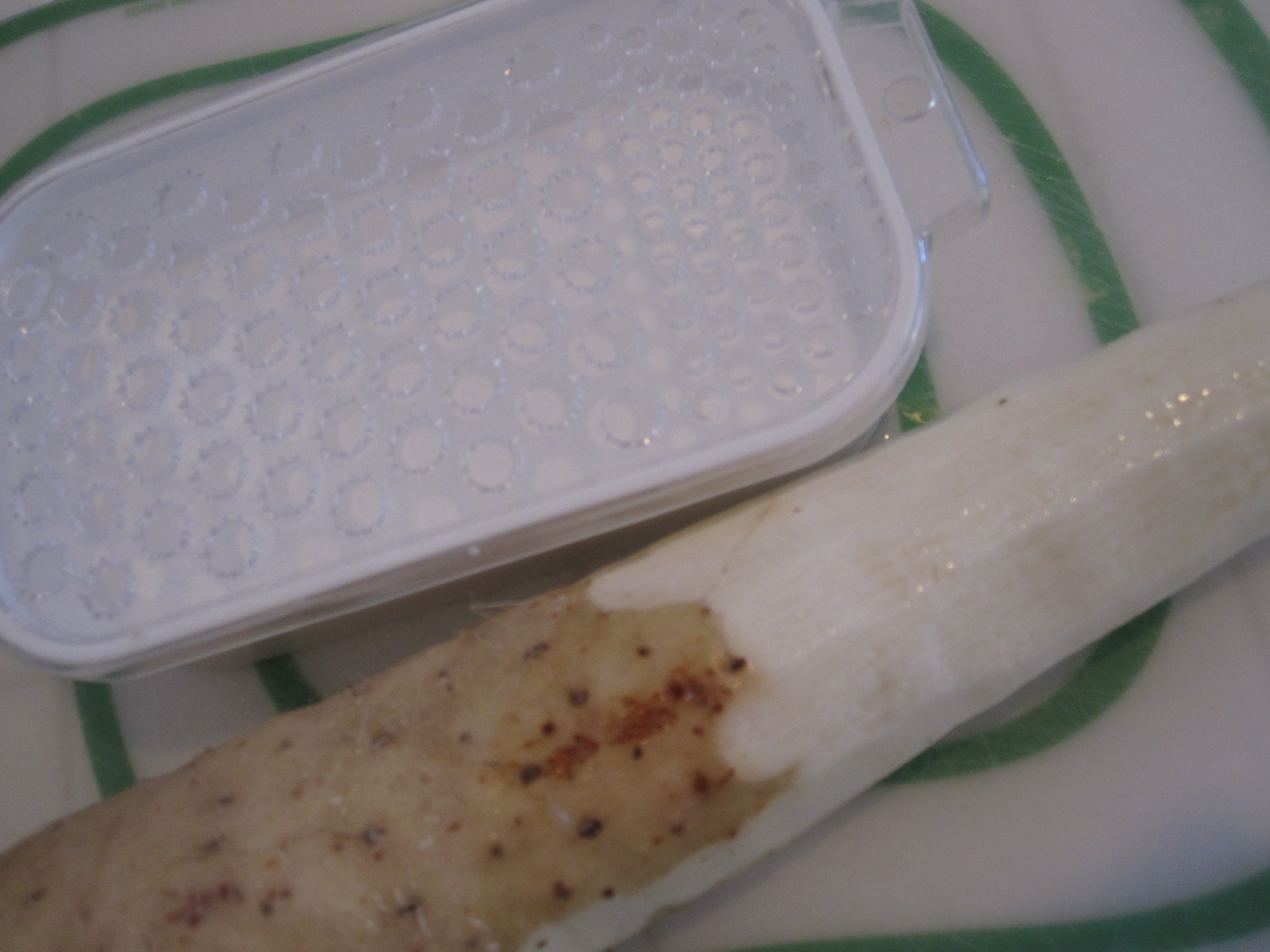 I use a good ol' fashioned Japanese grater for grating yamaimo.  I've tried to use my mini food processor to purée it, but it leaves tiny chunks and to me, its much more pure, and authentic when the grated yamaimo is smooth and not lumpy.
4. Pour grated yamaimo over the soba noodles. Garnish with chopped negi (green onions) and nori (seaweed). Pour soba noodle soup base over the noodles and enjoy!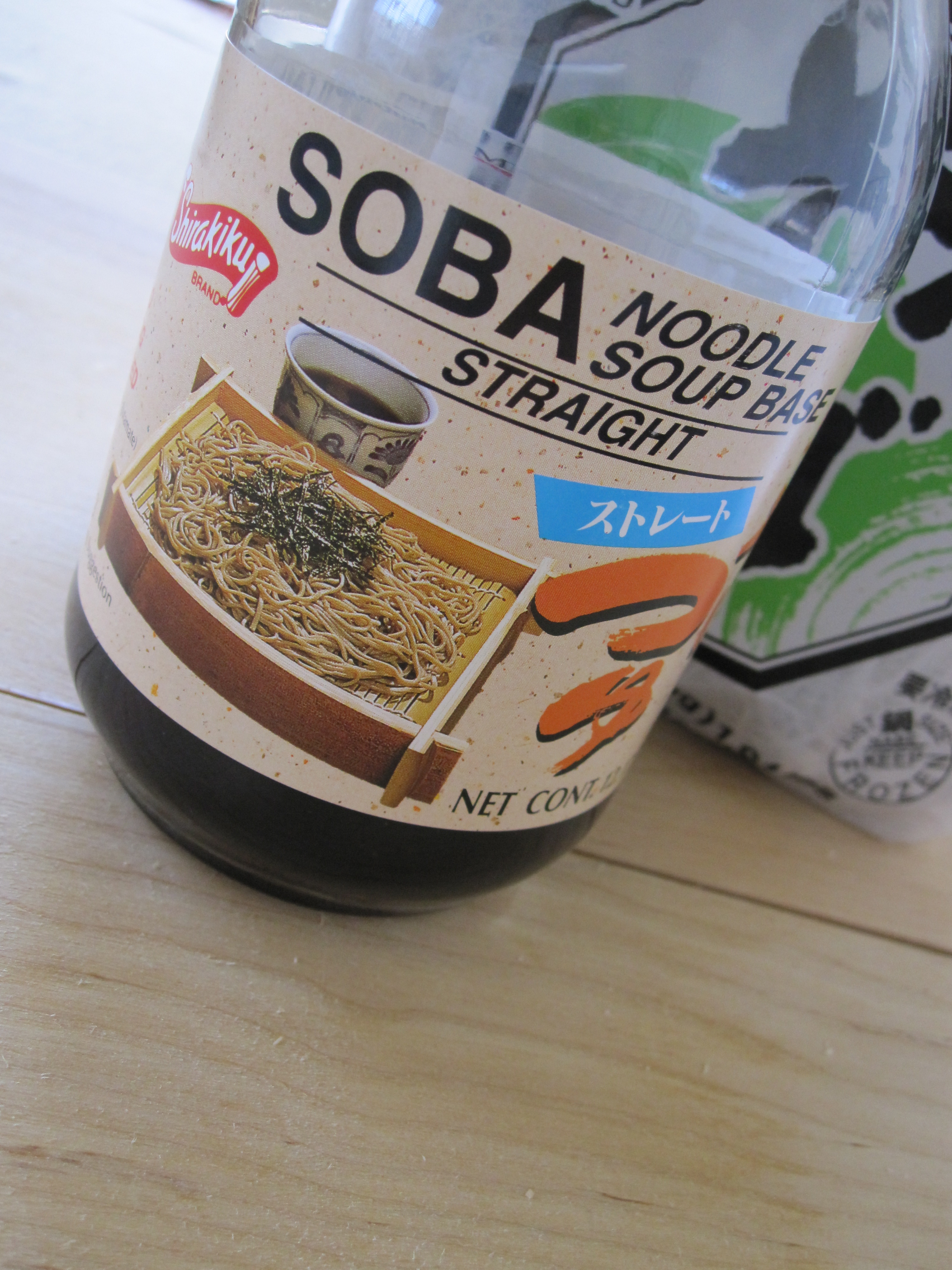 NOTE: I use no MSG soba noodle soup base that can be used straight from the bottle. There are other noodle bases that are concentrated and require that you add water, but I find that the "straight-type" is more convenient.
A caveat is that sometimes, depending on the brand, the straight-type soup base is salty, so you might want to adjust the amount you use and even add a splash of water if you need to.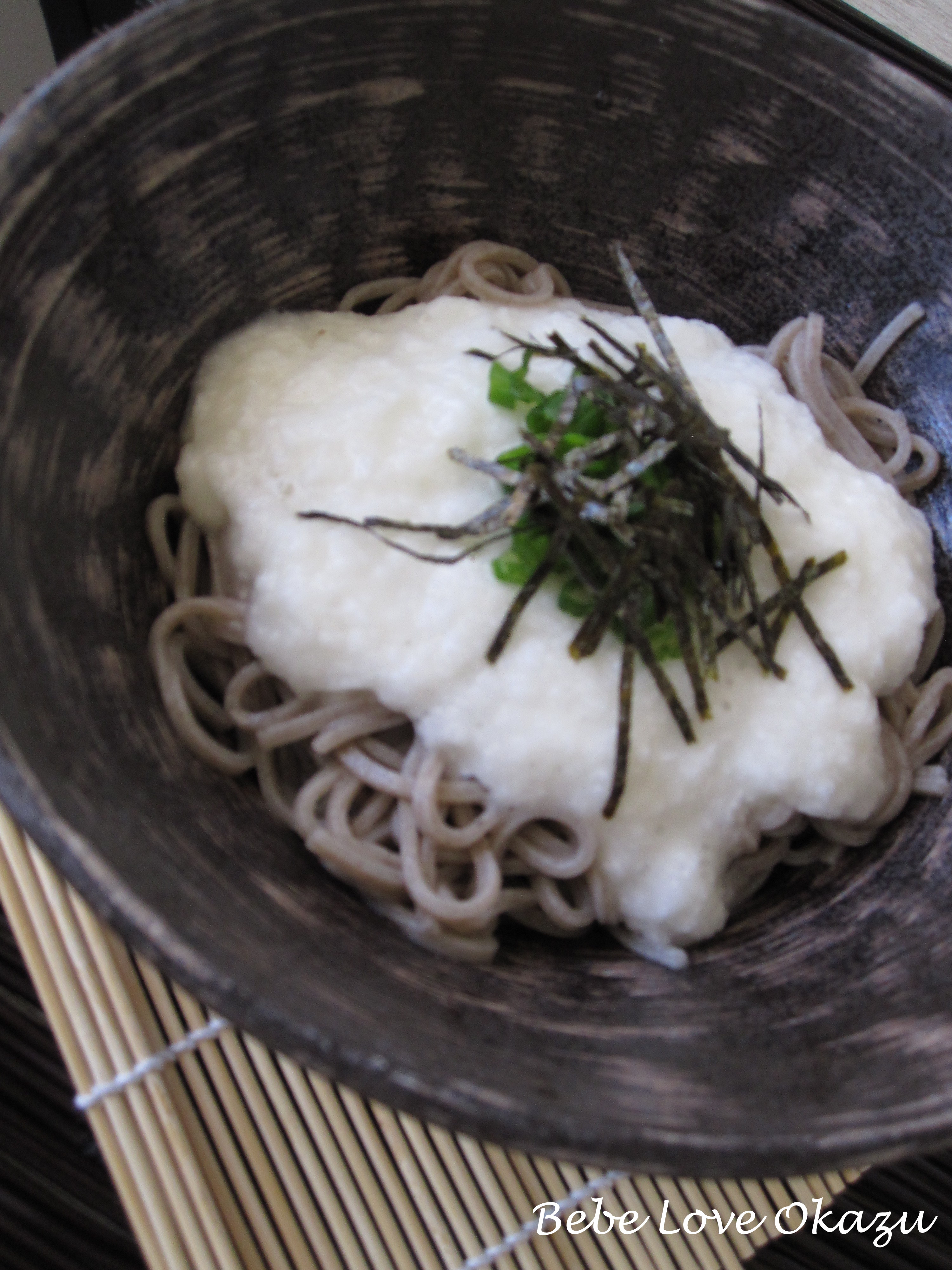 Judy | Bebe Mama