Kyuri & Wakame Sunomono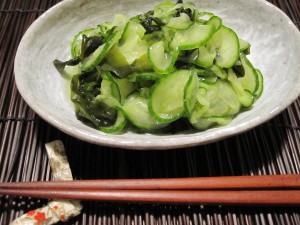 When I was little my mom would make sunomono (Japanese vinegared salad) with kyuri (Japanese cucumber) and wakame (seaweed).  Sometimes she would also add dried shirasu (whitefish; baby "katakuchi" sardine) or other small dried fish "for calcium" as she said.
Often times at dinner I would see a bowl of sunomono as one of the many Japanese side dishes served with our fish, curry, or other Japanese dish we were eating.  I became accustomed to grabbing just a few bites of sunomono and took for granted the availability of this sweet and sour refreshing salad.
It was only recently, however, that I began making this on my own.  Until then, I always used to take some home from my parent's house because I thought it was too much work to make.  :)
I discovered that it's quite easy, and it's really quick to make!
But first, I asked my mom for her recipe, and she said in Japanese, "Ehh, I don't measure anything.  I just add the ingredients and taste as I go."  This might explain why her sunomono tastes different every time.  Haha.  Yet I can't be too critical because this is what I found myself doing too.
For my blog however, I took the time to measure the ingredients as I went.  This is quite an accomplishment considering I've been making this now for about 3 years on the fly.
So last night I was lazy and decided to make mabo tofu with some ground pork for the family, using my fave trusty box of House Foods Chinese Mabo Tofu Sauce – Mild.  On the box it says, "All you add is ground meat and tofu."  Literally, that's all you need.  Quick and easy.
At first I was going to be a bad bebe mama and just add frozen peas or fresh spinach to the mabo tofu, but then I remembered I had some Japanese cucumber in the fridge.  Hurray!  I could easily make sunomono salad!
Typically, there are two types of sunomono: 1) very vinegary with a hint of salt, or 2) amazu which is sweet and vinegary.  My mom always made amazu sunomono which is also what I make.
Kyuri & Wakame Sunomono
1 large Japanese kyuri (cucumber); English cucumber may be substituted
1 teaspoon salt
1 tablespoon rice wine vinegar
3 teaspoons sugar
1 small lemon
2 tablespoons dried cut wakame (seaweed)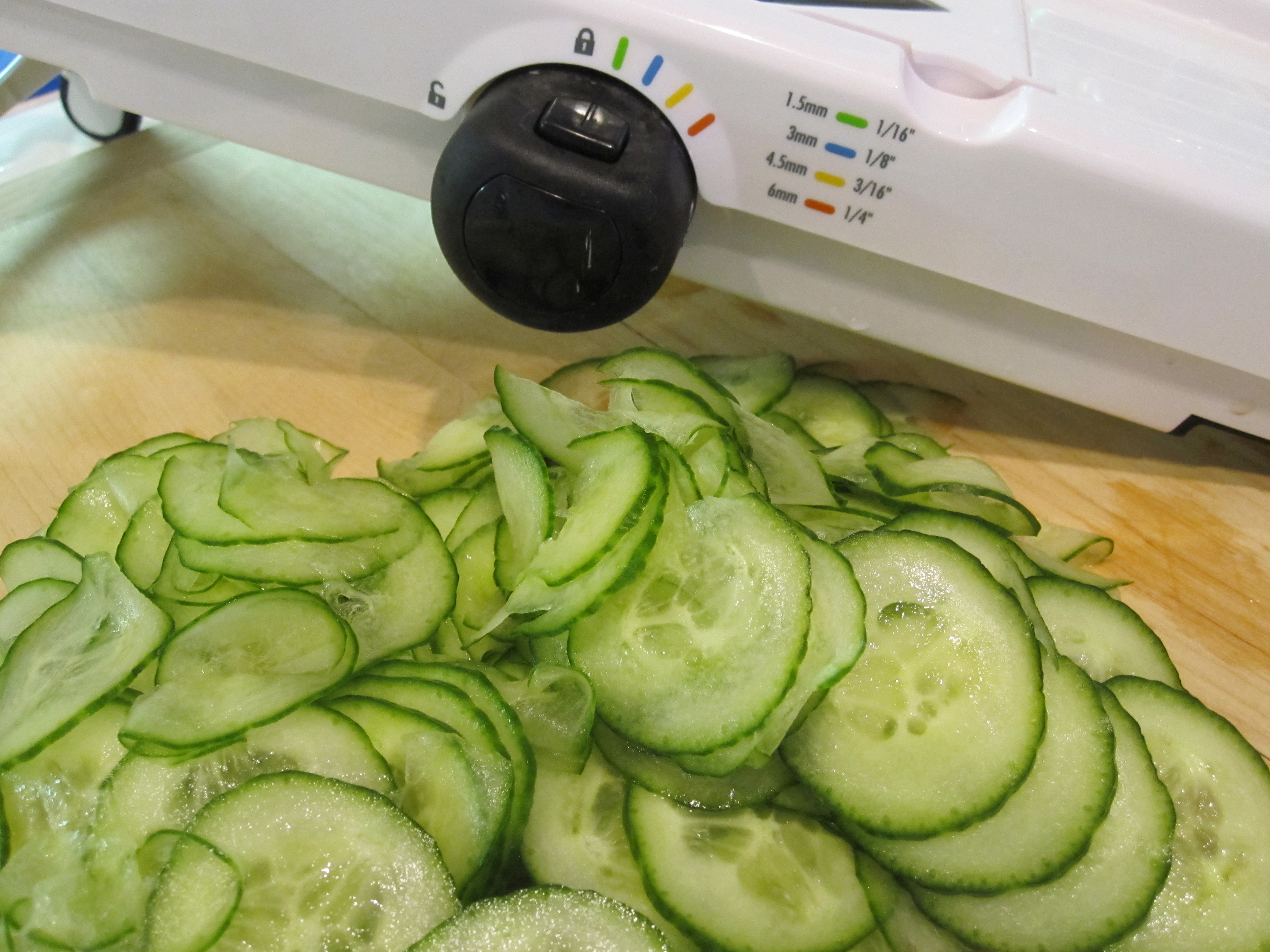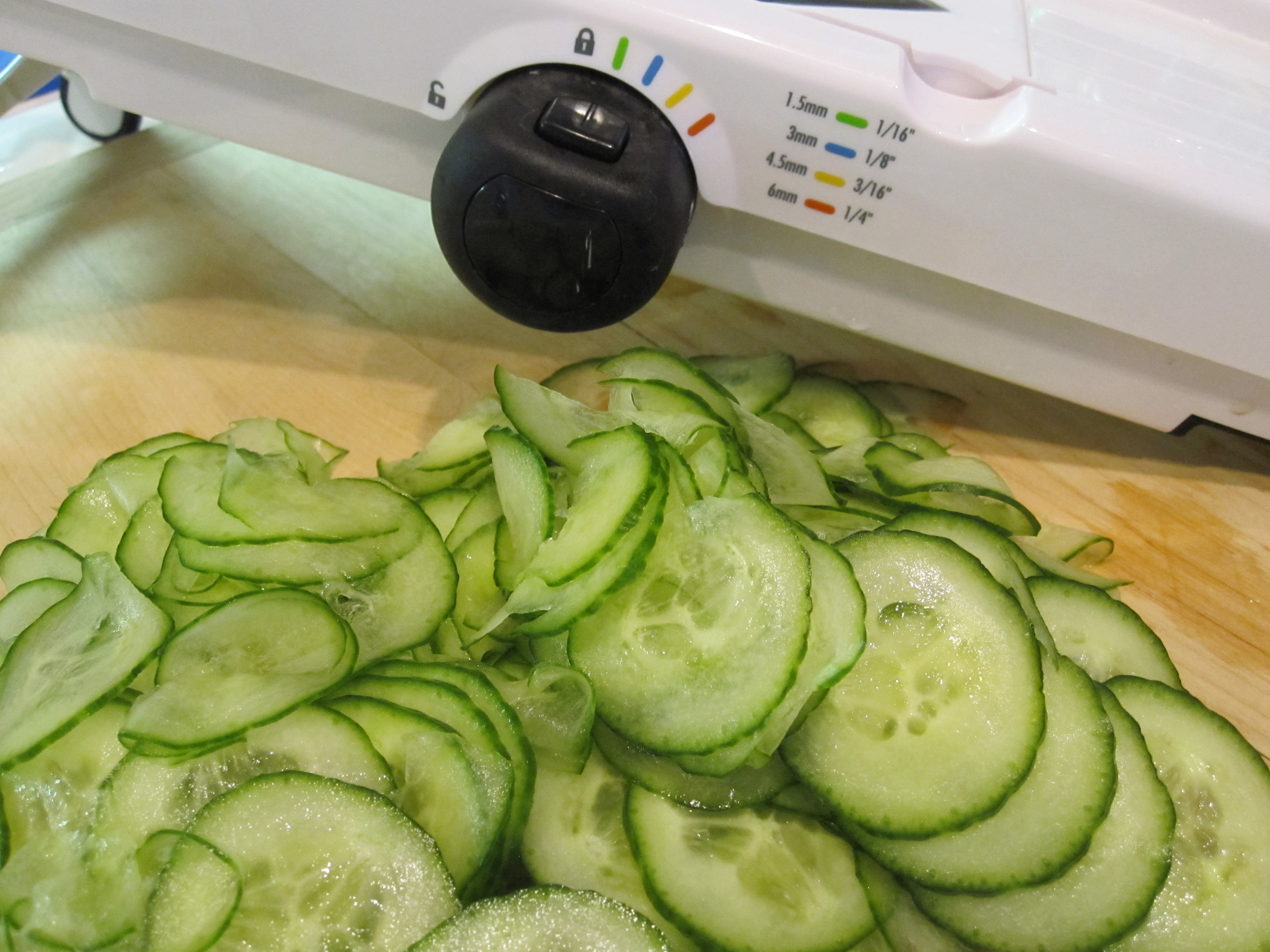 Use a mandoline to slice the cucumber thinly.  I use the 1/15 inch setting to create thin, delicate slices of paper-thin cucumber.  Please be careful not to cut yourself!
Put the cucumber slices in a large bowl and sprinkle with salt.  I use my hands to mix the cucumber slices.  Let the cucumbers sit for about 10 minutes in this salt bath.  The cucumbers will become very pliable.
Drain liquid and squeeze excess salt water from the cucumbers and return to the bowl.
Rehydrate cut dried wakame in a bowl of hot water.  This will take about 5 minutes.  Drain and squeeze excess water.
SHOPPER'S TIP: I buy Shirakiku brand dried wakame, but any brand will suffice.  This can be found at most asian markets but I usually buy this at Marukai Supermarket as they tend to be cheaper than other Japanese markets such as Mitsuwa or Nijiya.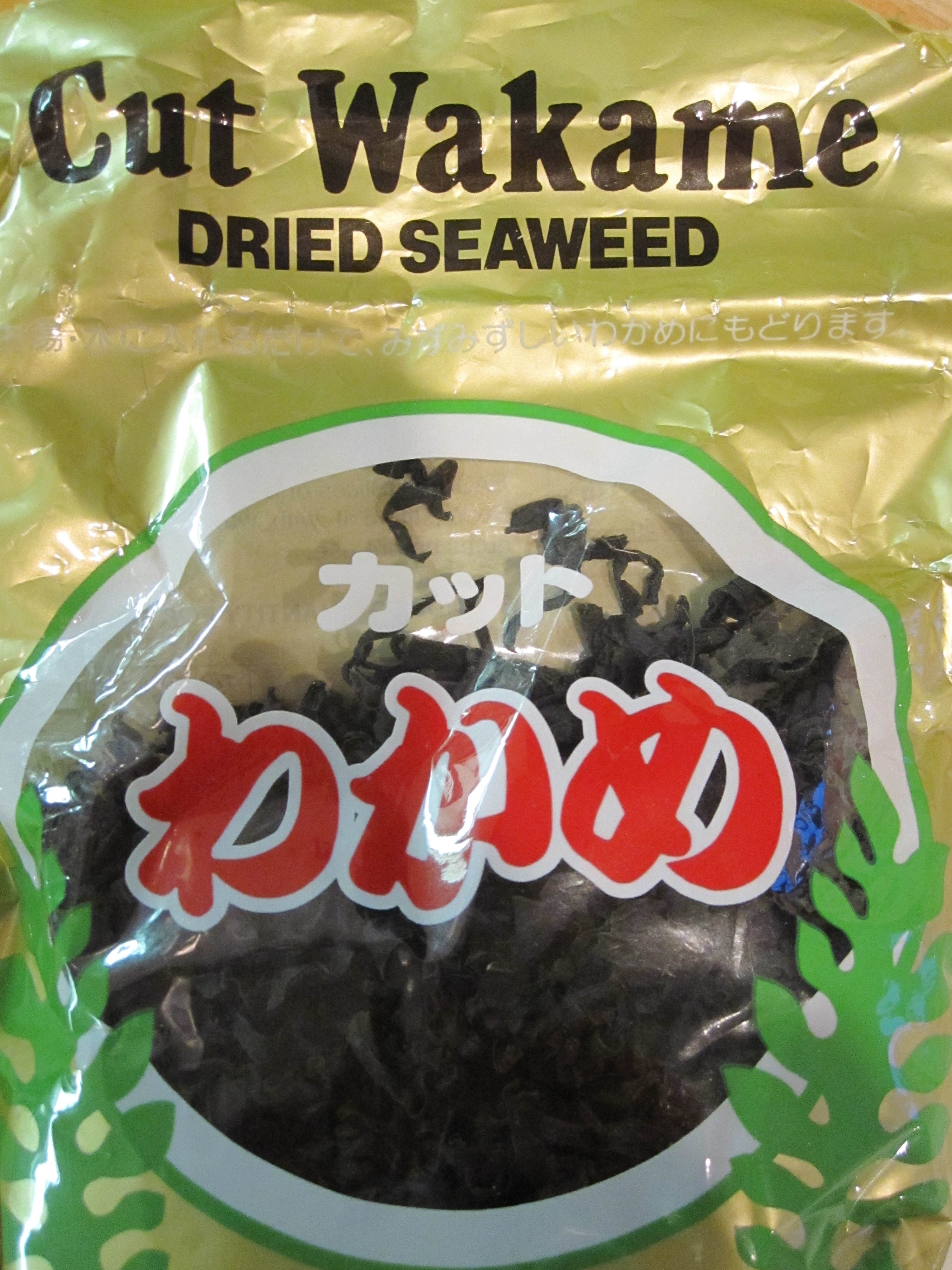 Add wakame to the bowl of cucumbers, and add rice wine vinegar and sugar.  Mix well.
COOKING TIP: I don't recommend using distilled vinegar in lieu of rice wine vinegar as the latter is more mild and palatable.
Cut lemon in half and remove seeds.  Add juice of lemon according to your preference.  I usually add the juice of the whole lemon because my family likes their sunomono tart!
This is perfect for a refreshing spring or summer salad.  :)