Temaki Sushi (Hand Roll) & Hinamatsuri (Japanese Girl's Day) 2010
When I was growing up, I remember Hinamatsuri, or Girl's Day, as a special occasion that my parents celebrated every year.
Hinamatsuri, also known as Japanese Doll Festival, is celebrated annually on March 3rd.  The dolls are thought to fend off evil spirits and pray for the healthy growth and happiness of girls.
When I was born, my maternal grandparents in Japan sent a complete set of Hina-ningyo (ornamental dolls) to my parents.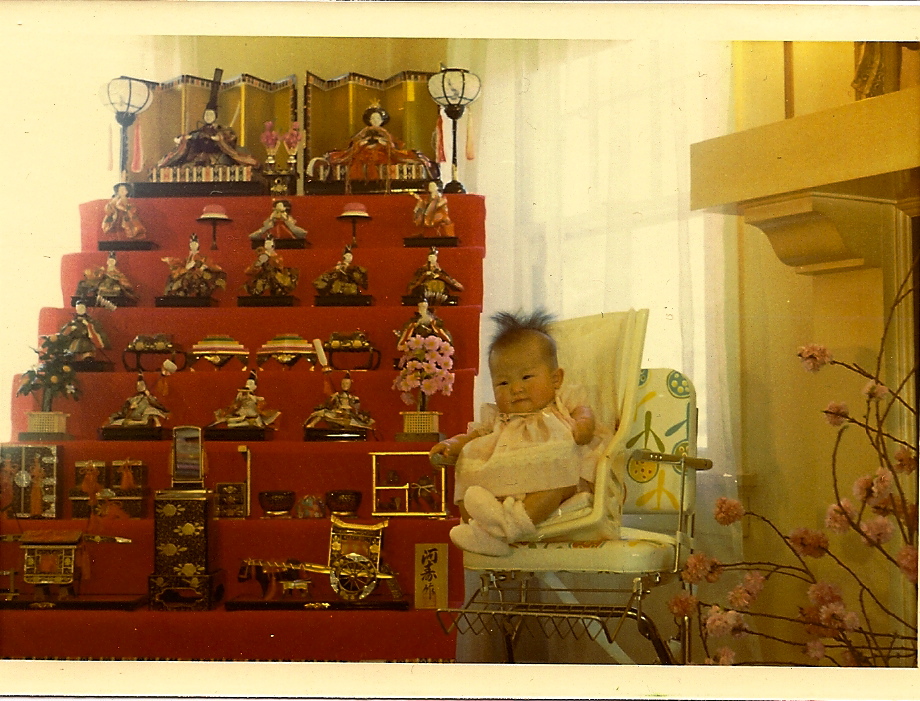 I'm 4 months old in this photo, posing with my Hina-ningyo.
(Look at the unsafe seat my parents used for this photo opp!?! – – – Does this photo date me!?!)
My most vivid memory of Girl's Day is playing with the Hina-ningyo (ornamental dolls) displayed on the bottom two platforms (these were within my reach).  These included furniture, palanquin, tea set and other belongings of the empress and emperor.
In honor of Girl's Day, my parents would host a party for a small handful of my friends.  I remember my mom would make Chirashi sushi (mixed / scattered sushi) which is a traditional celebratory dish for Hinamatsuri, and Temaki sushi (hand roll), in addition to asari (clam) soup.
On Sunday, March 7, 2010 we celebrated Hinamatsuri for bebe E, just 7 months old, with my parents and my brother's family.  We had Temaki Sushi and Asari Miso Soup for lunch (soup recipe to follow in future post).
We displayed only the emperor and empress Hina-ningyo as we were ill-prepared and could not find the 7-tier display stand in storage!  Oh well, perhaps next year!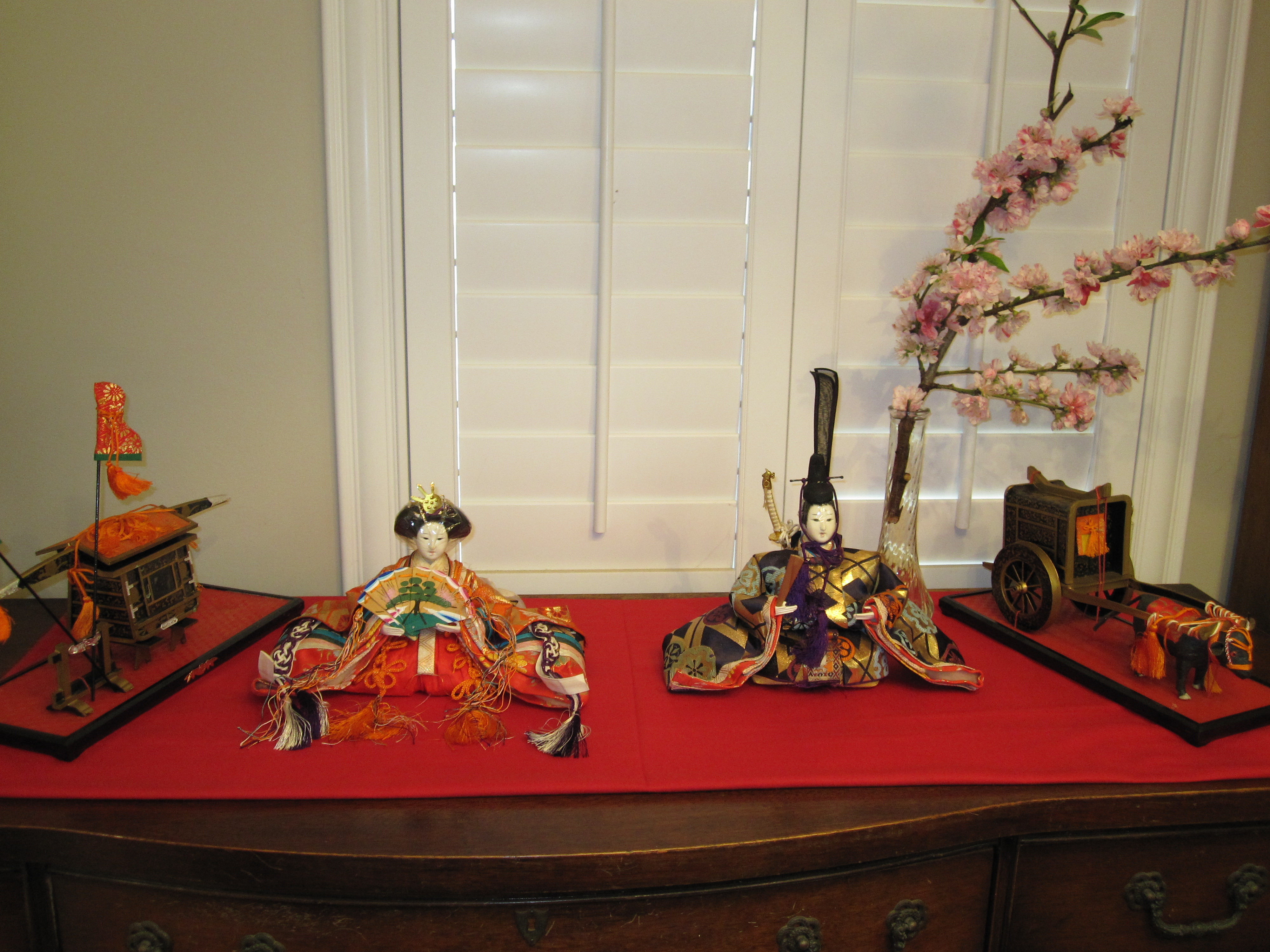 2010 Hinamatsuri Display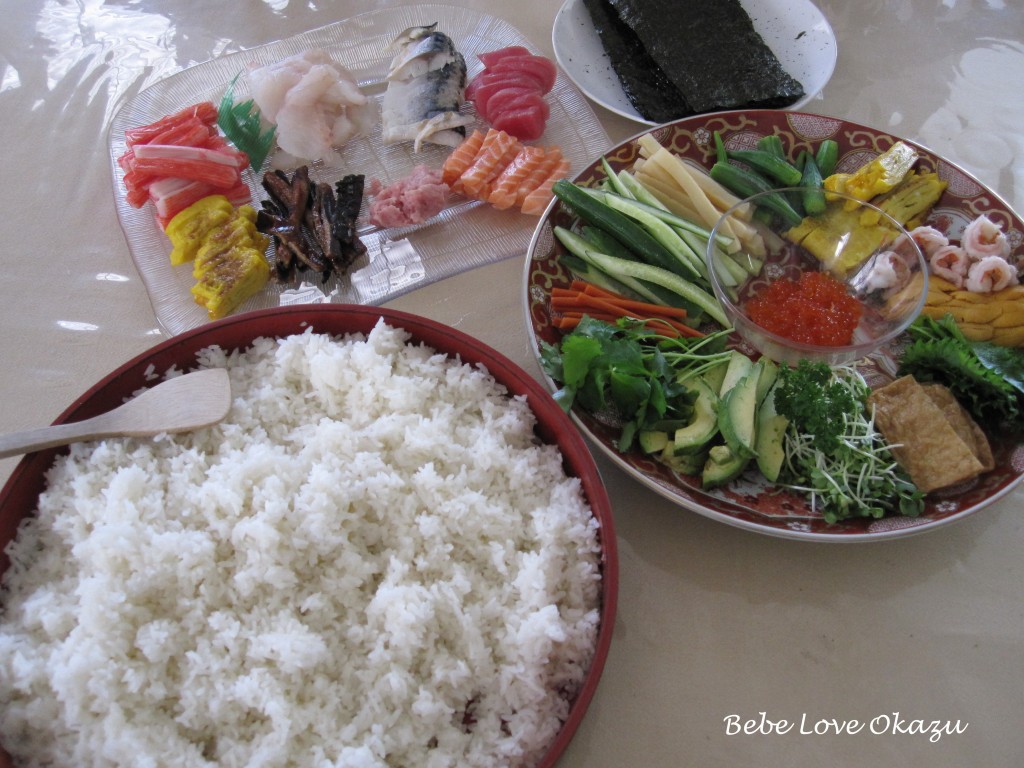 Bachan (my Mom) made this temaki sushi for us to celebrate Bebe E's first hinamatsuri.
Temaki sushi is "hand roll sushi", but when I was growing up temaki sushi at our house meant that we got to make our own personalized sushi with exactly what we wanted in it.  Fun stuff!
This is a photo of our Hinamatsuri temaki spread.  There's no limit to what you can include in a hand roll.  Let your creativity flow!
When we were growing up my mom would pan fry marinated sukiyaki beef (thin slices of beef) and we would roll this up with some veggies.  Temaki is not just about fish and the standard vegetables you find at a typical sushi bar!
Temaki Sushi
Sushi rice – see recipe below
Nori (roasted seaweed sheets)
(Refer to above photo: Round platter, clockwise starting at 12 o'clock)
Okra (blanched)
Tamagoyaki (dashimaki / Japanese omelette – recipe forthcoming)
Shrimp (boiled)
Uni (raw sea urchin)
Shiso (Perilla / herb)
Age (seasoned, deep-fried tofu)
Kaiware (daikon sprouts)
Avocado
Cilantro
Gobo (pickled burdock)
Cucumber
Takuan (pickled Japanese daikon / radish)
Ikura (salmon roe – pictured in the center)
Masago (Capelin roe) (not pictured)
(Refer to above photo: Rectangular platter, top left to right)
Kani kamaboko (imitation crab meat)
Hirame (Halibut)
Shime Saba (Mackerel pickled in vinegar)
Maguro (Tuna)
Tamagoyaki (dashimaki / Japanese omelette)
Unagi (freshwater eel)
Chutoro (fatty Bluefin Tuna)
Salmon
Other Suggested Ingredients
Toasted sesame seeds
Natto (fermented soybeans) mixed with chopped scallions
Umeboshi (Japanese pickled plum)
Okaka (dried bonito flakes moistened with soy sauce)
Spam
Yamaimo (Japanese mountain yam)
Blanched green beans
Blanched carrots
Blanched snow peas
Cooked asparagus
Shiitake (seasoned and cooked)
Mentaiko (marinated Pollock roe)
Mom's Sushi Rice Recipe
8 cups short-grain white rice
8 cups water
Vinegar mixture:
1/2 cup sugar
3/4 cup rice vinegar
1/2 teaspoon salt
Wash and drain rice and place in rice cooker with water.  For best results, let uncooked rice soak in water for 30 minutes before cooking.  This is what my mom would always tell me but when I was younger I couldn't tell the difference whether I let it soak or not.  Now, I can tell that the texture of the rice is more delicate if you let it soak first.
Let stand 10 minutes after the rice cooks.  Place cooked rice in a large, shallow platter and fluff the rice with a shamoji (flat rice paddle).  When I was little my job was to fan the rice to help cool it.  Ask someone to fan the rice for you while you sprinkle the vinegar mixture over the rice and continuously fluff the rice.  I don't use all of the vinegar mixture for Temaki sushi rice.  I prefer mild Temaki sushi rice, in comparison to Chirashi sushi rice which typically has a stronger vinegar taste.  I recommend adding the vinegar mixture a little bit at a time, and season the sushi rice to your preference.
Cover the platter with a damp kitchen cloth until the rice is ready to be served.
Assembling the Temaki / Hand-roll
My secret to temaki sushi is only using a little bit of rice for each hand roll.  This way you can add as many ingredients as you want and still be able to roll and close your hand roll!  :)
Spread a thin layer of sushi rice onto a piece of nori and add your favorite ingredients and roll it up!  Dip in soy sauce and wasabi (Japanese horseradish).
My photography skills are that of a bad hobbyist, at best, but what's worse is that I get too excited about eating, and I forget to take pictures of the food before I eat it!  This is the reason why there are no pictures of the Temaki that I made.  Please forgive me as this is my first blog post.  :P  Hopefully I'll get better at this "food bloggin' thang."  Anyway, to try to make up for the lack of photos of my Temaki, here's a list of what I made for myself.
Ikura (my favorite!) and kaiware
Mentaiko, cucumber, shiso and kaiware
Asparagus, shrimp, cilantro, and masago
Kani kamaboko, masago, avacado, and cucumber (California Roll)
Hirame, mentaiko, and shiso
Shime saba, and gobo
Spicy tuna roll (recipe to follow in another post)
Happy Hinamatsuri!
bebe mama